Louisville (Ohio)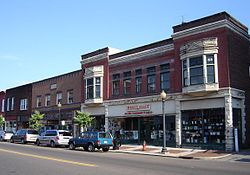 Louisville
is a bedroom community in
Stark County
,
Ohio
, with beautiful, well maintained homes and parks. It has a population of just over 9,000 people.
Get in

One of the main roads through Louisville is State Route 44. This road is also known as Ravenna Avenue, or Chapel Street. The other main road is State Route 153, which is known as Louisville Street or Main Street. State Route 62 (Atlantic Boulevard) runs across the northwest side of Louisville.

Get around
Do You Hear What I Hear?
If you happen to hear an approaching
train
while in town, the best advice is to stay where you are. The tracks cross over
Main Street
and
Chapel Street
, the two main roads, and the entire town practically "shuts down". Traffic, especially on Chapel Street, can get backed up
more than a mile
.
Just about everything in Louisville is located within walking distance of Louisville/Main Street (SR 153) and Chapel Street/Ravenna Avenue (SR 44). Parking is limited on Main Street, but most businesses have a few spots behind them. There is also parking available in the Giant Eagle parking lot.
Stark County Regional Transit Authority (SARTA), tel: +1 330-47-SARTA (330-477-2782), . $1.15 Regular fare/ .50 Reduced fare (Seniors, Disabled)/ Children under 6 ride free. SARTA provides reliable public bus service throughout Stark County. Transfer Centers are located in: Alliance, Massillon, and Canton. SARTA bus routes 139 and 153 (late night) connect Louisville to Alliance, East Canton, and Canton. There is a bus to the Akron/Canton Airport (Route 115) and an express bus between Canton and Downtown Akron (Route 81). Buses on main routes generally depart each stop every hour. SARTA buses run 365 days per year. On Holidays, buses run the Sunday schedule. Additionally, Lakefront Lines, a private bus company, operates an office in SARTA's Canton Transfer Center. Lakefront Lines goes through Canton on it's route between Cleveland and Charleston, SC.
See
St. Louis ChurchGothic style, built in 1870
Do
Constitution WeekActivities include a parade, a queen's pageant, arts and crafts show, and band competitions.

Louisville Bowl

address: 115 S. Mill Street

Louisville Rollatorium

address: 1330 S Chapel St (South of Main)

Public rollerskating year round.
Parks
Andy Aljancic Park

address: Broad Street (Between Chapel St. and Nickleplate Ave.)

This park has two tennis courts, a basketball court, horseshoe pits, and shuffleboard courts. There is also a pavilion and public restrooms. This park is the closest to downtown.

Constitution Park

address: W. Main (Behind Dairy Queen)

This park has a fishing pond, 1/6 mile walking path, a pavilion, and several picnic tables.

Howard Wilson Park

address: W. Main Street (at Michigan Ave.)

This park has tennis courts, basketball courts, and baseball fields.

Mary C. Metzger Park

address: S. Nickleplate Ave. (Between E. Main St. and Georgetown Rd.)

This park is the largest in Louisville. Metzger Park has two soccer fields, many picnic areas, and about three miles of biking/walking paths. The park also has a huge pavilion, an amphitheater, a playground, and public restrooms. The Nickleplate Walking Track ties to the Metzger Park biking/walking paths.

Wildwood Park

address: Sterzbach Ave (off W. Main)

This park has two pavilions and a gazebo, along with two playground areas. There is also baseball/softball fields, a sand volleyball court, and a disc golf course.
Buy
Farmers Market

address: Main Street
Eat
Leopard City Deli & Cool Zone Ice Cream

address: 315 Sherban Ct.

Soups, subs and salads at the deli, and more than 20 flavors of ice cream at the Cool Zone.

Mike's Milann's Restaurant & Lounge

address: 1909 W Main St

M-Sa 6AM-?, Su 8AM-1PM. Has fish on W, Th, F.
Señor Pancho's

address: 1338 North Chapel (at Reno Ave.)

Authentic Mexican food.

Phil's Place

address: 6509 Columbus Rd

This restaurant/bar has karaoke, lots of regulars, and seems to draw a crowd from Walsh University in nearby North Canton.
Thompson Dairyland

address: 7519 Columbus Rd

Additionally, the city has several fast-food restaurants and pizza places: A McDonald's at 219 N. Chapel St., a Dairy Queen at 1015 W. Main St., a combination Taco Bell/Long John Silver's at 223 W. Main St., a Burger King at 915 N. Chapel St., a Subway at 540 W. Main St., a Pizza Hut at 1408 N. Chapel St., a Papa John's Pizza at 508 W. Main St., a Romeo's Pizza (a Northeast Ohio-based pizza chain) at 520 W Main St., a Gionino's Pizzeria (another Northeast Ohio-based pizza chain) at 2110 E. Main St., and Ermanno's "Three Guys" Pizza at 6322 Louisville St. (just outside city limits).
Drink
Bud's Corner

address: 5750 Columbus Rd

This bar is great in the summertime. They have an outdoor bar and bocce courts.
The Ville

address: 108 E Main St

Hot Laps Sports Bar

address: 7512 Columbus Rd

This place draws a biker crowd. It also has topless dancing on certain evenings.

Louisville Town Tavern

address: 101 E Main St

Time Out Tavern

address: 705 W Main St
Sleep
There are very few places to stay in Louisville. Visitors should probably look into
Canton
,
North Canton
, or
Alliance
for lodging.
address: 1320 E Main St

This is a Bed and Breakfast accommodation set in a Queen Anne architectural styled house. There are three guest rooms. It is within walking distance of downtown Louisville.
Connect
phone: +1 330 875-1696

Louisville Post Office

phone: +1 330 875-1423

address: 1000 N. Chapel St.
Go next