Lowell (Massachusetts)
Lowell
is a city in
Massachusetts
about 40 minutes northwest of
Boston
. With over 105,000 residents, it is the fourth largest city in Massachusetts, and has an important historical background. It was the first planned industrial city in the United States.
Get in
By plane
The nearest airports are
Boston
's Logan Airport and Manchester Airport in New Hampshire, each about 40 minutes away.
By train
The
Lowell line
of the MBTA Commuter Rail has a terminus in Lowell. This train station is about a 15 minute walk from downtown, or there is a shuttle that runs between the train station and downtown.
By car
Take U.S. Route 3 or Interstate 495 to the Lowell Connector, a 2.5 mile highway that ends near downtown Lowell. Be careful; the Lowell Connector is one of the most dangerous highways in the state. Exit 31 on Route 3 and exits 37 and 38 on I-495 will also take you to Lowell.
Get around
See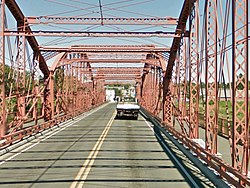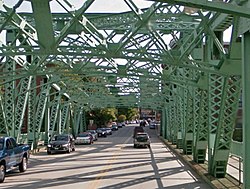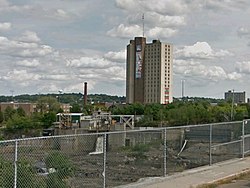 American Textile History Museum

phone: +1 978 441-0400

address: 491 Dutton St

Due to financial constraints, the museum of American Textile History closed in 2016.

phone: +1 978-458-5835

address: 25 Shattuck St

This is a satellite of the Seashore Trolley Museum in Kennebunkport, Maine and shows the history of transit in Lowell in the context of American transit history.

phone: +1 978 452-4207

address: 18 Shattuck St

address: 243 Worthen St

Merrimack River Bridges. Lowell is home to several impressive bridges, two of which cross the Merrimack River. The Aiken Street Bridge is a lenticular through truss bridge, one of the rarest bridge types. The Central Bridge is a cantilevered through truss bridge. Both spans offer pedestrian access and are highly impressive.
Lowell Industrial Canals. There are four narrow and unnavigable canals running through downtown Lowell. These canals were used as a hydropower source when the mills and factories were still in use. Despite their size, the canals are home to some beautiful restored historic footbridges. Also, several sets of locks along the canals are still in use for flood control. The four canals, together with the Concord and Merrimack Rivers, form part of downtown Lowell as an island.

Pawtucket Falls and DamPawtucket Falls and Dam is a large man-made waterfall and hydroelectric dam located directly underneath the University Avenue Bridge. It is one of three large hydroelectric dams along the Merrimack. While the only immediate access through the Dam is by boat, viewing the dam and its associated man-made islands from above is still an impressive sight.
Do
Lowell National Historical Park

phone: +1 978 970-5000

address: 67 Kirk Street

Open year round. 9AM-5PM (Summer to 5:30PM). Commemorates the history of the American Industrial Revolution in Lowell. Includes the Boott Cotton Mills Museum, textile mills, canals, worker houses, and 19th-century commercial buildings.

address: 450 Aiken St

5000-person stadium that hosts home games of the Lowell Spinners, a class A minor league affiliate of the Boston Red Sox and the UMass Lowell River Hawks.

Tsongas Center at UMass Lowell

phone: +1 978-934-5760

address: 300 Martin Luther King Jr. Way

Hosts concerts and home games of the UMass-Lowell River Hawks (an NCAA Division I hockey team).

Lowell-Dracut-Tyngsboro State ForestLocated in the western edge of the city. This is a 1140-acre forest that has 180 acres of ponds, swamps, and wetlands.

Cawley Stadium, off of Route 38 near Tewksbury. Hosts various sports events.

address: 50 East Merrimack Street

Lowell Folk FestivalOne of the largest free folk festivals in the United States, end of July. Performers throughout city, international food court.

Lowell Quilt FestivalAnnual celebration of quilts throughout city, with quilting classes, exhibitions, and demonstrations.

Lowell WinterfestAnnual family-friendly celebration of the wonders of winter, including the National Human Dogsled Championships.

UMass Lowell Bellgarde Boathouse

address: 500 Pawtucket BLVD

Home to UMass Lowell's rowing program.
Learn
Buy
address: 17 Shattuck Street
Eat
Drink
Bars
phone: +1 978-458-1288

address: 105 Market St

The Old Court Irish Pub And Restaurant

phone: +1 978-452-0100

address: 29-31 Central St

Cappy's Copper Kettle

phone: +1 978-735-4866

address: 245 Central St
Cafes
phone: +1 978-454-2739

address: 61 Market St
Sleep
Go next
Boston
, the
North Shore
or the
White Mountains
are all good next stops.