Lower Northern Thailand
Lower Northern Thailand
or
North Central Plains
is a region in
Thailand
, mostly centered around the historic city of
Sukhothai
.
Cities
– historical park with temples, walls and forts from the Sukhothai era; "banana capital"
– town with border crossing into Myanmar (foreigners restricted to same-day entry/exit from the Thai side only)
– the town is the setting of a legend about the crocodile king, illustrated by a crocodile park
– trade and transportation hub; several historic temples and giant golden Buddha statue
– Sukhothai's twin city
– once the heart of the Sukhothai Kingdom, now a sleepy provincial town, but still a UNESCO World Heritage Site
– there are many popular natural places such as Thi Lo Su waterfall and Doi Hua Mot hill; trekking and rafting are most popular activities, especially with foreigners
Other destinations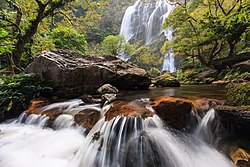 Understand
Lower Northern Thailand can be described as the cradle of Siam. Located in the northernmost part of the Chao Phraya Basin, the Kingdom of Sukhothai was the first major Thai realm and the earliest direct predecessor of the modern state of Thailand. It climaxed in the early-13th century AD and is viewed as a first zenith of Thai (especially Buddhist) art. Buddha statues from this era belong to the most elegant works in the history of Siamese art. The Thai script was developed in Sukhothai as well as other aspects that are now considered typical for Thai culture. The Historical Parks of Sukhothai, Si Satchanalai and Kamphaeng Phet are evidences of this era. However, soon after the death of its paramount king Ramkhamhaeng, the Kingdom of Sukhothai declined.
In the mid-14th century, the capital was moved to Phitsanulok, where several Buddhist temples were erected or enhanced during that time. After 1438, Lower Northern Thailand was merged into the Central-Thai Kingdom of
Ayutthaya
, but maintained some regional autonomy and cultural distinctions, with Phitsanulok serving as a "second capital" of the Ayutthayan Empire and nobles from Lower Northern Thailand often playing the role of king-makers. Efforts of the Kingdom of Lan Na (centered around
Chiang Mai
) to conquer Lower Northern Thailand remained unsuccessful. The 16th-century warrior-king Naresuan, one of the most famous rulers in Thai history, was born and raised in Phitsanulok.
In terms of cultural traditions, dialect and cuisine, Lower Northern Thailand is closer to the Central region than to (upper) Northern Thailand.
Get in
The closest international airports are in
Bangkok
(BKK or DMK). The region has two minor airports, Phitsanulok (PHS) and Sukhothai (THS) that are only served by domestic flights.
Lower Northern Thailand lies on the State Railway of Thailand's (SRT) Northern line, about halfway between Bangkok and Chiang Mai, with notable stops in Nakhon Sawan, Phichit, Phitsanulok, and Uttaradit.
Most provinces in Lower Northern Thailand are best to reach by intercity bus. All provincial capitals and some other towns have direct bus links with Bangkok. Some places are also directly accessible from Chiang Mai,
Chiang Rai
or
Khon Kaen
.
Get around
If your destinations are not on the Northern railway line (see above), busses are the usual means of choice to get from one province to another. For short distances or remote places, there are Songthaeos (converted pickups with passenger benches on the bed).

See
Historical Parks of Sukhothai, Si Satchanalai and Kamphaeng Phet, with ruins of temples, Buddha statues, palaces, walls and forts from the 13th to 15th centuries (UNESCO World Heritage)
Several historic temples in Phitsanulok, with Phra Putthachinnarat (a 3.55 m or 11'8" high sitting Buddha statue of massive gold)
Si Thep Historical Park (south of Phetchabun province), containing the ruins of a once important Hindu-Buddhist city from the 5th to 11th century, several temples with prangs and remarkable stucco decoration as well as free-standing "Wheels of Law"
Wat Phra That Pha Kaeo, early-21st century Buddhist meditation centre with very unusual, fanciful buildings and flamboyant mosaics (23 km west of Lom Sak)
Bhumibol dam on Ping River (Tak Province) and Sirikit dam on Nan River (Uttaradit Province)
Do
Traditional Thai Massage in places off the beaten track can be incredibly cheap (c. 200 baht for 2 hrs), but still very good.
Eat
The cuisine of Lower Northern Thailand is similar to the one of Central Thailand, you will get all classical Thai dishes. As most cities of this region are located along a river, a lot of freshwater fish is served, but also chicken, pork and vegetables. Do not expect typical Northern Thai cuisine (i.e. the one of Chiang Mai, Chiang Rai etc).