Lublin
Lublin
is a city in eastern
Poland
and the capital of
Lublin Voivodeship
with a population of 324 637 (2016). In the Middle Ages Lublin played an important role in the life of the Polish state as a trade centre and as a city with military significance. Today, most travellers to Lublin will be there to visit the Majdanek Memorial and Museum - a former Nazi German concentration camp.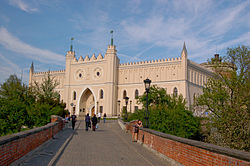 Understand
First mentioned in 13th century, Lublin reached its "golden age" in 16th century, when - due to its central location between
Kraków
(capital of Poland) and
Vilnius
(capital of Lithuania) - it was chosen as the place where the Union of Lublin was signed, effectively uniting the Kingdom of Poland and the Grand Duchy of Lithuania for several centuries. Due to its location at a crossroads between the rest of Poland, Lithuania, Belarus, Ukraine and Russia, the city was always a melting pot of different cultures - an important centre of Judaism as well as of the Christian reformation movement. From the 17th century onwards, together with the rest of the country, it suffered a gradual decline.
During World War II the Jewish and Polish populations suffered heavy losses with many people being interned and killed at Majdanek, a Nazi concentration camp. In 1939, the city's Jewish population numbered 42,380, nearly a third of the total population. The war and Nazi crimes reduced the Jewish population to a mere 4,553 by 1945. After the war, the city developed to be an important university site, with six state universities and a number of smaller ones. As well, the city served as Poland's post-war capital city for approximately six months after the Soviet occupation forces installed a puppet regime.
Today, Lublin is a beautiful mid-sized city with its own particular Renaissance style, called the Lublin Renaissance. That said, it's easy to say that the city has fallen on hard times with shuttered buildings in the heart of its old town. If you're coming from
Warsaw
, a slightly-less-than-thorough day trip to Lublin can be achieved, if you rely on taxis versus public transportation. Most of the major sites are not that far from the train station by car, so taxis can be a fast, cheap, and efficient way to traverse the city.
Get in
By plane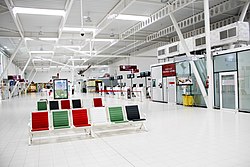 Lublin International Airportopened in December 2012, with a train station inside the airport terminal providing quick and easy access to Lublin's rail network. However, destinations are so far limited, with routes to Dublin, Oslo, Liverpool, Eindhoven, Stockholm and London available so far from low-fare carriers Wizzair and Ryanair. Lufthansa offers flights to Frankfurt Airport, where you can connect to their vast short-haul and intercontinental network.
You can also fly into either
Warsaw
,
Kraków
or
Rzeszów
. From there, you need to take a train or a bus to come to Lublin. From both Warsaw and Kraków airports, you can take commuter trains to the respective city's central railway station, where you can in turn change to a train to Lublin. Landing in Rzeszów, you need to rely on buses and coaches.
By train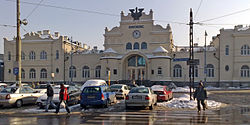 The
Polish State Railways
have services from
Warsaw
and other major Polish cities (
Wrocław
,
Kraków
,
Poznań
,
Łódź
and
Gdańsk
). There aren't any fast
InterCity
connections provided to Lublin, but the train journey from Warsaw takes only 2.5 hours. Most trains start and end in
Lublin railway station
.
Buses to the city center:  1  to the Kraków Gate (Brama Krakowska), 1, 34 to the Castle (Dworzec Gł. PKS), 13 to the Lithuanian Sq.(Plac Litewski); trolleybus to the city center:  150  to the Saxonian Garden (Ogród Saski).
By car
You can easily get there by car:
from Warsaw national road  17 , E372 : Warsaw - Otwock - Garwolin - Ryki - Lublin (2.5 hrs)
from Rzeszów national road 19 : Rzeszów - Nisko - Janów Lubelski - Kraśnik - Lublin (2.5 hrs)
from Kielce national road 74,  19 : Kielce - Opatów - Ożarów - Annopol - Kraśnik - Lublin (2 hrs)
Lublin, like other Polish cities, doesn't have a ring road, so to transit the city you must use
Trasa W-Z
Route:
Warsaw
17
 ,
E372
  -
aleja Warszawska
-
aleja Solidraności
-
aleja Tysiąclecia
-
aleja Witosa
-
Lviv
(
UA
). There's is also south-north route:
Svidnik
(
SK
)  
E371
  -
Rzeszów
19
  -
aleja Kraśnicka
-
Sikorskiego
-
aleja Solidarności
-
aleja Smorawińskiego
-
aleja Spółdzielczości Pracy
-
Białystok
-
Hrodna
(
BY
)
By bus
Many international connections - from the (
Dworzec Autobusowy Główny
) with
Birmingham
,
Bradford
,
Bremen
,
Cologne
,
Flensburg
,
Freiburg
,
Geneva
,
Hamburg
,
Karlsruhe
,
London
,
Lviv
,
Lutsk
,
Mannheim
,
Paris
,
Rotterdam
,
Rome
,
Stuttgart
,
Venice
,
Vilnius
and
Zurich
. Southern Bus Terminal(
Dworzec Autobusowy Południe
) is located right across the square from the Main Train Station. It is dedicated to regional lines. And also, do not be scared by its looks since they will demolish it in a few years anyway.
The Main Bus Terminal is situated at the northernmost edge of the Old Town, just next to the castle. If you want to travel to other parts of the city center: to Lithuanian Sq. and Saxonian Garden take lines  5, 10, 18, 31, 57 (from the bus stop #2, at the main street just outside the terminal building); to Kraków Gate take lines 1, 2, 6, 11, 17, 22, 23 (from the bus stop #4, at the same side of the street than bus stop #2, but a bit farther left)
If you plan a longer stay, you may find this website useful .
See also: Poland - By bus
Get around
By bus or trolleybus
In the city centre or the Old Town you can easily reach every place worth seeing on foot. You can also use the public transport. It's worth to try a trolleybus ride, especially the "tourist" route  
156
  from the Majdanek Concentration Camp, near Old Town and Chachmei Lublin Yeshiva. The city has 50 bus lines and 8 trolleybus lines (served by
MPK
). There's also commercial city transport (buses with
Komunikacja prywatna
or
AKL
signs).
To use the public transport you should buy your tickets in a "kiosk" - such "kiosks" are usually situated near bus stops - or on the bus (exact change required). The price system for
MPK
(municipal) buses is following: a single ride ticket costs 3.20 zł, students with ISIC identification pay 1.60 zł. You must validate your ticket immediately upon getting on the bus. Children below 4 can use public transport for free. When changing buses, you need to validate another ticket (they are valid only for one ride each). Of use to tourists, there are also 24-hour tickets (11 zł / 5.5 zł). Timetables for both can be found at the link above.
Routes 1-57 - normal buses
Routes 7x - mini-buses (suburban buses)
Routes 150-160 - trolleybuses
Routes Nx - night buses (tickets must be bought from the driver: 5.00 zł / 2.50 zł); available whole week
Routes to/from the Railway Station and the Central Bus Terminal are prone to pickpockets.
Trolleybus line for tourists
Every summer local city transport company runs special tourist trolleybus line. It's served by unique Soviet trolleybus ZIU, popular in the 70s and 80s in former communist countries in Europe. Tours start every Sunday from the bus stop near Kraków Gate (
Brama Krakowska 02
) at 14:00 and 15:30. During those journeys the passengers will see Majdanek Nazi Camp, Cathedral, some interesting sights in the Old Town and other attractions (all with virtual guide comments). Price: 5 zł for one ride.
By taxi
Taxi services are quite cheap, but it's good to know the local prices:
5.50zł starting fee and then
1.76-2.20zł/km
Charges are higher after 22:00, on Sundays and public holidays.
Damel Taxi - +48 81 19626
Dwojki - +48 81 19621
MPT - +48 81 19191
Lublin - +48 81 19628
Echo - +48 81 19662
Rytm - +48 81 19667
Do not take taxis which are not at the taxi stands, especially near the Bus Terminal and the Railway Station. There are often non-regulated taxi drivers who overcharge. It's better to call one of taxi companies or take a taxi with one of above phone numbers displayed on the roof.
By bike
Lublin has a well-developed system of cycling infrastructure. There are over 80 km of segregated cycle lanes and paths in the city. The most common are bike paths independent of road traffic, however most of them are outside the Old Town and the city centre (
map of cycle paths and lanes
). You can rent a bike from early spring to the end of autumn (24/7) in a self-service system
Lubelski Rower Miejski
. It consists of 40 automatic rent stations and 400 bikes. First 20 minutes of a rent is free of charge. Charge for next 40 minutes is 1 zł, the second hour is 2 zł and every consecutive hour is 4 zł. To use the system, you should register online to get an account, make pre-payment (min. 10 zł) and then can rent bikes at any station (you must have a mobile phone to do it). As similar systems exist in other major cities in Poland you can use one account in any of them.
See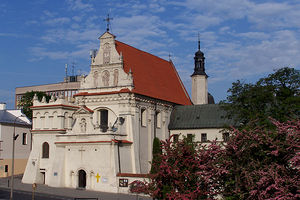 Main sights
The Castle of Lublin and Chapel of the Holy Trinity

phone: +48 81 532 50 01

address: Zamkowa St. 9

The castle of Lublin has been rebuilt in the 19th century in the neogothic style. Proceed to the yard to take a look at the 13th century Romanesque donjon and the Chapel of Holy Trinity. The Chapel is a must-see - its interior conceals unique Byzantine wall paintings dating back to 1418. If you have some more time, check out the interior of the museum - especially the Polish Paintings Gallery and the huge Union of Lublin painting by Jan Matejko.

Po Farze squareSquare with the uncovered foundation of the 14th-century St. Michael church. A beautiful view on the castle.

Crown Tribunal

address: Rynek (Old Town Square)

Built in the 1400s, it was the highest court in Lesser Poland.

St. Stanislas Dominican Basilica and Monastery

address: Złota St

One of the oldest churches in Lublin, built around 1253. Rebuilt into its current shape after a fire in 1575, in the style of Lublin Renaissance. Take a look at the various chapels, surrounding the church and opening to the inside.

Lublin Cathedral and Trinity Tower

address: plac Katedralny

A unique baroque church with wall paintings. The tower provides a beautiful city panorama.

phone: +48 81 532 58 67

address: Grodzka St

One of the original city gates, rebuilt in 1785. In the past also known as the Jewish Gate, as it separated the Jewish District from the Old Town. Entering the gate, there is a door to the «Brama Grodzka — Teatr NN», a cultural institution with a permanent exhibition, dedicated to common Polish-Jewish history.

Kraków Gate

address: Łokietka Sq.

One of the two original city gates, built in 14th century in the Gothic style and then rebuilt during the Baroque period. A symbol of Lublin. The gate clock was in that same very place since 16th century. At noon, a trumpeter plays the city "Hejnał" from the balcony. Next to the gate, there is a small Lublin History Museum.

Krakowskie PrzedmieścieStroll along the nice pedestrian zone in downtown and have a coffee in one of the cosy restaurants along the way.

TV tower

address: ul. Rektora Henryka Raabego

It has a very unconventional design.
Religious buildings
Our Lady the Victorious Church

address: Narutowicza St. corner of Peowiakow

A Gothic-Renaissance church donated by King Ladislaus Jagiello after his victory over the Teutonic Order Knights at Grunwald/Tannenberg in 1410.

St. Joseph Church and the Barefoot Carmelites Monastery

address: Świętoduska

Another great example of Lublin Renaissance style, built in the 17th century.

Our Lady Help of Christians Church

address: Kalinowszczyzna / Lwowska

A Lublin Renaissance church & monastery built in 1621 by the Franciscan order monks and renovated in the beginning of the 19th century to create 3 floors (lower and upper church + attic with community rooms).
Museums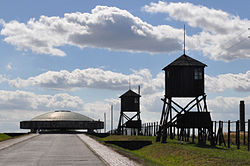 phone: +48 81 74 426 40

address: Droga Męczenników Majdanka 67

Former German Nazi extermination and slave labour camp.

phone: +48 81 533 85 13

address: al. Warszawska 96

phone: +48 81 532 50 01

address: Zamkowa St. 9

Gallery with Polish historical and modern painting, plus folk and weapon expositions.

phone: +48 81 532 60 01

address: Łokietka Sq. 3

phone: +48 81 533 36 78

address: Uniwersytecka St. 1

Wincent Pol Manor

phone: +48 81 747 24 13

address: Kalinowszczyzna 13, St

Exhibitions concerning the life of Polish poet Vincent Pol and his hobby, geography. Housed in his former manor.

Jozef Czechowicz Literary Museum

phone: +48 81 532 30 90

address: Złota St. 3

Exhibitions concerning the poets and authors from Lublin city and the region.

phone: +48 81 444 55 55

address: Rynek 8

10 underground rooms with multimedia exhibitions about history; one is a former winery with unique Renaissance polichrome.

phone: +48 81 534 65 70

address: Rynek 1

A unique system of underground cellars, basements and corridors originating from the 16th and 17th centuries. They served as storehouses when Lublin was a major trade center. At present a 250m long touristic route is available (only guided tours).
Do
Cinemas
There are 8 cinemas in Lublin. The biggest - Cinema City - has 8 screens (in Galeria Plaza, Lipowa 13 Street. Single normal ticket 16-20 zł)
Alternative cinema "Bajka" (pron. Bayka), only one screen, but has often sophisticated repertoire, located at Radziszewskiego Street.
Single normal ticket 12 zł, on Mondays 10 zł.
Events
Lublin - City of InspirationFull schedule of main events in the city, available in Polish, English, Ukrainian, Belarussian and Spanish, but Event Section is the most complete in Polish, less in English and Ukrainian, and only basic information are in the rest versions.

International Folk Meetings (Międzynarodowe Spotkania Folklorystyczne im. Ignacego Wachowiaka)

Open CityFestival of Art in Public Spaces -,
Parks
Saxonian Garden (Ogród Saski), in the city center, near KFC restaurant. Established in 1837, one of the oldest city parks in Poland. Renovated in 2013.

phone: +48 81 537 55 40

address: Sławinkowska St. 3

Zemborzycki Lake - artificial lake, some restaurants and bars. It is possible to rent a boat or water skis.
Sport
Hala Globus is a place where you can enjoy ice-skating. From the city centre take bus  26  or  31  or trolleybus  150  ,  152 ,  155  or  158.

Klub Tornado

phone: +48 503 483 711

Paintball.

Ośrodek Sportowy-Rekreacyjny RELAND

phone: +48 81 745 63 43

address: From city center by bus take no.  40   or the special summer lines  Marina  or  Dabrova

Water skiing.
Learn
You can study in one of the universities in Lublin. It's possible in all public high schools thanks to international cooperation (e.g. Socrates-Erasmus):
Buy
City shopping
The Old Town district offers plenty of small shops with souvenirs. Many shops with clothes, shoes, souvenirs are situated in the city centre on Krakowskie Przedmieście St. There are also Main Post Office, local divisions of biggest Polish and global banks. There is also trade city centre on Tomasza Zana St.
phone: +48 515 989 515

address: Królewska 13

Quirky and original Lublin-themed souvenir shop, you can buy postcards, mugs and posters here. The shop is somewhat hidden on a courtyard away from the main street.
Shopping Malls
Galeria Olimp, Spółdzielczości Pracy Ave. 34, buses form city center - 17, 18, 31; over 130 shops with clothes and electronic equipment, also restaurants and bars
Plaza Center, Lipowa St. 13, city center, over 100 shops with clothes, books, music, toys, also: club, cinema, restaurants and bars

Centrum Handlowe im. Tomasza Zana

address: Zana 19

market E.Leclerc, shops with clothes, books, music, toys, also restaurants and bars; near MediaMarkt with electronic equipment

address: Orkana 16

clothes, perfumes, restaurants and bars
Eat
Most restaurants are situated in Old Town and in the city center: Krakowskie Przedmieście St. (pedestrian zone called
Deptak
), Narutowicza St., Okopowa St. and Chopina St. You can choose among regional, Polish, Jewish, international, Spanish, Czech and Italian restaurants (the last one are especially common). There are also a lot of kebab bars with Turkish and Arabic fast food. Nadbystrzycka St., near Technical University is a centre of this type of bars. Also in every shopping centre you can find many restaurants, bars and fast food.
Traditional local food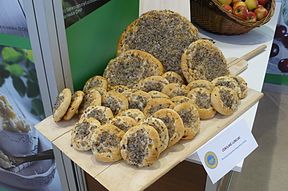 The most known local food speciality is
cebularz
, a small, oven-baked flat bread topped with onion mixed with poppy seeds. The tradition of preparing it has existed since Middle Ages and is connected with Jewish cuisine.
Cebularz
probably originates from wheat flatbreads known in the Middle East which were brought to this part of Poland by Jewish immigration and modified afterwards. It is a very popular snack: One can buy it in every bakery or grocery in Lublin (it is uncommon to taste it in a restaurant or bar). Since 2014
cebularz
has been registered within the European Union as a product with Protected Geographical Indication. The Lublin region is also famous for various kinds of
pierogi
. The local type is known as
pierogi po lubelsku
(or
pierogi wiejskie
). It is stuffed with a mix of cottage cheese, buckwheat groats (kasha) and mint. Look for restaurants with regional cuisine to taste them (
Sielsko Anielsko
, Rynek 17, Old Town). If you want to try Lublin regional alcoholic beverages (or buy Lublin-related souvenirs), you can choose among vodka, mead and beer. The most famous vodka produced here is
Żołądkowa Gorzka
, vodka with "bitter" (gorzka) in the name, but sweet in taste. Just like
Żubrówka
, it's a unique Polish product and definitely a must-try. The APIS company in Lublin is the oldest Polish mead-making factory in Poland. Among more than ten varieties of mead which are produced there, one (
Staropolski Tradycyjny trójniak
) is marked with an EU Traditional Speciality Guaranteed sign. Lublin also has a longstanding brewery tradition. The local beer called
Perła Chmielowa
(Hop Pearl) is a very tasty pilsner-type lager. You can also try beers in a micro-brewery situated in Old Town (Grodzka 15 Restaurant).
Budget
Pyzata Chata

address: Okopowa 5

Cheap, self-service restaurant with typical Polish food. Main course with soup 15-20 zł.

Bar Polski

address: Rynek 19

Small self-service restaurant situated in a Medieval basement. This is a real budget one but you can't choose the dishes - they offer only one lunch set (main course with soup 15 zł). The menu changes every day.

address: Krakowskie Przedmieście 4

This is by far the most popular ice cream place in the city. Queues are very common, even when the weather is not particularly hot.
Mid-range
OLD PUB Bar & Restaurant

address: 8 Grodzka St

phone: +48 81 534 05 92

address: Łokietka Sq. 3

A nice restaurant with Polish cuisine and great ambience, in the cellar of the Kraków Gate.

Mandragora

address: Rynek 9

Traditional Jewish cuisine. Soup 9-15 zł. Main course 20-50 zł.

Sielsko Anielsko

address: Rynek 17

Very nice rustic-style restaurant with regional cuisine. Soup 7-10 zł. Main course 20-40 zł.

Chata - karcma regionalna

address: Nadbystrzycka 16

Very popular (during weekends reservation is necessary) rustic-style restaurant with traditional Polish cuisine. Soup 9-15 zł. Main course 30-40 zł.
Splurge
Hotel Alter Restaurant

address: Grodzka 30

A restaurant in the hotel Alter (the only one five-star hotel in the region). New-style Polish and international cuisine. Soup 20-25 zł, main course 60-80 zł.
Drink
For drinking, head to the Old Town and its vicinity. That's where the most popular pubs are located. Even there, prices are low because of a large student clientèle. Pubs offer one or two varieties of draught beer (draft beer), usually only pilsner-type lagers. In the last couple of years some bars and coffee houses have opened up in the area west of the Old Town (in the direction of Ogród Saski). Unfortunately, in majority, pubs sell do not sell local beer. If you want to taste regional one ask for
Perla
. Prices: Big one (
duże
; 0,5 liter) costs 6-10 zł, small one (
małe
; 0.3 liter) is at 1-2 zł lower price.
Cafe Mari

phone: +48 81 381 22 17

address: ul. Artura Grottgera 8

Quite new place that is excellent for a quiet stop during the day while sipping tea, coffee or enjoying their cakes.

phone: +48 508 217 014

address: ul. Rybna 4/5

This place in the Old Town is a bar and library combined. Here you can read a chapter (or more) of one of their books and this when flavoring one of their many kinds of tea or coffee. There is a wide selection of books in English, in fact most of them are in English. They also have cakes.

phone: +48 81 71 01 205

address: ul. Bernardyńska 15A

This may be one of the most stylish places in Lublin to have a beer. Owned by the Perła brewery group (and located on the edge of the actual brewery) you are pretty close to the source. It may be no surprise that you can only get beers from this company here, but the wide offer of dark and light beers makes up for it. The place basically consists of one big oval-shaped bar.
Sleep
Budget
Mid-range
Splurge
phone: +48 81 44 66 100

address: ul. Krakowskie Przedmieście 56

Hotel WaksmanDouble 230 zł
Connect
Tourist information in Lublin provides current information on the sightseeing, tourist, cultural and recreational attractiveness of Lublin and the Lubelski Region. Contact with Tourist Information Center: or
+48 81 532 44 12
. See also the web page: . There are three offices in the city center:
Old Town: Jezuicka St. 1/3, near Krakowska Gate, 10 minutes from Bus Station and 30 minutes (by bus:  1  ) from Railway Station; 9AM-6PM, Saturdays: 10AM-4PM, Sundays: 10AM-3PM (Oct-Apr: 9AM-5PM, Saturdays: 10AM-3PM)
Old Town: Rynek 8 (Old Town Square), 8 minutes from Bus Station and 30 minutes (by bus:  1) from Railway Station;
City Center: Krakowskie Przedmieście, main street of the city, near KFC restaurant, 30 minutes (by trolleybus:  150) from Railway Station or 30 minutes (by bus:  10 ,  18 ,  57) from Bus Station.
Internet
Access to Internet by Wi-Fi:
City Hall - Łokietka Square. Free.
Era Mobile - Krakowskie Przedmieście St.
Europa Hotel - Krakowskie Przedmieście St. Free.
Galeria Olimp Shopping Center - Spółdzielczości Pracy Ave.
Galeria Orkana Shopping Center - Orkana St. Free.
IBM - Żagiel Shopping Center - 1 Maja St.
Lublin University of Technology - Nadbystrzycka St. and Wapienna St.
McDondald's Restaurant - Krakowskie Przedmieście St.
Mercure Unia Hotel
Motel Na Rogatce - Sielankowa St., Sławinek. Free.
Na Strychu Pub - Głeboka St. Free.
Old Town Square - Free.
Orange Mobile - Krakowskie Przedmieście St.
Pizza Hut / KFC - Racławickie Ave.
Plac Litewski - Litewski Square, city center. Free.
Plac Marii Curie-Skłodowskiej - Maria Curie-Skłodowska Square - central place of Maria Curie-Skłodowska University. Free.
Riley Snooker Club - Zygmuntowskie Ave. Free.
Saski Park and Leszczyńskiego St. Free.
Stolarnia Club - Stefczyka St., Bursaki. Free.
Victoria Hotel
Zemborzycki Lake - Free.
Help for foreigners
Consulate General of the Ukraine in Lublin (Konsulat Generalny Ukrainy w Lublinie), Kunickiego St. 24, phone: (+48 81) 531-88-89, (+48 81) 531-88-01, fax (+48 81) 531-88-88, e-mail: gc_pll@mfa.gov.ua
British Consulate in Lublin serviced by the Honorary Consul Jan Danilczuk, Beskidzka St. 9, phone: (+48 81) 742-01-01, fax (+48 81) 742-91-30, e-mail: ukconsul@uren.com.pl
Honorary Consul of Brazil in Lublin, prof. Barbara Hlibowicka-Węglarz (Konsul Honorowy Brazylii w Lublinie prof. Barbara Hlibowicka-Węglarz), Maria Curie-Skłodowska Sq. 4a, phone: (+48 81) 537-26-29, e-mail: barbara.hlibowicka-weglarz@umcs.lublin.pl

Honorary Consul of the Federal Republic of Germany in Lublin, prof. Andrzej Kidyba

phone: +48 81 743-65-43

address: Rynek 7
Stay safe
Lublin is generally considered a very safe city, both at day and at night, with police patrols frequent throughout the Old Town and in the city's student areas. Violent crime is quite rare in the city and elsewhere in Poland. Car theft has been an issue in the past, though common sense precautions can be easily taken. If an emergency should materialise, visitors can call the all-purpose emergency number 112 on their phone. For a better specification of the kind of emergency service being requested, people can dial 999 for an ambulance, 998 for a fire emergency, and 997 for the police.

Go next