Lucerne
Lucerne
(
Luzern
in
German
,
Lozärn
in Swiss-German) is a beautiful small city in the heartland of
Switzerland
, across the lake from Altdorf, where legend has it William Tell shot an apple off of his son's head. Lucerne is a fine city to visit, and is a great base from which to explore famous Swiss sites such as the mountains Rigi, Pilatus, Titlis and the Rütli meadow.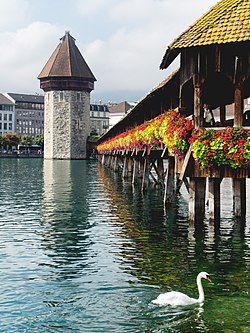 Understand
The first city to join the Swiss Confederation, today Lucerne is a lovely small city with a thriving tourism industry, owing mainly to its status as a gateway to
Central Switzerland
. The city is a centre of Swiss history and legend.
Tourism in Lucerne has a distinguished history dating from the mid-19th century, with Mark Twain among them. In
A Tramp Abroad
he recalls the nascent souvenir business, and other budding examples of the tourism trade.
"The commerce of Lucerne consists mainly in gimcrackery of the souvenir sort; the shops are packed with Alpine crystals, photographs of scenery, and wooden and ivory carvings. I will not conceal the fact that miniature figures of the Lion of Lucerne are to be had in them. Millions of them." — Mark Twain
Climate
Lucerne has cold, dry winters and warm/hot summers.
Get in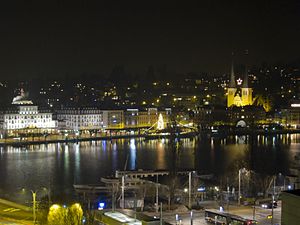 By train
Thanks to its central location
Lucerne railway station
(
Bahnhof Luzern
) can be reached easily from nearly every other city in Switzerland using the
Swiss Federal Railways (SBB CFF FFS))
. There are hourly trains from
Olten
and Zürich Airport and half-hourly trains from
Zürich
, and a direct train every hour from
Berne
. There is an hourly service from
Bellinzona
in Ticino, and
Pfäffikon
and
St. Gallen
in the North East.
The "Zentralbahn" branch of the Swiss Federal Railways provides also hourly trains between
Interlaken
and Lucerne during daytime.
By bus
There are no intercity buses in Switzerland as the train system provides ample connections to many destinations in Switzerland. To make trips to the countryside in the mountains where there are no trains, refer to
postauto.ch
buses are available from some nearby places, such as
Rotkreuz
.
By boat
Lucerne sits at the northwest end of the Vierwaldstättersee, one of the most beautiful waterways in Switzerland, for travel information from
Schwyz
,
Flüelen
,
Weggis
, and outbound points see the schedule at the
Schifffahrtsgesellschaft Vierwaldstättersee
.
Get around
Able-bodied travellers will find Lucerne a complete joy to get around in on foot. The Old-Town is rather small, and most other interesting sites are within 20 minutes or so walk, there is also a
city bus system
, as well as assistance for disabled visitors on request from
Mobility International Switzerland
. The
Lido
beach and the
Swiss Transport Museum
are a bit further out and can be reached by bus or by one of several boats per hour from just in front of the central railway station.
Lucerne also makes a very good base for discovering the rest of
Central Switzerland
, using the
Swiss Federal Railway
, the
Schifffahrtsgesellschaft Vierwaldstättersee
, or any one of several private rail or boat companies.
Bicycles are available for rent at the central railway station, at ticket window 21 on the lower level. For Fr. 31 per day, you can rent a 24-speed, sturdily-built bike with a baggage clamp. Electric bikes are also available. Bike pick-up and drop-off are around the left side of the train station, at a kiosk across the street from the Swiss Post building. Bike lanes are present on most secondary streets, and Lucerne drivers are generally aware of and polite towards bicyclists.
By bus
Lucerne has an efficient bus network:
Verkehrsbetriebe Luzern (VBL)
(German only). It covers the city and its suburbs.
See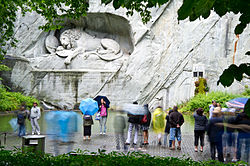 The Chapel BridgeThe Chapel Bridge, a landmark of Lucerne, is said to be the oldest wooden bridge of all Europe, built in 14th century as a protection for the city. It's amusing walking over it as you can see about 100 pictures of 12th-century city life and Swiss history. Join one of the walking tours going around! Parts of the bridge burned down on 18 August 1993, but within a few months it was rebuilt. The tower used as oubliette is still in original condition.

Lucerne Culture and Congress CentreThe KKL is a spectacular building that contains several concert halls and the Lucerne Art Museum. It was designed by Jean Nouvel. Its major concert hall ("La salle blanche") is famous for its acoustics, and world class orchestras can be heard regularly. It hosts the Lucerne Festival (classical music).

The Lion Monument

address: Denkmalstrasse 4

Also known as the Lion of Lucerne, it is a sculpture in Lucerne, Switzerland, designed by Bertel Thorvaldsen. It commemorates the Swiss Guards who were massacred in 1792 during the French Revolution, when revolutionaries stormed the Tuileries Palace in Paris, France. The American writer Mark Twain (1835–1910) praised the sculpture of a mortally-wounded lion as "the most mournful and moving piece of stone in the world."

AlpineumA museum and diorama dedicated to the Alps.

address: Löwenplatz 11

A circular panoramic painting.

address: Lidostrasse 5

With its large collection of trains, planes, automobiles, and motorcycles, this museum of means of transport is a great place to spend an afternoon. If you get tired of the real train engines you can check out the model railroad or the miniature working steam train. The air section also features several space travel exhibits, including an unused project Mercury capsule.

The old city wallA part of the rampart walls built in 1386; the wall is still almost entirely intact. Four towers are open to the public: Schirmer, Zyt, Wacht and Männli.

phone: +41 41 220 16 60

address: Pilatusstrasse 10

Well over 200 works by 23 artists of early modernism, including 125 works of Paul Klee and about 50 by Pablo Picasso. Also works by Cézanne, Chagall, Miró, Pissarro, among others. The collection also houses 200 photographs previously housed in the Am-Rhyn-Haus -- by David Duncan Douglas, Life Magazine's World War II photo correspondent who arrived with his camera uninvited at Picasso's villa "California", was welcomed by Picasso and his family, and over the years produced an intimate portrait of the artist's day-to-day life. Picasso's living room was his studio, and domestic scenes -- a ballet lesson, Picasso drawing with his children, or wrapping himself in the cape and hat of his native Spain -- play out within the backdrop of some of his most famous works.

Weekly MarketEvery Thursday and Saturday from 06:00 to 13:00 along the Reuss river. The market has many local products and specialities.
Do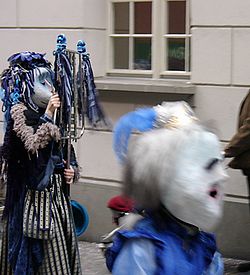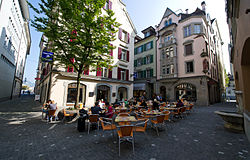 Explore the Old TownOne of the main reasons that Lucerne attracts so many travelers is its small but remarkably preserved old town. You can get lost (for a few minutes anyhow) in its maze of streets, passages, and squares, admiring the many and varied murals painted on what seems like every other building. A nice short walk on the Museggmauer starts at the Schirmer-Turm, walk up the road near Jazzkantine, open only at daytime.

Watch football ie soccer at FC Luzen, who play in the Super League, the top tier of Swiss football. Their home ground is Swissporarena, capacity 17,000, at 91 Horwerstrasse, 1 km south of city centre next to the Trade Centre.

Ascend Mount PilatusA famous mountain overlooking the city of Lucerne. Its peak can be reached by the world's steepest cogwheel railway from Alpnachstad (not operating in wintertime) and all-year-round by cable-car in three sections from Kriens (10 minutes by trolley bus no. 1 from Lucerne as far as 'Linde'). This trip is definitely a must and gives you a good impression of a wild and rocky peak with a marvelous view to the "real" Alps. Of course you can walk to the top on foot, which takes at least 4 hours from Kriens. A pleasant alternative is to walk down to Kriens from the bottom of the middle cable-car section. In addition to hiking, there are several other activities, including a suspension rope park and a 1,350 m long toboggan (both at the second stop of the cable-car from Kriens). Even if you don't plan to hike, allow for at least three hours to spend on Pilatus.

Ascend Mount RigiA famous mountain overlooking the city of Lucerne. Its peak can be reached by a cogwheel railway from Vitznau and Arth-Goldau and by cable-car from Weggis. Vitznau and Weggis can easily be reached by boat. The peak can be reached by foot from everywhere in around 4-5 hours.

Mount TitlisThe mountain Mount Titlis has a glacier on the top and a splendid view.

Take a boat tourTake a boat tour on the lake Lucerne with the traditional steamboats

Paraglide from Pilatus and RigiParagliding down from the majestic mountains surrounding Lake Lucerne is a unique experience. Tandem paragliding is possible all year round with pilots certified by the Federal Office of Civil Aviation (FOCA) of Switzerland.

Rent a bicycleLucerne has an excellent bicycle Network. Rent a bicycle at the train station in lucerne and explore the city and the suburbs or make a day trip on the national bicycle network (http://www.veloland.ch/en/veloland.html).

Felsenweg BuergerstockGet a beautiful view over the Mittelland and its lakes on this 2-hour walk. Go there by boat (Lucerne-Kehrsiten) and funiculaire or by train and bus (Lucerne-Stansstad-Bürgenstock). There are some luxury resorts at Buergerstock. It's also possible to go by mountain bike to the top.
Events
Theatre
Buy
The shopping in Lucerne has improved somewhat since Mark Twain's visit. You'll find several good department stores with acceptable prices for most items, as well as pricey speciality shops.
Lucerne's old town is full of shops - especially clothing
Lucerne's station hosts several stores which have longer opening hours than most other shops.

address: Schwanenplatz 5

The flagship store of Switzerland's best-known watch and high-end jewellery dealer.
Eat
Budget
Treibhaus LuzernThey have fine food. 2 menus each day (menu Fr. 13, students Fr. 7), snacks, donuts and very fine coffee. There are concerts at night.

Erdem KebapSaid to serve the best kepabs in town. Cheap.

ParterreGood, friendly atmosphere. They have different menus every day.

Migros or Coop. Huge supermarket chains with a lot of budget products. There is a small Migros and a bigger Coop at the train station, near the tourist office. There are other Migros around, ask the people. Farther there are Migros and Coop Restaurants self-service restaurants.
Mid-range
Mövenpick Restaurant

phone: +41 41 410 52 22

address: Grendelstr. 19

International dishes and English menu on request.
Splurge
Restaurant Schwan

phone: +41 41 410 01 77

address: Kornmarkt 5

Exquisite French cuisine.

Restaurant Old Swiss HouseFamous for their Schnitzel which they prepare directly next to the table.
Drink
Bars
JazzkantineQuite small but comfortable bar. They have a stage in the basement. Sometimes there are jazzists playing (4 to 8 times a month). In the same building is the local jazz school, so it's a kind of student bar.

address: Baselstrasse 1

Old Swiss restaurant made into a cool bar, usually full on weekends.

Mr. Pickwick's PubUsual Irish pub.

Shamrock Irish PubA great selection of Irish and Swiss drinks, home-made food, sports on display.

Treibhaus LuzernSmall but cool alternative club, sometimes concerts, cheap food with 2 menus each day.

SchüürPopular concert place with an outdoor bar in summer.

SedelThe place where punk rock goes on. In the 1980s it was the place for the youth rebellion. Unfortunately it has lost a bit of its idealism, nevertheless it's still the club mothers don't want to let their kids go to. Today there are a lot of concerts from Ska to Britpop to Postrock to Gothic. The building was a jail for women and was converted to music practice rooms for bands in the 1980s. There are about 60 bands rocking and practising their sets. So, if you hear some noise somewhere in the building, just knock at the door and come for a jam session. There's a shuttle running from central Lucerne up to the club. Look it up on their website.

RathausBeer brewed in this small restaurant/brewery. Get the speciality beer.

Bar 58Nice neighbourhood bar on Klosterstrasse.

Bar 59Opened by the former owners of Bar 58, larger and has live music venues as well but still has a neighborhood bar feel - on Industriestrasse, hidden in the basement of a warehouse looking building.

address: Lädelistrasse 6

Small bar with good sound and good drinks, nice and cozy.
Clubs
Lucerne has lots of clubs for lots of different tastes. Baselstrasse is a nightlife strip emerging out of a redlight district. There are also raves in industrial buildings that require you to join their "club" as they're not legally allowed to sell alcohol to the public.
Cafés
The three bakery chains,
Hug
,
Heini
and
Bachmann
, have several good cafés spread all over the city.
Sleep
For its size, there are quite a few places to stay in Lucerne, in all price ranges.

Budget
Mid-range
Splurge
Camping
Stay safe
Lucerne
is
a heavily touristed destination, and where there are tourists there are
pickpockets
,
con artists
, and other sorts of folks up to no good. As with everyplace else keep your passport and other valuables where people can't get to them. However, Lucerne is a friendly and safe city. Women can move safely almost anywhere also at night. There are few areas that should be avoided, including the area around the Basel street, where you will find a colourful and exciting cultural mix is relatively harmless. According to the police it can be dangerous at night in the neighbourhood "Tribschen" (Inseli-Ufschötti-Weinbergli-Tribschenstrasse). Most violent crimes and robberies happen in this neighborhood. But compared with other cities in Europe it's a safe area.
Go next