Ludlow (England)
Ludlow
is in
Shropshire
. It is a typical English market town with a castle.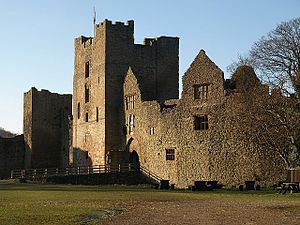 Get in
Get around
Ludlow is quite small, and its centre consists of medieval streets, so getting around by foot is suggested, although to visit many of the surrounding areas of beauty and villages, a car will be necessary, as public transport in rural England is generally sporadic.
The town centre is situated on a small hill, but once you're there it's largely flat ground. Parking fees apply Monday-Sunday at these car parks and also on-street in the centre. Parking is free between 18:00 and 08:00, as well as on bank/public holidays.
There is a small car park in the town centre itself, at Castle Street.
address: Castle St, SY8 1AT
Otherwise there are two larger car parks a short walk away at Upper Galdeford (by the Co-op supermarket) and Lower Galdeford (the old Smithfield).
See
You can see many fine examples of historical architecture in Ludlow, from its grand St Laurence's church to a magnificently restored late medieval house on Castle Square, open to the public.

phone: +44 1584 874465

address: Castle Square, SY8 1AY

As is typical of medieval English castles, dating from as early as the Norman invasion of 1066, it has had a rich and interesting history, particularly being involved with the Wars of the Roses and Tudor royalty.

phone: +44 1584 872073

address: College Street, SY8 1AN

Shropshire's largest parish church and described as the 'cathedral of the Marches'.

phone: +44 1588 672544

address: Nr Craven Arms, SY7 9AH

Beautiful 13th century fortified manor house, run by English Heritage. Excellent audio tour in English, French and German.
Do
address: SY8 1AW

The town's main museum, since 2016 located inside the historic Buttercross building in the heart of the town.

phone: +44 1584 873229

address: 1 Mill St, SY8 1AY

Hosts films and various plays, workshops and performances.

phone: +44 1584 874620

address: Bromfield Rd, SY8 1DR

The town's leisure centre with a gym and swimming pool.
Overlooked by the castle and the church, the River Teme in Ludlow is also nice to see. In the summer, you can hire boats and row along the river, under the shade of some trees.
Events
Ludlow FestivalRuns each year in June and July and has a wide programme of events, including a Shakespeare play performed in the castle grounds.

Ludlow Medieval Christmas Fayre

address: Ludlow Castle

Savour the sights and sounds of a medieval fayre in the glorious setting of Ludlow Castle
Buy
Ludlow has a number of small independent food shops – including both traditional butchers and bakers, and more specialist shops selling up-market, unusual or health foodstuffs. A wide list of shops and businesses in Ludlow is available
here
.
phone: +44 1584 872562

address: 5 Castle St, SY8 1AS

The independent bookshop on Castle Square comes highly recommended, although it is small.

phone: +44 1584 872786

address: 1-2 Broad St, SY8 1NG

A well-regarded, family-run clothes shop situated at the top of Broad Street, and has been operating since 1860 making it one of the oldest clothes shops in Britain.

phone: +44 1584 879332

address: 16 Castle St, SY8 1AT

The town's independent chocolatier.
Ludlow is well-known for its market within the Castle Square.
address: Castle Square, SY8 1AX

Award-winning market that hosts stalls with local produce, books and bric-a-brac; depending on the day. There are additional specialist markets held on some Thursdays and Sundays.
Ludlow also has its own food centre, specialising in locally grown organic produce.
phone: +44 1584 856000

address: Bromfield, Ludlow, SY8 2JR
Ludlow also has Tesco and Aldi supermarkets in the town centre.
Eat
Ludlow recently had the highest number of Michelin starred restaurants anywhere in England outside of London. However with the closure of
Mr Underhill's
, the town has lost this gastronomic heritage.
Nevertheless, Ludlow is bursting with nice looking places to eat, and probably the most rewarding thing to do is to walk around (it's really not that big) until you find something you fancy. Walking just outside the centre is worth it though, as there's a tiny, but delightful, Japanese restaurant towards the bottom of Old Street, called
Koo
.
phone: +44 1584 878462

address: 127 Old Street, SY8 1NU
Outside of Ludlow in Bromfield, adjacent to the Ludlow Food Centre is
The Clive
and
Ludlow Kitchen
.
phone: +44 1584 856565

address: Bromfield, SY8 2JR

phone: +44 1584 856020

address: Bromfield, SY8 2JR
Drink
Just like places to eat, Ludlow has many pubs.
phone: +44 1584 872174

address: The Buttercross, SY8 1AW

A long-time entry in the CAMRA Good Beer Guide. Serves food.

phone: +44 1584 879177

address: 113 Lower Galdeford, SY8 1RU

Beer garden. Good food.

phone: +44 1584 875726

address: 8 Church Street, Ludlow, SY8 1AP

Large pub in the heart of the town which caters for both diners and drinkers. Owned by the Shropshire brewing company Joule's. Small outdoor seating area to the rear.
Ludlow also has its own brewery, which is open to the public during the day, located close to the town's railway station and Tesco supermarket, off Corve Street.
phone: +44 1584 873291

address: The Railway Shed, Station Dr, Ludlow, SY8 2PQ
Sleep
Budget
Ludlow is a small and quiet town, and so does lack cheap accommodation. There is a Travelodge located at Foldgate, on the A49 bypass about 1 mile east from the town centre.
phone: +44 8719 846347

address: Foldgate Ln, SY8 1LS
Mid-range/Splurge
The Ludlow tourist board offers a fairly comprehensive list of places to stay
phone: +44 1568 770033

address: Burrington, SY8 2HT

Renovated Victorian farm buildings (est. 2006) in 250 acres of beautiful English countryside. 11 ensuite rooms with modern touches blended in with the traditional building. Unique accommodation for people who want something different. With 2 lounge areas to relax and enjoy the stunning views or the large wood burning stove to keep you warm during the winter. Restaurant offers high quality meals in an atmosphere and caters for intimate meals for 2 as well as weddings, civil ceremonies, business conferences, private functions, team building days and corporate events. Near the market town of Ludlow; famous for its Michelin star restaurants, Shakespearean plays, food fairs and local farm produce.

Ludlow CastleLudlow Castle offers self-catering apartments. Complimentary tickets for entry are provided.
Go next
Map of places with Wikivoyage articles nearby
Around the Ludlow area are many places of great natural beauty, and the hills of Shropshire are great for walkers or cyclists. Try the Wyre Forestundefined which has a number of different walks for people of different abilities, and also sculptures etc handily placed on the paths to stop it from getting boring. You could also try walking around Clee Hill, which has great views of Shropshire, Herefordshire, Worcestershire and beyond.
Ironbridge is a great place for a day out (The Tar Tunnel is recommended.)
Visit nearby Craven Arms to go to the Shropshire Hills discovery centre or Acton Scott historic working farm. Both are great for children.
A number of larger towns with many things to do in them are within driving distance of Ludlow - Shrewsbury, Worcester, Birmingham, to name a few.
For a more complete list of local attractions, Ludlow has a good tourist information centre, located on Castle Square.