Ludwigsburg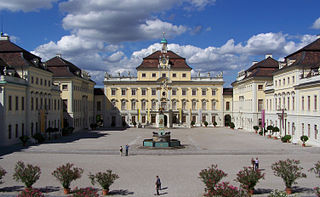 Ludwigsburg
is a city to the north of
Stuttgart
in the region of
Baden-Württemberg
in south
Germany
.
Understand
Ludwigsburg is a town in Baden-Württemberg with around 85,500 residents north of Stuttgart. The town has the districts of Pflugfelden, Eglosheim, Hoheneck, Oßweil, Grünbühl, Neckarweihingen und Poppenweiler. Ludwigsburg is a very young town, in comparison to many other towns in Germany which were founded during the Roman period or earlier.
Ludwigsburg was founded in the baroque period. In 1704 the baron Eberhard Ludwig started building a small palace in the area, and one year later it was named Ludwigsburg palace. In 1709 the first housing around the palace appeared and another year later the construction of the gardens began and the palace was enlarged and completed. In 1718 the area became the new settlement of Ludwigsburg.
It is somewhat unique for having a Catholic and Protestant church opposite each other in the main square, and is home to some large stately homes.
It makes for an easy day trip from
Stuttgart
.
There is a significant film school, the
Filmakademie Baden-Wuerttemberg
that makes a significant contribution to Germany's film industry and attracts a lot of young people to this town.
Get in
By train
The easiest way into Ludwigsburg is to take a train from
Stuttgart
to the Ludwigsburg S-Bahn station. This is located near the town center.
There are regional express train connections from
Würzburg
,
Karlsruhe
and
Heidelberg
.
By car
Exit off the A81 south of
Heilbronn
just north of Stuttgart.
Get around
Public transportation
Public transportation
VVS
is provided by the S-Bahn and buses and connects Stuttgart and the surrounding areas. For short distances, it is best to use the Bus. For longer distances (to get to
Stuttgart
) the S-Bahn is faster.
Public transportation late at night (after midnight) is a problem! On the weekend there are night buses, but they are infrequent (1:11am, 2:00 am, 2:22am, 3:10 am and 3:33am) and on odd routes.
By metered taxi
By bike
Ludwigsburg is small enough to get around by bike.
See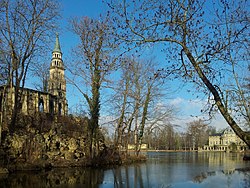 ResidenzschlossThe residence castle (built 1704-1733 from Herzog Eberhard Ludwig von Württemberg) is the germ cell of the town. It was established as a pleasure palace for the duke and his Mätresse, magnificently developed and converted, a triple edge arrangement with over 400 rooms all together. Two churches, a theatre, a big inner courtyard and a castle garden belong to it. In the gigantic building are accommodated several museums.

Lustschloss Favorite

address: Favorite Park

The hunting seat Favorite (built 1713-1728), was build from Herzog Eberhard Ludwig as a hunting seat and pleasure palace near of the residence castle. Baroque facade, equipment in the empire style. The castle was quite often a scenery of broadcastings of a TV late-night show in Germany. A park with deers and mufflons belongs to the castle Favorite. Entry 3.50€, reduced 1.80€

Blühendes BarockThe horticultural show "Blossoming Baroque' is formed by the garden of the residence castle. It is a garden in the French style, suitably to the ambience of the baroque castle. With the fairy tale garden and the castle Emichsburg. Opend from middle of March till the beginning of October, main entrance Schorndorfer street from 9:00-18:00 h. Entry: Adults 7.50€, reduced 3.60€, reduced group prices available. The baroque experience map for the castle with all museums and the blossoming baroque: Adults 16.00€, reduced 8.00€.

Seeschloss MonreposThe castle cannot be visited from the inside.

StrafvollzugsmuseumOnce the penal execution museum was for a long time the only prison of Württemberg. Schorndorfer Str. 38.
Do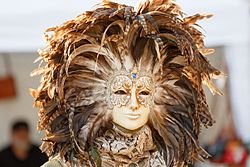 See the gorgeous
Christmas market
around the time of advent: set around the Baroque market square, in the shadow of two churches, bustle alongside locals, passing stalls selling a range of products, from Lebkuchen (festive biscuit hearts displaying messages, some in English) to candles, glassware, art and decorative items before making your way to the food stalls for a warming Bratwurst and Gluhwein (or, for you non-drinkers, a hot chocolate with whipped cream, or hot orange drink) in a special Ludwigsburg mug. Not to be missed!
Ship roundtrips on river Neckar

phone: +49 711 54 99 70 60

address: Shipstop at Ludwigsburg: Uferstraße 95, 71642 Ludwigsburg-Hoheneck

Enjoy liner trips on the Neckar, roundtrips or event trips. Or charter a complete ship just for you. Season is from Easter till End of October. For the conditions see the website. Beverage and food is offered on the ships.
Eat
address: Marstall-Center

quality handmade Maultaschen stall

phone: +49 7141 6433742

address: Bismarckstraße 24
Drink
phone: +49 7141 47420

address: Grönerstraße 25

Dance club for Rock, Metal, Punk, Gothic, Wave, etc. with DJs or concerts with well-known or unknown bands since 1983. Bands like Metallica, Iron Maiden, Manowar, Nazareth, Mötley Crüe, Scorpions, Accept, Queen, Helloween, Testament, Anthrax, Metal Church, Running Wild, Sinner, Hammerfall, and InExtremo have performed at this club. With gambling and chillout area on the second floor. For some events you have to book your tickets in advance.

address: Leonberger Str. 38

An alternative sub culture bar. Frequent music and occasional poetry events.
Sleep
Go next