Ludwigshafen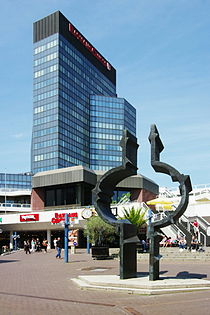 Ludwigshafen (Rhein)
is a city in
Rhineland-Palatinate
.
Understand
Ludwigshafen is a big city on the west side of the
Rhine
(population: approx. 165.500) in the east of Rhineland-Palatinate, and across the river from
Mannheim
, in Baden-Württemberg. Ludwigshafen is famous for its chemical industry, especially the BASF. There are many boroughs, for example Mundenheim, Maudach or Oggersheim. Ludwigshafen lies to the south of Worms and to the east of Kaiserslautern. It is near the Palatinate Forest.
Get in

Ludwigshafen does not have an airport. If you get in by train, you will have to change to a local train or a suburban train in Mannheim, because intercity trains don't stop at Ludwigshafen. Mannheim, however, is a very important train station, so you won't have any problems to get into Ludwigshafen. If you want to travel by taxi, you can get one at Ludwigshafen main station, if you prefer to travel by tram or bus, go to "Ludwigshafen Mitte" with suburban train (RE) S1 or S3 or take a tram right in front of Mannheim's central station.

Get around
There are a lot of different possibilities to get around in Ludwigshafen. There are several tram lines which connect Mannheim and Ludwigshafen and its city districts from morning til night. The centre for most means of transportation is the "Berliner Platz." There are tram lines, busses and the train station "Ludwigshafen Mitte." You can also find taxis there. If you get in by regional train, you might prefer to get out at Ludwigshafen Mitte, because the main station is not so well connected to the bus lines. But you will always get a taxi there.

See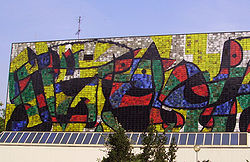 address: Berliner Str. 23

Contemporary art collection

game parkclose to Rheingönheim is an eventful experience for the whole family. You reach it by bike, public transport or car. There are many animals which can be stroked or fed, e.g. goats and donkeys. The animals are from Germany but also from some foreign countries. There are also restaurants, where you can eat delicious food and ice-cream. The game park has many safe play areas for children. You can relaxe on the lawn and have a picnic, or take beautiful pictures of the great landscape.
Do
Ludwigshafen is situated at the bank of the Rhine. You can sit at the beach on the Parkinsel and watch the ships or you could take a boat tour on the river.

Buy

Ludwigshafen is not exactly the place for a great shopping experience, but it has a well-known shopping mall. This is the "Rhein Galerie" which is situated at the river bank, next to the city centre and opposite Mannheim. It is open since September 2010 and is a great option when the weather is not good enough for walking through the many shopping streets of Mannheim.
There are many stores which you will also find everywhere else, mostly fashion, but there are some special places such as a Swiss supermarket. At the entrance there is a bar called "Sunset Lounge" where you can have nice drinks and enjoy the view on the Rhein. In case you have a car, you can park it in the "Park and Ride" area. In the middle of the building there is a nice food court.

Eat
phone: +49 621 5669808

address: Rheinuferstraße 4

address: Wöhlerstraße 15

La torre da Angelo

address: Lutherplatz

Italian food in the ruin of a church. Great open-air area in sunny weather.
Drink

There are some nice options for having a drink. You can go into nice cafes like the bubbles café or into a pub like the Ireland's Own Irish Pub. If you prefer a place with a dance floor, you will enjoy the Loft Club. Within close reach are also the cafe, bars and clubs of Mannheim. One will find significantly more options for going out there.

Sleep
Go next