Lugano
Lugano
is a lakeside city in
Ticino
, the Italian-speaking part of southern
Switzerland
, and is the largest Italian-speaking city in Switzerland, or for that matter, outside Italy. Part of a temperate micro-climate, Lugano offers palm trees, picturesque boulevards, stunning views of the lake and the Alps, and plenty of opportunity for outdoor and indoor activities. Lugano also makes a good base for visiting other cities and sites in the area. The city is a pleasant place to relax in the summertime and is only half an hour away from
Lake Como
.
Get in
By plane
Milan
's airports are 1.5 hours away by bus or train and are served by easyJet and Ryanair.
By train
Trains leave for
Zürich
(3h),
Basel
(3:34) and
Milan
(40min-1h) as well as
Geneva
(via Zürich or Locarno-Domodossola: 5h30 with one or two transfers, 6h30 via Milan with one transfer). Getting to
Geneva
or points west it is faster to go via Zürich or
Locarno
as the trains are more frequent and faster.
By bus
There are three shuttle services between Lugano and
Milan Malpensa Airport
:
Lugano Services(approx every 2 hrs, 04:00–23:30; 1hr 10min; €25 one way; advance reservations on line or tickets directly on the bus)
JetBus (approx every 1-2 hrs; 06:00–23:10; €27 or Fr. 35 one way; can be booked at airport)
Malpensa Express (every 2 hrs; 8:35–23:35; €30 or Fr. 35 one way; can be booked at airport.)
There is also a daily bus service during summer to
Tirano
,
Italy
with train connection (
Bernina Express
) to
St. Moritz
(Switzerland).
Get around
Lugano is small enough to get around
on foot
, and many of the streets are pedestrian-only, but the hills above the lakefront are very steep so the bus or the funicular from the centre of town might be a better option on the way up to the train station if you have a lot of bags.
Taxis
can be found on the main roads.
Ferries
and
funiculars
are great options for seeing the views.
For more information:
By boat
Società Navigazione del Lago di Lugano

phone: +41 91 971 52 23

Runs ferry services across the Lake Lugano. They also offer a number of cruises. While much of Lake Lugano is in Switzerland, a large portion of it is in Italy, so take your passport when on a boat.
Talk

Italian is spoken in Lugano as a primary language. English and German are widely spoken by many of the individuals that interact with tourists.

See
Centro Storico

Palazzo Civico

address: Piazza Riforma, 1

Lugano's City Hall

Parco CivicoA peaceful park with a wide variety of flowers and trees located near the heart of Lugano's tourist area. Villa Ciani is located there.

Cattedrale di San Lorenzo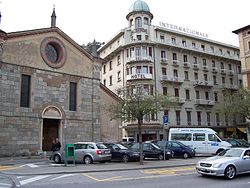 Do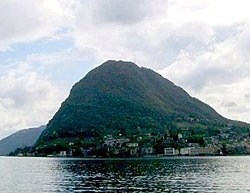 GandriaGandria is an unspoiled, picturesque lakeside village at the foot of Monte Brè. Perched on the steep mountainside it is a community of narrow streets, inaccessible to cars, with a delightful surprise round every corner.

Museo Doganale SvizzeroThere is also a grotto restaurant nearby.

Sentiero di GandriaA path from the end of the Lugano promenade to Gandria. It is marked with panels which describe the history of olive trees in the region. That is why it is also known as Sentiero dell'olivo.
Hiking
Monte BrèThere are numerous rustic trails that lead up from towns surrounding Mount Brè to its summit and the Funicolare Monte Brè. A trail map is available from the local tourist information.

Monte San SalvatoreThe top of this mountain has a restaurant, hiking paths and a look-out tower offering an amazing panoramic view of Lugano, the lake and surrounding area. It is possible to hike up to the mountain (about 2 hours), or take the cable car.

Trekking Lugano and Malcantone region
Bike rentals
SFR Railway Station Lugano

phone: +41 512 215642

Balmelli Sport

phone: +41 91 923-5867

address: Via Pioda 12
Gambling
phone: +41 91 973-7111

address: Via Stauffacher 1
Events
Blues to Bop FestivalFree open air music festival with multiple stages throughout the heart of Lugano in late August.
More
SwimmingThe Lido di Lugano right in the city centre is a great place to swim with a beach, 3 swimming pools and a bar.

BoatingBoat rental options include paddle boats and speed boats.
Learn
Buy
Many major labels and designer boutiques (Versace, Hermes, Paul & Shark, Louis Vuitton, and Cartier) can be found here, as well as the usual Swiss and Italian knick-knacks. Via Nassa in the city centre is the main place for shopping high street brands.
address: Mendrisio, Via A. Maspoli 18

Huge designer outlet in just 20 km from Lugano.

phone: +41 91 912 76 99

address: Salita M. e A. Chiattone 10, 6900 Lugano, Switzerland

Department store with everything from clothing to home goods as well as some Swiss souvenirs. Grocery store in basement.
Eat
Budget
Manora

address: Piazza Dante 2

The cafeteria in the Manor Department store offers a wide variety of tempting International dishes, ranging from sushi to pasta. Fresh fruits and vegetables arrayed in stylish displays are almost a painting themselves. Wine and beer are available as are a wide range of other beverages.
Mid-range
Argentino

phone: +41-91-9229049

Piazza Riforma. Excellent pizza, great service. They offer 2 sizes of pizza, price ranges around Fr. 15-20.

Tango

address: Piazza Riforma

Really great tasty pizza, quick service (6-7 min per pizza).

Ristorante Antico

phone: +41 91 971 48 71

address: CH-6978 Gandria - Lugano

Italian cuisine in the village of Gandria with dining on a terrace with views of Lago di Lugano
Drink
In the summer your best bet is just to wander along the lakeside promenade and open air bar/cafes. Check local listings for clubs and shows as venues come and go with the seasons. Spring-Autumn, Bar Mojito (p.za Manzoni, directly at the lakeside)
There are clubs in the city (discos). Nix (under the Casinò), Privilege (near Manor, a department store), Tito's Place (quartiere Maghetti), Club One and The Cube are all located in the downtown.
Oops (via Maderno 24) and Bibliocafè Tra (Salita dei Frati, Piazza Molino Nuovo) are a great place to have beer in the evening. Near University . Another hint:
Arte

address: Lungolago

Amazing decor, (also an art gallery), great food and views of the Lake!
Sleep
There are a wide range of hotel options right in town, from atmospheric B&Bs to posh four stars to comfy and communal hostels. Be sure to book ahead in the summer, but the rest of the year it's possible to just show up and find something as long as your budget is flexible.
Budget
Mid-range
Splurge
Connect
There are a few internet cafes in town. As usual, try near the train station.
Free Wi-Fi connection can be found along the lakeside and in the University campus (Via Buffi, 13).

Stay safe
Lugano is as safe as most cities in Switzerland, but the density of expensive purses, watches, and sunglasses may make
pickpockets
more of a problem. The usual cautions apply to walking alone late at night, especially after bars and clubs close before dawn.
Important telephone numbers
Police (Polizia) – Emergency only: 117
Fire Department (Pompieri): 118
City of Lugano Police: +41 58 866 82 50 (piazza Riforma), +41 58-8668111 (Via Beltramina 20B)
Civic Hospital (Ospedale Civico): +41 91-8116111 (via Tesserete 46 )
Emergency Ward (Pronto Soccorso), Civic Hospital: +41 91-8116006
Ambulances (Ambulanze): 144
Poisonings (Intossicazioni): 145
Doctor and dentist on call: 1811
Emergency Service - Street aid: 140
Lost Property Office (Ufficio oggetti smarriti), City of Lugano Police, Via Beltramina 20b; Mon-Fri: 7:30AM - 12AM, 1:30PM-5PM; Phone: +41 58-8668250
Nearby
In nearby Melide is an attraction which is very popular among the Swiss:
phone: +41 91 640 10 60

address: Via Cantonale, Melide

Switzerland in miniature as a theme park
Go next