Luganville
Luganville
, also known by the names
Santo
and
Kanal
is the largest town on
Espiritu Santo
, and with about 16,000 inhabitants second largest in Vanuatu. The main center of Vanuatu's biggest island, it has many Chinese stores as well as a few restaurants. Luganville is also one of the country's most important freight ports and was the site of a US military base during the
Second World War
.
The temperature hovers between 20 and 30°C around the year, usually with plenty of rain (average yearly precipitation is about 3,000 mm (120 in)). The first months of the year are the rainiest ones, and it is relatively drier between July and September.
Get in
By plane
The vast majority of people will come into Santo through the airport
Your options from here are to catch a bus or taxi. For the most part the taxi drivers will be able to understand enough English to get you into town, this trip should cost you somewhere in the neighborhood of 700 Vatu (approximately $7 US dollars). Alternately you can catch a mini-bus into town as well, they are less frequent and you'll have to wait till they get around to your destination (buses can take a while to figure out).
Several of the hotels offer a pickup service from Santo-Pekoa International Airport.
Get around
By foot
The town of Luganville is tiny, and with the exception of the big hill, it doesn't present much of a challenge to those who want to walk it. Getting around town can be tricky because often the roads are unnamed but if you know the name of your destination the town is small enough that almost anyone on the street will know what you're talking about if you ask for directions.
By taxi or bus
Taxis are your friend in Santo, especially if you need to get anywhere in a hurry (or avoid walking in the summer heat, or through a tropical downpour). There are many buses in town as well, and these cost a flat rate of 100 vatu. Don't expect too many tar sealed roads in Luganville (or Santo in general for that matter) and aside from the main road, the road up to the hospital and the road leading up the hill toward the Road to Port Olry, all other roads on the island are dirt or leftover cement roads from the American troops in
WWII
.
See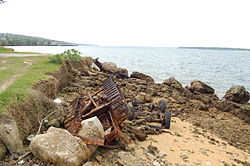 Luganville for the most part is a very utilitarian town, and consists mainly of Chinese stores which carry cheap imported goods and serves the local population's needs for western goods. There aren't many sites to see in town and most of your trips will take a large amount of planning on your part. However there are several places nearby worth visiting, listed in
#Go next
.
In Luganville itself there are a few things you'll want to make a point of getting to before you leave.
Open air marketThe open air market is one of them, its open 24 hours a day except for Sunday nights and it includes fresh fruit, vegetables and various other wares that the people of Santo bring to the markets from their village gardens. You can't beat the quality of their produce as its all organic and incredibly cheap.
Outdoor produce marketGo to the outdoor produce market in the western end of town and buy some of the organic fruit and vegetables.

View from the Big HillTake a walk up to the top of the big hill and enjoy the view of Sagond Channel and Aore Island.
Do
SS President CoolidgeThe biggest draw to the island is the wreck of the SS President Coolidge, a WWII troop carrier sunk by friendly mines in 1942. The majority of people traveling to Santo are divers who come for the expressed purpose of exploring this famous wreck. As such, there aren't many things to do in town other than to visit the local dive shops and organize some diving. Aquamarine is on the road opposite of the Unity Shell station and features a friendly and very experienced staff. They can take care of all your equipment needs and boast wide variety of Padi certified scuba courses at very competitive rates.

Santo Golf ClubThere is a golf course on Santo and if you meet up with some of the local expatriates they can give you a rundown of when the best times to go and play are (and if you make a good impression they may even let you know where you can borrow some clubs)!
Buy
There are many stores that dot the main road in town, however Vanuatu is a tax free island, so you will pay a premium for imported goods . The majority of these stores carry cheap imported goods from China and contain many of the same items.
There are lots of good local craft stores which carry everything from Coke bottles dating back to WWII to carvings made by local wood workers.
LCMIf you want groceries there is LCM in the center of town and it is the best store to get any western goods you might want it's better to bring as many of your own toiletries as possible and stick to the fresh fruits and vegetables as snacks while in Luganville.

Liquor and beer storeThere is a liquor and beer store in town, but expect to shell out a few thousand extra Vatu for the bottles that you might recognize.
Eat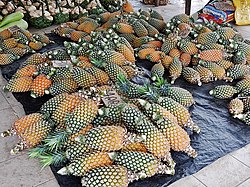 For those on a limited budget the outdoor produce market has several vendors who serve up meals with rice these include beef stew, eggs (sort of an omelette), steak (not the best) and fish. With your meal expect a light lemon-aide, and fresh fruit for desert. These meals are 400 Vatu at most and are quite filling.
Hotel Santo

address: Main Street

Hotel Santo has a fantastic restaurant and serves the best and only pizza on the island (though you'll have to arrange a day or so ahead of time). Hotel Santo has a great bar and friendly staff (its also one of the few places you can get pizza in Luganville for those of you missing a western meal)

address: Rue San Michel

Serves fantastic locally ranched Santo beef - the eye fillet with green peppercorn sauce is good, and a souffle prepared from scratch for dessert tops off the experience. The beef is raised on a completely organic diet in Santo, and is some of the best beef you'll ever eat.
Natangora CafeThe Natangora Cafe (centrally located) has a good breakfast and lunch menu, and serves up coffee, cappucinos and fresh juices. The milkshakes and burgers are excellent and made with fresh, local ingredients.

Nemo RestaurantThe French-run Nemo restaurant is probably the best in town.

Chinese restaurantsThere are several Chinese restaurants in town as well, one of which serves a westernized style of dish and the other a more authentic style. The latter will prepare Coconut crab depending on the season (this might vary as laws are being put into place to limit the poaching of this endangered species), as well as bush pidgeons and various other dishes. This restaurant can be found next to Aquamarine.
Deco stopThe Deco stop deserves mentioning as it serves up fantastic meals with an unbeatable view.
Drink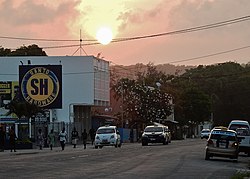 Water
throughout Santo is quite safe to drink. The local beer is called Tusker and is quite refreshing. You can buy Tuskers at most any of the small stores for 200 Vatu a bottle. You won't get a discount on a buying a case so be prepared for that.
Alcohol isn't that popular of a drink amongst the local Ni-vanuatans and as such there are no real bars. There is a sports bar in town, but its dingy and run down. Your best bet to have a drink in town is at the bar of Hotel Santo. Or you can buy a beer and sit on the shore of the Nemo Nakamal.
Kava
You'll want to try Kava while in Santo, its a concoction made from the roots of a pepper bush, its effects are those of a local anesthetic. Kava is served in coconut shells in various nakamals (outdoor seating areas with palm frond roofs), shells come in 50 vatu, 100 vatu, and 150 vatu shells and it is best when drinking Kava to open your throat and down the drink in one gulp (it's known for its effects not its taste). To start off with you will might want to try a 100 vatu shell, and in 20 minutes or so you'll feel the relaxing effects you could have another 50 shell. If it's your first time, don't drink more than 200 vatu worth of kava. Fortunately, there are many taxis in town, and many Kava bars, so unless you're seeking out a specific nakamal you'll have no trouble getting home.
Sleep
There are several hotels in Luganville. In addition to the ones listed below there are several smaller options. Booking in advance is recommended as during peak diving season (which coincides with the cooler dry season) all available lodging might well be booked.
Go next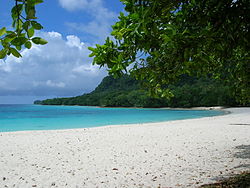 There are a few great trips day trips you can do from town:
is about an hour long trip from town but well worth it. The sandy beach is postcard worthy and features silky soft silica sand as well as coconut palms. There is a nominal fee to enjoy the beach and this goes to the landowners.
While in Santo be sure to visit one of the many blue holes (fresh water springs well up and form cool blue pools) its refreshing to stop at one of these on your way home from Champagne Beach, jump into the cool water and wash off the sand and salt before going home.
A trip through the is well worth your time. You'll have to ask someone at your hotel about the best way to organize a trip there, often this will involve getting a group together, booking a bus and having someone prepare a guide at the village to take you through. The caves are beautiful and are inhabited by bats and sparrows. The caves were worn through by the river over many many years. This is a more adventurous undertaking, and you'll need to expect to get quite wet, bring a flashlight, and the best footwear are reef shoes or if you're a diver, your booties will work quite well if you have a good sole on them. Once you come out the other side of the caves you'll float down the river to a set of steps cut into a steep slope and find your way (with your guide of course) back to the village.
If you just want to lounge around and relax by the pool for the day, an option can be the across the Segond Channel, where you can order exotic cocktails and enjoy a bit of fresh water and sun. Ask one of the staff at your hotel about the times the ferry makes trips across the channel.