Lycia
Lycia
(
Turkish
:
Likya
) is the westernmost section of
Mediterranean Turkey
. Lycia is also popularly known as
Turquoise Coast
, and forms a substantial part of
Turkish Riviera
. With clear waters and beautiful Mediterranean coastline, the region is great for divers, swimmers and yachting.
— seaside resort town south of Antalya
— region's airport is located here, as well as an accidentally built train station
— near the Lycian ruins of Myra, this is the town where St Nicholas, better known as Santa Claus, lived
— a town high in the western Taurus mountains, great as a starting place for hikes onto Mt Kızlarsivrisi, the highest peak of the surrounding region
— primary city of the region; surrounded by verdant mountains, Lycian ruins, and turqouise sea; gateway to Ölüdeniz–the Blue Lagoon
— the ancient Phoenicus, is a popular tourist destination, quite famous for its oranges
— yachter's mecca on the tip of a bay with lots of secluded coves and islands, all covered with pine forests
— coastal town with whitewashed Mediterranean architecture
— coastal town with some well-preserved traditional architecture
— a coastal resort city
— hub for visiting nearby Xanthos and Letoon, political and religious capitals of ancient Lycia respectively, both on the UNESCO World Heritage List
— a town up on the Taurus Mountains
— another relatively big town; a little touristy, but nice resort serving as one of the gateways for "Blue Voyage"
Other destinations
— a deep canyon with sea on one side and some rare butterflies with the only access from the sea or a hard climb down via a narrow path
— miles of channels meandering around marshlands, beach where endangered Caretta caretta green sea turtles lay eggs, and nearby rock tombs engraved on hillsides
— a coastal canyon similar to Butterfly Valley, but remoter, although accessible overland
— an abandoned village with hundreds of partially ruined houses south of Fethiye
— a sandbar lying just a few centimetres/inches underwater, enclosing a cove on the shore of Bozburun Peninsula just south of Marmaris
— the island and nearby villages of Kaleköy and Üçağız are the site ancient towns of Simena, Aperlae, Dolchiste and Teimioussa. Kaleköy, which is dominated by a hilltop Byzantine caste, is only reachable by a path running from Üçağız or by sea
— the "Blue Lagoon"
— backpacker destination full of wooden tree-houses and rich nightlife
— a stunning inland gorge, great for a leisurely hike
Understand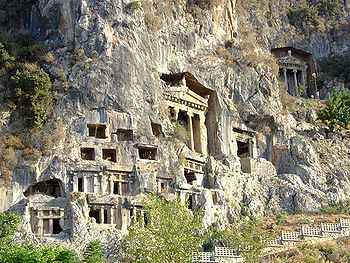 Rugged and forested, pine-clad mountains in Lycia descent right to the coastline heavily indentated with gulfs and coves, making the region top yachting area in the country.
Geographically, Lycia occupies Teke Peninsula, a large U-shaped expanse of land between Gulf of Fethiye to the west and Gulf of Antalya to the east, in the southwestern corner of the country. In modern political terms, Lycia forms southern half of Muğla Province and western third of Antalya Province, which divide Lycia into roughly equal halves along north-south flowing
Eşen Çayı
, or
Xanthos River
as it was known in ancient times.
Ancient Lycia was a democratic federation of city states, which is thought to have influenced the United States constitution. Today, most towns in the region have some remnants from the ancient Lycian civilization, in the form of sacrophagii, distinctive rock tombs, or city ruins.
Unlike its neighbour to east,
Pamphylia
, which welcomes its visitors in large all-inclusive resorts, Lycia is more of an independent traveller destination and tourism in the region evolves around small guesthouses and fairly pleasant coastal towns, some of which such as
Olympos
still preserving their hippy-ish atmosphere. However, some large resorts—not up to scale that is found in Pamphylia, though—are present here too, in the western (around
Marmaris
, and
Fethiye
) and eastern (around
Kemer
) ends of the region, as long as geography permits.
Talk
Local dialect of
Turkish
is highly different from the official standard (which is based on
Istanbul
dialect), and with much of its vocabulary being totally incomprehensible to even non-local Turks, it can even be objectively regarded as a language on its own (some half-jokingly prefer to call it
Muğlaca
, i.e. "Muğla language", instead of the usual term of
Muğla şivesi
, i.e. "Muğla dialect"). However, all people in the region, except perhaps older ones living in remote villages, can speak standard Turkish (albeit with a slight accent usually), and, thanks to heavy tourism in the region, if you don't intend to
hike between mountain hamlets
, English will likely be sufficient to communicate anyway.
Get in
By air
Dalaman Airport
(
DLM
), with its international connections, is the sole airport of the region, and makes a convenient hub into the region. The international airport in Antalya is closer to the towns at the easternmost reaches of the region (such as Kemer, and Olympos), though. Kaş lies somewhere around the midway, being equally (and considerably) distant to both, with 180 km to Dalaman and 192 km to Antalya, so a good rule of thumb is, if your destination is west of Kaş, pick Dalaman, and for destinations east of Kaş, fly into Antalya.

By bus
Most towns in the region have direct bus connections to the major cities of the country, such as Istanbul, Izmir, and Ankara.

By car
Highway D400 connects the region with Pamphylia in the east along the coast, with a connection to D330 in Gökova towards north (Muğla, Kuşadası, Izmir).

By boat
There are ferries between some towns in Lycia and nearest Greek islands.

Get around
Towns in the region are connected to each other with frequent
minibus
(
dolmuş
) services.
By thumb
Hitchhiking
, while possible if you don't mind waiting for a lift up to two hours, is not really an easy way to travel around the region. Hitching from around
Olympos
in the east is definitely better, though.
On foot
Lycian Way
(Turkish:
Likya Yolu
), a marked hiking trail which is a collection of ancient paths and forest trails, starts from south of
Fethiye
and connects most of coastal towns and villages in the region, and extends beyond regional boundary to
Pamphylia
in the east, towards
Antalya
.
Do
Hiking — Hiking is a great option to get more in touch with the history and nature of the area. There are lots of waymarked hiking trails (most of which does not exceed 10 km in length) with varying levels of hardness in the region, in addition to the grand Lycian Way. One place surrounded by a dense (relatively speaking) marked trail network is Kayaköy.
Cruising — Lycian coasts are some of the most spectacular and rightly popular sections along a Blue Cruise.
Drink
Free cold water dispensers, or
sebil
s as they are locally known, are abundant in the region, more so than the rest of Mediterranean Turkey.
Go next
Pamphylia to east, while has much in common with Lycia due to both being on the Mediterranean, has a fairly different character as far as travellers are concerned, due to mass tourism and package tourists there.
In Southern Aegean to north, Greek ruins substitute Lycian ruins, and olive grooves replace pine forests.
Rhodes and some other smaller islands belonging to the Dodecanese group lie just off Lycian coasts, to southwest and south, receiving direct ferries from the nearest Turkish harbour towns.