Lynchburg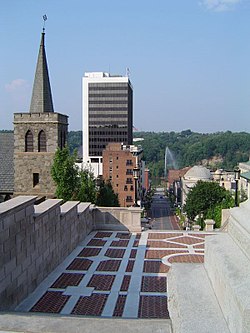 Lynchburg
is an independent city of 75,000 in the Commonwealth of Virginia. It lies east of the
Blue Ridge Mountains
in
Central Virginia
.
Understand
Lynchburg began in 1757 as a ferry town, fording traffic across the James River. The city is built on centuries of history, boasting strong connections to Thomas Jefferson, Patrick Henry, and other early American patriots. Because of the city's use by the Confederacy as a supply and hospital center, it served as a battlefield in the American Civil War. Lynchburg has been designated a portion of Virginia's Rail Heritage Region. Lynchburg's historic districts contain many beautiful homes from the 19th century.
Lynchburg's name is derived from its founder, John Lynch, who, at the age of 17, began a ferry service across the James River to facilitate travel to and from New London. He would later be responsible for the bridge which would make his ferry service obsolete. Despite common misconceptions, neither John Lynch nor Lynchburg is associated with the origination of term, "lynching," though it may have originated with John's brother, Charles.
Geography and climate
Lynchburg's nickname, the "City of Seven Hills," is very descriptive of the geography of the city. Though it refers most directly to the hills near where the city was founded, these hills extend far beyond the riverfront at the James River. The area includes much of Candlers Mountain.
Spring in Lynchburg is short-lived, often it is simply a period of wide fluctuation between mid-late winter and early-mid summer temperatures. Summers are humid and hot with temperatures generally reaching 90°F. Autumns are mild; temperatures stay somewhere between 40°F and 55°F. Once winter hits, temperatures will top out near freezing until February and, perhaps, beyond. Recently, winters have brought lots of snow to the Lynchburg area, bringing about three one-foot snowstorms each winter.
Generally, storms will pass through over the course of a few hours, but rain systems without lightning and thunder will stick in Lynchburg for days at a time, lending to the nickname "Drenchburg." When there is wind in Lynchburg, it tends to be a very high wind. Unlike nearby areas, the warmest part of the day in this part of Virginia is generally 5PM.
Information center
phone: +1 434-485-7290

address: 216 12th Street
Get in
By car
Lynchburg does not have direct interstate access. Instead, you can get to Lynchburg by one of three major U.S. Routes: U.S. 29 North and South, U.S. 460 East and West, and U.S. 501 North and South. U.S. 501, however, is generally only convenient for travel from the immediate northwest and southeast.
U.S. 29 merges with U.S. 460 at a three-way junction. When traveling to Lynchburg via U.S. 29S, a right exit is required to continue along U.S. 29S / U.S. 460W.
Drivers arriving in Lynchburg should be wary of exiting onto Candlers Mountain Rd in particular. The timing of the first two intersections off U.S. 460 tend to trap drivers at the first intersection at Mayflower Dr. Also, construction on a bridge just beyond Mayflower Dr will reduce traffic to one lane. (This construction should begin 16 Apr 2012 and should end no later than 23 Nov 2012.)
By plane
Lynchburg Regional AirportAmerican Eagle operates a regional flight between Lynchburg Regional Airport and Charlotte Douglas International Airport (). These flights operate on a schedule of approximately one plane arriving and departing every two hours. The airport offers a café with free wireless access.
By train
Lynchburg is the southern terminus of
Northeast Regional
from
Washington, D.C.
,
New York City
and
Boston
as well as a stop on the
Crescent
between
New Orleans
and New York City. Both services are operated by
Amtrak
and have one departure per day. is located at 825 Kemper St, about one kilometer east of downtown.
Get around
By car
Driving is perhaps the most convenient way to get around Lynchburg. Apart from the Downtown area, most of the city is not very friendly to pedestrian traffic.
The Lynchburg Expressway connects most of the major roadways in Lynchburg, intersecting and merging with the business segments of U.S. 29, U.S. 460, and U.S. 501.
The city limits are very clearly marked and are drawn in such a way that some places within the city are inaccessible without first traveling outside the city. For instance, the planned community at Wyndhurst can only be accessed via Enterprise Dr, which terminates in two different counties.
Also note that a few major roads change names with no clear indication as to where these changes take place. For examples, Lakeside Dr becomes Forest Rd, Fort Ave becomes Timberlake Rd, and Memorial Ave becomes Fifth St.
Several lots and limited on-street parking are available in Downtown Lynchburg. Two lots, the Midtown and Clay Street Parking Decks, are metered, operating on the mPARK system used in several other cities in the United States and abroad.
During the afternoon rush hour (4:45PM - 5:45PM), Candlers Mountain Rd, Wards Rd, and Timberlake Rd experience significantly increased traffic.
By taxi
Several dispatch taxi services operate in Lynchburg.
City Cab Company

phone: +1 434 846-0231

address: 413 Jackson St

Allied Cabs

phone: +1 434 845-7039

address: 2109 12th St

Gray Top Cab Incorporated

phone: +1 434 845-4554

address: 1107 12th St

Hill City Cab

phone: +1 434 845-8554

address: 200 Oakley Ave
By bus
Greater Lynchburg Transit Company
(GLTC) offers bus services to the area. Single-direction trips are $1.50, and day and multi-day passes are available. Most routes run though the Plaza Shopping Center as a central hub and transfer point. Because of this layout, however, travel from some points in the city to others may take in excess of an hour in spite of being only a few miles away. GLTC also operates intracampus bus services to Liberty University. This service is free to students, faculty, and visitors.
See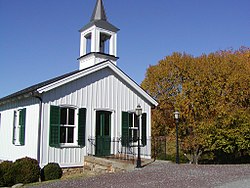 Daura Gallery

phone: +1 434 544-8343

address: 1501 Lakeside Dr

Open during the college academic year only.

phone: +1 434 947-8136

address: 1 Quinlan St

phone: +1 434 832-0162

address: 757 Sandusky Dr

This historic house served as the Union Headquarters during the Civil War Battle of Lynchburg. Sandusky is open by appointment.

Point of Honor

address: 112 Cabell St

Monument Terrace

address: 9th St and Church St

Commemorates Lynchburg citizens who fought and died in the Civil War, Spanish American War, World Wars I and II, the Korean War, and the Vietnam War. A 139-step staircase, the terrace's base is at the intersection of 9th and Church Streets and ends at Court Street in front of the Lynchburg Museum.

phone: +1 434 847-1465

address: 401 Taylor St

The oldest continuously-operated public cemetery in Virginia, museums on-site give a glimpse into rituals of mourning over the centuries.

Lynchburg Museum

phone: +1 434 455-6226

address: 901 Court St

In the former Lynchburg court house. Parking is available in the Clay Parking Deck immediately behind the building.

Miller Park

address: 2100 Park Ave

37-acre park includes a pool and a beautiful historic aviary, now used as a banquet hall.

Riverside Park

address: 2270 Rivermont Ave

47 acre park includes the Sprayground, an outdoor water playground.

Peaks View Park

address: 199 Ivy Creek Ln

250-acre park includes may trails, sports fields, a frisbee golf course, and picnic facilities.
Do
Lynchburg's hills make the city great for hiking and recreational biking. Percival's Island Trail, which connects with the Blackwater Creek Trail, forms a 13.5 mile paved trail that travels through Lynchburg. The trail can be accessed at three major points off Washington St, Jefferson St, and Langhorne Rd. The trail follows both the James River and the Blackwater Creek. Off of the trail there are several hiking and mountain biking opportunities. Liberty University also maintains a mountain biking and hiking trail on Candlers Mountain.
Lynchburg hosts a minor-league professional baseball team as well as colleges with active athletics departments.
Bikes Unlimited

phone: +1 434 385-4157

address: 1312 Jefferson St

Offers bicycle sales, repair, and rentals. Near the connection between the Blackwater Creek Bikeway and RiverWalk trails.

Liberty Mountain Snowflex Centre

address: 4000 Candlers Mountain Rd

This year-round ski resort is made possible with an artificial terrain technology that makes the resort the first of its kind in the United States.

phone: +1 434 592-3953

address: 1971 University Blvd

Open year round, hours subject to change for summer.

phone: +1 434 528-1144

address: 3180 Fort Ave

Class A Advanced affiliate to the Atlanta Braves. Free parking for all games behind the stadium.

Liberty Flames and Lady Flames

phone: +1 434 582-7328

address: 1971 University Blvd

NCAA Division I teams representing Liberty University, playing mainly in the ASUN Conference. The football team is independent (not in a conference) in the top-level FBS. The main sports venues are on campus, most notably Williams Stadium (football) and the Vines Center (basketball and women's volleyball; also hosts many university events). The school is preparing to build a smaller on-campus venue to be known as Liberty Arena; once it opens in 2020, all of the teams that now use the Vines Center will move there. A few games that are expected to draw very large crowds will remain at the Vines Center.

phone: +1 434 544-8286

address: 1501 Lakeside Dr

NCAA Division III teams representing Lynchburg College, playing in the Old Dominion Athletic Conference.

phone: +1 434 947-8536

address: 2500 Rivermont Ave

NCAA Division III teams representing Randolph College, playing in the Old Dominion Athletic Conference.

phone: +1 434 845-4427

address: 1022 Commerce St

Liberty University Tower Theater

phone: +1 434 582-7328

address: 1971 University Blvd

phone: +1 434 544-8380

phone: +1 434 947-8562

address: 2500 Rivermont Ave

Regal Cinemas River Ridge Stadium 14

address: 3411 Candlers Mountain Rd

This theater is accessible through the mall. Premium 3D showings.

Cinemark Movies 10

address: 3700 Candlers Mountain Rd

Commonly known as the "Dollar Theater," this theater shows second-run films at a discounted price. Premium 3D showings.

Blue Ridge Summer Theatre Festival

phone: +1 434 826-0391

address: 134 Chapel Road Sweet Briar, VA 24595

Put on annually by Endstation Theatre Company, resident theatre company of Sweet Briar College. Features outdoor theatre.
Buy
Eat
Budget
phone: +1 434 528-6800

address: 2245 Langhorne Rd

phone: +1 434 239-9701

address: 8004 Timberlake Rd

phone: +1 434 237-4009

address: 120 Simons Run
Texas Inn
phone: +1 434 846-3823
address: 422 Main St
Mid-range
phone: +1 434 384-0066

address: 2804 Old Forest Road

Voted best Chinese year after year.

WaterStone Pizza

Sakura

phone: +1 434 237-3900

address: 6113 Fort Ave

Low-key Japanese restaurant. Not a dinner-and-show restaurant, but great food.

Depot Grille
Splurge
Bull Branch

phone: +1 434 847-8477

address: 109 11th St

Koto

phone: +1 434 237-9134

address: 2160 Wards Rd

Teppanyaki-style Japanese steakhouse with sushi bar. Offers free dinner meals for birthdays (dine-in only, show ID for verification).

phone: +1 434 455-1510

address: 1312 Commerce St

Offers private rooms and extensive wine selection.
Drink
Inklings Bookshop & The White Hart

phone: +1 434 455-1659

address: 1208 Main Street

The Drowsey Poet

phone: +1 434 845-8800

address: 3700 Candlers Mountain Rd

phone: +1 434 237-8878

Local coffee roaster.
The Muse Coffee Company

address: 1509 Enterprise Dr

The Muse Eight-Thirty Club

address: 1415 Kemper St
Phase2 Dining & Entertainment Club
phone: +1 434 846-3206
address: 4009 Murray Place
Sleep
address: 2460 Rivermont Ave

address: 1101 Federal St

Norvell-Otey House

address: 1020 Federal St

phone: +1 434 455-1500

address: 1312 Commerce St

On the waterfront of the James River a few hundred feet off of Main St.

Kirkley Hotel and Conference Center

address: 2900 Candlers Mountain Road

phone: +1 434 239-3006

address: 4025 Wards Rd

phone: +1 434 845-1700

address: 3777 Candlers Mountain Rd

phone: +1 434 528-2500

address: 601 Main St

phone: +1 434 239-8863

address: 1910 University Blvd
Stay safe
For emergencies occurring on the campus of Liberty University, call the
Liberty University Police Department
phone: +1 434 592-3911
Go next
Thomas Jefferson's Poplar Forest

phone: +1 434 525-1806

address: 1542 Bateman Bridge Rd, Forest, VA 24551

Open from Mar 15 to Dec 15.

address: 3 Overlord Circle, Bedford, VA 24523

Appomattox Court House National Historical Park

phone: +1 434 352-8987 ext 26

address: VA 24, Appomattox, VA 24522

Site of the surrender of the Confederate States of America. Reduced fees after Labor Day and before Memorial Day.

Peaks of Otter Visitor Center

phone: +1 540 586-4496

address: 85919 Blue Ridge Parkway, Bedford, VA 24523

Base for two popular mountain hikes.
Crabtree Falls

address: 11581 Crabtree Falls Hwy, Rt 56, Montebello, VA 24464

Crabtree Falls is the highest vertical-drop cascading waterfall east of the Mississippi River. Viewing area at the base is handicap accessible.

address: 15 Appledore Lane, Natural Bridge, VA 24578

Tickets for cavern and other Natural Bridge attractions are available separately or as a package.