Lynden
Lynden
is a city in the
North Cascades
region of
Washington State
.
Understand
History
Lynden was begun in 1871 and established in 1874 by Holden and Phoebe Judson near the site of the Nooksack Indian village Squahalish (Nooksack: Sqwehálich). It was named by Phoebe Judson after the riverside town in Hohenlinden, a poem by Thomas Campbell, stating:
According to her book, A Pioneer's Search for an Ideal Home, she changed the spelling to "Lynden" to be more visually appealing. The town was officially incorporated on March 16, 1891.
The town lies in a broad valley along the winding path of the Nooksack River, which empties into nearby Bellingham Bay. The surrounding area is filled with dairy, raspberry, strawberry, and blueberry farms. Even though not founded by them, the region saw significant Dutch immigration in the early and mid 1900s, spurring the growth of dairies. Today, Lynden pays homage to some of its Dutch heritage through locations such as buildings on Front Street, where some businesses have been made-over with a Dutch theme, complete with a windmill. Along that street, you'll find the Lynden Dutch Bakery, Dutch Mother's Restaurant, and numerous local businesses. Some local supermarkets contain Dutch food sections, but Dutch is spoken by very few of the town's residents today. In the last two decades, the population has nearly doubled in size, with Dutch being more predominate than other ethnic ancestry.

Climate
Lynden has perhaps some of the coolest weather in Western Washington, due to its far north location.
The winter temperatures commonly range between the upper 20s (about -3°C) to mid 40s (nearly 10°C). During a cold outbreak however, bitter and dry winds whip from the Fraser River north of the border, dropping temperatures to the teens(below -10°C). As a result, snow can be worse in this area compared to the rest of the Western Washington lowlands, though occurrence is on average only 2 or 3 annually.
Summer temperatures are cool with temperatures ranging from the lower 50s(10°C) to the lower 70s(around 20°C).

Get in
By car
From Interstate 5, take the
Exit 270
towards eastbound Birch Bay Lynden Road or
Exit 256
towards northbound Meridian St (Washington Route 539), both of which will take you straight towards Lynden.
Travelers from Canada can cross the border into the US from
Aldergrove
checkpoint, in which they can go straight for 5 miles towards the city center.
By bus
Route 26
of Whatcom Transport Authority departs from Bellingham's Cordata/Whatcom Community College Park & Ride.
By plane
Lynden has a small
municipal airport
(
38W
) that can be used for private aircraft. Commercial flights may land at Bellingham and Seattle in the United States, as well as Vancouver in Canada.
By taxi
These taxi companies serve Lynden and the rest of Whatcom and Skagit Counties. As the number of taxi cars are scarce while serving two counties, it is advised that you call ahead in case you need one.
phone: +1 360 733-8294

phone: +1 360 746-4943

Their taxis can fit up to 6 people.
By rideshare
Uber and Lyft reaches out to passengers from both Whatcom and Skagit County, including from Oak Harbor and Camano & Whidbey Islands.
Get around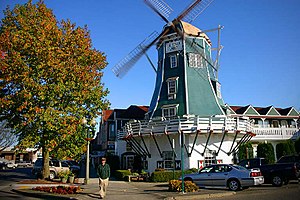 By foot
The downtown area is compact enough to be explored on foot.
By public transport
Whatcom Transit Authority's
Route 26
traverses through several points in and around Lynden. Keep in mind that the bus runs every 90 minutes on all days. The bus runs from 6:30AM to dusk on weekdays and 8AM to dusk on weekends.
See
Lynden has a strong Dutch immigrant heritage which is reflected in many of the festivals, buildings, shops and eating establishments. The downtown area begins from 9th St to 1st St, at around Grover and Front St.
phone: +1 360 354-3600

address: 321 Front St

A community art center featuring exhibits and performances by local artists.

phone: +1 360 354-3675

address: 217 Front St

A museum containing a real replica of old downtown Lynden, with full-fledged shops and intricate interiors that tells the history of the town. Also features memorabilia from the World War II's Pacific Theater.
Do
Just like the Netherlands, Lynden is notorious for its farm and dairy produce, some of which you can pick up by yourself.
Buy
Be aware that most, if not all, shops and restaurants in the downtown corridor close on Sunday. Your best bet for finding what you need to buy on that day would be a Safeway or Food Pavilion grocery store at Guide Meridian Road.
phone: +1 360 746-8664

address: 1011 E Grover St

A favorite local fare for milk, cheese, sandwiches, and ice cream, though it also houses some convenience store items. Don't miss the ice cream bar, which is their main attraction.
Eat
Lynden Dutch Bakery

phone: +1 360 354-3911

address: 1724 Front St

Assortment of Dutch and American style and pastries in this highly adorned bakery. Also features a small seating area with cafe menus.

Dutch Mothers Family Restaurant

phone: +1 360 354-2174

address: 405 Front St

Dutch and American diner fares in a rustic setting.

phone: +1 360 393-3068

address: 655 Front St

Authentic Thai restaurant run by Thai spouses. Be aware that you can choose the spiciness level for your ordered dish.
Sleep
Unfortunately, there are scarce availability for hotels in proper Lynden. Visitors who choose to visit can stay at Bellingham, 30 minutes away south of the town.
address: 109 E Homestead Blvd

A hotel by the golf course, with condo style rooms and steakhouse restaurant.

phone: +1 360 684-4341

address: 655 Front St

Seven rooms of different interiors inspired by Dutch patterns, housed under a windmill.

phone: +1 360 746-8597

address: 100 5th St

Old school building with modern interior. Every overnight stay includes complimentary Dutch bike rental.
Go next