Mödlareuth
Mödlareuth
is a small, unincorporated
German
village divided between the towns of Töpen,
Upper Franconia
,
Bavaria
and Gefell,
Thuringia
. Historically, Mödlareuth was split
Berlin
-style by the East German border wall as part of the front line of
Cold War Europe
.
Understand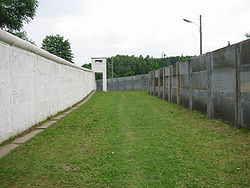 A "Modelotenreut" is mentioned in parish church records as early as 1374. The tiny (one foot wide) Tannbach stream through Mödlareuth hamlet became Bavaria's northern border in 1810, in the
Napoleonic Wars
era after Bavaria annexed most of historical
Franconia
.
To the north, Reuss had been part of Thuringia since 1920; it became part of the
Soviet
occupation zone in 1945, splitting the village between what became West Germany and East Germany. A pass was required to cross between the two parts of town. A series of border fences were constructed after 1952, with residents close to the border forced to relocate. The wall separating the two halves of Mödlareuth was built in 1966, with the East German part of the village strictly monitored and subject to access restrictions. Americans nicknamed the town "Little Berlin"; US Vice President George HW Bush and West German defence minister Manfred Wörner visited in 1983, with Bush exclaiming "Ich bin ein Mödlareuther!" in allusion to John F. Kennedy's "Ich bin ein Berliner."
The crossing was re-opened to pedestrian traffic in December 1989 and most of the wall was bulldozed in June 1990, with a portion retained as a memorial. An open-air museum, established in 1994, includes a portion of the original wall as well as a rebuilt barrier typical of those on the border at the time.
Get in
See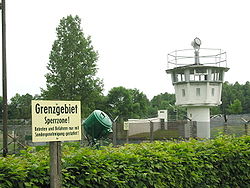 German-German Museum Mödlareuth

phone: +49 9295 1334

address: Mödlareuth 13, 95183 Töpen

A museum in the village recalls the border and the division of Germany. Preserved border installations (700 metres of the original wall with two observation towers, border columns and warning signs, floodlights and other relics) lie along a 4 km (2.5 mile) instructional path.
Eat
phone: +49 36649 79256

address: Mödlareuth 17, 07926 Gefell

Small guest house on the Dorfteich, near the museum. Restaurant with beer garden, hot food and homemade cakes. A few cozy rooms available year-round. Elenore Müller, the landlady, has organised a Christmas market directly in front of the hotel in past years with local entertainment and vendors, baked goods and a Santa Claus.
Sleep
There is just the one small guest house within the Mödlareuth hamlet. Hotels are available elsewhere in Töpen and Hirschberg.
phone: +49 9295 9730

address: Moosanger 4, 95183 Töpen

phone: +49 36644 434870

address: Gartenstraße 1, 07927 Hirschberg

13 rooms with wi-fi, parking, satellite TV. Restaurant for breakfast (6:15-10AM) and dinner (6-8PM), evening barbecue €12.50/person.

Hotel Garni

phone: +49 36644 24945

address: Bahnhofstraße 13, 07927 Hirschberg
Go next
Hof, Bavaria
Saale-Orla-Kreis, Thuringia