Mönchengladbach
Mönchengladbach
is a city in
North Rhine-Westphalia
,
Germany
with 262,000 inhabitants (2017).
Understand
"MG", as it is often abbreviated, is mostly renown for its Soccer Club, Borussia Mönchengladbach. Though inhabited by more than a quarter million people it appears to be a small town due to infrastructure, culture and "spirit". There is very limited public transit (esp. at night), very few clubs and pubs, no arthouse cinemas, and no "scenes". The metropolises of Cologne and Düsseldorf tend to cause a certain "brain drain" from MG so it appears to some as a kind of suburb to those - though again poorly connected in terms of public traffic.

Get in
By plane
The closest airport is Düsseldorf (
DUS
) with a number of national and international connections

By train
Mönchengladbach can be reached by regional trains. For long distance trains, change in Duisburg, Düsseldorf or Cologne
Mönchengladbach has two stations named "Hauptbahnhof" ("main station") due to the merger of Rheydt and Mönchengladbach and the former main station of Rheydt never being renamed.


By bus
Intercity buses in Germany serve the town.

Get around

Both Rheydt and Mönchengladbach used to have streetcar systems which were shut down in the 1950s and 1960s and there are no concrete plans of ever building one again, making modern Mönchengladbach one of Germany's biggest cities without urban rail of any kind. Mönchengladbach has a bus system but it's limited. From 20:00, it's of no practical help and from 23:00 there are no buses. Buses start from 05:00 (09:00 on Sundays!). On Fridays and Saturdays there is a Night Bus from the party area Alter Markt / Waldhausener Str. to the outskirts, but only until 03:00. You'll always find a taxi of course but they can be costly. Biking is advisable only from April to October, watch out for sudden weather changes. Distances within the centre are easily walked, but Rheydt and the outskirts are not.

See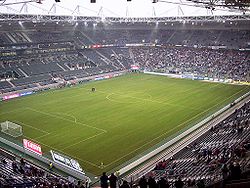 address: Schlossstraße 508

Museum

Schloss Wickrathrestaurant

address: Abteistraße 27
Do
Borussia Mönchengladbach - The club is in the Bundesliga. The stadium capacity is 54.000 people, you might like to join a match, especially versus Bayern München, 1.FC. Köln, or Borussia Dortmund
On Wednesday nights usually you will start at the Mezcalito at about 21:00, pay an entry fee of €3 and drink half-price drinks. Comfortably numb you will then stagger to the Rossi and finish your work. Sometimes there are open jam sessions or live concerts at the Projekt 42.
On Thursday there are occasional "poetry slams" at the Projekt 42 (German), better check the HP before.
Buy
Mönchengladbach is not about big shopping tours and never will be, try
Düsseldorf
,
Cologne
,
Venlo
(NL) or
Roermond
(NL) instead.
If you like German bread:
Cafe Ö
, Marktstieg 8, very close to the "Alter Markt", is a non-chain-bakery and cafe. They do handcrafted, organic, whole wheat bread. That's what Germans miss when they're abroad (some even more than beer).
If you consider tea bags a crime and are in need of the real stuff:
Tee Gschwender
, Hindenburgstr., at the "Theater Galerie" will give you sweet relief.
You'll find a
Chucks and Vans
shop at the Theater Galerie, too.
If you're into punk, hardcore, and ska music and clothes, pay a visit to
Nightmare Records
address: Waldhausener Str.
Eat
address: Wallstr. 19

Old fashioned students' cafe

address: Stephanstr. 1

address: am Alten Markt

address: Rheydter Straße

Cafe Trotzdem

address: am Alten Markt
Drink
phone: +49 2161 178855

address: Waldhausener Str. 25

address: Alter Markt 23

A little overstyled, Fashionable beer, big TV screen.
Sleep
phone: +49 2166 254199

address: Geneickenerstraße 104

Hotel Kunst und Nippes

address: Waldhausener Str. 28

Dorint Parkhotel Mönchengladbach

phone: +49 2161 8930

address: Hohenzollernstrasse 5, 41061 Mönchengladbach

The hotel offers 145 rooms & 13 suites.
Nearby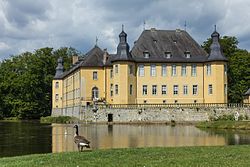 Schloss DyckFormer water castle, transformed into a Baroque chateau during 1656 to 1667. One of the most beautiful and imposing residences in the Rhineland. It is surrounded by an English-style landscape garden with remarkable old and rare trees.
Go next