Mülheim an der Ruhr
Mülheim an der Ruhr
is in the
Ruhr
area.
Understand
Mülheim is between Duisburg, Essen, Oberhausen and Ratingen. It is home to many companies, especially in the food industry, such as the Aldi Süd Company, the Harke Group and the Tengelmann Group.
In 2008, it celebrated its 200th anniversary as a city, and had with approximately 170,000 residents.
Mülheim was the first city in the Ruhr Area to become completely free of coal mines, when its last coal mine "Rosenblumendelle" was closed. The former leather and coal city had made a complete transformation to a diversified economic centre. With more than 50% covered by greenery and forest, the city is an attractive place between Düsseldorf and the rest of the Ruhr. It is the home of two Max Planck Institutes and the Ruhr West technical college.

Get in
By train
Mülheim (Ruhr) HauptbahnhofThis station built in the 1860s is served by IC, EC and regional trains. On the lower level there is Stadtbahn service (confusingly abbreviated with an U).
By tram and suburban rail
From Dusseldorf, Rhine-Ruhr suburban rail (S-Bahn) line S1.
From Essen, Rhine-Ruhr S-Bahn lines S1 and S3, and the U18 tram (Stadtbahn) line.
See
Aquarius-WassermuseumBuilt in 1893 by August Thyssen is now a museum run by the regional waterworks company.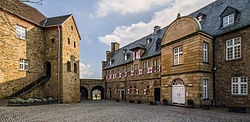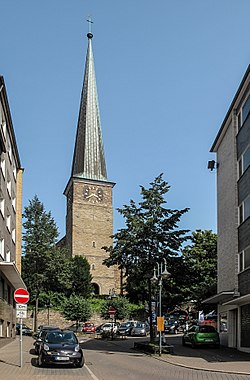 address: Am Schloß Broich 28

Broich Castle was erected to protect the town from invasion by the Normans 1100 years ago. It is regarded as Mülheim's oldest building. It is also the oldest, still maintained Carolingian fortification in German-speaking Europe. The halls are now used for municipal receptions and civil ceremonies. In the attic is also the headquarters of the Mülheim City Marketing and Tourism. The Hochschloss is home to the Historical Museum of the Mülheim History Society, which provides excavation finds, models and a "Luisen room" insight into several centuries of Mülheim history.

address: Pastor-Barnstein-Platz 1

Evangelical church. The oldest church building in Mülheim, it began as a major chapel in the 11th century, but was substantially rebuilt after being bombed in World War II. It is a venue for musical and other artistic events.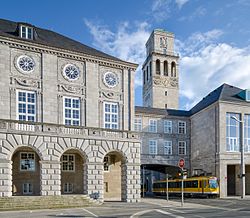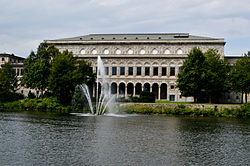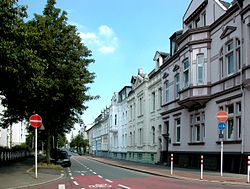 Sleep
phone: +49 208 991850

address: Dohne 74

phone: +49 208 9413970

address: Dohne 105

One of the smallest 5-star hotels in Germany