Münster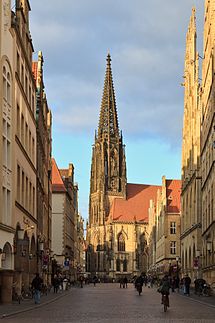 Münster
is a city in
North Rhine-Westphalia
, in the northwest of
Germany
.
Understand
Münster was founded as a monastery in 794 by the Frisian missionary Saint Liudger to aid Charlemagne's campaign to gain control over the Saxons. The city's name is derived from the word "monastery" which can be seen from its Latin name of
Monasterium
. In 805, Münster was made a bishopric and, in 1170, it obtained its town rights.
For centuries the city and its surrounding (the
Münsterland
) was ruled by powerful
prince-bishops
who were religious leader, political ruler and supreme judge at the same time. During the Middle Ages, Münster was a member of the
Hanseatic League
, becoming a prosperous
trade city
; the proud patrician houses on
Prinzipalmarkt
give evidence of this era. In 1534 and 1535, Münster was ruled by the radical Protestant sect of
Anabaptists
led by the Dutch preacher Jan van Leiden who crowned himself priest-king of the "Kingdom of Zion", expecting an imminent end of the world. The movement was brutally suppressed by the Catholic Church and their leaders tortured, executed and put into cages that were hung on the city's highest steeple (the cages can still be seen hanging on the St Lamberti Church's tower).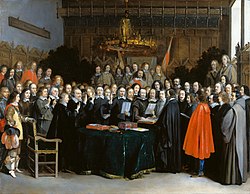 In 1648, the
Westphalian Peace treaty
was negotiated and signed coevally in
Osnabrück
and at the Rathaus (city hall) of Münster (envoys of the different parties were constantly riding between the two cities back and forth), marking an end to the
Thirty Years' War
. This peace treaty gave rise to the modern concept of state sovereignty which is known as the "Westphalian order" among international law scholars. The city is proud of this heritage, claiming the slogan of being "the city of Peace".
In 1815, the Prince-Bishopric of Münster was annexed by
Prussia
and Münster became the capital of the Prussian province of Westphalia. Since then, it has been dominated by administrative and judicial institutions, professional services and trade, while industry never played a big role. The city has long had a reputation of being deeply "black", i.e. Catholic and conservative (while most cities in North Rhine-Westphalia were dominated by the working class and were considered strongholds of socialism and thus "red").
Münster
University
was founded in 1773, but it was closed down by the Prussian government in favour of the newly-founded University of
Bonn
. It was however re-established by German Emperor William II in 1902 who also confered his name to it
(Westfälische Wilhelms-Universität)
. Since then, the number of students has massively grown. Nowadays, the University and the Münster polytechnic
(Fachhochschule)
have about 50,000 students in total—a significant share of them being international students—who have given the city a much more liberal and diverse outlook, contrary to its traditional image.
Since Westphalia was merged into the state of North Rhine-Westphalia, Münster has lost its capital role to
Düsseldorf
, but the city of just over 300,000 inhabitants still hosts several administrative institutions, courts of justice, insurance and trade companies and, first and foremost, educational institutes. It is home to high-tech startups. To many Germans, Münster is a household name because the popular crime series
Tatort
which is regularly watched by more than a third of the German TV audience has a number of episodes set here known for their tongue in cheek humor (unusual for
Tatort
otherwise) and the "unlikely couple" of Prof. Karl Friedrich Boerne, a coroner, and Frank Thiel a carless bike-driving cop with a hippie father. While much of the episodes is actually shot elsewhere, popular landmarks still feature prominently in many episodes.
Get in
By train
Hamburg, the Ruhr and Cologne; intercity services to Frankfurt call every two hours; while other destinations are served more sporadically, though some as far-flung as Salzburg in Austria. Regional services are pretty good and provide hourly direct connections to most of the federal state. The central station (Hauptbahnhof) is to be found as Münster(Westf)Hbf in DB's booking system.
By plane
phone: +49 2571 94-3360

Münster's own airport has lost connections since Ryanair and others left. There are still several domestic flights and flights to warm weather destinations around Europe. It is a 40 minutes' bus ride from the city (buses S50 and R51, half-hourly during daytime, hourly in the evening, less frequent on Sundays and public holidays, €7.60). Taxis cost €50–60, make sure to negotiate a fixed fare.
If flying,
Düsseldorf Airport
(
DUS
) is your most likely option. Direct flights land from most major European airports, interspersed with the occasional intercontinental flight. Trains take about 1 hour 40 minutes to Münster (on the RE2 line, hourly, €25). A taxi is likely to cost you €180 or more.
Frankfurt Airport is not too far away and making use of rail and fly may work out to be a good deal.

By car
By car, Münster can be reached by Autobahn A 1 from both the north and the south and Autobahn A 43 from the southwest. On Saturdays, traffic into the city becomes a nightmare, so park your car at one of the four free Park and Ride lots (located on the main axes into town and marked by P+R signs) and take the bus into the centre.

By bus
Intercity bus lines are not as cheap as they used to be, but there are still deals to be had when you book early and are flexible with departure times. Flixbus is by far the biggest player in the market. Some international destinations are served by Eurolines. Buses arrive at and leave from behind the train station.

Get around
By bike
Münster has a lot of bikes which creates a really special atmosphere. The city is rather flat, and is home to about 50,000 students, so naturally traveling by bike and on foot are the key modes of transport. All sidewalks outside residential areas have a red-brick section reserved just for cyclists (walking on this section is a gaffe which may cause cyclists to ring their bell angrily!), and the entire city has a pedestrian/cycle path that surrounds it: The
Promenade
follows the route of the city's long-gone medieval walls, and it makes for a very nice walk, taking you past the lovely Aasee (a large artificial lake surrounded by a park). While both walking and cycling are perfectly safe, some cyclists drive at a rather brisk pace and don't expect people to cross cycle routes without looking and getting hit by them can leave you seriously injured.
If you plan to stay within the centre, you can easily get around on foot. If you're venturing outside, don't be afraid to
hire a bike
. Münster is said to be one of Germany's most bike-friendly cities (along with
Erlangen
, a town of similar size and a similar number of students), and bike paths are clearly marked and usually separated from other traffic. The best option for bike rental is Radstation:
phone: +49 251 484 0170

address: Berliner Platz 27a

A huge bike parking lot that also rents bikes. Bikes are good quality, the location and the hours are very convenient. Electric bikes and tandems available.
By bus
Münster also has an efficient
bus system
operated by the
Stadtwerke
. Buses run between 05:00 and 01:00 on weekdays and 24 hours on weekends. Most lines run every 20 minutes, but lines tend to overlap which usually makes for a denser schedule. Due to the confusing city layout and numerous construction sites, the whole thing isn't altogether straightforward, which isn't helped by the fact that all lines change around 21:00 when the entire system is switched to night traffic. Late at night, buses can be up to 70 minutes apart, so check the schedule beforehand. All lines meet at
Hauptbahnhof
(the central station). Ticket machines are sparse, but you can purchase tickets from the driver at a surcharge. Neither accept cards, not even German debit cards. A single ticket (
Einzelticket
) costs €2.60/€3.00 (regular/onboard fare), but if you're making a return journey, buy a day pass (
9-Uhr-Tagesticket
) for €4.90/€6.20. Remember to stamp your ticket when you board.
See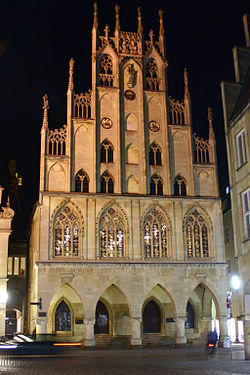 Almost all the interesting sites are concentrated in the city centre, which is easily walkable.
Peace HallLocated in the old city hall, is famous for the signing of the historic Treaty of Münster, a document which, as a part of the Peace of Westphalia, ended the Thirty Years' War and established the Westphalian style of diplomacy between sovereign states.

PrinzipalmarktThe Prinzipalmarkt used to be the city's main market street. It was heavily bombed during the Second World War, but unlike elsewhere, where ruins gave way to faceless blocks of concrete, the houses were rebuilt, some following the original plans and some merely inspired by the old architecture. Try to spot to houses with identical gables (hint: there aren't any, but they're all pretty). Today it is home to many of the city's more exclusive (some might say posh) shopping establishments.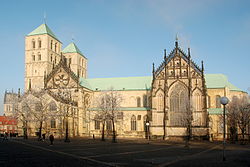 address: Domplatz 28

Münster is known for its vast number of churches that dot its entire cityscape, including gothic St. Lambert's (Lambertikirche) and Baroque St. Clement's Church (Klemenskirche). The city's most impressive church, the St. Paul's Cathedral, is well worth a visit.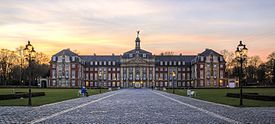 PalaceIt was finished in 1787 as one of the last major high-Baroque buildings in Germany (by that time Rococo and even Neoclassicist styles had already become in vogue), designed by Johann Conrad Schlaun, Münster's leading Baroque architect. Unfortunately, Prince-Bishop Maximilian Friedrich, who had commissioned the building, never got to move in there, having died three years earlier. His successor didn't bother much, and shortly thereafter Münster lost its status of prince-bishopric and the palace was used for other purposes. These days it is home to the university administration. During World War II, it was heavily damaged. The exterior was entirely rebuilt in the original style while the interior rather reflects the preferences of the 1950s. There's little to look at inside (although doors are open during university hours), but its façade is a curious and very characteristic combination of sandstone and red brick. During summer, lots of events are held on the square, somewhat marring the view more days than not.

Behind the palace, surrounded by a pentagonal moat, are the extensive palace grounds, occupied by a tranquil landscape garden and the University's

Botanical gardensYou don't need to be a biologist to enjoy a lengthy stroll along the paths lined by some 8,000 different species. When the weather turns ghastly (it often does), you can seek refuge in ten greenhouses and pretend it's summer.

Haus RüschhausLate-Baroque country house, former residence of the poet Annette von Droste-Hülshoff, beautiful and well-maintained Baroque garden.
Museums
phone: +49 251 492 45 03

address: Salzstraße 28

If you're curious how the city evolved from the tiny hamlet of Mimigernaford it was in the 6th century to become the bike-infested metropolis of today, the City Museum holds the answers. Even though the exhibits are exclusively in German, many speak for themselves, and admission is

phone: +49 251 414 471 0

address: Picassoplatz 1

The only museum devoted exclusively to the graphic works of Pablo Picasso. Has varying exhibits on Picasso and his life, but also his contemporaries and friends, and holds almost all of his lithographical works.
Do
ZooThere is an all-weather zoo in Münster.

SwimmingThere is a nice modern indoor swimming pool near the town centre.
Buy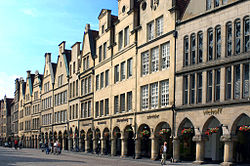 Prinzipalmarkt
, the main shopping district hosts mostly expensive brand-name fashion and jewelry stores.
Eat
There is a huge choice of restaurants in Münster. The cuisine of almost every country in the world is represented.
address: Rothenburg 14

a nice choice for Italian food

phone: +49 251 44877

address: Prinzipalmarkt 6

Kiepenkerlhas tables outside by the Maypole
Drink
Münster has a large student population so there are a range of bars such as Cafe Extrablatt and Markt Cafe (on the market square by the Cathedral). The Jüdefelder Straße (located north west of the city centre) gathers many bars and pubs such as Gorilla, Die Rote Liebe, Davidswache, Destille and more. Alternatively, you can find a huge amount of bars in the "Hafen" area (south east of the city centre, behind the main train station). Prices are usually reasonable (starting at around €2 for a beer and €4/5 for a cocktail).
Pinkus MüllerTake advantage from being in Münster by drinking an Altbier at Brauerei und Altbierküche Pinkus Müller. The Pinkus Müller restaurant and bar has its own brewery producing some really tasty beers.

Markt CafeA modern bar and café opposite the cathedral

StuhlmacherA traditional pub next to the Rathaus (town hall) on Prinzipalmarkt

Café Garbo

phone: +49 251-30300

address: Warendorfer Straße 45-47

A cafe-pub which offers good, fresh food, mostly vegetarian or vegan. A lot of fair trade and ecological products as coffee, tea, jucies, vegetables. Sandwiches for breakfast, great house-made cake, Dutch and English menue (German menue also for blind people available!). Free-wlan, changing table, a lot of newspapers, nice, warm and cosy atmosphere, also meeting point for LGBT. Since it's also a cinema you can always view a movie before or after dinner. Most movies are in German, but some are in their original languages with German subtitles.
Sleep
Nearby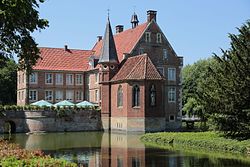 Burg Hülshoff

address: Schonebeck 6, 48329 Havixbeck

Romantic, late-medieval water castle owned by the noble family Droste-Hülshoff (whose most well-known offspring was the poet Annette von Droste-Hülshoff).

TelgteLovely and peaceful old town; the octagonal Baroque St Mary's Chapel is Northern Germany's most important Catholic pilgrimage destination. Moreover there is a museum of religious traditions, a brandy distillery museum, several historic (Renaissance or Baroque) buildings, and a number of small restaurants and shops.
Go next