M'Hamid
M'Hamid
is a small village in
Zagora
region of
Morocco
, 98 km after Zagora, one of the two places in Morocco where Sahara begins (another is
Merzouga
).
Understand
M'Hamid gets fewer visitors than Merzouga and is arguably more "authentic". However, it is also more remote and therefore overall more expensive, while in Merzouga the dunes are right next to the village. M'Hamid is about 7-8 hr by car from
Marrakech
and 5 hr from
Ourzazate
. It is "The end of the road" (the last point of The route national N°9), after it is only sands of
Sahara
, shepherds and caravan trails.
M'Hamid is next to the last major oasis one encounters on the way south into the greater
Sahara
. The area was historically important as the site (Sidi Khalil) where trade caravans gathered (some as large as 5,000 camels) before setting off to
Timbuktu
and other destinations. Little of its interesting history is to be found on websites or in tourist guide books, but knowledgeable locals share the facts and stories with pride and a touch of melancholy.
M'Hamid is also known as Bounou, once a thriving village made out of a mix of local Ait Atta berbers, Local drawa, and local Hassani tribes. The villages of Oulad Youssef, Oulad Mhaya and Ezouaya, amongst others, are scattered throughout the oasis. Local people get around on foot but small motorbikes are very popular too. Donkey carts are in widespread use for transporting goods.
The environment is harsh and fragile. You are urged to appreciate how scarce water is in the town. In the past taps went dry by early afternoon on many days. Despite this and to the severe frustration of locals, a number of the hotels have swimming pools. Choose wisely where you invest your money... it seems more sensible to head to the Moroccan coast if you are keen for a swim, desert temperatures notwithstanding.
Get in
By bus
You can take a
CTM bus
from Casablanca, Marrakech, or any city along the N9 road (Ouarzazate, Zagora, Tagounite). From Ouarzazate the trip is 80 dirham; from Marrakech it is 160-190 dirham. CTM leaves from Marrakech at around 11:15 and from Ouarzazate at 16:00 and arrives M'hamid around 21:45 (as of Mar 2017). M'Hamid is listed by the CTM as "Lamhamid Ghozlane". Other bus companies exist, like Supratours, Voyages Farah, etc.
By car
There is an asphalt road to M'Hamid so you can reach the village from
Ouarzazate
by virtually any car. The trip from Ouarzazate is memorable, passing through small villages, the regional center of Zagora, and over a pass into the open desert.
Get around
M'Hamid is a small town that is easily explored by foot.

See

There is a mosque in town, but as with the rest of Morocco, is not open to non-Muslims. A kasbah is located about 2 km away on the road out of town (take a left at the mosque). The kasbah is inhabited by black Africans who came from Mali many years ago.
Other than this, the main attraction are the Erg Chigaga dunes which are about 60 km from the town. Overnight trips can be arranged by many outfitters in M'Hamid.

Do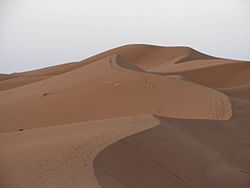 The main thing people come to M'Hamid for is trips to desert. Getting out is basically what one does in M'Hamid. Camping in the desert, trekking and expeditions to the high dunes are very popular. You can do them overnight or for several days, by camel, 4x4, motor bike or quad bike. If you plan to take two activities in desert, consider starting with a less intensive experience and proceeding to a more adventurous.
Camel trips and 4x4Camel and 4x4 trips are provided by many outlets in the village. They can also be arranged from Marrakech and Ourzazate.
ATV, quad bikes and buggiesQuad bikes are one-driver-a-time, while buggies are two-persons-at-once.
Buy
Markets on Mondays: vegetables and fruits brought from other regions by camels.
Besides that, nothing special—typical tourist shops selling mediocre carpets and usual stuff.

Eat and drink
There are no bars in M'Hamid. It is a very conservative town that strictly observes local laws banning alcohol.
Ensure that you carry sufficient supplies of food and water if venturing into the desert.

Sleep
Camping
Most tourist companies working in town offer tent rental for your own trip to desert.
Estates
phone: +212 524 848730

Rooms are stylish imitations of berber tents and small kasbahs. Otherwise, small package tour-style impersonal hotel: tourists in crisp clothes, not talking to each other; swimming pool as a centre of entertainment; sleep-eat-swim-drink routine with little interest to the world outside the hotel. Overall, the place is more European than Moroccan, with local flavour found only in decor, slightly in the cuisine and in dutyfree-like souvenir shop. However, helpful hosts and daily cleaning in rooms. Tent floors are not swept for days, and are full of sand dust. Some staff speak limited but functional English.

phone: +212 524 848730

address: Bounou, M'Hamid

A traditional daub house located in a palmerie garden. Renovated recently by a Canadian artist Nancy and her Berber husband. A small traditional daub house has been enlarged and improved with modern facilities and using, as far as possible the beldi (country) style materials such as daub, palm and cassia wood. It is both functional and comfortable whilst still retaining a stylish yet rustic theme. 3 double and a single bedrooms are in the house, they have terrace and ensuite bathrooms with hot water and European style toilets. There are also Nwalla huts and traditional black Berber tents with garden terraces, or you can sleep on the upper roof. Breakfast, lunch and dinner is available with some ingredients from their garden. Treks to the desert in overnight trips both by camel and 4x4 arranged.

phone: +212 668 517280

Local staff have some English language skills. Rooms are simple and good. Good for travellers setting off on a desert trip. Coffee, tea and local food.

Hotel SaharaRun by the friendly Naamani brothers, Habib and Hassan. It is basic but after a week on a camel even hot water is luxurious and they have internet.

phone: +212 524 848096

phone: +212 649-767422

The Camp is located 55 km west of M'hamid, right under the foot of Chigaga - one of the two highest Moroccan dunes.The camp consists of 6 haimas-bed rooms, a bigger haima that is used like living room and as a dining room, an area with a thatched roof, with comfortable mattresses to enjoy the outdoors next to which there is a camp fire at night, where is possible to meet to chat, have a tea or enjoy Berber music. Shared toilettes, and hot showers. They organize camel rides, trekkings by the dunes, or different trips in the area. English and French spoken.
Cope
There are numerous begging children in the village, presumably thanks to many tourists arriving directly from the airport to M'Hamid to spend large sums on 4x4 treks.

Go next
Nowhere ... "end of the road" as mentioned at the beginning. Enjoy!