Mabini
Mabini
is a municipality in
Batangas
. Mabini lies in a peninsula overlooking Batangas and Balayan Bays. Its major destinations are Anilao, the birthplace of Philippine's scuba diving industry, and the beach resorts not far from Manila. Though largely a destination by mid-class locals, foreigners do visit the area alike as a diving destination not far from the capital.
Fishing is once the major source of income for the village, but tourism became the present source of municipal revenue. The local government, however, has tried to keep tourism sustainable, so, no hotel or restaurant chains are found in the area.
Understand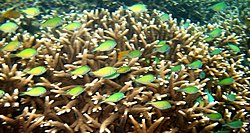 Mabini sits on the Calumpan Peninsula, overlooking Balayan and Batangas Bays, and the Maricaban Strait. Mabini derives its name from Apolinario Mabini, a Filipino revolutionary, better known as the "Brain of the Revolution" (
Utak ng Himagsikan
) and the "Sublime Paralytic" (
Dakilang Lumpo
). The municipality is formed in 1918, formerly part of the nearby town, Bauan.
Mabini's main destination,
Anilao
, is the Philippines's birthplace of scuba diving. The proximity of Mabini to Manila proved to be advantageous to the growth of tourism in the area, making it the nearest equivalent to beach and diving spots like
Boracay
or
Puerto Galera
(the latter is also near the metro, but you must board fast craft or RoRo ferries from Batangas City). The completion of the STAR Tollway further increased its accessibility, though at the cost of causing traffic jams in already-congested
Batangas City
and its surrounding metropolis. The peak season is during the after-school vacation between March and May, so, expect resorts to become packed and fully booked.
The diving scene is alive in the Anilao area, but there are many beach resorts and diving spots all around the coast, except to the south of Mount Gulugod Baboy. Municipal services and businesses are concentrated in the east, in the Poblacion and Mainaga area.
Across the Maricaban Strait is Tingloy, a small island town has a handful of some off-the-beaten-track sights. While a separate municipality administratively, Tingloy is treated as part of Mabini in general.
Tourism information
Tourism information can be found at the small park in the Mabini Crossing triangle, an intersection of Bauan–Mabini Road and Mabini Circumferential Road in barangay Poblacion.
Get in
By car
Mabini is two and a half hours away from
Manila
and about one hour from
Batangas City
. Travel times can be affected by traffic jams and peak season traffic, so get prepared.
Most visitors from Manila will take the STAR Tollway to Batangas City, then the Diversion Road, Route 436, and Bauan–Mabini Road. Traffic through the Batangas City metropolitan area has worsened after the completion of STAR Tollway, so it can take longer. Expect longer travel times during Holy Week.
There is an bypass road being built north of Batangas City, San Pascual, and Bauan, but construction has only begun in 2018, and is not expected to be open to traffic in 2021 or 2022 (taking account land acquisition issues).
Another way to get around the traffic jam in San Pascual and Bauan is to take the STAR Tollway, exit at
Lipa
, follow Jose P. Laurel Highway (Route 4) to the junction in barangay Banaybanay, take Route 433 through Cuenca and Alitagtag, and then follow Route 436 from Santa Teresita to Bauan. It can reduce time wasted on traffic, and cut the expense on tolls (₱47 on Lipa, from Santo Tomas toll plaza, as against ₱95 on Batangas City, given a distance-based toll of ₱2.27), but congestion do exist at Lipa, especially on weekdays. Another alternate route is via San Jose and Bauan, but it carries you through narrow roads in inland barangays.
By bus or jeepney
There are no buses to Mabini; instead, the
Batangas-Mabini
(BW-05) jeepney route connects most points in town, including the downtown, Anilao, Talaga, and Masasa, from the
Grand Terminal
where buses arrive. BW-05 also serves as the direct connection with downtown Batangas City; jeepneys depart from the row of hotels near Batangas State University.
From Western Batangas
, take the hourly Batman Starexpress buses headed from
Nasugbu
, get off at Manghinao junction in Bauan, then take the BW-05 jeepney.
Do
Scuba diving
Hiking
There are hiking tours to Mount Gulugod Baboy, not too far from the seaside resorts. There is one major trail from barangay Bagalangit, which takes one hour to complete. Highlights are camping at the summit and views of Batangas Bay, Metro Batangas and surrounding areas, and Mount Maculot. Tourist information is available at the jump-off point at Bagalangit, and boat rentals for those snorkeling or diving is also available.

Sleep
phone: +63 2890-6778

address: Solo, Anilao

The resort provides complete diving equipment and houses a restaurant and bar. There are about 185 steps down to the resort from the parking lot. Porters will carry your luggage up and down, but you have to climb all of those stairs, which can be strenuous.

address: Mabini Circumferential Road, Mainit

Air-conditioned rooms, with cable TV, hot water and views of the beachfront or the mountains. Cottages are also available. There are also an outdoor swimming pool with slides, and natural hot spring baths.

Mayumi Resort

address: Mabini Circumferential Road

Small Filipino-themed beach resort. Scuba diving available on site.
Stay safe
Hospitals and clinics
Mabini General Hospital

address: F. Castillo Street, Poblacion

Offers 24-hour emergency service and pharmacy
Go next
Batangas City
is the transport hub in the area; travelers will use the city as their jumping point to the rest of Batangas, or to other beach and diving destinations like
Boracay
and
Puerto Galera
.
Another nearby option is
Taal
, a heritage town just one hour via Route 436. You may continue further west on the coast, to other seaside resorts in
Lemery
,
Balayan
,
Calatagan
,
Lian
, and
Nasugbu
.