Macapá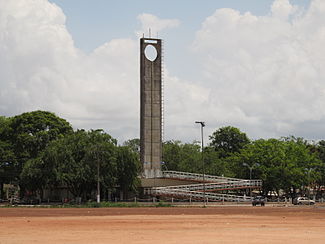 Macapá
is the capital of
Amapá
, and arguably the most deserted state capital of Brazil. The locals call it "the capital of the middle of the world.", as the equator runs through the city. As it sits north of the immensely wide mouth of the
Amazon
river, there are no highways leading out. Unless you count the road into
French Guyana
, that is.
Get in
Get around

Metered taxis and moto taxis abound; some buses.

See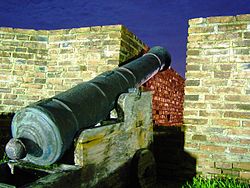 Apa do CuriaúA quilombola village of descendants of escaped slaves, which continues its traditional commemorations such as Marabaixo. You can also try gengibirra, a drink made from cachaça and ginger.

Fort ParkPark with walkways along the riverbank, playground, fountain and lawns.

Marco ZeroWhere the equator comes through, and even crosses a football stadium! It is marked by a small monument; not much to see. Only reason to see this is to be able to claim to have been there. If you come by taxi, ask the driver to wait the 5 minutes it takes you to take a picture. But there is also a express bus that goes there from the city center and the bus going to the Universidade also passes by.

Sacaca Sustainable Development Museum

phone: +55 96 3212-5342

address: Av. Feliciano Coelho, 1509 - Bairro do Trem

Open-air museum which presents the social diversity of the state.

São José de Macapá FortCompleted in 1782 to protect Brazil from external invasion on the Amazon River. It is a cultural heritage site recognized by IPHAN but is not very well preserved. It is possible to visit the various spaces inside, see rusty iron cannons, appreciate the view of the Amazon river, and visit temporary exhibits. You can also visit the archeological excavations outside.
Do
There are a number of small beaches around the city, particularly popular on Sundays. The easiest to access is Fazendinha, with direct buses from the centre.
Buy
Casa do Artesão

phone: +55 96 3212-9156

address: Av. Francisco Azarias Neto

Handcrafts from indigenous tribes in the region, wicker furniture, and ceramic works covered in rubber, known as balata.

Macapá-Santana Free Zone

address: Rua Cândido Mendes with Rua São José

Free trade area with a great diversity on imported products.
Eat
Restaurante Dona FlorVery good. Right on the river. As you eat you can see the river and the people that live there.

Restaurante Dom GarciaRegional classics as well as new recipes with traditional ingredients. Try the escondidinho de carne.

Natural Blanc

Trapiche Restaurante

address: Rua Beira Rio, 1294

Flora Restaurante

address: Salvador Diniz Hwy., 1370 - Santana

Peixaria Amazonas

address: Rua Beira Rio, 218

Extensive range of fish, shrimp, and crab dishes. The regional (pink) shrimp with garlic and oil is phenomenal.
There are also various restaurants and churrascarias just next to the fort at the riverside. They offer meals for R$7 to R$20 and are a popular spot for locals to grab their lunch (11:30am to 2pm).
Drink
ArmazemLively Sunday evenings until the wee hours
Bar Rods
At the river side and relaxed atmosphere.
Sleep
Most mid-scale hotels give a straight 20-30% discount on posted prices.
Amazon Plaza Hotel

address: Rua Beira Rio, 208

Macapá Hotel

address: R Francisco A S Coelho Neto, 17

Hotel VersalhesHas air conditioners bu no electric shower heads.

Ibis Macapá

phone: +55 96 3225-2266

address: Av. Salgado Filho, 969 CEP

24h front desk, rooms with A/C, TV, WiFi. Breakfast included; soda and beer available at the front desk. CC accepted. Spacious, very clean rooms with en-suite shower; cleaned daily. Staff only speaks Portuguese but willing and able to communicate with hand and feet if necessary. A R$15 taxi ride away from the Fortaleza San Jose de Macapa. Double room for 154 brazilian real
Go next