Machias Seal Island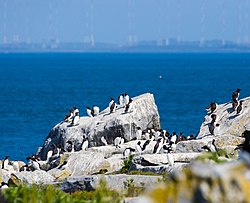 Machias Seal Island
is in the
Bay of Fundy
region of
New Brunswick
. It has no permanent residents, and is maintained by the Canadian Wildlife Service (CWS) as the
Machias Seal Island Migratory Bird Sanctuary
Understand
The southernmost point in New Brunswick, the rocky 6-ha (15-acre) Machias Seal Island is home to the last of the manned lighthouses in
Canada
. Two lighthouse keepers are deployed by helicopter for a four-week tour of duty, before being relieved by a new pair.
The island is a Canadian Wildlife Service sanctuary and nesting ground for thousands of pairs of Atlantic puffins, a thousand pair of razorbill auk, and hundreds of common murres, as well as a few common and Arctic terns. There are very limited facilities to bring passengers ashore from boats; typically a tour operator will transfer at most 15 passengers at a time onto small craft for landing.
There are a few blinds from which to view the birds unobtrusively, but the amount of time a voyager may spend ashore at the bird sanctuary is strictly limited to a few hours per trip.
Sovereignty over the island is disputed by the United States. Although the island has no mineral resources, but there is a valuable lobster fishery; fishermen from both countries are exploiting the lack of rules by overfishing various species.
Landscape
This treeless island is roughly 550 m long and 250 m wide with lush green meadow covering the higher areas and the rocky shores.
Flora and fauna
Key bird species: Arctic tern, common tern, atlantic puffin, razorbill, leach's storm petrel, savannah sparrow, spotted sandpiper, tree swallow and barn swallow.
Over 100 species have been spotted: migratory birds and incidental visitors, including several uncommon and rare species.
Climate
Machias Seal Island is fog-bound for many days of the year.
Get in
Access is very much at the mercy of the weather; tours run in high season only and are limited to 15 passengers each, scheduled so that one group leaves before the next arrives. Entry into the sanctuary is forbidden during the nesting season (June and July), except by permit issued by the CWS.
phone: +1 506 662-8552

address: 2476 Route 776, Grand Manan

The only Canadian company with authorization to land. Tours begin in late June and continue until August 9th.

phone: +1 207 259-4484

address: 2687-2699 Cutler Rd, Cutler, Maine
Sea kayaking tours are also offered.
Fees and permits
Permits are required to visit in June and July only.

Get around
It is possible to tour on foot, but stick to the marked paths so as not to disturb the nesting birds.

See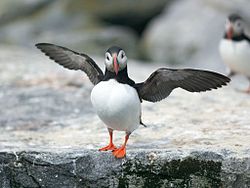 Birds. Lots of birds.
There's also a historically-listed lighthouse, still manned as it was in 1832, which shines as a beacon of Canadian sovereignty.
Do
Watch the birds. It may be possible to get a photo by hiding behind the blinds to remain unobtrusive.
Buy, eat & drink
There are no restaurants or bars or shops on the island.

Sleep
There are two houses, next to the lighthouse. One houses the lighthouse keepers, the other houses the wildlife service team. Short of becoming a Canadian lighthouse keeper, there is no opportunity to sleep in the protected wildlife refuge.

Go next