Mackenzie Country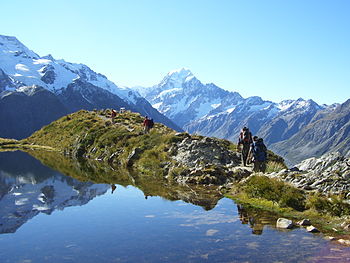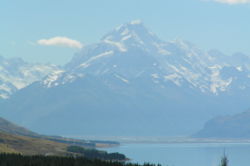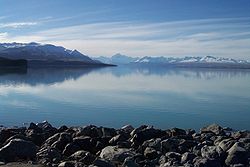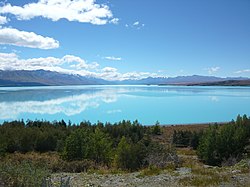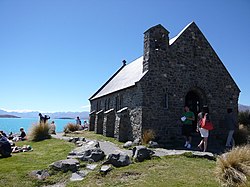 The
Mackenzie Country
is a subregion of
Canterbury
, in the
South Island
of
New Zealand
.
It is based around around the Mackenzie Basin, a expansive intermontane basin in the eastern shadow of the Southern Alps and Aoraki/Mount Cook, New Zealand's highest mountain (3724 m). Water from the melting glaciers fill three large lakes: Tekapo, Pukaki and Ohau, which feed the Waitaki River and the country's largest hydroelectric scheme. Being one of New Zealand's most sparsely-populated areas, the Mackenzie Country's beauty has remained largely untouched wilderness.
Towns
– a lakeside resort village in a dark sky reserve (for its astronomical observatories)
– a world famous gliding centre, and home to a sheep shearing show
Other destinations
– a mountaineering mecca with New Zealand's highest mountains
Understand
The Mackenzie Country is named after 1850s sheep rustler James Mackenzie.
Hydro power stations were built at Waitaki in the 1930s and Lake Tekapo in the late 1940s. In the early 1960s, the advent of high-voltage direct current (HVDC) technology made it possible to export large amounts of electricity out of the South Island to the power-hungry North Island. Subsequently, the Mackenzie Country became a hive of hydroelectric scheme construction. The towns of Otematata and
Twizel
were established to house workers building the four dams, 50 km (30 mi) of canals, and six power stations which today produce one-sixth of New Zealand's electricity needs. When the scheme was finished in 1985, most of the workers' houses in these towns were sold off as holiday homes.
Get in
NZ State Highway 8 is the main road in and out of the Mackenzie Country.
Daily bus services operate between Christchurch and Queenstown via the Mackenzie Country, with stops at Lake Tekapo, Twizel and Omarama.

See
The Southern Alps provide a magnificent backdrop to the Mackenzie Country. There are many beautiful lakes in the region and NZ State Highway 8 runs along the shoreline of two of the largest,
Lake Tekapo
and Lake Pukaki. The jagged snow-capped peak of
Aoraki Mount Cook
, the highest mountain in New Zealand, can be seen in the far distance across Lake Pukaki, from SH 8. For a closer look, NZ State Highway 80 runs along the west shore of Lake Pukaki to Aoraki Mount Cook National Park Village.
Lake RuataniwhaWhen hydro project manager Max Smith wanted to give something back to the community, he built a world-class rowing venue in this artificial lake, despite never having seen a rowing race before. Regattas are held regularly on the lake during the summer months, but the two big draw cards are the National Championships, held in late February in odd years, and the National Secondary School Championships (Maadi Cup), held in late March in even years.
Do
There are many
outdoor activities
in the region, including:
Hiking in Mount Cook National Park
Ski/snowboard at some of the small fields like Ohau