Macon (Georgia)
Macon
is a city in
Georgia
's
Classic Heartland
.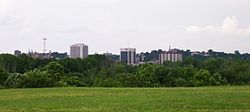 Understand
Macon is the center of a metropolitan area that contains around 400,000 people and encompasses the nearby city of
Warner Robins
. The downtown area of Macon has antebellum homes, cathedrals, and other historic buildings that were built in the past by Macon's elite, including the Woodruff House, the Hay House, and the Cannonball House.
Macon is one of several cities to hold a cherry blossom celebration in springtime, although Macon stands out because it has a particularly large number of trees throughout the city. With over 275,000 Yoshino cherry trees, Macon calls itself the "Cherry Blossom Capital of the World."
Get in
By car
From the north
: Drive south on
I-75
. To reach the main downtown area of Macon, take
exit 164
, turn left at the end of the exit ramp, then drive along Forsyth St. a short distance into the main downtown area.
From the south
: Drive north on
I-75
. To reach the main downtown area of Macon, take exit
exit 164
, turn right at the end of the exit ramp, then drive along Forsyth St. a short distance into the main downtown area.
From the east
: Drive west on
I-16
. To reach the main downtown area of Macon, take
exit 1B
, turn right at the end of the exit ramp, then drive along the 2nd St. bridge over the Ocmulgee River into the main downtown area.
From the west
: There are no interstates that travel directly into Macon from the west. However, there are many state highways that you can use. The best route will depend on where you're traveling from; consult a road atlas.
By bus
Greyhound
, America's largest bus carrier, can connect you to many other major cities in the
southern United States region
. It doed not offer service to the smaller cities and towns near Macon, including
Warner Robins
. is on 65 Spring St, northwest of downtown.
By train
There are no commuter trains that travel directly to Macon. However,
Atlanta
's Amtrak station offers bus service to Macon.
By plane
The Middle Georgia Regional Airport has several car rental service stations; see below in the "Get around" section for more information.
Many visitors choose to fly into
Atlanta
's much larger Hartsfield-Jackson Atlanta International Airport 80 miles north and then drive or take shuttle service from Atlanta to Macon.
phone: +1 478 471-1616

address: 4540 Sheraton Dr

popular shuttle service
Get around
By foot
The downtown area is reasonably compact, and most travelers can probably explore this area on foot. However, traveling to other sites outside the downtown area will require an automobile.
By bus
The
Macon Transit Authority
() operates a bus service throughout the city. The routes map will show you which bus route to take, and the
bus schedule
will explain when to arrive at the bus stop. In general, a bus arrives at each stop every 30-40 minutes. You must pay the bus fare when you board the bus; the regular fare is $1.25. If you will be transferring to a second bus route in order to reach your final destination, notify the bus driver when you pay your $1.25 fare; each transfer costs $0.50. When the bus is within one or two blocks of your destination, pull the yellow cord inside the bus to signal to the driver that you want to stop.
By car
Touring Macon by car is perhaps the best way to see the city, especially if you plan to visit sites far from the main downtown area, such as the
Ocmulgee Indian Mounds
or the
Museum of Arts and Sciences
.
There are several car rental services in Macon:
See
Heritage Trail along the Ocmulgee RiverThere is a statue there commemorating Otis Redding who was born and raised in Macon.

Ocmulgee Mounds National Historical Park

phone: +1 478-752-8257 ext 222

address: 1207 Emery Hwy

phone: +1 478-742-8155

address: 934 Georgia Ave

Rose Hill CemeteryHistoric cemetery, final resting place of Allman Brothers Band members Duane Allman and Berry Oakley

Vineville AvenueDozens of historic houses and churches.

phone: +1 478-477-3232

address: 4182 Forsyth Road

phone: +1 478-752-1585

address: 301 Cherry Street

Tubman African-American Museum

phone: +1 478-743-8544

address: 310 Cherry Street

phone: +1 478-741-5551

address: 2321 Vineville Ave
Do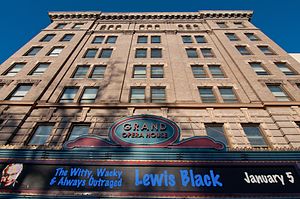 There are special events that are held at specific times:
Cherry Blossom FestivalEvery year from late March to mid-April, mostly in the downtown area and Central City Park but some events are held in other areas of the city. Parades, carnivals, crafts market, local art exhibitions, concerts, and other special events.

Georgia State FairEvery year in late September in Central City Park.

First Friday. The first Friday night of every month in the downtown area. Festival-like atmosphere with music and streetside shops. Downtown bars sell beer at cheap prices.

Macon Music baseball gamesMid-May to mid-August in Central City Park at Luther Williams Field, which is the second oldest minor league baseball stadium in the United States. Macon Music team has now folded, but check for any new team that may decide to call Macon home.
Cultural activities:
phone: +1 478-301-5470

address: 651 Mulberry St

See a show in this historic venue.

phone: +1 478-742-2000

address: 355 Martin Luther King Jr. Blvd

phone: +1 478-257-6391

address: 382 Second Street
Buy
Shopping centers
Macon Mall

phone: +1 478 477-8840

address: 3661 Eisenhower Parkway

Large indoor mall. Has become increasingly less popular due to crime, violence, gang-related activity, and the opening of the Shoppes at River Crossing. Still a good place to shop, however.

Shoppes at River Crossing

phone: +1 478 254-2940

address: 5080 Riverside Dr

Open-air shopping center, includes Belk's, Dillard's, a large Barnes & Noble, and other stores.

Eisenhower Crossing

address: Presidential Parkway

Open-air shopping center with many well-known businesses in a concentrated area. Includes Target, Best Buy, Old Navy, Office Depot, Ross, GNC, Dick's Sporting Goods, Home Depot, and various others.
Other noteworthy places to shop
phone: +1 478 785-2300

address: 1689 Eisenhower Pkwy

Sells outdoors products. Similar to Bass Pro Shops but cheaper and less decorative.

phone: +1 478 757-7600

address: 5000 Bass Pro Blvd

Sells outdoors products for fishing, hunting, etc. Somewhat expensive.
Eat
Nu-Way WeinersNationally recognized as making one of the best hot dogs in the United States, second longest continually-operating hot dog stand in the U.S. (since 1916).

phone: +1 478 788-1900

address: 3947 Houston Ave

Old style drive-in BBQ that actually went on a NASA shuttle mission. In Macon since 1935, this is a must-try.

phone: +1 478-746-3336

address: 2242 Ingleside Ave

A nice small French restaurant close to Ingleside Village - this is probably one of the most under-stated restaurants in Macon.

Tic Toc Room

phone: +1 478 744-0123

address: 408 Martin Luther King Jr Blvd

Upscale dining and bar in downtown Macon

phone: +1 478-741-1380

address: 201 N Macon St

Probably the most expensive restaurant in the city; do not be fooled by the shabby exterior of the restaurant - the food makes up for what the location lacks.

phone: +1 478-254-7707

address: 1602 Montpelier Ave. #106

32 draught beers. Great Mexican food on the Mercer University campus

phone: +1 478-238-4693

address: 543 Cherry Street
Drink
Downtown
The Hummingbird Stage and Taproom

address: 430 Cherry St

Friendly bar and stage in downtown Macon. Hosts live music several nights of the week.

The Rookery

address: 543 Cherry St

Restaurant by day, bar by night. This is a frequent drinking spot for many of the local college undergraduates.

ENVY Nightclub

phone: +1 229-292-2640

address: 420 Martin Luther King Jr Blvd
Sleep
phone: +1 478-741-1842

address: 353 College St

Hilton Garden Inn Macon/Mercer University

address: 1220 Stadium Dr

phone: +1 478-621-5300

address: 240 Coliseum Dr

phone: +1 478-755-9985

address: 205 Broadway

Numerous chain hotels at Arkwright Rd Exit off I-75, and Eisenhower Pkwy Exit off I-475.

phone: +1 478-475-4280

address: 3900 Sheraton Dr

phone: +1 478 476-8100

address: 100 Northcrest Blvd

address: 1514 Bass Road

Homewood Suites by Hilton Macon North provides spacious family accommodations for the weekend traveler with complimentary full hot breakfast, free Wi-Fi, and free movie rental. A dinner reception is provided for our guests staying Monday - Thursday evenings.
Cope
Hospitals
address: 350 Hospital Drive
Consulates
phone: +1 478 477-8145

address: 130 N Crest Blvd Ste B
Go next