Madaba
Madaba
is a small town in central
Jordan
located south of the capital
Amman
on the King's Highway, some 10 km from
Hesban
.
Understand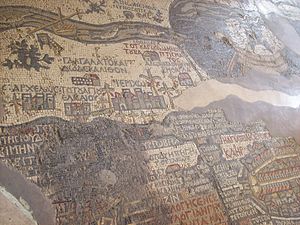 A town with a long history, Madaba is best known as the location of the "Madaba Map", a 6th-century mosaic depiction of
Jerusalem
and many parts of the Holy Land.
In biblical times the city was part of the Moab Kingdom. After having been conquered by the Persians and after a devastating earthquake in 746 A.D., the city was left alone and remained mostly abandoned until 1890, when the reconstruction of a Greek Orthodox church revealed the famous mosaic.
Madaba with about 80,000 inhabitants is approximately 10% Christian (Catholics & Greek Orthodox). Much of the traveller and pilgrim infrastructure is run by the Franciscans. For the Bedouins living around the area, Madaba is an important market place.
Get in
The city is 25 km from Queen Alia International Airport and 35-40 km from the
Dead Sea
, potentially making it the ideal place to start or end your trip to Jordan.
By bus
Madaba is about 1 hr from Amman. Buses from Amman's Tabarbour Station cost 1.20
JD
(Oct 2018). Also, there are frequent minibuses from the 7th circle in Amman (1 JD)—they come from the center direction and take a turn south onto the airport road, directly after which you will find the bus stop.
Furthermore, minibuses from southern bus station (same one you can use for Petra), cost 0.5 JD. If you have lot of luggage it will be charged as one more passenger (Feb 2019). You can also get buses from the Mahatta bus station, and minibuses from the Muhajireen bus station near the Jordan Museum (0.65 JD) which enter Madaba from the west rather than from Airport Rd.
By taxi
A taxi is a good option, especially if you're in a group. The cost depends on your
bargaining
abilities but it can go from 8-12 JD. Or you go by meter, which is about 12 JD. from northern Amman. Service taxis leave from Airport Rd near 7th Circle and cost 2 JD per person.
Because Madaba is close to Amman, Uber is available throughout town, including at Mount Nebo. The Uber price from the airport to Madaba city centre was around 6 JD as of Feb 2019.
By car
The very centre of town has narrow, crowded streets, but just a few hundred metres away, you can find wide roads with plenty of parking.
Get around
Madaba is a very small city, so one can easily get around by on foot, although a taxi from downtown to the bus station is a good idea (1-2 JD). Taxis traveling within the city do not use the taxi meter but operate at a standard fare of 1 JD per trip. Make sure you agree on this price with the driver before hopping on. Uber is also available inside the city. Very good option for a ride to Mt. Nebo (around 5 JD from Madaba center) (Feb 2019).

See
Madaba Visitor Centre

address: Abu Bakr As-Siddiq

Local information and free, clean toilets.
In the city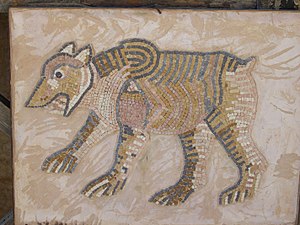 Basilica of St. George (Church of the Map)The famous map of the Middle East, plus a bunch of mosaic portraits. Buy ticket from the interpretive centre to the side, although why waste time on a lecture when you can just go and look at the map.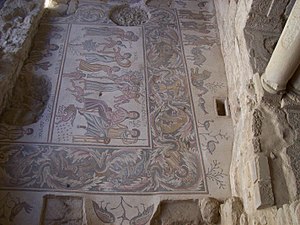 Madaba MuseumA few more rooms of mosaics, pottery and jewellery. Also includes an outside courtyard area with ancient statues.
Church of the ApostlesSmall church with nice, large mosaics on the floor. Not inside the Archaeological Park but further off.
Shrine of the Beheading of Saint John the BaptistInteresting 19th-century church which has underground rooms hosting a museum, and a church bell tower to climb to see a full view of Madaba. Regarding the beheading see also Machaerus below.
Iron Age Fortification Wall on West Acropolis
Madaba Art Gallery2 rooms filled with oil paintings and watercolours from Madaba artists.
Around the city
Dolmens at Al FayhaThis wadi is a field of dolmens (Burial Chambers or large stone memorials), where you could see more than 40 dolmens (12 of them standing in a very good condition) and the rest are damaged probably by earthquakes. Also there are several menhirs, cupholes and stone alignments as well. These dolmens dating to around 3000 BC, from the Early Bronze Age I. The locals there believed that dolmens are the houses of ghosts, they called it in Arabic Bit Al Ghula.

Mount NeboThis historic site provides a panorama of the Holy Land, and to the north, a more limited one of the Jordan River Valley. The excavated remains of a church and a monument commemorating the biblical story of Moses and the bronze serpent stand atop the mountain. This is the spot where the Hebrew Bible says that Moses stood and witnessed the "promised land". Visit before sunset to take in the Franciscan Monastery and Church located here. Visitors can plan to spent less than half an hour at the site.

Umm ar-RasasA UNESCO World Heritage Site which contains ruins from the Roman, Byzantine, and early Muslim civilizations. The majority of the site has not been excavated. The most important discovery on the site was the mosaic floor of the Church of St Stephen. It was made in 785 (discovered after 1986). The perfectly preserved mosaic floor is the largest one in Jordan. On the central panel hunting and fishing scenes are depicted while another panel illustrates the most important cities of the region (including Kastron Mefaa, Philadelphia, Madaba, Esbounta, Belemounta, Areopolis, Charac Moaba, Jerusalem, Nablus, Caesarea and Gaza).

Fortress of MachaerusThis is the biblical Machaerus, the fortress of Herod the Great, where his son Antipas imprisoned and later executed John the Baptist, for whom a shrine was built in Madaba.
Do
Not much except for visiting the places mentioned before and climbing the bell tower of Saint John Shrine.
phone: +962 5 3245500

A remarkable series of natural hot springs and waterfalls, some of which have been channeled into pools and baths. A spa resort is in the vicinity of the waterfalls.
Buy
Very good quality and cheap rugs. There are places where you can have them made on order if you have the time to wait for them. Excellent mosaics and great Dead Sea products.

Eat
There are many little falafel and kebab places, some better than others.
Darna Take Away

address: K. Talal St.

A schwarma and pizza place that's above average and fairly priced. Tourists can expect to pay the price in the register receipt.

phone: +962 5 3248650

One of Madaba's finest eateries and is in the centre of the city along the main street. Within a restored Late Ottoman house, this restaurant features the best of Jordanian fare along with a cozy atmosphere that is welcoming at all times of year. Offers excellent Lebanese-style mezze, Arabic-style barbecue "Mashawi", and Italian pizzas. The restaurant also offers shishas. Sit on the rooftop patio at sunset for an enchanting experience watching the sun go down as you listen to the call to prayer from the numerous minarets nearby.

phone: +962 5 3251529

address: Hay Bayt Al-Maqdis

A very nice new rooftop restaurant is on the top floor of this hotel. They do open buffet dinner for 8 JD and the view to the city is very nice. Also they have a pool-side bar they serve sandwiches, wine and beer. You don't have to be resident of the hotel to use the restaurant or the bar.
Ayola's – A great coffee shop that welcomes tourists. They have very good sandwiches and excellent fruit shakes. It is the place to ask for a sheesha and people watch.
Chili Ways – Newly opened. Offers decent hamburgers and fast-food at very reasonable prices.
King Mesha restaurant – Offers lovely ambiance, friendly service and delicious food for very reasonable prices. It is very near the Madaba Archaeological Park and the museum.
Drink
Alcohol is widely available and there are a lot of liquor shops in town. If you are travelling to Wadi Rum and prefer wine during evening in the Bedouin camp, buy alcohol here as it is only available in the luxury hotels and camps in Wadi Rum, which most likely will be very far off - not many camps are close to each other.

Sleep
Budget
Moab Land Hotel

address: King Talat Street

Highly rated on hotel website.

Queen Ayola Hotel

address: King Talat Street

Another decent option, but not as highly rated as Moab Land Hotel.
Mid range
Go next
Most local buses going north or south should stop at the bus station in the east of town.