Madang-Morobe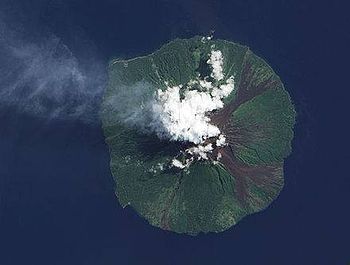 Madang
and
Morobe
are two provinces of
Papua New Guinea
.
Cities
— claims to be the prettiest city in the South Pacific but this should be taken with a pinch of salt; nevertheless it has some fine scuba diving, attractive carvings to buy, a picturesque harbour and good quality accommodation
— a pre-war goldrush town. You can still pan for gold. Eight river dredges used for prospecting were abandoned and some can still be seen. Now a major forestry center.
— formerly part of German New Guinea, it was largely abandoned because of Malaria, but was taken over by the Japanese in 1942 and subsequently recaptured by Australians in 1943; a small port with limited economic activity
— Papua New Guinea's second city and main economic hub; beginning of the Highlands Highway
— another goldrush town that was site of important WW2 battle in 1943; home of the Wau Ecology Institute and beginning of the Black Cat Trail to Salamaua
Understand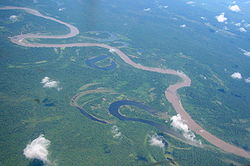 Madang has a good range of things to do and see and is arguably PNG's main tourism destination. The province has a population of over 365,000. It has mountain ranges interrupted by river valleys and fertile plains. There is a dry season from May to September but the wet season is not oppressive. On the coast temperatures go up to 35 degrees but in the mountains it is much cooler.
Mt Wilhelm
, the highest mountain in the country, lies at the border of Madang and Chimbu provinces. Mountain ranges run through the province, with waterfalls cascading hundreds of metres. Despite logging and agriculture (sugar, livestock, cocoa and copra) there is still much pristine rainforest. The major river is the Ramu, which is navigable by dugout or motorised canoe. A recent development is the RamuNico nickel mine, which has attracted considerable controversy with its plans to dump large quantities of tailings in the sea.
The coastline of Madang is volcanically active. Manam Island recently erupted. The crater of the imposing Karkar Island can be visited. Numerous species of bird, including birds of paradise, are found in Madang. The province also has huge butterflies. Madang plays host to many different tribes and up to 200 different dialects are spoken.
Morobe
Huon Gulf is the area on the northern coast of Papua New Guinea occupied by Morobe Province, which has a population of close to 600,000. The province, which is drained by the Markham River, has 171 languages. Tok Pisin (pidgin) is the lingua franca. The province gets much of its income from the importance of Lae as a port that exports produce from the Highlands, but the Markham Valley in the province is also an important agricultural area. Oil exploration and mining are growing in importance and there is a timber industry in the Bulolo area.
Huon Gulf offers spectacular scenery, accessible diving spots, and a range of climates from sub-alpine and alpine to tropical. The Province's jungles and forests offer over one thousand species of birds and mammals, including the Raggiana Bird of Paradise, the Cassowary, a flightless emu-like bird, and the tree-kangaroo. Over 15,000 species of plant have been identified and there may be many more.
The Province has many battlefield relics from World War II, with submerged shipwrecks, aircraft and artillery. It receives many visitors from Japan.
Get in
Madang
There are coastal roads running north and south of Madang but the only road that provides access with the rest of the country is the Ramu Highway which links up with the Highlands Highway connecting
Lae
with
Goroka
.
Air Niugini has daily flights to Madang from the capital Port Moresby, as well as flights from several other centers in PNG.
Morobe
Air Niugini has several daily flights to Lae from the capital Port Moresby, as well as flights from several other centers in PNG.
Lae can be reached from the PNG Highlands by the Highlands Highway. There are no coastal roads but Lae can also be reached from
Madang
by taking the Ramu Highway that follows the Ramu River and connects with the Highlands Highway to follow the Markham River down to Lae.
Get around
Morobe
Apart from the Highlands Highway, road connections are limited in Morobe, with the exception of a road that branches off the Highlands Highway to the left to go up to
Wau
and
Bulolo
. The road is good from Lae to Nadzab airport. Public Motor Vehicles ply the Highlands Highway and the Wau-Bulolo road and are a relatively inexpensive, although not particularly safe, form of transport.
See
Madang
Ohu Butterfly Conservation Project. 45 minutes inland from Madang. You can wander freely through the Conservation Area. It has been planted with flowering shrubs to attract butterflies and encourage them to reproduce. There is also good birdwatching and impressive waterfalls. One guest bungalow is available for visitors.
Balek Wildlife Sanctuary. This is 20 mins along the Ramu Highway from Madang city. Apart from its wildlife, it is famous as a location for the film Robinson Crusoe. It is centered around a sulphur spring that bubbles out of a cave in a limestone escarpment and is a nesting or breeding ground for a wide variety of birds, animals, eels and fish. There is tropical rainforest as well as local plants and flowers.
Kar Kar Island. 30km off the coast and 60km NNE of Madang this is an impressive oval-shaped volcanic island with a population of around 50,000. The volcano is still active and the latest eruptions occurred in 1978. It has two nested calderas and the inner one still smokes. The cone can be visited. Although not a tourist destination the island reportedly has spectacular diving and attracts dive trips from Madang. The only commercial accommodation, Kar Kar Island Hideaway, has two bungalows on the beach in the middle of a working plantation. Phone: 853 7481; Fax: 853 7473.
Manam Island. 200km NW of Madang, this island was evacuated after volcanic eruptions in 2004 but the people have now returned.
Morobe
The Huon Tree Kangaroo. The Huon Peninsula (nicknamed by geologists as the champagne cork because of the rate of growth of its mountains) is home to one of PNG's seven species of tree kangaroo. Also known as the Matschie's Tree Kangaroo, some can be seen in the Rainforest Habitat in Lae. To see them in the wild will require a hike to 2000 meters. In 2009 the YUS Conservation Area was established to protect the habitat of the kangaroo in the northern part of the Huon Peninsula. YUS includes three rivers, Yopno, Uruwa and Som, after which it was named.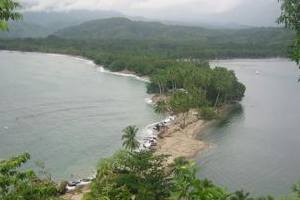 Salamaua. — coastal area 35 km south of Lae, involving a one-hour boat trip, that has been popular with expats since before WW2, when it was a thriving port. Beautiful spot just waiting for someone to build a hotel. Right now there is just a small guest house, the Salamaua Haus Kibung. The bay has tropical reefs, and several wrecks from WWII close to the coastline, which make for excellent diving.
Do
Madang
Diving. An undiscovered area as far as diving is concerned. Between May and November visibility is usually very good. In Hansa Bay there are wrecks of 35 Japanese ships, some in quite shallow water.
Village Stays There are several villages near Madang that have guesthouses. Hobe Village and Haya Village offer 25 Kina/night stays. Contact the Madang Visitor and Cultural Bureau for more information. For Hobe Village, which is a 30 minute minibus ride from Madang, contact Joel Laleg 7692-4039 or Rassol Laleg 7271-7987. A village stay includes birdwatching and Japanese hideouts from WWII.
Morobe
The Black Cat Trail. This goes from Wau to Salamaua. It was used before World War II during the goldrush and during the war some of the bloodiest battles were fought along it. The scars of the war remain and live mortars, munitions, plane wrecks, and huge bomb craters can be seen. The trek should take four to five days. It is tough 8-9 hours walk each day, with hospitality in villages that have little other contact with the outside world. There is an abundance of wildlife and magnificent flora and fauna. The trail is almost always followed from Wau to Salamaua, allowing you to reach Salamaua on the last day with a recuperative rafting trip down the Francisco River. Treks are organized by PNG Trekking .
The Bulldog Trail. Although this trail is rich in history it is only now being commercially developed and the villagers along the trail have had little exposure to trekkers to date. Following their defeats at Buna and Kokoda, Japanese forces fell back to Lae. They then ventured south towards Wau, looking for another route to Port Moresby. There was fierce fighting between Lae and Wau with Australian troops being supplied by porters carrying food and munitions to Wau from Port Moresby along the Bulldog Trail. This trek is for experts only and can be organized by PNG Trekking .