Madona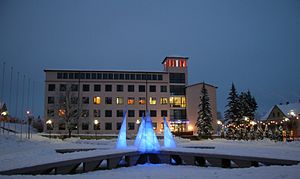 Madona
is a town in the center of eastern
Latvia
, in the eastern part of the
Vidzeme
region.
Understand
Madona is home to 9,000 residents, and is a centre of culture, education, trade, sports, and medicine in the
Madonas novads
region.
The name "Madona", often confused with "Madonna", comes possibly from lake Madona or the medieval German name for the palace of Birži - Madohn. Birži was the official name of the inhabited area before. The name of the town has absolutely nothing to do with the famous singer nor the Christian religious figure.
Get in
1188.lv
provides up-to-date bus and train schedules, route planner and prices.
By bus
Madona is well connected by bus service with Riga and smaller cities in eastern Latvia. Ticket price from Riga to Madona is about €8 and it takes usually 3 - 3½ hours to get there.
From Madona you can catch direct buses to
Cēsis
,
Daugavpils
,
Gulbene
,
Alūksne
,
Sigulda
,
Rēzekne
,
Aizkraukle
,
Jēkapils
and numerous small villages within Madonas novads.
By train
Going by train is a relatively cheap and quick option (€5, As of summer 2011, there is also a morning train from Riga on Saturdays, leaving at 08:29.
By car
There are two main roads from the capital,
Riga
– one through
Sigulda
and Bērzakrogs, the other through
Plavinas
. The road through Plavinas is slower due to traffic and inhabited areas with speed limitations but the road conditions are slightly better.
By thumb
It is pretty popular to hitch-hike in Latvia and if you can get to Madona as well. If you come via Pļaviņas, make sure you get off on the bypass road at roundabout before crossing the railway bridge in direction of Jēkabpils. From there the branch road P37 to Madona starts.
By plane
The is no airport with scheduled flights. The nearest
airfield
is in Prauliena (7 km on the road from town centre), which is a small non-supervised 400 x 20 m strip but in very good condition, sufficient for small general aviation and ultra light airplanes.
Get around
By car
The town is small and getting around by car is an easy task, without traffic jams and takes minutes. Beware that due to ongoing pipeline replacement works the surface quality on some of the streets may be really bad. Free public parking places are available in many places in the centre.
By public bus
There are 3 public bus lines in the town. Tickets (€0.70) can be purchased on board.
By bicycle
In late spring/summer/early autumn probably the best way to get around is bicycle. Do not leave your bike unlocked on the street as bicycle thefts are not uncommon.
Bicycle rental
is available at Smecere's Sport Complex.
On foot
Getting around the center by walking is a good option in any season.
See
Historic buildings on Poruka and Blaumana street

Town's fountain and the surrounding parkOne of the greenest and most beautiful places in town, and right in the heart of it.

Madona's Regional MuseumWith a variety of events and ever-changing exhibitions.

Saieta laukumsThe central square of the town, with a small fountain and lots of flowers in the summer season.
Do
In the winter
Cross country skiing and biathlon at Smecere's Sport Complex, just outside the town
Skiing and snowboarding
Ice hockey
Indoor sport activities - volleyball, basketball, floor-ball, climbing on artificial wall, gym etc at newly built Madona Sporta Centrs
In the summer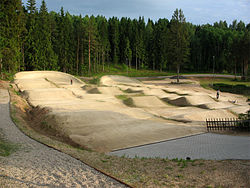 Beach volleyball - on the beach of Madona lake, two equipped fields are available, often competitions take place there.

Rollerskating - on asphalted tracks over small hills and through forests, starts at Smecere's Sport Complex
BMX track - at Smecere's Sport Complex, one of the most challenging BMX tracks in Latvia
Off-road driving
Windsurfing
Hunting
Fishing
Paintball
Horse riding
Bird watching
Nature trails and hillwalking
Orienteering
Learn

Madona is a home to two high schools and a branch of public university RPIVA. Check the international exchange programs for possibility of studying. Basics of Latvian language are essential for studying and living there.

Work
The current economic situation and high unemployment rates in general do not offer many possibilities to find a job, however finding a seasonal job in tourism may still be possible. For EU/EEA citizens no permits and no lengthy paperwork is required.

Buy
Four supermarkets are available in the town – one in the centre next to train station, three more on northern side of the town; open every day from 8:00 until 22:00 (including Sundays and public holidays). Smaller shops all around the town but opening times may vary. Credit and debit cards are accepted almost everywhere.
Petrol stations are open 24/7, most of them located around the roundabout in northern part of the town.
Eat
Pizzeria "Neapole"

address: Saieta laukums 2

A real and the only true Italian pizza in Madona, restaurant run by an Italian, so you can refresh your Italian language skills. Take away and eat on spot pizzas of different sorts available.

Restaurant and Bar "Effeja"

address: Saules iela 30

Cafeteria "Kore"

address: Saieta laukums 10

Cafeteria "Parka kefejnīca"

address: Gaujas iela 33

Self-service restaurant "Rudzons"

address: Saules iela 15

Offers authentic Latvian food.
Drink
Stay safe
Beware of extreme temperature surprises in the winter. Temperatures may drop as low as -35°C occasionally, but are often around -20°C in winter. Inappropriate shoes or clothing together with longer periods of time spent outdoors can easily result in frostbite.
Driving conditions may sometimes get very bad in the winter. Even though the streets are regularly cleaned, they may be covered by ice after a snowfall or when temperatures climb rapidly over 0°C. Drive and walk with great care. Keep in mind that the braking distance of cars may increase by a factor of four.
Connect
Post office

address: Saules iela 21

Madona public library

address: Skolas iela 12

Has Internet.
Go next