Madrid
Madrid
is
Spain
's capital and largest city, with 3.3 million citizens. 6.5 million people live in the autonomous community of the same name (
Comunidad de Madrid
). The city has an impressive cultural and architectural heritage, which includes grand avenues, plazas, buildings and monuments, and world-class art galleries and museums. Madrid is also renowned for gastronomic delights and
nightlife
lasting up until dawn.
Districts
The main tourist areas
Containing the symbolic centre of the city, an important shopping and social meeting area; the writers' quarter with a high concentration of bars, pubs, restaurants and hotels; and the multicultural quarter with a large population with African, Asian or Latin American roots, world music bars, alternative theaters and art galleries.
Madrid's "old town": a typically Mediterranean quarter, characterised by narrow lanes and colourful buildings from the 18th century, its history going back to the Moorish era. This is the place to go for tapas, stylish bars full of bohemian young people and Madrid's biggest flea market. The palace quarter is dominated by the royal residence and representative buildings from the Golden Age of the Spanish Empire.
East of the city centre. Parque del Buen Retiro is a huge urban park, one of the green lungs of Madrid, dating back to the imperial age. The Paseo del Arte—or "museum triangle"– is where Madrid's most famous museums and art collections are found, a must-go for all those who want to see the works of El Greco, Velázquez, Goya, Picasso and Dalí.
The rest of the city
Understand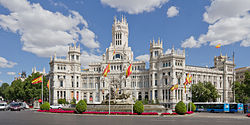 Location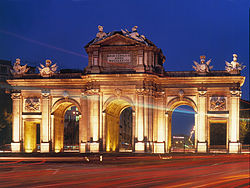 Madrid is just northeast of the geographical center of the
Iberian Peninsula
, in the middle of the Spanish central Castillian plateau (Meseta central), at an average altitude of . Nearly all of the most famous tourist areas are in the center of the city including Puerta del Sol, Plaza Mayor, Palacio Real, and Plaza de Colón. The major streets in Madrid include the Gran Via, Alcalá Street, and Paseo de la Castellana.
Climate
The climate of Madrid is continental; mainly dry and quite extreme at times. Madrid sees perpetual sunshine and a characteristically hot and dry summer, and a fairly cold winter with frequent frosts during the night and the occasional snowfall. Spring and autumn are mild with the most rainfall concentrated in these seasons. Spring and autumn are definitely the best times to visit, especially the months of April, May, June, September and October. There is very little rainfall during summer and also less rainfall during winter. During winter snow occurs sporadically; however, snowfall usually lasts only for a few days, but there is abundant snowfall in the adjacent mountain ranges nearby.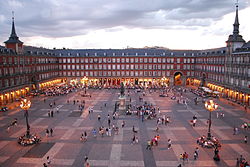 History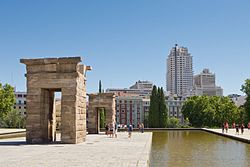 Madrid is a city that goes back to the Spanish Muslims, but virtually nothing of Madrid before the Reconquista is left. A few historic city walls have been archeologically preserved but Madrid was by far overshadowed by Toledo (Roman
Toletum
) until the early modern era. To give just one example, construction on Madrid Cathedral did not start until the late 19th century (and construction only finished in the 1990s) as the archbishop of Toledo did not want to relinquish episcopal power.
The culture of Madrid was dominated by its royal history, centre of the Spanish Empire. The Royal Palace, big plazas and buildings used by the Spanish Monarchy, enormous cathedrals and churches are plentiful in Madrid. Madrid is now just as much a cosmopolitan city as
Berlin
or
London
: full of modern architecture, lifestyle and culture.
Madrid became capital of Spain under Phillip II (Felipe II in Spanish) who had a gargantuan palace built in nearby
El Escorial
. For a long while, Madrid would be the royal residence first, and a city only later. Madrid architecture often reflects the era in which it was built. The Spanish Habsburgs ("Los Austrias") who reigned until the death of unfortunate Charles II in 1700 predominantly used red brick for facades and black schist for the roofs. The later Bourbon dynasty (ruling today after the two Republican interludes) preferred granite to brick, giving their buildings a grayer tone. The king that had the largest influence on Madrid after Felipe II was perhaps Carlos III. He was nicknamed "el Rey Alcalde" (the mayor-king) or "Madrid's best mayor" due to his extensive building and modernization programs in the city. Other royal projects that left their mark are Isabel II's freshwater canal, and the metro which was started in 1919 with King Alfonso XIII's own money. However, both those monarchs were so unpopular that they were later overthrown by their own people, giving rise to the First and Second Spanish Republics.
Being the capital of Spain, Madrid came to be associated - justly or not - with the governing trends in Spain by Spaniards in other parts of the country. As the governing trends swung widely from anti-clerical Republic to hyper-catholic fascist Franco dictatorship, this has influenced the perception of Madrid in the rest of Spain. During the 2nd Republic (1931-1936), it was a bustling city of new ideas with many political issues of the day literally fought out on the streets of Madrid. During the Civil War, Madrid endured a three year siege (1936-1939) by the anti-Republican troops and was one of the last places to hold out for the Republic. During the dictatorship of Francisco Franco (1939-1975), the city represented the heart of the repressive hyper-conservative dictatorship to many Spaniards, particularly Basques and Catalans. However, the city is also the epicentre of the famous Movida of the 1980s, a Spanish movement that bred personalities such as the director Pedro Almodóvar. The heritage of this era is indeed still visible in the city center, where a party can be found at all times and one of the most liberal and colourful environments of Spain can be seen. The city is also known for its acceptance of LGBT people. Madrid's city politics have swung widely from right to left and back since the death of Franco, at first having a PSOE led government through the eighties which was replaced by the center-right PP which dominated the city through corruption and paternalistic public works in the 1990s only to give rise to ex-communist Manuela Carmena in the 2010s (after the corruption came to light with several high ranking Madrid PP members ending up in jail) who was replaced (despite her personal popularity) by a coalition including the neo-Franquist VOX party after the 2019 elections
A massive expansion of the Madrid Metro network began in the mid-1990s and only slowed down by the 2008/2009 economic crisis. It has given the city an urban transit system with few equals in the world. The city which for centuries could not compete with other European capitals has become a quite vibrant and cosmopolitan place with immigrants from Latin America, Arab countries, other parts of Europe, and the Iberian peninsula.
Madrileños everyday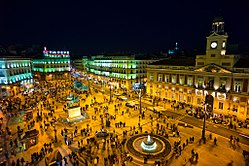 The citizens of Madrid refer to themselves as
Madrileños
or the more traditional and now seldom-used term "gatos" (cats). They live by a daily routine that is heavily influenced by the climate. Due to the typically midday heat during summer, a "siesta" can be still observed during which some citizens take a break to cool off, though
Madrileños
can usually only afford this 'luxury' during holidays and weekends.
Most stores are open throughout the day; just small stores are often closed during siesta. Workers and those more afflicted by Western lifestyles choose not to observe this long break and work usually between 09:00 and 18:00-19:00. However, during summer, many offices have a summer schedule requiring workers to start at 08:00 and finish at 15:00 (most commonly without the standard 1-2 hour break for lunch).
Offices usually close during the weekend but businesses are often open Saturday morning (downtown stays open until afternoon). Most grocers are closed on Sundays, but some major chain and department stores linked to "culture" (books, music, etc.) will be open throughout the day and all of them on the first Sunday of the month. Shops and department stores in Puerta del Sol area are open every day.
Madrid has a very modern and elaborate transportation network of buses and Metro with a few "Light Metro" tram lines in the outskirts. The city contrasts with some large European cities in that it is extremely clean, and city employees in bright yellow vests can almost always be seen cleaning the streets and sidewalks. Like most large cities, however, there is a substantial population of vagrants and beggars lining the streets.
Madrid is one of the biggest and most cosmopolitan cities in Europe. Communities of West Africans, North Africans, other Europeans, Chinese, Indians, Filipinos, Pakistanis and (especially) Latin Americans are prominent.
Nightlife
Madrid possibly has the most bars per capita of any European city and a very active nightlife; Madrileños are known to stay up until as late as 05:00-07:00. It is quite common to see a crowded Gran Vía on weekend nights. Due to this lifestyle, lodging near the fun areas may end up a nightmare for light sleepers if your window faces the street.
Get in
By plane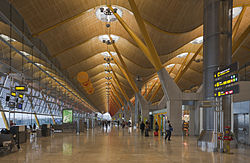 Madrid has two smaller airfields,
Torrejón
and
Cuatro Vientos
, but they have no commercial flights.
To & from the airport
By day, Metro is the best way to reach city centre. Line 8 (pink) runs from Nuevos Ministerios to Terminals 123, Barajas town (no airport here, don't get off!) and T4. It runs from 06:00 to 01:30, taking 15 min from downtown to T123 and another 5 min to T4. The single fare is €5. See "Get around" for other ticket options.
The Renfe regional train service C1 line runs between T4 and Puerta de Atocha, without needing to change trains. Puerta de Atocha is nearby but separate to Atocha metro station.
Buses
between city centre and airport are:
Exprés Aeropuerto bus 203 runs from Atocha to T12 & T4 (but not T3), 06:00-23:30 every 15-20 min, taking 30 min.
Bus 200 runs from Avenida de America transport hub to T12 & T4 (but T3 only city-bound, not outbound), 05:00-23:30 every 10-20 min.
At night bus N27 runs every 35 min from Cibeles to T12 & T4 (but not T3) and is the only public transport option.
Direct buses elsewhere include:
Bus 101 from Canillejas transport hub, east edge of the city, to T12 (not T4, and T3 only city-bound, not outbound).
Bus 822 from Coslada and San Fernando de Henares, just south of the airport, to T1.
Bus 824 from Alcalá de Henares and Torrejón to the east, to T12.
Bus 827 & 828 from the Autonomous University and Alcobendas, to T4.
Avanza buses run to T1 from Avila and Salamanca.
Alsa buses run to T4 from Zaragoza, Barcelona, Valladolid, León, Murcia, Alicante, Gijón, Oviedo, Lugo, Coruña, Santiago de Compostela, Burgos, Vitoria, San Sebastián, Santander, Bilbao, Logroño and Pamplona.
Socibus run to T1 from Andalusia, eg Córdoba, Cádiz, Jerez and Sevilla.
By train
The state-owned rail company
Renfe
() operates all trains to Madrid. Frequent long-distance trains connect Madrid and
Alicante
(2 hr 30 min),
Barcelona
(2 hr 40 min),
Bilbao
(6 hr),
Córdoba
(2 hr),
Malaga
(2 hr 30 min),
Salamanca
(2 hr 30 min),
Santiago de Compostela
(6 hr),
Seville
(2 hr 20 min),
Valencia
(2 hr) and
Zaragoza
(1 hr 15 min).
There is a direct international train from Madrid to
Lisbon
, taking 11 hours overnight. These
sleeper trains
have a variety of accommodation (in 4-, 2- and single-person berths) as well as reclining and 'super-reclining' seats. Daytime travel to Portugal involves changing at Merida and Bajadoz.
There is also a direct daytime train to
Marseille
, taking 8 hours.
Paris
and other destinations in France and beyond can also be reached by changing in Barcelona. However for the French Atlantic coast as far north as
Bayonne
and
Bordeaux
, it may be quicker to travel via
Hendaye
.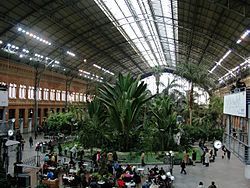 Madrid has two mainline railway stations, Atocha and Chamartín, both with extensive Metro and Cercanías (i.e. local) train connections. To transfer between them, take Metro line 1 (€1.50, 30–40 min) or Cercanías lines C3 and C4 (€1.35, 15 min).
Most mainline trains run from:
By bus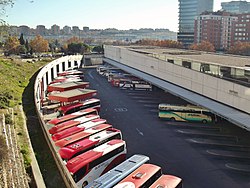 Madrid has several bus stations, but long-distance routes all use either Estación Sur southside, or Avenida de América northside. These buses may also call at the airport.
International buses, and those headed south of Madrid, run from (
C/ de Méndez Álvaro, 3
, ) which is 1 km southeast of Atocha. Routes include Lisbon (3 per day, 8 hr, by Avanza), Milan (twice a day, 26 hr, by Alsa) and Paris (daily, 16 hr, by Flixbus). The metro stop is Méndez Álvaro on line 6 (grey). It also has a Cercanias train halt. The building is quite old, but adequate, with several bus company ticket offices, a retail corridor with a couple of cafes, and toilets.
Buses to the north, e.g.
Barcelona
and
Bilbao
, run from (
Avda de América, 9
), 2 km northeast of the centre. It's a big transport hub on metro lines 4 (brown), 6 (grey), gold (7), and 9 (purple). It's not on a Cercanias line.
Get around
By public transit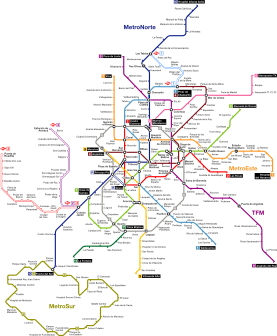 Madrid proudly sports one of the best public transportation networks in the world and the second largest metro network in Europe, second only to that in London. Buses and subways work with the same tickets, and operate within the integrated transit network of (Plaza del Descubridor Diego de Ordás 3, M-F 08:00-20:00).
A
single ticket
for Zone A costs €1.50 (max. 5 stations) and can be purchased from metro ticket vending machines or directly from the bus driver on entry. A
ten-trip ticket
(10 viajes)
costs €12.20 for Zone A (no transfers from one mode of transportation to another allowed), or €18.30 (including all transfers within 60 min); these tickets can be shared with other travelers. Children under the age of 4 may travel without a ticket, and children under 11 receive a 50% discount. Tickets can be purchased at metro stations, newsstands, and
estancos
(tobacconists).
If you plan to use public transport a lot you can purchase a
Tourist Card
, which allows unlimited travel as well as discounted admission for some tourist attractions. The card can be purchased at any metro station, as well as at the CRTM headquarters. For travel within Zone A the following rates apply: 1 day (€8.40), 2 days (€14.20), 3 days (€18.40), 5 days (€26.80), or 7 days (€35.40). These tickets are personalized and cannot be shared.
If you're planning on staying for a long time, you might consider investing into the
Tarjeta Transporte Público
. You can load travel plans onto them according to your age –
regular
(adult),
joven
(youth) or
mayor
(senior). Application must be made in advance at any metro station with a completed application and a copy of your passport. The travel plans can be loaded from any metro vending machine.
Metro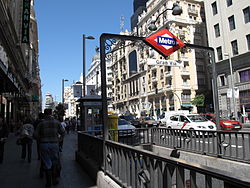 The
Metro de Madrid
(Madrid's subway/underground) is one of the best and least expensive metros in Europe. In 2019 Metro celebrates its 100th anniversary with exhibitions and displays at stations commemorating its century of history. The Metro's underground tunnels can provide relief from the sun on hot days.
Ticket machines are bilingual with instructions in both Spanish and English. Swiping the smartcard one time allows you to use the metro network as long and far as you like – but make sure you stay inside the Metro zone, as once you leave it you'll have to swipe your smart card. Some outlying stations (unlikely to be of interest to tourists) as well as airport stations have another check at the exit where you have to "tap out" because the fare from downtown Madrid is higher. Should you go there more than once, buy the "ten trip all network" ticket (which is slightly more expensive than the "ten trip central area" ticket) or a day ticket. When you travel to/from airport stations, there is additional supplement of €3, which can be paid at the entrance or exit. The tourist passes do not require this supplement as it is included in the price.
Generally the Metro operates daily from 06:00-01:30, although you can catch some trains as late as 02:00. Frequencies range from 2-4 minutes during rush hour to up to 15 minutes from midnight onwards.
Bicycles
are permitted on the Metro during most periods except during rush hour, generally M-F 07:30-09:30, 14:00-16:00, and 18:00-20:00.
Pets in carriers
and dogs are also permitted.
Pickpockets are rife on the metro, and travellers should take appropriate precautions. Announcements in Metro trains and stations are made mostly in Spanish only, though some signs are bilingual in Spanish and English.
Bus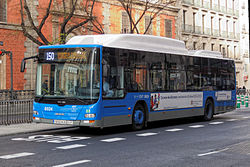 Whatever the Metro doesn't cover,
EMT
buses do. Generally buses run 06:00-24:00.
Búho
(
owl
) night buses have their main hub at , covering most of the city at roughly 20-minute intervals.
All buses are equipped with free Wi-Fi facility (EMTmadrid), easy to use with any type of laptop or mobile device. For travellers with smartphones, there is a helpful official EMT app (iPhone and Android) with a route planner and schedules.
Train
Madrid has a system of local trains (
cercanías
) that connect outlying suburbs and villages with the city center. Although most useful for visiting historic or outdoor destinations outside the city core, they are also useful for quickly getting from one end of the city to another, as well as to Barajas airport.
and are in the north, and and are in the south of the city.
By taxi
Taxis can be hard to find during late hours on weekends, especially if there is some rain. Unlike in other European cities, there are few taxi stands; just stand by the side of a major road or bus stop and wave your hand to signal an available taxi passing by. Available taxis have a green
libre
sign in the windshield and a green light on top.
Official taxis are white, and have a red stripe and the flag of Madrid on the front door. The tariff is displayed on top of the car – a
1
during daytime and a
2
at night, which become
2
and
3
on public holidays such as Christmas Eve.
There are also special surcharges for entering or leaving the airport/train station. Ask for the written table of tariffs and charges (
suplementos
) (shown on small stickers on rear windows, compulsory by law) before paying if you think it's too expensive.
Some taxi drivers will do what is called
la vuelta al ruedo
— they will drive you around or through the crowded avenues to increase the fare.
Most taxi drivers do not speak English, so you should have the names and addresses of your destinations written in Spanish to show your taxi driver. Likewise, get your hotel's business card in case you get lost. When giving an address to a taxi driver, it is useful to say the name of the neighborhood in addition to the street name and number (for example Calle de Don Ramón de la Cruz, 74, Lista).
By car
Cars have been one of the most hot button issues in Madrid municipal politics in the twenty first century. Leftist mayor Manuela Carmena introduced a popular scheme to drastically reduce the number of cars in central Madrid, however she lost reelection in 2019 and the new right wing government reversed course before being forced by European Union legislation they had violated to partially reinstate the ban. In short: driving a car in Madrid can be a nightmare. The Spanish capital suffers from the typical problems of most big cities; far too many cars and not enough space to accommodate them. Sometimes there can even be traffic jams in the
Paseo de la Castellana
at 03:00 (early to some Madrileños). The problem is compounded by the narrow streets in the old town, where a lorry delivering beer barrels to a local bar can cause a huge tailback. Finding a parking space can be very time consuming, and difficult if one is not skilled in the art of close proximity parallel parking. Many Spaniards are also lacking in this art, prompting them to simply park in the street, blocking other cars in. If you find yourself blocked in by such a practice, honk your horn until the driver returns. Most Madrileños park by sound alone: they will feel no remorse for repeatedly hitting the car in front and behind them while trying to get into or out of a tight spot. If you value your car's paint job, or you have rented a car, it may be best to park underground. Though this is no guarantee for nobody hitting your car, the chances are somewhat diminished.
For free parking but within walking distance of 20 minutes to city centre (Sol), try the street at
Principe Pio
metro stop. The place to park is the street near to the shopping mall called 'Calle de Mozart'. It is packed with cars on weekday mornings because of people getting to the Metro station. During the evenings and weekends it's easy to get a parking spot.
Renting a car is not only unnecessary, but not recommended for getting around downtown Madrid, and a car is likely to be more of a liability than an asset. Visitors should make use of Madrid's excellent public transportation instead. Renting a car only makes sense if you are planning to leave Madrid and drive to the nearby towns. That being said, there are car rental facilities available at the airport, train stations, and other main travel sites. Always be sure to have a street map handy! The roads within Madrid are difficult to navigate as there are no places to stop and consult a map or check your route.
There are several consecutive junctions underground near the centre and your GPS may not get a signal underground. Plan your turns before you enter the tunnels.
By bicycle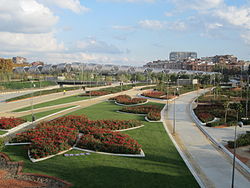 Madrid does not appear as a
bike-friendly
city at a first sight. Things were changing slowly to make bike experience more comfortable, but now with the new right wing mayor the city is set to be the only capital in the world where bicycle lanes are being removed again. Several streets in historical downtown have been transformed into mixed-traffic spaces where pedestrians and bikes have priority over cars. There are new easy-bike paths all along the river and connecting important parks.
It is also possible to use a lot of narrow easy streets where traffic is slow and calm to travel along the city without depending on exclusive bike paths. There are some official and unofficial publications with these streets along the web.
To avoid some of Madrid inconveniencies, such as hot weather or slopy streets it is also possible to get bikes on Metro and Railways trains with some schedule restrictions, and on every public transport without restrictions when using folding-bikes.
Madrid's public bike rental service, called
BiciMAD
. It boasts 1560 electric bikes spread over 123 stations. Unfortunately, the site is not (yet) available in English. However, the information at the bike stations is available in multiple languages. A casual user pays no initial fee, but €2 for every first hour or fraction, and €4 for the second (Oct 2019). A contactless card is issued instantaneously upon signing up at any bike station. The process is relatively quick and requires some basic information such as name, ID, email and credit card number. Swipe the card through the somewhat larger opening on the left of any bike to retrieve it. Use the buttons to the left of the handlebar to toggle electric assistance (three levels). Here you'll also find a button to switch on the lights. So watch out, you'll need to do this yourself when it gets dark! Be equally careful when using electric assistance for the first time, as it might require some getting used to.
There are also some rent shops in the historical center area such as the company
Baja Bikes Madrid
. This company offers several rental points in Madrid (Retiro, Atocha, Madrid-Río, etc.) They offer guided and self-guided bicycle tours, using electric or conventional bicycles.
phone: +34 915 231 547

address: c/Jardines 12

Bicycle tours and rental from €4/hr. Daily 11:00 start city bike tours in English for 3 hr, €22.
See
Madrid is one of the top addresses in the world for art, both contemporary and not-so-contemporary, with Goya's most famous works in the Prado, Picasso's
Guernica
in the Reina Sofía and countless other works in those two museums and the Thyssen-Bornemisza Museum. Besides art, Madrid also boasts some impressive architecture courtesy of kings who had access to the wealth of two continents and no qualms in spending it for extravagant royal residences.
The following is a non-exclusive taste of what Madrid can provide to a traveler. Dive into the districts to find more!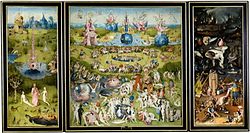 . This is Madrid's museum district, named for the three major art museums clustered along Paseo del Prado east of the old city: the Museo del Prado, one of the finest art museums in the world, the Thyssen-Bornemisza, a baron's collection of classical art, and the Reina Sofia, Madrid's modern art museum. However, a couple of smaller museums also occupy the neighborhood which are well worth seeing as well.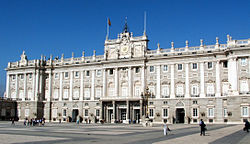 . An enormous palace, one of the biggest in Europe, with scorching plains of concrete around it. Though it is the official residence of the King of Spain, the royal family does not actually reside here and it is generally used only for state ceremonies. The Royal Palace is considered to be one of the most emblematic and beautiful buildings in Madrid.
. Perhaps the best known plaza in Madrid, this impressive square is now one of the main stops on any tourist visit.
. This plaza is the heart of Madrid and one of the busiest places in the city – a hub for the local transit system, a favorite meeting spot for locals, a visible area for festivals or political demonstrations, and an opportune location for tour guides, street performers, pickpockets and anyone else looking to take advantage of all the tourists on-hand. Several of Madrid's landmarks are found here: the statue of the Bear and the Strawberry Tree, the main Post Office with its iconic clock tower and Kilometre Zero of the Spanish road network.
. One of the busiest avenues in Madrid, the location of the cinema district and a number of shopping malls and is lined with large billboards and lights.
. Large roundabout in the city centre with the neoclassical Cybele Fountain and the imposing eclectic Cybele Palace (former Palace of Comunications, now seat of the municipal government).
. Sets the ambience of a traditional market, with the advantages of the new times. It has an iron and glass structure from the 20th century.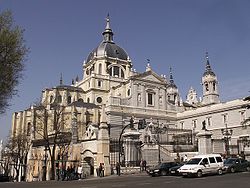 . The main church of Spanish Catholicism, in neo-Gothic style. Built from the 19th century to the 1990s.
. A prominent square adjacent to two of the tallest buildings in Madrid: the Torre de Madrid and the Edificio España.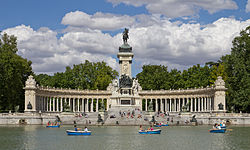 . The main park of Madrid, the perfect place to take a rest during a sunny day, or take part in the drum circles around the statue of Alphonso XII on summer evenings.
. Ancient Egyptian temple that was moved to Madrid's Parque del Oeste (Western Park) after the construction of the Aswan High Dam.
Do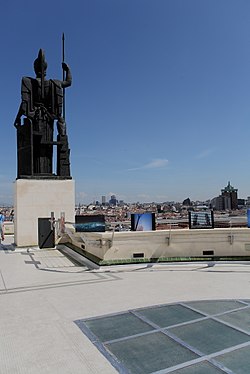 Sports
The most known football clubs of Madrid include
Real Madrid
and
Atlético de Madrid
- their home stadiums can be found in the
Northern Suburbs
. Other teams include Rayo Vallecano, in the neighbourhood of Vallecas or Getafe in the nearby suburb served by Madrid Metro.
There are also major Basketball teams:
Estudiantes
,
Real Madrid
, and
Fuenlabrada
. The first two play at the Palacio de los Deportes (commercially known as Barclaycard Center) every other weekend during the season. Fuenlabrada, based in the Madrid suburb of the same name, play at Polideportivo Fernando Martín.
Cultural venues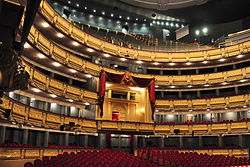 Flamenco shows can be seen in numerous venues in
Sol-Letras-Lavapiés
,
Moncloa
and
La Latina - Austrias
.
Opera houses are spread through the city center. In addition, several orchestras don't have a stable/home venue to play in:
phone: +34 902 224 949 (tickets)

Tickets are sold at ticket offices in the Auditorio Nacional de Música, Teatro María Guerrero, Teatro de la Zarzuela, Teatro de la Comedia, and Teatro Valle-Inclán.

phone: +34 915 321 503

address: C/ Barquillo, 8

Orquesta de la Comunidad de Madrid

phone: +34 913 820 680

address: C/ Mar Caspio, 4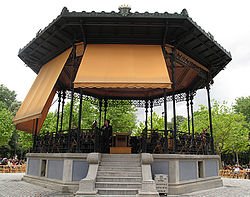 Banda Sinfónica Municipal de Madrid

phone: +34 915 267 147, +34 915 267 158 (M-F 08:00-15:00)

Performs in El Retiro Park in the summer. Tickets can be purchased at the Teatro Monumental (listed above) and at the tourist information centre in Plaza Mayor, as well as online.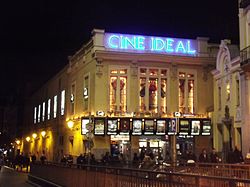 There are a number of cinemas offering American and British films in English (along with films in other languages). These original films are denoted in the listings by a designation of "V.O." which stands for
versión original
. Cinemas in Madrid will sometimes have
días del espectador
(viewer days) with cheaper ticket prices, usually on Mondays or Wednesdays. Some of the V.O. theaters to check out are:
Festivals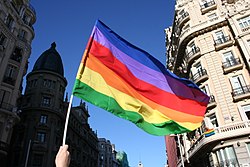 La TranshumanciaAnnual event during which the center of Madrid is free of cars and is instead filled with shepherds exercising their ancient right to drive sheep and livestock through the city.

Madrid Gay PrideAnnual event held between the last week of June and the first of July, with more than 1.5 million people in the street from all around the world. It began as a weekend party, but lately turned into a full week extravaganza.
Learn
If you want to go to Madrid to learn Spanish, there are several private language schools that offer Spanish courses for foreigners. These are listed in the district articles.
Another option is to take a Spanish course at university, the Complutense University of Madrid offers Spanish courses for foreigners that take place in the faculty of Philology and Letters.

Buy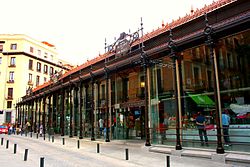 Major credit cards and foreign bank cards are accepted in most stores, but it is common practice to be asked for photo-ID (DNI). If asked for your DNI present your passport, residency permit or foreign ID card — anything with your photo and name on it will be accepted by most shopkeepers. The signatures on credit cards are usually not checked.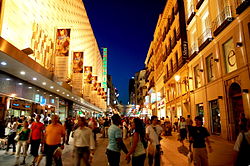 Shopping districts
In addition to the shopping areas below, there are also a lot of H&M, Zara, Mango, and Blanco stores all over Madrid, with high fashion clothes and accessories at a low price.
Sol areaThe most convenient area for tourists is around Calle de Preciados and Calle del Carmen, between metro stations Sol and Gran Vía, home to the El Corte Inglés department store, high-street names like Zara, Gran Vía 32, H&M, Sephora, Pimkie.

SalamancaThe most upscale shopping district is northeast of the center, around Calle Serrano and its side-streets. Top designer names like Chanel, Versace, Hermès, Hugo Boss, Louis Vuitton, Emporio Armani and Dolce & Gabbana, including the fluid fabrics and elegant cuts of Spanish designer Adolfo Domínguez, are on Calle Ortega y Gasset. Head for Calle Serrano for Purificación García, Roberto Verino, Ermenegildo Zegna, Loewe, Carolina Herrera, Manolo Blahnik, Cartier, and Yves Saint Laurent. Prada is on Goya street, and on Jorge Juan St you can find even more luxury shops.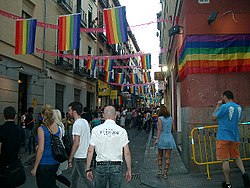 Chueca and Calle Fuencarral areaThis part of the city used to be an abandoned and marginal area. However, it has quickly turned into the most avant-garde and modern part of Madrid. Thanks to the gay community, old shops were taken over and turned into the coolest places of Madrid. Today it is an example of modernity, a paradise for entertainment where everything is possible. The streets are filled with restaurants, alternative cafés and shops, a good example is the Market of Fuencarral (Mercado de Fuencarral, in Spanish) a novel shopping center concept. Apart from the purely commercial, this area proposes a wide range of gastronomy and party clubs by night in the weekends.
El Corte Inglés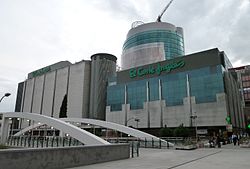 El Corte Inglés
is a Spanish institution, the only remaining department store chain in the country. El Corte Inglés stores are ubiquitous and dominate the retail market, setting the tone and reflecting the preferences of the Spanish customers. While hardly as exciting as visiting the over-the-top luxury department stores in New York or London, they provide a nice shopping environment, and many feature nice (and reasonably priced) gastronomic options. So, if the weather is bad, one of their stores may be your last resort.
Some of the more prominent El Corte Inglés locations in Madrid:
phone: +34 913 798 000

address: C/ Preciados 1-9

Occupying the full first few blocks of the pedestrian boulevard Calle Preciados, El Corte Inglés serves as a gateway to the shopping paradise from Puerta de Sol.

El Corte Inglés Plaza de Callao

phone: +34 913 798 000

address: Plaza de Callao, 2

A much smaller store is to be found at the other end of Calle Preciados. Not quite a looker from the outside, it holds a top-floor restaurant with brilliant views over the Gran Vía.
You will also find stores in , and , as well as in most shopping centres on the outskirts of Madrid.
Fashion
Loewe
is one of the world's oldest luxury brands, founded back in the middle of the 19th century in Madrid. You will find their flagship stores and around the intersection of Calle Serrano and Calle de Goya, on Gran Vía, and, if you forgot something, two at the
Madrid-Barajas Airport
, in T1 and T4.
Markets
Interesting markets can be found in the
La Latina - Austrias
and
Retiro - Paseo del Arte
districts
Eat
Cuisine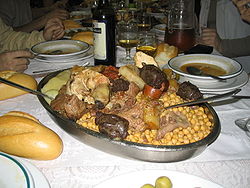 Dishes popular throughout
Spain
are also widely served in Madrid.
In addition, Madrid has a number of typical regional dishes:
Gallinejas and entresijos – Lamb chitterlings fried in its fat. Very traditional and typical from Madrid city.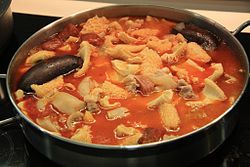 Callos a la madrileña – A hot pot of spicy beef tripe similar to those found in Turkey and the Balkans.
Cocido madrileño – Chickpea stew with meat and vegetables. The particularity of this stew is the way it is served. The soup, chickpeas and meat are served and eaten separately.
Oreja de cerdo – Pigs ears, fried in garlic. This popular dish is widely eaten throughout central Spain.
Sopa de ajo – Garlic soup is a rich and oily soup which generally includes paprika, grated Spanish ham, fried bread and a poached egg. A variation of this soup is known as sopa castellana.
It is ironic that Madrid, in the centre of Spain, has higher quality seafood than most coastal regions. This quality comes at a price, and most Spaniards only occasionally shell out for a
mariscada
(Spanish for 'seafood feast'). Experiencing Madrid's seafood may be, for the visitor, an experience which will be worth the cost.
Meat and meat products (jamón iberico, morcilla, chorizo etc.) are of generally a very high quality in
Spain
and particularly in Madrid.
Restaurants
Many of the restaurants and
cervecerías
in the Sol and Plaza Mayor area have generic poster board advertisements on the sidewalks with pictures advertising various paella dishes. These paellas are usually of bad quality and should be avoided. If you are looking for good, authentic Spanish paella, it is usually best to find a more expensive, 'sit-down' type of restaurant that offers a variety of paella dishes.
A much better option is the La Latina neighborhood just south of Plaza Mayor, especially along Calle Cava Baja. There are also a number of deli-like shops along Calle Arenal that offer food
para llevar
(for take away).
At bars, one generally orders various sized plates, a
ración
meaning a full dish, a
media ración
or a half-dish, or a smaller version which would be a
tapa
, a
pinxto
or a
pincho
.
The Spaniards don't eat lunch until 14:00 or 15:00, and dinner doesn't start until 21:00 or 22:00. As a rule of thumb, restaurants serve lunch from 13:00 (earlier in tourist zones) until 15:30, then close and re-open for dinner at 20:00, serving until 23:00. This schedule is usually for restaurants, since bars and
mesones
are usually opened all day long offering a wide variety of "tapas" and
bocadillos
(rolls) for a cheap price. If you're really desperate, the standard bunch of fast food chains do stay open throughout the day.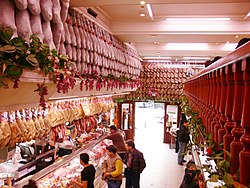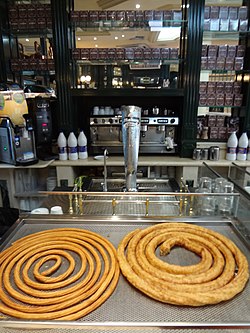 Drink
Tapas bars
In the tapas bars, you should get free food with your drinks. The highest concentration of tapas bars is in
La Latina
and around Plaza Santa Ana in the
barrio de las Letras
, but you will find them all over the city, including
Malasaña and Chueca
as well as the
western districts
, where there are probably less overrun by tourists.
Calle Cava BajaThis narrow street in La Latina is by far the most famous and popular place for tapas.
Cafés
Cafés and confectioneries can be found all over the city, but the highest concentration can be found around
Puerta del Sol, barrio de las Austrias and Lavapiés
, in the
Old town
and in
Malasaña and Chueca
. A very popular and typical local sweet is
Churros
, a fried-dough pastry (distantly related to doughnuts, but in a more elongated shape and a lot crispier), drizzled with sugar or chocolate, that is sold both in cafés and by street vendors.
Bars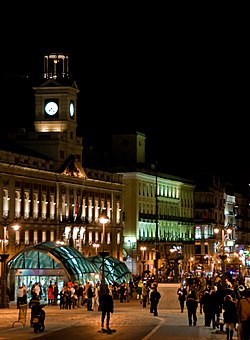 Nightlife starts later in Madrid, with most people heading to the bars at 22:00-23:00. One of the best options to enjoy the nightlife is in the popular quarter
Barrio de las Letras
, especially on its main street,
Calle Huertas
, and other nearby streets. A great choice of bars is also available in the more traditional
La Latina
area as well as in the younger and alternative-flavoured
Malasaña and Chueca
districts.
Draught beer
(cerveza)
is usually ordered in
cañas
(200 ml), but may also come in
dobles
(400 ml) or
jarras
(mugs).
Clubs
Clubs generally open at about midnight. If you go in any earlier you may find it quite empty. Many clubs do not close until 06:00, and even then everyone is still full of life.
Nightlife areas
Sleep
While of course it is most convenient to have an accommodation close to the sights in the city centre, you should also consider hotels or apartments in the other districts. For example,
Malasaña and Chueca
are just 1 km north of the city centre,
Chamberí
2 km, but the rates may already be noticeably lower. When traveling as a family or small group, you may also think about renting an apartment via
AirBnB
or similar sharing platforms. They are usually located in residential neighbourhoods and include a kitchen, so you can do your shopping on markets, supermarkets or
alimentación
stores and prepare some meals yourself. That way you may experience more of the Madrilenians' everyday life and reduce the total cost of your stay significantly. You will also find restaurants in these districts catering to locals rather than tourists.
Hostels
Cheap hostels (starting from €8 for a dorm bed) can be found near
Plaza de España
, in
Lavapiés or the Sol area
. There are also a bit more comfortable hostels offering single rooms for €30–40, doubles for €40–50, e.g. in
Malasaña
or the
barrio de las Austrias
.
Budget
Budget hotels and B&Bs charge around €30–60 for single, €55–100 for double rooms. Many of them can be found in the
Barrio de las Letras
or
Chueca
district.
Mid-range
A room in a mid-range hotel will cost you around €60–150 per night. Most of them are concentrated in the
Barrio de las Letras and Sol area
as well as the
Paseo del Arte
.
Splurge
A stay in a plush hotel will set you back at least €90 per night and there is no upper limit. Most of them are found in the posh
Salamanca
district, along the
Gran Vía
, in the
historic centre
and in the
Retiro and Paseo del Arte
area. Among the most famous names in the business are the
Hotel Villa Magna
, the
Gran Meliá Palacio de Los Duques
and the Madrid
Ritz
.
Connect
"Locutorios" (call shops) are widely spread in Madrid near touristy locations and it's very easy to find one. Making calls from "Locutorios" tend to be much cheaper, especially international calls (usually made through VoIP). They are usually a good pick for calling home.
When travelling in Spain it is not easy getting connected, Internet pre-paid cards can be purchased but require a few formalities. Wi-Fi points in bars and cafeterias in Madrid are available after ordering, and most hotels offer Wi-Fi connection in common areas for their guests.
Prepaid portable Wi-Fi hot spot service is now available in Spain (provided by trip
NETer
), allowing the connection to any Wi-Fi device.
Cope
Embassies
Newspapers
There are a number of free, English language periodicals that you will find in bars and restaurants that are a great source of event information.

Stay safe
Madrid is a safe city, having one of the lowest crime rates among Europe's largest cities. The police are visible, and the city is equipped with cameras. There are always a lot of people in the streets, even at night time, so you can walk across the city generally without fear. Travelers who remain aware of their surroundings, and keep an eye on their belongings should have little to worry about.
Despite the notoriously intense and politically charged rivalry between Madrid and Barcelona, most people will not care if you wear an FC Barcelona football (soccer) jersey, and in fact you will often see people wear that jersey around the city. One notable exception: on match days, do be careful, as violence has been known to occur between supporters of both clubs.
Madrid does have a significant amount of nonviolent
pickpocket
crime (though it is nowhere near the stratospheric levels of Barcelona) so always watch any bags you have with you especially on the Metro and in busier public spaces. Pickpockets often create a distraction while an accomplice steals from you. Distractions include presenting a map and asking you for directions, or asking you to sign a petition - which is followed by a request for a donation. It is best to ignore any stranger that approaches you in the street asking for help. Be careful when carrying luggage as this can make you a target for pickpockets.
At bars and restaurants never leave wallets or telephones on the table as possessions on show make for easy targets. Passing thieves create a distraction and steal the items. The area around Calle de las Infantes near Gran Via is particularly renowned for this.
Avoid people offering masaje (massages). Be firm and say "No me toque" (Don't touch me) or "No tengo dinero" (I don't have any money) and keep walking. This is often a scam to extort money.
When using ATM machines, be aware of your surroundings, just as you would anywhere. Bring a friend if you need to withdraw cash after dark. If someone approaches you while using an ATM, hit CANCELAR, retrieve your card and move on.
When going out, getting drunk can make you a target for thieves. Also keep an eye on your drink. Don't carry valuables on a night out.
Some neighborhoods in the south and west of Madrid might have an uneasy feel to them
Go next
While Regional and Cercanías tickets don't have to be pre-bought and don't sell out, tickets for AVE, Avant and other long distance trains sell out once all seats are gone. if you want to take a day trip to Sevilla or want to take one of the faster trains to Segovia, it's advisable to buy your tickets in advance.
Easy day-trips
from Madrid include :
Alcalá de Henares is a charming old university town, birthplace of Miguel Cervantes the author of Don Quixote. Reach it by local train within 50 min.
Aranjuez has the Palacio Real, the Bourbon monarchs' summer home, and the lavish Casa del Labrador near the river. Local trains take 45 min from Atocha, 55 min from Chamartin.
Ávila has the most intact walled old town in Spain, spectacular when floodlit at night. Fast trains from Chamartin take 90 min.
Chinchon is a hilltop small town that retains its character from the 1700s. No train, drive or take the bus.
El Escorial is a huge monastery and palace, the Royal Monastery of San Lorenzo de El Escorial. Reach it within an hour by local train from Atocha or Chamartin. Near El Escorial is Spain's most controversial monument - Valle de los Caìdos. Built by Spanish republicans taken prisoner during and after the civil war, it is a gigantomanic underground church with a huge cross on top of the mountain an edifice very much in the fascist style. It is the burial place of many fallen of the civil war, and it housed the tomb of dictator Francisco Franco until October 2019. There's an infrequent public bus to the entrance, from where it's another 9 km hiking. The nearby mountains, Sierra de Guadarrama, are the setting for Peñalara Nature Park.
El Pardo is a village 8 km from Madrid with the Palacio de El Pardo, which in 1739 hosted a peace conference between Spain and England. War broke out. (Also here is Palacio de la Zarzuela, but this can't be visited.) A bus runs from Madrid Moncloa.
Segovia is a medieval city perched on a hilltop, with a great Roman aqueduct leaping across the valley to bring in the water supply. It's 30 min by train from Chamartin.
Toledo is a medieval walled city and former capital of Spain, with excellent architecture and artwork. It's 30 min by train from Atocha.
Further afield
, day-trips at a stretch but deserving at least an overnight stay, are
Salamanca
,
Leon
,
Valladolid
,
Zaragoza
and Cordoba.