Mae Sai
Mae Sai
(แม่สาย) is the northernmost city of
Thailand
. It is mainly a stepping stone for visits to
Myanmar
and has a few attractions of its own. Wat Pha That Doi Wao is an interesting temple complex on a hillside overlooking the border. It has a large scorpion facing (pointedly) toward Myanmar! The market in Mae Sai is marginally more expensive than that across the border in Tachilek, but has a slightly wider range of goods.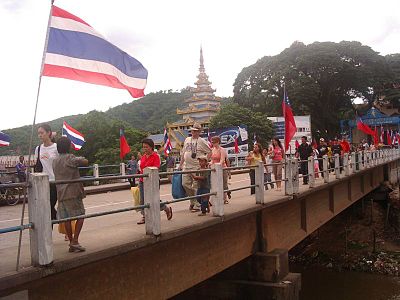 Get in
By bus
By
bus
from
Chiang Rai
or
Chiang Mai
. Buses from Chiang Rai are very frequent (every 10-15 min), cost 40 baht (one way) and take about 1.5 hours, while buses from Chiang Mai take about 4 hours (210 baht one way). All public buses terminate at a bus station well south of Mae Sai, so you have to continue onward to the city proper with
red
songthaews waiting outside (20 baht per passenger fixed fare). The
blue
songthaews to/from the
Golden Triangle
and
Chiang Saen
, on the other hand, leave from a stand in the city centre a few hundred metres down the street from the border. The last blue songthaew that departs for
Chiang Saen
leaves at 14:00.
There are day-tours taking visitors to Mae Sai, the
Golden Triangle
, and a couple of other places to see on the way as well. Tourist minibuses are more expensive (around 800 baht for a day tour from
Chiang Mai
including lunch) and, if fully loaded (but this is not always the case), are much less comfortable. However, this is still an option worth considering, if you want to combine your visa run with a sightseeing tour through Chiang Rai Province.
By car
Mae Sai is 61 km from
Chiang Rai
on Hwy 110.
Get around
Mae Sai is a one-street town and the centre is easily covered on foot.
MaeSai Scooters
has rentals and tours at a great price to see the most of this ethnic border town.
See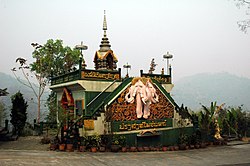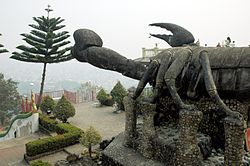 There's really only one place to visit in Mae Sai, but many visitors breeze past it on their way to Myanmar.
Wat Phra That Wai DaoBuilt on a small hill up a steep staircase, overlooking Mae Sai and Tachileik, this temple and its stupa are unremarkable, but there are a few interesting monuments around it. Next to the stupa is a small Burmese temple that gives a nice taste of what awaits on the other side. Towards the river is a multistoried monument to King Naresuan, a Lanna king famous for beating back several Burmese invasions and dispatching the Burmese crown prince in a duel, and just in case the message of this isn't clear enough, there's also a giant scorpion statue brandishing its claws towards Tachileik.

The gate that purports to mark the northernmost point of Thailand (good for pictures, but the actual northernmost point is few kilometers east from the town, where the Sai river joins the Ruak river coming from Myanmar).
Do
Cross (which the Thais call Tha Khi Lek ท่าขี้เหล็ก). An entry permit valid for up to 14 days costs USD 10 or alternatively 500 baht. Travellers using this option are given a paper entry permit and their passports are held at the immigration office until they return to Thailand. Stop at the entry point and talk with the Thai officials to organise this. It is easily done, but beware that if you're leaving Thailand shortly before your visa or, especially, the 30-day stamp expires, you may be questioned and they even may not allow you to go to Myanmar due to the current policy against "border runs", which once were a very popular reason for the foreigners to go to Tachileik for a few hours and back to get another 30 days in Thailand visa-free. In the Tachilek market just over the border, expect to be assaulted by any number of persons offering cheap cigarettes and Viagra/Cialis. From here, you can travel as far as Kengtung (Thai Chiang Tung), 160 km away, but to travel to the rest of Myanmar, a visa in advance is needed. Transit travellers can arrange for a visa and can have their passport sent to their port of exit. Some local NGOs are worth visiting to see some of their humanitarian work.

Tham Luang Nang NonThe infamous cave where a youth football (soccer) team (12 players plus a coach) was trapped for more than two weeks in 2018. The team was successfully rescued in an international mission that involved 90 divers, though one diver died.
Buy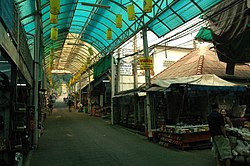 There are plenty of small shops lining both sides of the street leading to the border crossing that sell:
Cheap jewels (rubies, emerald and jade) imported from Myanmar
Cheap curio items, many of which are imported from China
Fresh cut fruit
Eat
Kik Kok

Siri Cafe and Restaurant (Pa Yang Rd, about 1/2 km east of Phahonyottin rd) serves up good quality Thai food in a sophisticated (for Mae Sai) garden setting. It isnt cheap, but there isnt much competition.
Drink
There are several comfortable coffee shops on the main road leading to the immigration checkpoint.

Sleep
phone: +66 53 732 929

address: 94 6 M. 3 Phahon Yothin Rd., T. Wiang Phang Kham, A. Mae Sai

A quirky hotel with an unusual character. The owner is a former Thai naval officer. The place is nicely clean, Wi-fi works as well as anywhere in Thailand, beds are hardish but not Thai concrete. Economical place to stay.

Piyaporn Place Hotel

address: 77/1 Moo1 Weiangphangkhun

Standard Thai hotel with clean well-presented rooms containing all the usual amenities of a hotel in this class. The loud maid phones on each floor which resonate down the corridor may put some off. Ask for a room at the opposite end of the corridor.

Thip Sukon House HotelThis hotel is probably the best of the lot. From the 3rd floor you have a view into Myanmar and the Sai River.

Top North Hotel

phone: +66 53 731 955

address: 306 Moo 1, Phaholyothin Road

Standard budget Chinese-run Thai hotel, air conditioning and hot shower but there may be no window in the room. In the middle of the busy market during the daytime, but the street (as well as the whole town) gets deserted by 22:00.
Go next