Maebashi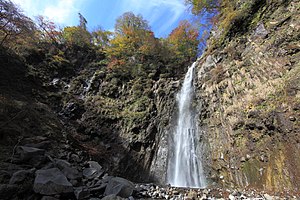 Maebashi
(前橋) is the capital city of
Gunma
prefecture in
Japan's
Kanto
region.
Get in
By plane
From Narita Airport, Maebashi is served by
Azalea
Limousine Buses operated by Chiba Kotsu (3 1/2 hours to/from Maebashi Station, ¥4500). By train, the easiest (and most expensive) way to reach Maebashi is to take the Narita Express to Tokyo Station, the Joetsu Shinkansen to Takasaki, and the Ryomo Line to Maebashi (Approx. 2 1/2 hours, ¥7800, no charge with the Japan Rail Pass or JR East Pass). Reservations for the Narita Express and Shinkansen can all be made from Narita Airport.
From Haneda Airport, Limousine buses operate to/from Maebashi Station (3 1/2 hours, ¥3500). Going by train is much faster, but more expensive and requires more transfers: The Keikyu Line to Shinagawa, the Yamanote Line to Tokyo, the Shinkansen to Takasaki and the Ryomo Line to Maebashi (Approx. 2 hours, ¥5200; cheaper with unreserved shinkansen seat). You can purchase tickets for the JR portion of the journey upon reaching Shinagawa.
By train
Maebashi is located on the
JR Ryomo Line
, between Takasaki and Isesaki.
From Tokyo, the fastest way to reach Maebashi is to take a Joetsu Shinkansen train to Takasaki and change to the Ryomo Line (75-90 minutes, ¥4800; no charge with the Japan Rail Pass).
Local trains from Tokyo depart from Ueno station. With a transfer at Takasaki, Maebashi can be reached in 2 1/2 hours (¥1890 from Tokyo Station). Some trains continue to Maebashi station.
By bus
Long-distance buses to/from Maebashi stop outside of the Maebashi train station's south exit, as well as the Maebashi Bus Terminal some 15-20 minutes further away.
Nippon Chuo Bus operates several daytime bus services from the Tokyo area to Maebashi. All buses stop at the Hilton Tokyo in
Shinjuku
, with some buses also stopping in
Ikebukuro
and
Akihabara
(3 hours to/from Shinjuku, ¥1500).
Other long distance buses include the
Tokai Liner
daytime runs from
Shizuoka
and
Nagoya
,
Sendai Liner
overnight runs from
Sendai
, and
Silk Liner
overnight runs from
Nara
,
Kyoto
and
Osaka
. All of these buses are operated by Nippon Chuo Bus.
See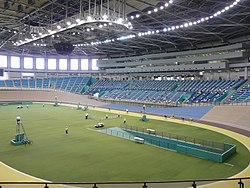 Green Dome MaebashiA beautifully-designed domed stadium situated in Maebashi Park. With a seating capacity of 8,000, it hosts indoor sports events and exhibitions. It is most popular for hosting Keirin races (pari-mutuel bicycle races) throughout the year. Local buses connect JR Maebashi station to the park and the Green Dome in 10 minutes (¥190).

Gunma Prefecture Governmental BuildingA beautiful building with two restaurants on the second highest floor and a mechanized car park. The top floor is enclosed in window allowing a 360 degree view of Maebashi, awesome at night, and beautiful during the day.
Eat
Yakimanjyu
has been popular since the Edo period, with the cradle being in Maebashi city. Yakimanjyu is a fried manjyu, which is a ball made of flour. It is served on a bamboo skewer with soybean paste and sugar sauce. In Gunma, people have a yakimanjyu festival each summer and New Years.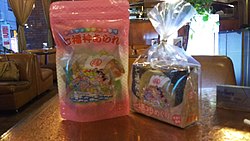 The Seven Gods of Good Fortune rice cracker (Shichifukujin-arare) is a famous rice cracker in Maebashi.
The shop's name is "Saiwaisenbei", located in the middle of Chiyoda-cho. It has seven flavors: curry, cheese, beefsteak plant, wasabi, shrimp, laver, & salt. These days, a new flavor is cocoa.