Magadan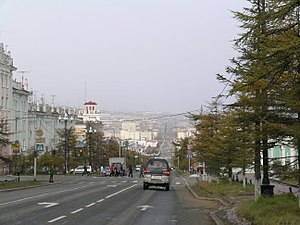 Magadan
(
Russian
: Магада́н,
mah-gah-DAHN
) is the capital of
Russia's
Magadan Oblast
, with a population of about 92 000 residents.
Understand
Magadan is one of the few ports in this remote part of Russia, kept open over winter by resident icebreakers. The town is quite isolated - there is no railway, and the only road out of town is impassable in summer to all but the most hardy of off-road vehicles.

History
The city was founded in 1930 and named after the river with the same name. During Stalin's reign, the isolated settlement gained importance as transit centre for prisoners sent to gulags. Prisoners were coerced into forced labour, most of them in construction projects such as the infamous Road of Bones, and in the Dalstroy gold mining operations. It grew into a shipping hub for the export of gold and precious metals mined in the Kolyma region, expanding quickly with revenue from exported gold.

Get in
By plane
Magadan has an airport with regular flights to
Moscow
. The airport is actually located at the town of Sokol, some along the Road of Bones, and as at July 2011 it was refreshingly free of rip-offs. Unusually for an airport, it has a fishmonger's counter offering fish and shellfish. Bus 111 connects with town centre every 45 minutes during daytime (, 70 min).
Interavia Airlines:
Magadan to Moscow Domodedovo Wednesdays and Fridays.
Yakutia Air Company:
Magadan to Moscow Vnukovo Intl via
Novosibirsk
on Wednesdays.
Magadan to
Yakutsk
on Wednesday (and via Khabarovsk most other days).
Magadan to Petropavlovsk-Kamchatsky on Tuesday (fortnightly in off-season) - expensive flight on Antonov 24, but much cheaper/quicker than going via Vladivostok or Khabarovsk.
Vladivostok Air:
Magadan to Vladivostok direct and via Khabarovsk Novyy on Tues/Wed/Saturday - varies seasonally
Transaero:
Magadan to Moscow Domodedovo - daily flights in peak season, four times per week in off peak.
By car
There is a road connecting Magadan with
Yakutsk
and rest of Russia, the M56 Kolyma highway. Its discouraging nickname
Road of Bones
gives a clue to its construction by slave labour in the 1930s. This route passes through extremely remote areas; although improvements have been done in recent years, it is still not recommended to traverse the road without serious consulting and preparation.
By bus
All regional buses departs and arrives at the central bus station located at the corner of pr. Lenina and ul. Proletarskaya. Most villages and towns has daily connections. There's no public transport that traverses the whole journey from Yakutsk on the Kolyma Highway but there's a service from the gold mining town Susuman which lies about 1/3 on the route.
By boat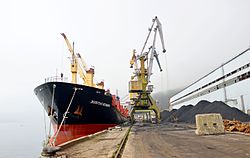 There are no passenger ferries to Magadan but
SASCO
runs regular cargo shippings from Vladivostok that can accommodate passengers. Knowledge of Russian is essential for inquiries.
See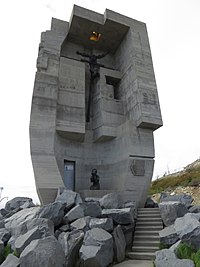 Mask of SorrowThe Mask of Sorrow is a 15 m tall concrete monument to the victims of the Gulags, for which this region was well known, on a hill on the outskirts of town. You will need transport to get here, but it's worth the effort. It is a tribute to the prisoners who were subjected to forced labour in the construction of the R504 Kolyma Highway also dubbed as road of bones because of the gulag prisoners that died during construction in harsh conditions. Because of the permafrost conditions in some areas, it was deemed more practical to interment corpses into the fabric of the road rather than digging graves to bury them. Sections of the road have thus become a burial memorial.

Regional Museum

address: pr. Karla Marksa 55

The Regional Museum has an extensive display devoted to the Kolyma Gulags, with many artefacts from them - annotations all in Russian, but interesting even without translation. Other galleries include interesting natural history displays, including a mummified mammoth.

Lenin StatueThe Lenin statue was recently moved from the site where the local Russian Orthodox Cathedral was rebuilt. It now sits in pride of place in a park, alongside which (fittingly perhaps) is the local headquarters of the FSB.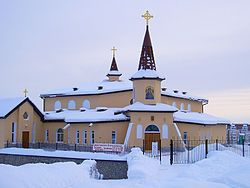 Church of the NativityOne of the rare Roman Catholic churches in the Far East, serving worshippers who survived Stalin's forced labour camps from the 1930s to the 1950s. Many of them were adventurers looking for gold and other precious resources in the subarctic climate. It became a monument to the millions of prisoners who suffered and died in gulags. The church was built between 2001 and 2004, one of the most recent religious buildings in the city.
Do
DVS TourDVS-Tour can arrange tours to Gulag sites in the region

Magadan BeachWhen the weather is warm, it seems that half the town heads for the beach, so it's a great opportunity to mingle with the locals. Hardy individuals might care to try a swim in the sea of Okhotsk, but while the weather might be sunny, chances are the water will feel crisp.
Buy
There is a relatively plentiful supply of Mammoth Tusks unearthed in the area, and these are made into interesting carvings which can be bought in souvenir shops - but cheaper at the workshop, if you can find it. Price of raw Mammoth Tusk was approx USD600/kg as at July 2011.
Some souvenir shops at the airport and in town sell T-shirts and postcards of a convict against a background of a prison camp holding a sign "Welcome to Kolyma" — locals say this is a reference to a disrespectful Russian movie, and prefer that tourists do not buy them.

Eat
Steak House

phone: +7 413 260-88-85

address: Ulitsa Gagarina, 12

American owned, good western and tex-mex food and free wi-fi. Go to the top of the hill on Lenin St and turn left, the steak house will be on your right beside/behind an apartment block. There are 2 sections, the Sports Bar offers much the same fare and is cheaper.
Drink
Okean Hotel - has an interesting pole-dancing bar, admission , beers , definitely worth a visit if this is your thing, or even if this is your first experience. Ladies welcome, very non-threatening.

Sleep
Best Eastern VM Central Hotel Hotel

phone: +7 4132 -621200

address: ul. Lenina 13

Said to be the best hotel in town, well located on the main street and with a lively bar.

Okean Hotel

address: ul. Portovaya, 36/10

Said to be a good second choice hotel (but having sampled the first choice, I'd be looking at this one next time).
Go next