Magdeburg
Magdeburg
is the capital city of the Bundesland of
Saxony-Anhalt
,
Germany
, with a population of 228,800.
Understand
Magdeburg used to be one of the most important medieval cities in Europe. It served as a more or less de facto "Eastern Capital" of the Ottonian dynasty in the 10th and 11th century and stayed one of Germany's most important cities until the early modern era. As a center of the reformation and a town that refused to bow to the emperor's authority in the thirty year's war, Magdeburg became a target of one of the most horrific battles of this war with more than 25,000 dead at the hand of the Catholic forces under Tilly and Pappenheim in the employ of the imperial forces. Tilly himself christened the event "Magdeburger Hochzeit" or Magdeburg marriage, based on the fact that the "maiden" Magdeburg (Magd is an old German word that can be translated as maid, Magdeburg also has a woman in its coat of arms) had defied the emperor for over a hundred years and was to be "married" and thus made to obey again. While the whole ordeal was seen as a horrible breach of the laws of military conduct even back then, and most buildings were utterly destroyed by the flames, Magdeburg was soon rebuilt, but never gained the strength and importance it once had. During that time the mayor of Magdeburg was one Otto Gericke who is known even to this day for scientific experiments about vacuum, that some German schoolchildren read about in their textbooks. Thus and because of the Ottonian dynasty, Magdeburg is sometimes called "city of Ottos". During the Cold War era Magdeburg's population increased rapidly and the city became a socially and economically important center of the GDR.
After the German reunification, however, most of the city's economy was shut down. Although Magdeburg is in a continuous modernization process and its cityscape changed rapidly, it has to face the same problems like almost all mid-sized cities in Eastern Germany: a decline of population due to more attractive jobs in western Germany or in Berlin.
The division of Germany is still visible in some ways.
Nonetheless, Magdeburg has become a modern city with numerous interesting sights of high importance and uniqueness, as well as many parks, which make Magdeburg the third greenest city in Germany. New shopping malls and other attractions have changed the cityscape enormously. Today Magdeburg has the largest retail area in relation to its overall area of whole Germany.
Magdeburg is home of two of Germany's top ranking universities, which make it attractive to college students from all over Europe. Other scientific institutions, like the Max-Planck-Insitut, and one of the largest sites of the Fraunhofer Institut, make Magdeburg an important city for international research.
Today's industry includes traditional and also new branches. The company "Röstfein" is one of the best coffee brands in eastern Germany, and the company "Abtshof" is known for its traditional and unique vodka production. The world's first artificial sweetener was produced in Magdeburg and is still in production. The production of wind energy is one of the newer industry branches.

Get in
By train
By plane
Magdeburg–Cochstedt AirportMagdeburg does have a local airport. It does not see regular passenger service though since 2013, when Ryanair, the last airline serving it, cancelled all routes.
If you travel by plane, you can use one of the following airports:
Leipzig/HalleThe airport also has an integrated train station, from where you can use an hourly IC-train connection directly to Magdeburg (about 21€, 60 Minutes). You can buy train tickets on the platform, at the counter, or online at www.bahn.com (search for a connection from "Leipzig/Halle Flughafen" to "Magdeburg Hbf.")

Berlin-Schönefeld (SXF

): By car, take the freeway A2 heading towards Hannover (about 1.5 hours). By train, use www.bahn.com to search for a connection from "Berlin-Schönefeld Flughafen" to "Magdeburg Hbf." (about 2 hours, 30 Euro)

Berlin-Tegel (TXL

): By car, take the freeway A2 heading towards Hannover (about 1.5 to 2 hours). By train, use www.bahn.com to search for a connection from "Berlin Flughagen Tegel" to "Magdeburg Hbf." (about 2 to 2.5 hours, 30 Euro). Since Berlin-Tegel is located within the city of Berlin, traffic can be quite heavy in the morning/evening and on weekends.

Berlin Brandenburg Airport (BER

): The new international airport will replace both Berlin-Schönefeld and Berlin-Tegel someday in the future. It is located at the site of Berlin-Schönefeld. By train, use www.bahn.com to search for a connection from "Berlin-Brandenburg Flughafen" to "Magdeburg Hbf." (about 2 hours, 30 Euro)

Hannover (HAJ

): By car, use the freeway A2 heading towards Berlin (about 2 hours). By train, use www.bahn.com to search for a connection from "Hannover Flughafen" to "Magdeburg Hbf." (about 2 hours, 30 Euro)
By car
Magdeburg is situated in central Germany. It is best accessible by car or train. The east-west freeway (motorway) A2 passes just to the north of Magdeburg, and the A14 passes just to the west, with exits leading into several parts of the city.
By bus
There are several
domestic bus lines
going in and out of Magdeburg
Get around
There are S-Bahn trains, trams, buses and ferries in Magdeburg. Since they are all unified in a linked transport system called
Marego
they all use the same tickets. Within the
Marego
area Magdeburg makes up 1 zone. For getting around in Magdeburg you need to buy a ticket for Zone 010 (Magdeburg). There are several types of tickets you can use in this zone, depending on how often you want to use public transportation.
You can purchase tickets from
MVB (Magdeburger Verkehrsbetriebe)
, the operator of trams and buses in Magdeburg. They have box offices throughout the city, as well as vending machines outside and inside all trams and buses (in the front part of the vehicle). Most box offices are closed on weekends. Outside vending machines will only take coins, whereas the vending machines inside the vehicles will take notes up to 10 EUR. You can also purchase your ticket at vending machines of
Deutsche Bahn
, which operates the S-Bahn in Magdeburg. No matter where you buy your ticket all tickets are valid for S-Bahn, buses, trams, and ferry services throughout the city.
Here are the types of
Marego
tickets that you most likely want to use within Magdeburg (Zone 010):
Single ticket: Ticket for 60 min: adults 2.00 € (Einzelkarte), children 1.50 € (Ermäßigte Einzelkarte)
One day ticket: Ticket valid until 04:00 the following day: adults 4.60 € (Tageskarte), children 3.50 € (Ermäßigte Tageskarte), probably the cheapest option
Ticket strips: Four 60 minute tickets: 7.60 € for adults (4er-Karte), 5.70 € for children (Ermäßigte 4er-Karte)
Short trip ticket (Kurzstrecke): Valid for 3 stops in one direction: 1.40 € (can only be bought inside the tram/bus!)
Weekly ticket (Wochenkarte): 17.30 € for one person, valid until 04:00 on the 8th day from the time of purchase.
If you buy your ticket outside a vehicle you need to punch your ticket inside the vehicle to make it valid.
Tickets sold inside the vehicle are valid immediately.
You can use www.bahn.com to find specific connections within the city.
By tram
Using the tram is probably the easiest way for tourists to get around, since most stops are located near busy places or main attractions. Magdeburg has 10 tram lines plus the additional line number 15, which is used in times of heavy traffic, or for special events. Waiting times vary widely and depend on location, time, and day. Within the centre, you will rarely wait more than 5 min (even on Sundays), but at stops that serve only one or two lines, you may have to wait 10-20min. You will find timetables at every stop. Within the city center electronic timetables are used. Night schedules are different.
By bus
Buses serve all areas of the city. Busses usually run every 20 min.
The 11 bus line numbers are 51, 52, 54, 55, 56, 57, 59, 61, 69, 71 and 73. Buses 41-44 operate only in times of heavy traffic or for special events. You will find timetables are every stop. Night schedules are different.
By ferry
There are two ferry services that cross the river Elbe. One is the
Fähre Westerhüsen
and the other one is the
Fähre Buckau
. Ferry services are offered from March to October, Tuesdays-Sundays 10:00am to 6:00pm. Other river services are listed in the freetime section.
By taxi
Most taxis are operated by the
Taxi-Genossenschaft Magdeburg eG
.
When you are in town call 737373 (0049-391-737373 on a mobile phone) to request a taxi at any time.
By S-Bahn
There is one
S-Bahn
line that crosses Magdeburg from south to north. S-Bahn train stations are shown as a white S on a green filled circle. Trains are running every 30 Minutes. Night schedules are different. If you need to cross the city from south to north or north to south this might probably be the fastest option rather than taking buses and trams. S-Bahn stations are also often connected to DB train stations.
Public transportation at night
Night schedules for trams and buses apply from 9:00pm and go until 4:45am Monday-Friday, 6:30am on Saturdays, and 09:00 on Sundays. Only three tram lines and three bus lines are in service during this time. The night trams are 92, 94 and 95. The night bus lines are 91, 93 and 96. If you plan to go downtown at night, you should check schedules before you go, since not all outer parts are served at night. S-Bahn service at night is limited. Trains usually run every hour.
On the street
The
Magdeburger Ring
(road
B71
) crosses Magdeburg and is the most important road. It is like an "innercity highway". In order to get into another part of the town quickly, you may use the B71 and get off at the exit you want. Using the B71 might be better if you want to avoid traffic lights and long ways through the city.
See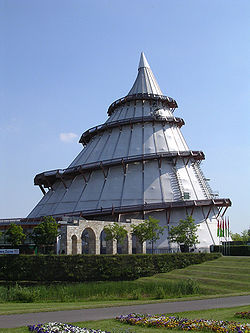 Churches
St. Maurice and St CatherineGothic cathedral, known as the Magdeburger Dom, is possibly the most well-known sight in the city. It was built on the remains of a roman cathedral from 1209 to 1520.

address: Regierungsstraße 4

founded in the 11th century, is one of the most important romanesque buildings in Germany. Today it is, among other things, home to an art gallery.

address: Johannisbergstraße 1

recently rebuilt as a multipurpose space after being severely damaged in WWII.
Other important buildings
Millennium Towerattracts many visitors. There is an exhibition on nature and history of humanity inside.

Green Citadel

address: Breiter Weg 8A

a house designed by the famous architect Friedensreich Hundertwasser.
Museums
address: Otto-von-Guericke-Straße

home to the statue Magdeburger Reiter
Do
Bike
Magdeburg is one of the greenest cities in Europe and the second greenest city in Germany.
Riding your bike in Magdeburg is a perfect freetime activity. Since most of the streets have cycle tracks on the sides you will not have any problems with taking your bike into the city. Streetcars, busses, ferries and
S-Bahn
trains allow you to take your bike with you, however, you may have to purchase an extra ticket for your bike.
A very nice way to explore the idyllic nature in and around Magdeburg is using the
Elberadweg
.
This cycle path leads you all the way along the river Elbe and invites you to explore the unique biosphere reserve around Magdeburg. The cycle path's symbol is a white e on a blue ground. Signs guide you along the path and show you directions and distances to other towns, villages, and attractions.
Many restaurants and beer gardens are right next to the river, as well as some nice hotels, playgrounds and parks. The web site for the Elberadweg is www.elberadweg.de (partly in English).
River cruises
There are several different river cruises offered by the
Magdeburger Weiße Flotte GmbH
.
Here are some of the offers:
Panoramafahrt: A 1.5 hour cruise along the skyline of Magdeburg. Starts and ends at the mooring Petriförder. Adults 8€, children 4€
Große Acht: A cruise along the biggest waterway cross of Europe. Starts and ends at the mooring Petriförder. Adults 19.90€, children 12€
Kleine Acht: A cruise along the biggest waterway cross of Europe. Starts and ends at the mooring Rothensee. Adults 14€, children 8€
Trogbrückenüberfahrt: A small cruise over the waterway cross. Starts and end at the mooring Rothensee. Adults 5€, children 3€
Kaffeefahrt: River cruise from the city center out to the town Schönebeck. Starts and ends at the mooring Petriförder. Adults 12€, children 6€
Fahrt in den Abend: Rivercruise in the evening. Starts and ends at the mooring Petriförder. 15€ for everyone
Times and current special prices can be found directly at the moorings or in the tourist information center (Ernst-Reuter Allee 12, phone: 0391/19433). Tickets can be purchased on board. Reservations are not necessary most of the time if you come early enough. If you want to reserve tickets, contact the tourist information center in the city center (address and phone above)!
Also contact the tourist information center for day-trip offers.
Buy
There are numerous shopping malls all over the city. In the center you have Karstadt, which used to be a mall during the cold war and is therefore the oldest of the city with its building still representing socialist architecture. After the reunification the city center got several new shopping malls. The biggest of them is called Allee Center and has 3 floors. Also located in the city center are the Ulrichshaus and the City Carré. You will also find numerous stores (as well as bars and cafés) along the road Breiter Weg, which used to be one of the largest shopping streets in Europe before WWII and has now regained most of its popularity with modern architecture.
Some malls were also established in the suburbs of Magdeburg like the Elbe-Park, Flora-Park, Börde-Park and Pfahlberg. You will find pretty much all kinds of goods at any of the named places.
For the most part stores are open from 8am to 20pm (22pm in some cases) from Monday to Friday. On Saturdays only the large malls open until 20pm, smaller stores are open until 12:00 or 18:00. On Sundays stores are usually closed apart from stations and petrol stations.

Eat
Drink
Hyde

address: Sternstraße 29

Brilliant bar, good prices and friendly staff.
Sleep
For anybody coming and going, the "Zimmervermittlung" of the TouristInformationMagdeburg (TIM) should be the first address. Their Telephone number is 0391/5404904 and their email info@magdeburg-tourist.de.
Go next