Magelang
Magelang
is an administrative and military academy city in the mountains in
Central Java
province in Indonesia.
Get in
By plane or train
The nearest airport and train station are in
Jogja
, away, or in Semarang.
By bus
From Yogyakarta, you can get to Magelang by bus for about Rp35,000. The trip takes an hour.
Get around
By taxi
The basic price is Rp5,000 and Rp2,500 per km. You can also get around by bus, mini bus, horse cart, or by pedicab.

See
phone: +62 293 363420

address: Jl Jenggolo No.14

The private collection of modern Indonesian art of Oei Hong Djien. There are two parts to the collection. This museum hosts the changing exhibitions. The permanent collection is housed in a separate building attached to his home, also in Magelang. It may be possible to see the permanent collection by asking at the museum.

The Chicken Churcha chicken shaped church with a peculiar history.

Diponegoro MuseumFeaturing Prince Diponegoro, a national hero.

Kedung Khayang Waterfall

Merapi Volcano Park and Ketep Pass

Sekarlangit Waterfall

phone: +62 293 319-2642, +62 293 364142

address: Jl Cempaka No.6

An educational-cum-recreational park which features rare plants, dinosaur statues, airplane prototypes. It provides a playground with some facilities. Rafting can be organised (when the nearby Progo River is in full flow).
Do
phone: +62 0811 2585 011

address: Borobudur, Magelang

Whitewater rafting on the Elo river.
Buy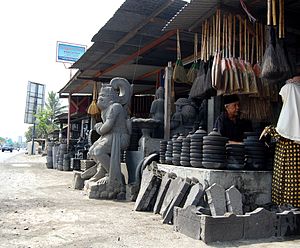 Volcanic stone carvingsMany stalls selling carved stone items, including statues, garden lamps, mortar and pestles.
Pick up some
getuk
(GUH-took) for the folks back home, a sweet delicacy made from cassava and sugar. Steamed, coloured and topped with grated coconut. Getuk
Trio
has three differently-coloured layers: yellow, pink and brown.
Eat
Pancoran Restaurant

phone: +62 293 362688

address: Jl Daha No.1, Kemirirejo

Chinese. Serves pork.

phone: +62 298 599606

address: Desa Gemawang, Jambu district

A roadhouse run by the state-owned plantation company whose coffee plantations flank the road at this point. An acceptable place to pull in for a quick break if on a long road trip or if the road is jammed. Bathrooms are kept clean, food is standard plates of rice and chicken etc served quickly and hot. And the coffee isn't bad either.
If it has been one of those days, and you can't think whether you want to eat rice or noodles, just have both.
Nasi Magelangan
(NAH-see mah-GUH-lang-an), or rice in the Magelang style, is a mixture of fried rice and fried noodles, for that fried carb on fried carb hit. Widely available across the region, it is also known as
nasi ruwet
(NAH-see ROO-wuht) or 'complicated rice'.
Sleep
phone: +62 293 326 980

address: Jl Mayjen Bambang Sugeng No.308

phone: +62 298 596333

address: Jl Losari, Losari, Grabag, Kalipucang

Individual traditional Javanese houses serve as villas in a high-altitude coffee plantation landscape. Volcano views and yoga retreats. Hammam and spa.

phone: +62 293 314316

address: Jl Purworejo-Magelang KM 5

In the middle of nowhere apart from a smoky internet cafe nearby, so it is not the most convenient location. However, it is a good option when the closer hotels are booked out, as they frequently are. It is a nice property for the price, and they can organise taxis to Borobudur. 24-hour restaurant service.

phone: +62 293 363347

address: Jl Daha No.23

Hotel Trio

phone: +62 293 365095

address: Jl Jend. Sudirman No.72
Go next
North
South
Borobudur — an 8th-century Buddhist stupa and temple complex. One of world's truly great ancient monuments, the single largest Buddhist structure anywhere on earth. Few who visit fail to be taken by both the scale of place, and the remarkable attention to detail that went into the construction. Set in the heart of the verdant Kedu Plain, the backdrop of mighty active volcanoes only enhances the sense of awe and drama. A UNESCO World Heritage Site.
East
- Head to
Solo
via the
Ketep Pass
between Mount Merapi and Mount Merbabu, and
Boyolali
.