Magnolia (Arkansas)
Magnolia
is a city in
Timberlands
region of Arkansas.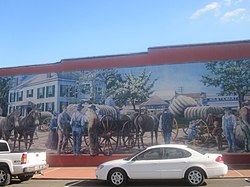 Get in
Magnolia is located off HWY 79, southwest of
Pine Bluff
. Bounding south, at the intersection of HWY 79 and 82 E. you'll find Magnolia's business district. The closest major cities are
Texarkana
, TX;
Little Rock
, AR; and
Shreveport
, LA. These three cities are major not only for its commerce, but for its airports as well. The best way route of transportation is a motor vehicle, but If you need to fly in, you will need to come into one of these airport locations and then rent a car!
Get around
Magnolia is pretty large in acreage, but the bulk of its commerce, residences, and other facilities are located radially from the court square. If you know North St., Jackson St., Vine St., Main St.(US HWY 371 S. and 82 E.),and US HWY 79 you can get anywhere and everywhere in the city. These streets take you to the churches, banks, eateries, shops, etc. the town has to offer. Not to mention, most of these streets take you to the historical Court Square!

See
Magnolia Trees Magnolia derives it name from the approximately one-hundred-and-fifty-year-old (per the Hester Brothers' best recollection) Magnolia trees that surround the downtown courthouse. The downtown area is clean, vital and features several murals chronicling Magnolia's history.
World Championship Steak Cook-Off, which has been featured on the Food Network. The festival takes place on the third weekend in May and is a popular stop for Arkansas politicians stumping for office.
Southern Arkansas University (SAU). SAU is known for its world-class rodeo team and agricultural business program.
Wilson Memorial Garden Just off the square. Magnolia is overflowing with its magnificent art and murals, but as a new structure, this garden is absolutely breath taking from the waterfalls to the vast collection of botanicles.
Do
Lake Columbia West of city, Enjoy fishing and water sports.
Logoly State Park North of city
Buy
Magnolia Plaza

address: HWY 79 Bypass North

Contains various department stores;

Murphy's Jewelers

phone: +1 870-234-3072

address: 107 South Court Square

Retail/Jewelers

Factory Connection

address: 1625 E. Main

Retail

Wal-Mart

phone: +1 870-234-7800

address: 60 Hwy 79 Bypass North

Retail

Sears

phone: +1 870-901-6228

address: 1517 C East Main

Retail

Buffaloes II

phone: +1 870-234-2932

address: 109 N. Jefferson

Clothing

Jennifer's

phone: +1 870-234-6356

address: 117 South Court Square

Clothing

Khaki's

phone: +1 870-234-1225

address: 108 N. Court Square

Clothing

Lois Gean's, Inc.

phone: +1 870-234-1250

address: 109 S. Jackson Street

Clothing

Stage Department Store

phone: +1 870-234-1997

Clothing

Merle Norman and Chameleon

phone: +1 870-234-5773

address: 115 S. Court Square

Cosmetics & Gifts

Horizon Electronics- Radio Shack

phone: +1 870-234-8438

address: 711 East Main

Electronics

Simply Beautiful II

phone: +1 870-234-0095

address: 108 South Washington

Gifts

The Treasure Chest

address: E. Court Square

Gifts & Assessories

Stephens Olde Tyme Country Store

phone: +1 870-234-7662

address: 101 N Jefferson

Gifts & Pool Supplies

phone: +1 870-901-3600

address: 116 S. Washington

Art Center

Magnolia Printing & Discount Imaging

phone: +1 870-234-1091

address: 102 North Washington

Office Supplies & Printing

Shoe Box

address: 102 S. Washington

Shoes

Sara's

phone: +1 870-234-4122

address: 106 N. Court Square

Clothing
Eat
In addition to unique dining establishments, chains such as Dairy Queen, KFC and McDonald's are well-represented.
Backyard BBQ

address: 1407 E Main St

Offers some of the best baby back ribs in the state and has the awards to prove it.

Aramark

address: 100 E. University

Cancun Mexican Restaurant

address: 301 E. Main

Chen Chen

phone: +1 870-234-3100

address: 309 Fredrick St

Marlar's Cafeteria

phone: +1 870-234-6900

address: 2116 N. Vine
Drink
Columbia County was a dry county, but has since lifted its ban on selling alcohol.

Sleep
Best Western Coachman's Inn

phone: +1 870-234-6122

address: 420 East Main St

Quality Inn, Hospitality Investments, LLC

phone: +1 870-234-3612

address: 100 East Main St

Save Inn

phone: +1 870-234-5286

address: 301 E. Main St

The Loft on the Square Guest Suites

phone: +1 870-901-6300

address: 105 1/2 South Court Square
Connect
Magnolia Chamber of Commerce

phone: +1 870-234-4352

address: 621 E. North