Mahan
Mahan
is a town in
Kerman (province)
, 30 km from
Kerman
, on the road to
Bam
.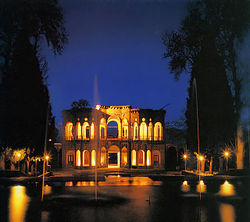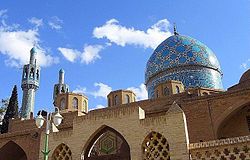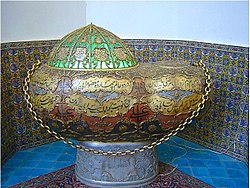 Get in
By car Mahan is connected to Kerman by a freeway.
By bus From Kerman, Khajoo squre.
By private cars From Kerman, Khajoo squre, or Sarasiab square.
Get around
Apart from Bagh-e-shazdeh, everything is in walking distance. You can go to Bagh-e-shazdeh by taxi.

See
Aramgah-e-Shah Ne'matollah Vali mosque (entrance fee 25,000 rials)
The tomb of Shah Nur-eddin Nematollah Vali, poet, sage, Sufi and founder of an order of dervishes, has twin minarets covered with turquoise tiles from the bottom up to the cupola.
Karavan Sarai the old Karavan sarai is an impressive building with good views from the roof. Ask the friendly lady at the tourist office to take you there.
Historical house the only historical house that is still in its original condition. No entrance fees, don't pay the touts who hang around the house.
Bagh-e-Shahzade a few kilometers out of town, a beautiful example of a mughal garden, excellently maintained, with many cool water features.
Shazdeh Garden, one of nine Persian gardens inscribed on the UNESCO World Heritage list.
Drink
Like in other cities in Iran, drinking alcohol is illegal but you can buy many types of drinks like Doogh, Fruit juices, Black tea , Soft drinks(both international makes such as Coca-Cola and Pepsi , and their brand names including 7up, Sprite, Fanta, etc., and local makes such as ZamZam, Ma-o-sha'eir and so on from the markets.

Go next