Mahe (India)
Mahe
is a little beach town near
Kannur
in Kerala state. For administrative purpose, Mahe is part of
Pondicherry
in India.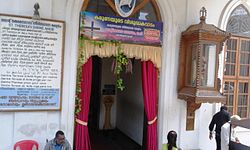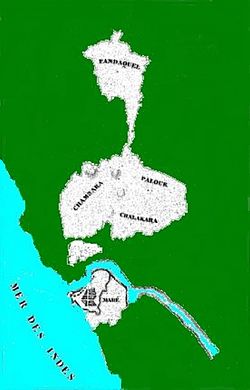 Understand
Mahe can easily disappoint visitors because the whole area is less than 4 km 2 and an extremely crowded National Highway intersects the village. The French character of the village has almost vanished and it looks like any other plain vanilla Kerala village.
==Get in==
Mahe is easily accessible from
Kannur
airport and
Mahe
railway station. Buses are available in plenty from
Thalassery
and
Kannur
.
Get around

Mahe cannot be explored in a vehicle because the total area is only four square kilometers. Walking is also impossible because of heavy highway traffic and too many noisy motorcycles. No visitor is likely to want to spend more than one day in Mahe because it has been overdeveloped into another Kerala town without a character (in spite of being officially not part of Kerala).

See
Mahe is a former French colony, so there are many French-style buildings and place names. The people of Mahe are all Indians who speak Malayalam.
Boat House

address: Manjakkal

Fishing Harbour

address: At the end of Mahe walkway with provision for walking into the sea.

Kallappalli Mosque

address: New Mahe

Very photogenic steps

Koyyodan Koroth Temple

address: Palloor

Light House

address: Near the beach

Mahe Walkway

address: Starts from the National Highway

One km long. Near Riverside Walkway.

Pandokooloth Temple

address: Pandakkal

Sree Krishna Temple

address: Choodikotta.

Sree Kurumba Bagavathi Temple

address: Parakkal

Tagore Park

address: Near the river
Do
Find the French BuildingsThere are a small number of government offices that occupy colonial buildings. Visitors are not entertained.
Buy
Tax free shoppingAll consumer goods and alcoholic beverages are cheaper in Mahe because it is not part of Kerala state.
Eat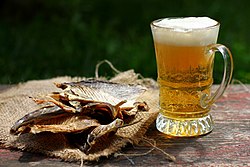 Azadi Restaurant

address: Opp. Indian Bank ATM, Maidhan Road

Dhanya Hotel, Mukkali

address: Mahe Vadagara Road

Ethnic lunch with fried mussels.

New Plaza Restaurant

address: New Mahe

Riverview Restaurant

address: New Mahe.

Sas Restaurant

address: New Mahe

Seagull Restaurant

address: Near St. Teresas Church
Drink
Alcohol is cheaper in Mahe than Kerala because of a different tax structure.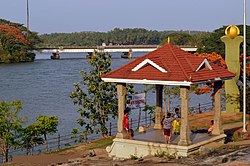 Sleep
Ashwathy Guest House

phone: +91 4902334475

address: Near Hospital

Good rooms

Hotel Arena

phone: +91 4902337084

address: Near Sports Ground

Hotel French Avenue

phone: +91 9895155028, +91 4902334330

address: Near Mahe Walk

Good ambience, boutique hotel, spacious ground in front. Steps on the back of the hotel lead to the beach.

Mahe Residency

phone: +91 490 233 6838

address: Near Sports Ground

Athithi Lodge

phone: +91 94950 67819

address: Near Sports Ground

Hotel Jaypees

address: New Mahe, across the bridge

Riverview Lodge

address: New Mahe, across the bridge
Go next