Maine
Maine
is the northernmost and easternmost state in
New England
. Its rugged, indented coastline and glacier-carved, forested interior give this state its unique character and have shaped the character of its people.
Regions
Cities
Some of Maine's major cities are:
– the state capital
– one of Maine's "Twin Cities"
– the Queen City, home of Stephen King
– adjacent to Acadia National Park
– home of Bowdoin College
– Downeast Gateway
– a large industrial town in central Maine, home of Bates College, the other of Maine's "Twin Cities"
– largest city
Other destinations
– Home of the Lobster Festival
, Lubec — Franklin D. Roosevelt's summer island home, on an island administered by both the U.S. and Canada.
— 2nd largest lake in Maine
, Calais — A small uninhabited island on the U.S.-Canada border that is shared by the two nations.
Understand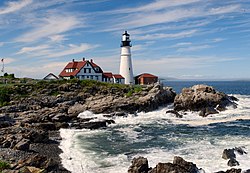 Maine owes its statehood to the Missouri compromise of 1820, that in essence admitted Missouri as a slave state and split off Maine from Massachusetts to admit it as a free state, to maintain the balance of pro- and anti-slavery factions in the US Senate, in which every state has two votes, regardless of population. Maine is a northeastern state, but one of the more sparsely populated states in the
USA
. Its northern reaches, known as The Great North Woods, are largely pristine wilderness. The coastal regions, supported over the years by fishing, lobstering and tourism, are more heavily populated, particularly in the southern, more temperate part of the state. Although the water is decidedly cool, Maine's mostly rocky coastline and more than 60 lighthouses make for some beautiful scenery. That, a comfortable place to stay, and a Maine lobster may be all you need.
Maine is the northernmost and easternmost state in New England. As such, Maine experiences seasonal variation in weather and daylight, and weather can change rapidly. Nor'easters and occasionally, tropical systems can affect the state coming from the south, bringing rainfall and gusty winds. Temperatures usually hover below freezing in the winter and is around 70*F in the summer. Snow and Nor'easters can be seen by November through the end of March. Rainfall is plentiful throughout the year. In the winter, the sun is up from 7:05am to 3:40pm, the sun is up from 4:35am to 8:15pm in the summer.
Talk

Maine's unique accent and dialect lend to its one-of-a-kind charm. Many natives will jokingly say a few words or expressions in "yankee" as it's sometimes called. Several humorists and story tellers have built a reputation telling jokes and stories using the classic "yankee" dialect combined with a well known regional dry wit. These are not to be missed for the real Maine experience.
There are native French speakers in the St. John Valley of far northern Maine, and a strong Québécois tradition in central Maine, especially Lewiston-Auburn, brought by immigrants. Eastern Maine is referred to as "Down East" because the area is down wind from the rest of the east coast on the prevailing westerly breezes.

Get in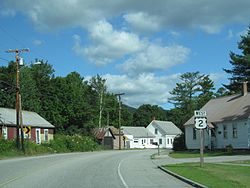 Maine shares land borders with
New Brunswick
,
Québec
, and
New Hampshire
.
Boston
is the major gateway to Maine for visitors from overseas or the rest of the United States.
There is bus service from Boston to Maine's major cities, and the
Amtrak
Downeaster offers train service from Boston's North Station to
Portland
, with some trains continuing to
Brunswick
. Bus service once linked
New Brunswick
in
Canada
with
Bangor
, however, the service was discontinued in 2011.
A car is required for travel around the state. Many visitors rent a car in Boston and take Interstate 95 northward to Maine. It takes about two hours to drive from Boston to Portland, and another two hours to drive from Portland to
Bangor
.
Several airlines provide direct flights to Portland and Bangor from most major cities in the northeastern U.S. Bay Ferries offered high speed ferry service from
Yarmouth
,
Nova Scotia
to Portland from June 2016 until the end of 2018, when Bay Ferries and Portland mutually terminated the agreement allowing the restoration of The Cat. The city of Bar Harbor voted unanimously to restore the Yarmouth-Bar Harbor crossing, and renovations began in February 2019 at the Bar Harbor ferry terminal to bring its facilities to US Customs and Border Protection standards. Delays in the renovation have put the 2019 crossing season in doubt, with the earliest possible beginning of the new schedule between Bar Harbor and Yarmouth landing in the fall.
Get around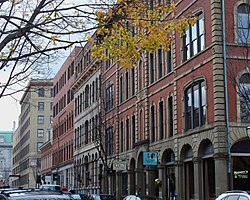 A car is necessary for getting around in Maine. Public roads are rare in the area north and west of Bangor. Private land owners maintain the few roads available in these north woods, and permits are required for access through each of ten checkpoints. Hours vary. Bicycles, motorcycles, all-terrain vehicles and horses are banned in the North Maine Woods to reduce hazards involving logging trucks and forest fires in hard-to-reach places.
By train
phone: +1 800 872-7245

The Amtrak Downeaster is the only Amtrak route through Maine connecting Boston NORTH Station and Brunswick, serving Wells, Saco, Old Orchard Beach, Portland and Freeport in Maine. Only train route serving the Boston North Station. Passengers must use local transportation in Boston to get from the North Station to the South station to transfer to other Amtrak routes. Same station as the Maine Eastern Railroad in Brunswick. See below.

phone: +1 207 596-6725

A lesser known excursion or heritage train continuing from Brunswick up to Rockland with stops in Bath, Wiscasset and Newcastle/Damariscotta in between. They sell one way or round trip tickets at a reasonable price but operate on limited schedules which may work out to be a form of transportation for some.
By bus
Concord Coach Lines (formerly Concord Trailways)has both an express between Boston South Station or Logan Airport and Bangor that stops in Portland and a local coastal service whose stops include Portland, Brunswick, Bath, Wiscasset, Waldoboro, Rockland, Camden, Belfast and University of Maine in Orono. They also have another route to Orono with stops Augusta, Bangor and Colby College in Waterville along the I-95 corridor.

Greyhound LinesGreyhound travels primarily on Interstate 95 between Boston South Station and Bangor (via Porstmouth, Wells, Portland, Lewiston, Augusta and Waterville) and a divergence from Portland to Brunswick on I-295 and than over to Lewiston and then northwards towards Bangor on I-95. Passengers can transfer in Boston, Bangor, or Portsmouth to get to other cities & towns

phone: +1 207 827-2010

address: (office/depot) 153 Gilman Falls Ave, Old Town

connects Bangor with Caribou, stopping in Old Town, Orono, Houlton, Oakfield, Sherman, Medway, Mars Hill and Presque Isle in northern Maine.
See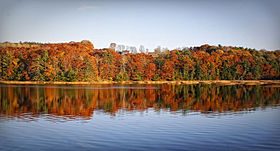 Whalewatching
See the "Indian Summer", the colorful foliage of the New England fall.
Lighthouses
Acadia National Park exemplifies the beautiful Maine coastal landscape.
The North Maine Woods is a remote, thinly settled expanse of lonely boreal forest. There is much in the area for those seeking solitude and natural beauty of the northern kind: Chesuncook Lake, the Allagash Wilderness Waterway, and Baxter State Park with 5200 foot (1585 m) Mount Katahdin, the northern terminus of the Appalachian National Scenic Trail.
Western Maine Lakes and Mountains. Bordering the state line with New Hampshire and the White Mountain National Forest, this is an area of outstanding natural beauty. Less rural than the North Maine Woods, high mountains and crystal clear lakes abound with plenty of hiking trails, waterfalls and off-the-beaten track driving available. Grafton Notch State Park (3,000 acres) covers most of the area on Route 26 between Newry and Upton. Sunday River, close to Bethel, is one of the largest ski resorts in Maine.
Midcoast Maine artisanal touring - Travel the roads of midcoast Maine and you'll be pleasantly surprised by the depth and quality of the goods created by local craftspeople.
Do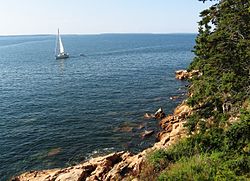 Lake and ocean swimming - ocean temperature hovers around 60°F in the Summer months.
Surfing
Hiking
Bicycling
Sea kayaking. Paddle the entire coast along the Maine Island Trail.
River kayaking / canoeing. Paddle the entire Allagash Wilderness Waterway
Whitewater canoeing
Snowmobiling
Historical site seeing
Fishing (a fishing license is required for fishing in fresh water)
Skiing
Buy
Portland's Old Port has lots of high-end boutiques and artisan shops, while the Congress Street corridor is a great place to shop for funkier wares and to browse consignment shops. Angela Adams' designer showroom, featuring unique handbags and rugs, is on Congress Street in the city's East End, which has seen its share of new shops spring up over the past few years.
Camden. This quintessential Maine village located along Penobscot Bay offers an eclectic mix of shops, cafes, and galleries. Windsor Chairmakers on Route 1, six miles north of Camden offers custom made chairs, beds, dining tables, buffets, highboys, and more. Tour the workshop, feed the Scottish Highland cows, and see the showroom.
Eat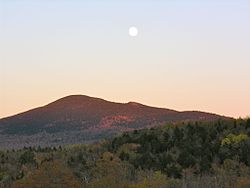 Maine lobster. Lobsters are ubiquitous in Maine and are served a variety of ways. The basic preparation (served nearly everywhere from basic lobster pound restaurants that serve nothing else to high-end restaurants) is steamed with drawn butter. Bibs and claw crackers are provided. Uniquely Maine preparations include lobster stew, lobster casserole, and lobster pie. A few ice cream companies even make lobster ice cream!
Lobster rolls consist of lobster meat in a hot dog bun, usually mixed with mayonnaise or butter, lemon, and salt and pepper.
The more traditional clam bake layers steamer clams, mussels, lobsters, potatoes, onions and corn over seaweed; all are steamed together with saltwater.
Fresh seafood of all kinds, crab, scallops, shrimp, clams. Small but flavorful boreal red shrimp (more commonly known as Maine shrimp) are available from November to March. Like New England's only shrimp variety, New England's most extensive type of crab (rock crab) goes by the name Maine crab and although not as celebrated as lobster, is excellent steamed or served any other way. Local oyster varieties include Pemaquids and Sheepscots. Fishermen catch North Atlantic fish of all kinds.
The best blueberries in the country... pancakes, muffins, bagels... These sweet morsels grow freely in the cool, wet, mountainsides and hills of rural Maine. Wild blueberries are generally smaller but much more flavorful than the blueberries you'll find in supermarkets. Blueberry pie is even the state's official dessert.
Indian pudding is a traditional dessert from Maine. English settlers seeking to make traditional English hasty pudding replaced the original recipe's wheat with cornmeal (which was more easily available in colonial Maine), substituted milk for water, and added spices to taste. This recipe stuck, and it's a dish that many older Mainers can fondly remember eating growing up but that has become less common with the sale of standard store-bought pudding and custard. Thankfully, some restaurants and households have kept this dish alive to enjoy, often with vanilla ice cream.
Whoopie pies are desserts made by sandwiching sweet, creamy filling between two pieces of (usually chocolate) cake. Though multiple states claim to be the birthplace of the dish, Maine can claim some of the oldest surviving recipes for the treat.
See the regional and city articles for specific restaurants and venues.
Drink
Microbreweries
Maine produces some of the highest quality beers in the country. When in the Pine Tree State, go for a tour or look for titles by these fine breweries:
Connect
Maine's telephone
area code
is 207.
As far as
cell phone
use goes, Maine is geographically one of the least-covered states in the
country
. Coverage is good along the
Southern Coast
, in the
Portland
area, and along US Interstate 95 from the
New Hampshire
border to
Bangor
as well as some other areas such as
Camden
and
Rockland
.
Stay safe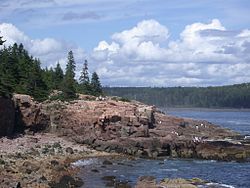 Hikers should carry and know how to use a map and compass and dress in layers for changeable weather. Maine has one of the lowest crime rates in the United States -- in fact, in some parts of the state, "Mainers" leave their houses and cars unlocked even when gone for long periods of time. Violent crime is rare, but visitors to Maine or anywhere should safeguard their possessions. Avoid leaving valuables in plain view in an unattended vehicle. Risk of death from animals is usually remote, but black flies and mosquitoes may drive one mad. Automobile collisions with moose can be deadly for both the moose and the occupants of the vehicle. It is best not to drive too fast in areas frequented by moose. Many areas with high risk of moose-auto collisions are marked with signs. Drivers from warmer climates visiting between December and April should avoid driving on snow or ice covered roads.
It is unsafe to venture out onto Maine's coastal waters without having the necessary equipment and experience. This is true of kayaking, canoeing, sailing or any other kind of boating. The water is cold and hypothermia can set in a short amount of time, and the rip currents are strong. Dense fog often rolls in very quickly as well as the occasional storm. If you are determined to go out on your own to do so without every single passenger wearing a PFD and/or without having a compass and knowing how to use it and/or without understanding how to navigate safely around other boats and water hazards is not only foolish but could result in serious fines from the Coast Guard or a Marine Patrol officer. There are numerous companies that offer guided sea kayak, sailing, and power boat tours.
Go next
New Hampshire - The only US state to share a border with Maine, New Hampshire is a fiercely independent state that offers the rugged White Mountains, idyllic lakes, and a handful of ocean resorts.
New Brunswick - Maine's northeastern neighbor is one of the Canadian Atlantic Provinces. It is a relatively sparsely populated province, with considerable forests forming the main body and a vast coastline that is home to most of the population.
Nova Scotia - Located across the Bay of Fundy, this Canadian province boasts a Scottish heritage and much natural beauty.
Quebec - Maine's western neighbor, Québec's European feel, history, culture and warmth have made it a favourite tourist destination both nationally and internationally.