Maiori
Maiori
is in
Campania
,
Italy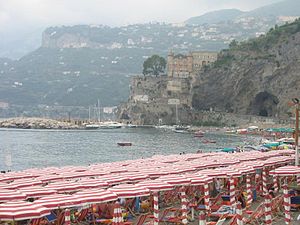 ]
Get in
SITA
runs a bus service on the
Salerno
- Maiori-
Amalfi
line, and a direct service to
Naples
.
It also runs a seasonal service from Naples Capodichino airport to Salerno. You can also take a
boat
from Naples to Amalfi and then a SITA bus.
Get around
By bus
The local SITA bus company run buses all over the Amalfi Coast with excellent connections to Amalfi, Ravello, Positano, Salerno and Sorrento. However for Positano and Sorrento, you will have to get off and change buses in Amalfi, which is the main SITA hub on the coast.
Tickets cannot be purchased on board; they can be bought at Gino's Bar Sirena and at Bar Oriente, both on the lungomare
By ferry
Coop Sant'Andrea
are the major ferry company servicing the coast and operate summer ferry services to Maiori from Salerno, Minori and Amalfi.
Metro' del mare also operate a ferry service along the Amalfi Coast.
By scooter
Renting a scooter is the best way to get round. However, only experienced motorcycle riders should rent one: do not rent one otherwise, as the roads are narrow and can be very dangerous for inexperienced riders. European A (motorcycle) licences are of course recognized. If you don't have a European licence and/or a car licence only, check with your local Italian consulate. Italian B (car) licences entitle you to ride scooters up to 125cc, but not all foreign ones do. Parking is not free in most towns along the coast; scooters will soon be towed away if parked inappropriately.
Maiorauto: scooter and motorcycle dealer on via Nuova Chiunzi. Has been renting scooters for decades
Garage next to the Panorama Hotel. Rents Piaggio Liberty 125cc
Understand

Maiori is laid out in an L-shape. There is a road and a promenade along the beach, and perpendicular to the beach is the wide pedestrian street (Corso Reginna) with stores, bars restaurants, and sometimes a market at night.

Do
Go to the beach. Mayor Stefano Della Pietra attracted wide criticism for privatizing most of the beach, making it effectively impossible to go to the beach without paying a fee. This is a politically sensitive issue always subject to change: always verify what the latest situation is. He was also criticized when, as a mayor, he had a nice fountain and a small garden built in front of the Hotel Panorama, which happens to belong to his family
Giardini Palazzo Mezzacapo off Corta Regina. Lovely garden with water fountains. Often has free live concerts.
Buy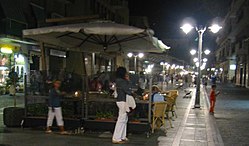 Corso Reginna
and 'lungomare Amendola' (the promenade) are the main streets of the town and therefore the main locations for shopping.
Ceramics and limoncello (a lemon liquer) are among the most renowned local specialties. An excellent ceramic store is based at the end of the seafront, opposite the Nettuno restaurant.
Eat
For all the young and hip, Maiori has a huge festival for the
Santa Maria
on 15 August.
sit.
Pasticceria Napoli, also on Corso Reginna, has great pastries
Pasticciera Trieste, on Corso Reginna as well, has a more limited selection of pastries, but the so called "sospiri" (literally: sobs) should be tried
Ristorante Mammato and La Vela: on the lungomare, one next to the other. Mammato is the oldest but they are both good value for money
Torre Normanna (Norman Tower): lovely location, but extremely expensive
Nettuno: nice restaurant and pizzeria at the end of the lungomare, towards the Torre Normanna
Drink
All the private beach strips have a bar where you can have a drink or you can take it to your parasol. Go to Bar Pineta in the Corsa Reginna. You could also order some Limoncello.
Bar Pineta

address: Corso Regina

A lovely lemon garden that stays open till late. Definitely worth a visit

Bar Sirena

address: Lungo Mare Amendola

A good place for lunch or a drink. Gino's also sells bus tickets. Unfortunately, it tends to close relatively early (around midnight).
Sleep
Prices here are based on July walk-in quotes.
Pensione de Rosa

phone: +39 089877031

Via Orti 24. Nice clean rooms with bathroom and a balcony a couple of blocks from the beach. Follow the sign from Gino's. €60 for a double room.

phone: +39 089 8542301

address: Via Santa Tacla, 12

Small apartments with kithcenette and hotel rooms (Ca €60).