Maizuru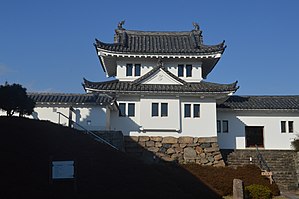 Maizuru
() surrounds an inlet of the Sea of Japan, along the northeastern coast of
Kyoto Prefecture
. Maizuru in Japanese means 'dancing crane'.
Understand
One of the main port cities in
Kyoto
Prefecture. Ferries to
Niigata
and on to
Tomakomai
in
Hokkaido
leave from here.
Maizuru consists of two parts: Nishi-Maizuru and Higashi-Maizuru.
Maizuru is a key district headquarters for the Japan Maritime Self-Defense Force.
Get in
By train
Higashi-Maizuru Station
(東舞鶴) is served by eight limited express trains daily from
Kyoto
Station, six under the name
Maizuru
and two as
Tango Discovery
. Fares for the 96-minute journey range from ¥3,250 for an unreserved seat to ¥3,960 for a reserved seat in peak season.
It is also possible to use local trains when traveling from Kyoto station for ¥1,890. The journey takes around 2 hours and you need to change trains at Sonobe and Ayabe.
By car
A trip by car takes around 1 hour 10-20 min from Kobe-Sando. The ride from Itami airport takes approximately 1 hour 30 minutes. It takes 1 hour 30 minutes to get to Maizuru from Kyoto city.
By bus
The bus company
Kyoto Kotsu
has buses running from Kyoto central train station to Higashi-Maizuru train station for ¥2,300. The journey takes around 2 hours. The same bus company has buses going to Maizuru from Kobe and Osaka.
By boat
Shin-Nihonkai Ferry
(新日本海フェリー) This company has lines connecting daily to
Otaru
port at
Hokkaido
(21 h).
Get around
The city occupies a vast territory and public transportation is not well developed. It is better to have a car. It is also possible to arrange a taxi tour for around ¥5,000. Inquire about arranging a tour at the Maizuru tourist information center at Higashi-Maizuru station.

See
There is a nice view of the Maizuru bay from the quay which is a 10-15 minutes walk from Higashi-Maizuru train station.
Maizuru has many buildings made of red brick around town. Some of them used to be military buildings, others warehouses, tunnels and even temples. Maizuru also has a museum of red bricks.
Maizuru World Brick MuseumThe museum displays bricks from all over the world and all over Japan, as well as ancient ones from old Mesopotamia, Egypt, China, and Greece.
Do
Visit Japanese self-defence force base, Russo-Japanese War Museum including Admiral Togo museum, repatriation museum, brick museum.

Buy
The main shopping place in Maizuru is department store
LaPort
which is behind Higashi-Maizuru train station.
Drink
There is a very good yakitori close to train station Higashi-Maizuru on Sanjo-dori owned by an ex-self-defense sailor Daikichi who speaks some English.

Go next