Makassar
Makassar
, formerly called
Ujung Pandang
, is the capital of South Sulawesi province. It has the largest population of any city on the island of
Sulawesi
,
Indonesia
, and is the fifth largest city in Indonesia after Jakarta, Surabaya, Bandung and Medan. The city is on the southwest coast of Sulawesi, facing the Makassar strait. It is regarded as the gateway to the eastern part of Indonesia.
Understand
How to speak dialect like a Makassarian
The everyday speech of Makassarian is Makassar Malay Language.
The prefix ter- for verbs becomes ta'-
The prefix ber- for verbs becomes ma'-
The prefix -nya for verbs becomes -na
The suffixes -i and -kan turn into -i
Suffix letters k, g, t, d are replaced by glotting.
A short glossary of common Makassarian expressions:
; no : tidak → nda'/tida'
; I : saya/aku → saya
; you : kamu/anda → kita' (polite)
; you : kamu/anda → kau
; excuse me : permisi → tabe'
; to come up : menaik → nai'
; to take : mengambil → ambil
; to look : melihat → lia'
; to use : memakai/menggunakan → pake'
; to visit : mengunjungi → datang
; what are you doing? : kamu sedang apa? → apa kita' bikin? (polite)
; to pay : membayar → bayar
; how much is it?: berapa harganya? → berapa ini?
Makassar was the traditional capital of the Bugis kingdom (Sultanate of Gowa). The Bugis were known throughout the region as proud, fierce warriors and pirates and highly skilled mariners, and before the Dutch defeated them, they had a formidable empire and sphere of influence in what the Europeans called the "Spice Islands". The Bugis also traded throughout the region, and you can find Bugis people today in many other parts of Indonesia and beyond.
Makassarese cuisine, based as you might expect on seafood, is highly prized throughout the region, so make sure to have some while you are here.
Get in
By plane
The airport is well-equipped, with a brand new airport hotel (operated by Ibis Budget), two Starbucks cafés (beside numerous other shops), various ATMs, and free Wi-Fi.
Reaching Makassar city center from Sultan Hasanuddin International Airport
Taxi is the most feasible option and should cost around Rp 90,000 to the city (as of 2016).
The Airport Bus (operated by Perum Damri) is operating on the lower ground floor, linking the airport to the city. Ticket costs Rp27,000 (as of March 2019). If there is no one on the counter, you can board the bus and pay after the bus departs. The bus should be departing at a 30-min internal. The journey takes about one hour.
Airport bus (city center)Route: Airport (start) - Jl. P. Kemerdekaan - Jl. Urip Sumoharjo - Jl. G. Bawakaraeng - Jl. Kartini - Jl. Kajoalalido - Jl. Arif Rate - Jl. Sultan Hassanudddin - Jl. Pattimura - Jl. Ujung Pandang - Jl. Ribura'ne (end)
By boat
The main port of Makassar is the
Soekarno-Hatta Harbor
. Makassar is a major port for Pelni ships for Central and Eastern Indonesia. It takes about 16 hours to Balikpapan, 24 to Surabaya, and 30 to Tanjung Priok.
By bus
Makassar has several bus terminals.
One of the most useful bus terminals is
Terminal Daya
, 200 m from the main road from Makassar to
Pare-Pare
(and
Rantepao
).
The Daya bus terminal is the one that serves
Tana Toraja
.
Terminal Bintang Prima

Terminal LithaA pete-pete from the city center to terminal Litha should cost Rp5000.
Get around
By becak
Becak is a trishaw of unique design but minimalist compared to the ones in Java, can accommodate 2 small persons/children, but suitable only for one adult. Fare depends on the distance, usually Rp8,000-15,000 around town.
By taxi
There's a lot of taxi companies, all have the same fare and all use meters.
By petepete (Angkot)
Petepete is the equivalent to other cities' angkot (angkutan kota/city transportation). A trip in town usually costs Rp5000.
By Trans Mamminasata
Trans Mamminasata (Makassar, Sungguminasa and Takalar) operates with Corridor-2 Trans Studio-Mal Panakukkang. Not as TransJakarta which serve only inside Jakarta, Trans Mamminasata serve also to outside Makassar.
By Transportation Sharing Application
On-demand (online) ojek services such as
Go-Jek
and
Grab
are ubiquitous can be booked through their respective smartphone apps, and offer generally cheaper fares which are stated in advance. Payments can be made by cash or using stored value (akin to prepaid mobile phone service). Go-Jek as a pioneer has more widespread availability; those who travel here alongside other Southeast Asian countries may find it useful to keep using Grab. The other more expensive on-demand ojek service is Lady Jek with female drivers. Unlike conventional ojeks, which typically only operate dawn to dusk, they are available 24 hours and relatively safe for both passengers and drivers because they are monitored by GPS. While it seems cheap, those who travel in groups of at least three may be better off taking a taxi for convenience and unnoticeable difference in fares.
Talk
Makassar is a multicultural city, but dominated by ethnic Makassar and Bugis. Therefore, they have a lingua franca language that is, Makassar Malay Language (Logat Makassar) or can be called
Indonesian Language
dialect of Makassar.
Macassar Malay is not a creole, but a mixed Malay–Macassarese language, with
Malay lexicon
, Macassarese inflections, and mixed Malay/Macassarese syntax.
See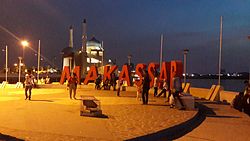 Losari BeachThe long stretch of waterfront in the middle of the city. A very nice sunset view. Food stalls set up every night here. This is a hangout place. Do not expect an actual sandy beach.

Fort RotterdamAn old fortress from Dutch colonial days. Free entrance (they will insist you sign a guestbook). You will be requested to give a small donation, but you do not need to (the money will go to the guards and not to the site). The entrance fee for the Museum (Museum La Galigo) is Rp5000 for Indonesians, Rp10,000 for foreigners (two buildings, but you just need to paid once).
If you are a foreigner, you will be the attraction for the locals there, some people may ask you to take photo with them. The friendly attitude makes this experience quite fun, and you can learn a lot about Sulawesi as well from it.

Pulau KhayanganA small island about 20 minutes away by boat from central Makassar.

Pulau SamalonaA beautiful white sandy island with good diving. Trip from Makassar takes 30-45 minutes, and costs Rp600,000-800,000 (1 boat can carry 2-8 people).
Do
Trans StudioThe largest indoor theme park in the world. Having more than 20 games and equipped with facilities such as shopping malls, restaurants, hotels, and marina.

Makassar Hash: for those who love jogging, running or hiking with a great view, in the jungle, river, or just adventure, this is your group. Makassar Hash gather every week at Kios Semarang, a restaurant in front of Losari Beach, and the group will take you to various places every Saturday.
Buy
Makassar has the type of shopping malls you would find in any other major Indonesian city, nothing very inspiring. The largest include:
MTC Karebosi

address: Jl. Jend. Sudirman No.1, Pattunuang, Wajo, Kota Makassar, Sulawesi Selatan 90113

IT Centre (electronic, mobile, and computer), Carrefour Express, local shops, cafés, playground, CFC, etc.

Mall Karebosi Link

Mall Ratu Indah

address: Jl. Dr. Ratulangi No.35, Mamajang Luar, Mamajang, Kota Makassar, Sulawesi Selatan 90114

Matahari Dept. Store, Gramedia bookstore, Hero supermarket, XXI Cineplex, Breadtalk, Excelso, J.Co, McDonald, Pizza Hut, KFC, Playground, Some cafes and boutique, etc.

Mall PanakkukangMall Panakkukang: Matahari Dept Store, Rimo Dept. Store, Hypermart, Diamond Hypermarket, 21 Cineplex, Excelso, Gramedia, Disctarra, Breadtalk, AW, Sport Shop, Dunkin Donuts, Pizza Hut, Rotiboy, Jco, some cafes, boutiques, playgrounds, etc.

Trans Studio Mall: Hugo Boss, Guess, Gucci,Louis Vuitton, Giorgi Armani,and many other international brand store, Metro Dept Store, Gramedia Bookstore, ME Gallery (Apple authorised reseller),Pizza Hut and Crocs.
Eat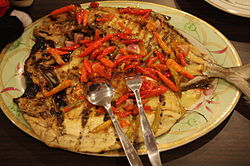 Pisang epe

address: Losari Beach

Pressed grilled banana, served with melted brown sugar. Available with chocolate and/or cheese topping, and durian (seasonal) flavor.

Buroncong

address: Losari Beach

Early morning breakfast cake. Baked on firewood. It's made of grated coconut, flour, etc.

Nyuk Nyang

address: Jl. Bali

Chinese style pork meatballs. Served in tasty pork broth.

Restoran Nelayan

address: Jl Alimalaka

Famous seafood restaurant. They serve various fish, shrimp, squid, lobster (sometimes), chicken, traditional vegetables, etc. There are other similar restaurants around the city, you might want to try Dinar or Ratu Gurih, both on Jl. Lamadukelleng.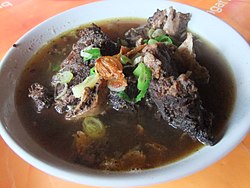 Sop Konro Karebosi

address: Jl. Lompobattang

One of the most famous Sop Konro restaurants. They serve Sop Konro (beef ribs in traditional dark soup) and Konro Bakar (grilled beef ribs, served with tasty peanut sauce). There are some other Sop Konro restaurants.

Sop Saudara

address: Almost everywhere

Traditional South Sulawesi soup, it contains meat, liver, lung, etc. However, you may choose the ingredients you want in your soup.

Pisang IjoBanana wrapped in thick green rice flour layer, served with condensed coconut milk and syrup. The most famous one is made by Bravo Restaurant on Jl. Andalas, but it can also be found at Nyuk Nyan restaurant on Jl. Irian and Jl. Bali, sometimes hotels serve Pisang Ijo as well.

Cafe Mama

address: Jl. Serui

A cozy cafe. They serve traditional cakes, cookies, sweets, and drinks. They also serve home made ice cream.

Coto Makassar

address: Everywhere

Traditional makassar soup. Quite similar to Sop Saudara, but has different taste. Usually served with rice cake. It's very easy to be found around Makassar. The famous coto restaurants are Coto Gagak on Jl. Gagak, Coto Nusantara on Jl. Nusantara, Coto Daeng on Jl. Karunrung and Jl. Pengayoman, Coto Dewi on Jl. Sunu, Jl. Sultan Alauddin and Jl. Perintis Kemerdekaan and Coto Ranggong on Jl. Ranggong

Pangsit Mie (Mie Pangsit Palu)

address: Around Chinatown

Pangsit Mie is noodle served with BBQ pork, chicken and wontons. Easy to be found around the chinatown (Jl. Sulawesi, Jl Lombok, Jl. Sangir and surrounding area). They usually available only until lunch time. The famous one is Pangsit Mie Kenangan on Jl. Lombok, Pangsit Mie Toraja on Jl. Sulawesi and Pansit Mie Madya on Jl. Buru

Mie Kanton

address: Around chinatown

Cantonese-style fried noodle. It's deep fried or usually grilled noodle, served with condensed soup containing vegetables, fried meatball, and pork meat. Can be found around chinatown (as mentioned above). The famous Mie Kanton restaurants are Kios Lombok on Jl. Lombok, Lotus Restaurant on Jl. Lombok, Kios Ateng on Jl. Sangir, Kios Ramayana on Jl. Gunung Lompobattang, etc.

PallubasaMakassar style meat soup. The soup is spicy and contains grated coconut. The most famous Pallubasa is on Jl. Serigala, known as Pallubasa Serigala. Note: Avoid lunchtime as it is very difficult to get seats on lunchtime.

Surya Restaurant

address: Jl. Nusakambangan

One of the biggest Chinese food restaurant in Makassar. They are famous for their crab dishes. Ask for the female crab (it might cost more than the male crabs), female crabs have the delicious crabs egg inside them.

Nasi KuningYellow rice served with various dishes. One of the most favorite breakfast in Makassar. The most famous one is Nasi Kuning Riburane at the corner of Jl. Sulawesi and Jl. Riburane, or you might want to try Nasi Kuning Popsa, in the Popsa pier on Jl. Penghibur. Some nasi kuning seller sell at night. If you have a midnight hunger, you might take a walk to Jl. Ahmad Yani, there is a nasi kuning seller called Nasi Kuning Emon across the Balaikota Building (Mayor's Office).

Ikan Bakar Paotere

address: Paotere

Famous seafood restaurant, they are famous for their grilled milkfish served with peanut sauce and coconut milk soup. Other seafood restaurant also sell grilled milkfish, but this one is remarkable.

SongkoloStirred glutinous rice, served with fried grated coconut, salted fish and sambal (traditional chili sauce). It's quite difficult to find songkolo around Makassar nowadays. It's usually available at the traditional market or traditional food seller. Try Bacan Market (Pasar Bacan) in the morning if you want to have songkolo.

R.M. Ramayana

phone: +62-411-311618, +62-411-3611618

address: Jalan Gunung Lompobattang no 109

Traditional restaurant offering mixed Indo-Chinese food in Makassar. They are famous for variety of food such as Mie Hokkian, Mie Kuah, Makassar Fried Rice, Bakpao (Makassar signature Pork Meat Bun), Healthy Soy Drink. They have many local and tourist customers especially during peak seasons.

Krispi Kriuk - Donald Bakmi

phone: +62 411 430933

address: Jl. Boulevard, depan BCA, Panakukkang Mas

Krispi Kriuk - Donald Bakmi serves Ayam Goreng 'Kampung' and Bebek Goreng with local spices and serve on Banana leaves, Kakap Fillet, Lele Goreng,and Crispy Fried Shrimp, which all serve on Banana Leaves. They also serve Makassar favorite noodle 'Mie Pangsit' and many more noodle dishes and dessert like Es Sarang Burung, which is mix fresh fruits serving in coconut. And fresh local fruit Juices like soursop, avocado, jack fruit, terong belanda. Prices are affordable.

Pizza Ria Kafe

phone: +62 411 313575

address: Jl. Latimojong 152

Rumah Makan Makassar Kuliner

address: Jl. Lanto Daeng Pasewang

Famous for its local traditional food and various of seafood. Located near Sahid Hotel and MARI mall.
Drink
Kafebuku

phone: +62 411 336 108

address: Jl.Tentara Pelajar no. 141

A small cafe-library near the harbor and is a good place for coffee and some Indonesian literature. There are also some books in English.

Kopi ApiNice café with excellent local coffee (in particular Arabica from Tana Toraja). Many other nice cafés in the same area.
Sleep
phone: +62 411 3623222

address: Jl. Sultan Hasanuddin 10

TV, AC, hot shower, free breakfast and Wi-Fi.

phone: +62 411 8111 805

address: Jalan Lasinrang no.15, Makassar, 90113

Swimming pool.

phone: +62 411 834888

address: Jl Maipa No 8, 90112 Makassar

New Legend Hostel

phone: +62 411 313777

address: Jl. Jampea 5A

Helpful English-speaking staff. Central location. Price includes breakfast.

phone: +62 411 317895

address: Jl. Jampea No. 2

TV, AC, hot shower, free breakfast and Wi-Fi. Very clean.

phone: +62 411 3690 999

address: Jalan Sultan Hasanuddin No. 24

The property offers 186 studio apartments with complimentary breakfast. Facilities included are meeting rooms, a business corner and a swimming pool.
POD House. Modern hostel with capsule style dorm. Has a nice cafe in the reception and a terrace, very close to Losari Beach. 80.000 IDR for bed in dorm.
Cope
Consulates
Japan Consulate General

phone: +62 411 871-030, +62 411 872-323, +62 411 851-882

address: Jl. Jenderal Sudirman No. 31, Makasar
Go next
Rammang-RammangVisit this very beautiful karstic site, a UNESCO Biosphere (and tentative World Heritage site); count 1 hr by motorbike from Makassar airport. There, you should rent a boat (Rp200,000 for 4 persons) to reach the site.
On land:
Tana Toraja, the famed Land of the Heavenly Kings is an 8-10 hour drive or 1-hour flight to the north.
Tanjung Bira - a popular beach community on the south-eastern tip
By boat: