Makati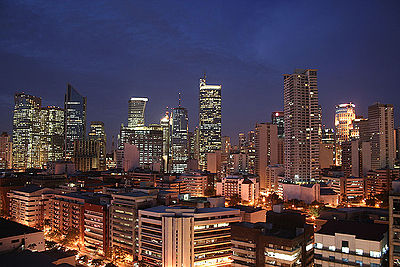 Makati City
, also known as
Makati
, lies in the heart of the vast
Metropolis of Manila
. The city is known for its upscale shopping malls with high fashion brands, restaurants, hotels and is home to many affluent Filipinos. Makati is considered to be the center of financial, commercial and economic hubs and home to the "Philippine Stock Exchange" (PSE).
Understand
Cost of living

Makati City's cost of living is significantly higher than its neighboring Filipino cities, owing primarily to its skyrocketing real estate value and relatively upscale commercial and residential selections. However, compared to other major cities of the world, Makati offers service, accommodations, and value that is not that expensive compared to other upscale cities in the world. Furthermore, bargains comparable to other Philippine cities may be found in certain areas in Makati, such as in the Makati Cinema Square, The Landmark, Cash & Carry, and Guadalupe Mall, that will make a stay in Makati even for the most jaded backpackers more than economical.

History

The area of Makati City was first dismissed as worthless swampland by the Spanish conquistador Juan Miguel de Legazpi in 1571. Yet over the centuries, this small community would leave large imprints in social, economic and cultural history of the country. In 1670 it was established as a visita of Sta. Ana de Sapa under the jurisdiction of the Franciscans. The friars established two of the earliest churches in the Philippines, the Nuestra Señora de Gracia in Guadalupe and the Church of Sts. Peter and Paul in Makati, drawing pilgrims from all over the country. At the opening of the 20th century, the Americans established Fort McKinley in Makati, and in 1901, San Pedro de Makati, with a population of 2,500, was incorporated into the province of Rizal. On February 28, 1914, the Philippine Legislature passed Act 2390, shortening the name San Pedro Makati to Makati in the 1930s, the first airport, Nielson Airport, opened in what is now the Ayala Triangle. The first centrally planned community was established in the 1950s, and since the 1970s, Makati has been the undisputed financial and commercial capital, the once worthless swampland becoming prime real property. Makati has also figured prominently in the political history of the Filipino. The community was one of the cradles of the revolt against Spanish colonial rule, and following the assassination of Ninoy Aquino in 1983, the epicenter of the protest movement against the dictatorial rule of Ferdinand Marcos. On January 2, 1995, Makati became an independent city by virtue of Republic Act 7854.

Talk
The main language choice for communication in this affluent city is English, making the stays here of international travelers and businessmen a relatively enjoyable experience. A knowledge of , the local language, will benefit any traveler.

Get in
Makati has some of the strictest traffic rules in Metro Manila. Traffic marshals actively enforce rules. This means that you can't tell your bus to let you on or off anywhere within its route except at designated stops. Moreover, the color coding scheme is active all day unlike in other neighboring cities when they are only enforced during rush hour.
By train
The Line 3 elevated train has four stations along EDSA. These are the Guadalupe, Buendia, Ayala and Magallanes stations. Getting off at the Ayala Station will set you in the middle of the Ayala Centre, a complex of shopping malls and restaurants.
Line 3 is a quick and inexpensive way to get into the city. The cost of a ticket ranges from .
By car
Two of Metro Manila's main arteries pass through Makati. The
Epifanio De los Santos Avenue
(EDSA) passes along the southeast part of Makati and connects the city with Mandaluyong City and Pasay City. The
South Luzon Expressway
(SLEX) runs through the western part of Makati and connects the city with Manila to the north and with southern Metro Manila. The
Skyway
, an elevated highway built on top of SLEX, provides residents coming from southern Metro Manila a fast way to reach Makati. SLEX and EDSA intersect at the Magallanes Interchange, which is the most complex system of elevated roadways in Metro Manila.
Other major roads in Makati include
Buendia Avenue
(Sen. Gil Puyat Avenue), which connects EDSA and SLEX in the north;
Ayala Avenue
, an important street that runs through the Central Business District; and Makati Avenue, which connects Ayala Avenue with Buendia Avenue and also extends north to cross the Pasig River to Mandaluyong City.
By bus
Buses plying the Epifanio De los Santos Avenue (EDSA) route from Baclaran in Paranaque to Quezon City and Caloocan City pass through the Central Business District daily. As mentioned above, you can't load or unload just anywhere, you have to wait or go to the designated stops. There are separate loading and unloading zones which you must observe.
By premium bus
Most of Metro Manila's expanding
Point-to-Point
(P2P) bus network terminate at Makati; common termini are
Greenbelt
,
Glorietta
,
The Circuit
, and
Trasierra
.
RRCG Transport runs Alabang Town Center–Greenbelt 1, Ayala Malls South Park–Greenbelt 5, Robinsons Cainta–Trasierra, SM Cherry Antipolo–Greenbelt 5, SM City Masinag–Greenbelt 5
DNS Transport (Delta Neosolutions) runs from Eastwood City–Makati CBD, Sucat Exit—Greenbelt 5, and UP Town Center–Glorietta 3.
San Agustin runs Noveleta—Trasierra and SM Southmall—Circuit Lane.
HM Transport runs Robinsons Galleria—Glorietta 3.
MetroExpress Connect runs Camella Homes Dasmariñas—San Lorenzo Place, Robinsons Place Dasmariñas—Trasierra, Vista Mall Daang Hari—Trasierra, and Vista Mall Daang Hari—San Lorenzo Place.
By taxi
Taxis come form across the metro, including the airport. A single costs from Ninoy Aquino International Airport or from Ermita.
By ferry
The
Pasig River Ferry
stops at two stations in Makati:
Valenzuela
(near the city government complex) and
Guadalupe
(near Guadalupe Bridge). Although neither station is in a convenient spot for tourists, which makes this option far less convenient than hailing a taxi. It may be worth keeping the ferry service in mind as another means of getting into Makati from other riverside districts such as
Intramuros
in
Manila
.
Get around

You can easily walk around the Central Business District by way of the sidewalks or the pedestrian underpasses. Driving around the city is also possible. Some areas in the Central Business District are connected with overpasses where pedestrians can walk above the streets.
Taxis are also abundant, especially around the malls. The flat rate is and a ride across town ranges from .

See
Landmarks
Greenbelt ChapelIn the Greenbelt Park, the church is popular for church-goers, most people find it relaxing though because of the park around it. The church is surrounded by trees and a fish and lily pond is on the side of the chapel. The Greenbelt Chapel might be the most relaxing chapel in the Philippines. The Tomb of the Unknown Soldier is also found here.

Libingan ng mga BayaniThe final resting place of many Filipino soldiers, heroes and martyrs, it is also the final resting place of two Filipino presidents: Carlos P. Garcia and Diosdado Macapagal.

Nuestra Señora de Gracia Church

address: 7440 Bernardino St

Built by the Augustinian friars and is European-Baroque inspired. It is named Nuestra Señora de Gracia in honor of the miraculous image of the Virgin Mary that can also be found inside

Philippine Stock ExchangeOne of the two stock exchanges in the Philippines, it is known to have Asia's shortest trading times which lasts only for two hours. Nearby the PSE is the Ninoy Aquino Monument.

Ninoy Aquino MonumentErected in honor of the late Filipino senator and national hero, Benigno "Ninoy" Aquino, who was the husband of late Philippines president. Corazon Aquino. Together, they both fought for democracy during the martial law which was under the Marcos' administration in the 1980s.
Museums
phone: +63 2 759-8288

address: Dela Rosa St

Showcases the rich and vivid history of the Philippines from the earliest times of the Mactan battle to the struggle of democracy in EDSA. Also present are some famous paintings by Filipino painters such as Fernando Amorsolo, Juan Luna and Fernando Zobel. Guided tours are available if booked in advance for large groups.

phone: +63-2-889-1234

address: RCBC Plaza

The museum was created to house the art collection of Secretary Alfonso T. Yuchengco, and highlight his distinguished career as a businessman, diplomat, collector, philanthropist, patron of the arts, and advocate for education in the Philippines. The museum's primary goal is to foster a greater public appreciation of the finest in Filipino and Filipino-Chinese visual arts and creativity. The Yuchengco Museum houses paintings by Fernando Amorsolo, Juan Luna and Carlos "Botong" Francisco.

Filipinas Heritage LibraryLocated inside the old Nielson Airport tower, the Filipinas Heritage Library has an astounding collection of books that date back to the Spanish period. Serious scholars of the time period will love it, but anyone with even a remote interest in old books and history should give it a visit.
Parks
Greenbelt ParkGreenbelt Park is a small park designed to be a complement to the surrounding Greenbelt Malls. An artificial duck pond and stream can be seen here, as well as the Greenbelt Chapel for Catholic services. Greenbelt Park is also a good place to sit, people watch and see the more multicultural side of Metro Manila.

Ayala Triangle ParkBehind the Philippine Stock Exchange, the Ayala Triangle Park is surrounded by restaurants and cafes.

Legaspi ParkA small, well-kept park along Legaspi Street. On Sunday mornings the Legaspi Market opens, where you can get fresh organic foods, delicacies, sweets and other assorted souvenirs.

Salcedo ParkAnother small park along Legaspi Street. Similar to the Legaspi Market, on Saturday mornings the Salcedo Market opens.
Work
The
Makati Central Business District
is the home of some of the biggest companies in the Philippines. It is also where the top BPO's and contact centers are headquartered.
Buy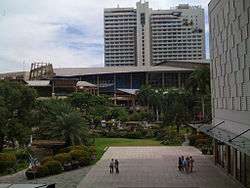 Ayala Center
is the Philippines' answer to Singapore's
Orchard Road
or Thailands'a
Siam Square
, and has a number of upscale malls. High-end brands and restaurants usually have branches here. The cost of buying in Makati is far more expensive than its neighboring cities or in any other city in the Philippines because of the upscale brands they have in Makati.
GloriettaIt was renovated in the 1990s, and is is one of the biggest malls in Metro Manila. Aside from shopping and dining, indoor facilities such as a kids' playground and an activity center for concerts and shows. By the 2000s other buildings too were constructed making it bigger. Its tenants include Adidas, Aldo, Cole Haan, Debenhams, Lacoste, Mango, Marks and Spencer, Nike, Puma, and Zara among others.

GreenbeltThe one stop for high-end stores from brands like Adidas, Aldo, Anne Klein, Audemars Piguet, Balenciaga, Bally, Banana Republic, The Body Shop, Bottega Veneta, Bulgari, Burberry, Celio, Charriol, Chopard, Diesel, DKNY, Emporio Armani, Escada, Fred Perry, Gucci, Hèrmes, Hugo Boss, IWC, Jimmy Choo, Juicy Couture, Kenneth Cole, Lacoste, Levi's, Louis Vuitton, Lucky Brand, Kate Spade, Mango, Marc Jacobs, Marc by Marc Jabos, Massimo Dutti, Michael Kors, Panerai, Patek Philippe, Paul Smith, Prada, Rimowa, Rolex, Salvatore Ferragamo, Springfield, St. John, Tod's, Tony Burch, Topman, Topshop, Zara, and more. Dining options include walk-in restaurants and fast food chains; fast food chains are found in Greenbelt 1, while restaurants are located in Greenbelt 2, 3 and 5.

Power Plant MallA four-level complex that has shops and restaurants which may be of either international or local origin, cinemas too are also found. Shops at the Power Plant Mall include Adidas, Aldo, Anne Klein, Armani Exchange, Bally, Billabong, The Body Shop, Celio, Cole Haan, Diesel, DKNY, Dorothy Perkins, Esprit, Fred Perry, Kate Spade, Kennth Cole, Levi's, Mango, Marks and Spencer, Massimo Dutti, Michael Kors, Muji, Nine West, Rimowa, Rolex, Salvatore Ferragamo, Shu Uemura, Springfield, Thomas Sabo, Topman, Topshop, Trucco, and Zara.

Salcedo Weekend MarketIn the heart of the Business Center District is the Salcedo Park. Every Saturday, vendors take over part of the park to sell their specialty items. There are ornamental plants, organically grown vegetables, bakery products, lechon from Cebu, etc. Be sure to come early for the full experience.
Eat
Makati is packed with dining choices:
Budget
Ineng's BBQ, Ayala Central Bus Terminal at Makati Avenue beside The Landmark. This establishment is all about pork barbecue. Their skewers have much more meat than other barbecue outlets.
Earl's Sandwiches, Ground Floor, Greenbelt 1, facing Legaspi Street. Excellent submarine sandwiches.
Mang Inasal Filipino-style chicken.

JolibeeA growing fast-food chain in the country serving fried chicken, burgers, fries, sundaes, etc.
Pizza
The pizza debate will rage in eternity but thankfully, you're never far from a slice in Manila. No matter your personal definition of pizza, Makati has you covered with a mind-boggling array of choices. Of course, they have
Pizza Hut
,
Papa John's
, and
Domino's
, which if that's your thing, you won't have to look far.
Greenwich A favourite of locals. Very affordable yet tasty pizza, often located in mall food courts.
Yellow Cab Pizza Multiple locations, one of the Philippines' most successful pizza franchises that has gained its market share with good value for money, lots of toppings and imported cheese.
Sbarro Multiple locations throughout Metro Manila. Yes, it's a chain store but where else are you going to find Chicago-style deep dish? Nowhere. Sbarro's it is. Their pastas are also filling and tasty.
California Pizza Kitchen Multiple locations including the third floor of Greenbelt 5. It is what it is. If thin crust is your taste, head here. Dine in, take away or delivery.
Shakey's Great traditional thin crust pizzas and a family restaurant.
Mid-range
phone: +63 2-843-4075

address: One Lafayette Square, 132 L.P. Leviste Corner Sedeno St., Salcedo Village

Comfort foods with a twist, served in a bistro-style setting. The kind of place that winds up being your favorite joint in town. Highlights include: French onion soup, cream cheese samosas, Reuben sandwich, three-cheese veggie lasagna. Though the prices ( average starter; average sandwich; mains from for the Mac n' cheese, to for the steak frites) come out on the high side of mid-range dining options, Apt. 1B is well worth it.

phone: +63 2-403-9999

Five locations in Metro Manila; for Makati visit Valero Street or Legaspi Street branches. For Middle Eastern and/or Mediterranean. The Legaspi location is directly across the entrance to Greenbelt 5, at the corner of Dela Rosa Street. Highly recommended.

address: Festejo Bldg., 816 Arnaiz Ave. (formerly Pasay Road), Makati

Also has a location in Padre Faura, Ermita. Pricy Indian and Middle Eastern fare in a sophisticated (by local standards) atmosphere. The staples (samosas, palak paneer) are delicious but come in small portions. Wine list has some gems but of course it depends if they have it in stock. The Ermita branch is much better than Makati in service and value. Meanwhile, they operate a takeaway booth at the Salcedo and Legazpi weekend markets, where you can pick up your favorites at reduced prices.

phone: +63 2-729-4837

address: Greenbelt 2, Ground Floor, Ayala Center

Moderately authentic Greek food. The best you're going to find in Makati. Menu includes loads of favorites such as taramosalata, paidakia, dolmades, kefthedes, octapodi, sagahnaki (and yes, unfortunately they set in on fire and "Opa!") If you like Greek cuisine, this is the place to go. See menu link for prices.

Chimara

phone: +63 2-757-5652

address: Cinema Level, Greenbelt 3, Ayala Center, Makati City

This healthy café has a range of delicious vegetarian and vegan friendly options from soups, salads and wraps. They also have a range of soy ice cream and offer home delivery as well. They will even deliver meals into the cinema while you enjoy a movie.
Circles Event Café, Makati Shangri-La Hotel, Ayala Ave. cor. Makati Ave., +63 2-840-0884. Casual dining at its best. Offers an array of continental, oriental, à la carte and buffet selections in a relaxing ambiance.

Magic Bread Vegetarian Store

phone: +63 2 887 7921

address: 25 Bautista St, Cor. Buendia, Palanan, Makati City

Great store selling a range of healthy vegetarian friendly baked goods and products.
Cibo, Italian restaurant with several branches, most notable at Shangri-la Plaza Mall in Mandaluyong and Glorietta 4. Their pasta dishes and panini sandwiches are great. Don't miss the very refreshing fresh red grape shake.

Hossein's Persian Kebab

phone: +63 2-890-59-28, +63 2-890-61-37

address: 7857 LKV Building, Makati Avenue

the restaurant was founded in 1985. Serves authentic Indian, Arabian and Persian cuisine. Halal certified. Very overpriced. Go to Persia Grill or Al Basra on Makati Avenue.
Sentro 1771, Greenbelt 3 2nd Level, Ayala Center, +63 2-757-3940 to 41. Casual dining restaurant serving Filipino cuisine. Popular dishes include the tomato and kesong puti (native white cheese) salad, sizzling tofu and corned beef sinigang (corned beef in tamarind broth). They are known for their coffee pie.

Via Mare

phone: +63 2-893-2306

address: Ground Floor, Greenbelt 1

Excellent oysters.

address: Ground Floor Greenbelt 2, Ayala Center

French patisserie and cafe. Try the 10 Hour Roast Beef! They make the best Macarons de Paris similar to those of the best patisseries in Paris. Their French gateaux and Lavazza coffee are perfect for a night cap. Open for breakfast at 7AM and the Eggs Benedict and Filipino Breakfast are must-tries.
Splurge
Basix, Dusit Thani Hotel, Ayala Center, +63 2-867-3333. Fine dining at the Dusit Thani.
Old Manila, The Peninsula Manila, cor. Ayala Ave. & Makati Ave., +63 2-887-2888 / +63 2-812-3456. Fine French dining.

phone: +63 2-840-0884

address: Makati Shangri-La Hotel, Ayala Ave. cor. Makati Ave.

Chinese/Cantonese cuisine. Excellent Dim Sum.
Sala, Locsin Building, 6752 Ayala Ave. cor. Makati Ave., +63 2-750-1555 / +63 2-893-0242, . Fine European cuisine.
UMU Japanese Restaurant, Dusit Thani Hotel, Ayala Center, +63 2-867-3333. Offers authentic Japanese cuisine such as the sushi and sashimi bar, teppanyaki, and bento box.

phone: +63 27292888

address: G/F Garden side, Greenbelt 3, Ayala Center, Makati City

They serve Thai and other Asian dishes.
Drink
The epicenter of Makati's famous nightlife is
Greenbelt
where some of the city's best restaurants, cafes, bars and karaoke joints cluster around a park in the middle of the main business district. Meanwhile, there are a series of bars stretched out along Makati Avenue, northeast of
Ayala Triangle
, including the infamous
P Burgos Street
red district area.
phone: +63 2-7574370

address: Ground Floor, Greenbelt 3, Makati

While the Spanish-Cubano cuisine is quite good, and the weekend samba bands are generally top-notch, Havana's true draw is the outdoor umbrella tables packed with expats, travelers, and local women offering companionship, on a nightly basis. Therefore, Havana is undoubtedly the number one venue in Makati to meet and greet. Though rich by Metro Manila standards, Havana's prices are reasonable. A bottle of San Miguel beer is . Main dishes range from . Cocktails in the range. Otherwise, there are a couple of better places in Greenbelt 3 to have a drink (Cerveseria, National) with none of the riff-raff. The club's Greenbelt 3 branch is open from 11AM to 2AM or 3PM daily, while the one in Malate opens at noon and closes at midnight or until 3AM daily. International credit cards are accepted.

phone: +63 2-757-4791

address: Ground Floor, Greenbelt 3, Makati

Almost next door to Café Havana is this cool and relaxed bar, popular with locals, Havana-wary (and weary) expats, and not surprisingly, ladyboys. Cerveseria is a great place to post up and watch the free-for-all of vice going on across the plaza. The extensive tapas menu is a bit steep but excellent and their buy-one take-one San Miguel policy () is a ridiculous bargain in the area. Cerveseria is affiliated with the excellent Kitchen, which is adjacent to the patio.
Also in Greenbelt: Museum Cafe Ground Floor, Ayala Museum, Makati Ave corner Dela Rosa Street (adjacent Greenbelt 3 and 5) Tel +63 2-757-3000. Kind of a swanky joint. Usually featuring live music. It's common to see well-heeled expats sipping mimosas at noon. Ice Vodka Bar 3rd Floor, Greenbelt 3. Generic nightclub.
Northeast of Ayala Triangle
WG Diner Corner of Makati Ave. and Gen. Luna St., Makati, This unassuming outdoor establishment was the best kept secret in town. Located near the A. Venue Mall, across the street from the Wendy's and 7-Eleven. Friendly staff, decent Filipino food, and insanely cheap beer ( per bottle of San Miguel!), combined with a ringside seat on the parade of God-knows-what on Makati Ave., makes WG a solid choice for a laid-back night with friends.

Chihuahua Mexican Grill and Margarita Bar

phone: +63 2-897-0087

address: 7838 Makati Ave

Kiddie-corner to A. Venue. The latest newcomer on this stretch of road.
Kwagos Grill Makati Ave. corner B. Valdez. This is where the locals go, and by locals, we mean contact center employees. Open 24 hours. A bucket of 6 San Miguel for . Serves Filipino dishes. The place gets unbearably loud on weekends.

iO Family KTV

phone: +63 2-8895-5938

address: 136 Jupiter St

KTV (Karaoke TV) bar where you can sing to your heart's content in private rooms while having the usual drinks and eats. Best enjoyed with a group of friends.

Grilla

address: corner of Kalayaan Avenue and Rockwell Dr

A great place to have grilled foods, both Filipino and International. Try their platters (starting at ) for a group of 3-4 and down them with some San Miguel beers.
Sleep
Budget
Mid-range
Splurge
Thanks to its reputation as the country's premier financial district, Makati City is home to some of the country's pricier hotels. Many major international hotel chains have their local affiliates in Makati City.
phone: +63 2 729 8888

address: Glorietta 4, Ayala Centre

From the elegant penthouses to three-bedroom residences, each of the 306 apartments offers spacious living and dining areas, fully-equipped modern kitchens, home entertainment systems and wireless (Wi-Fi) internet connection.

The Picasso Boutique Serviced Residences

phone: +63 2 828-4774

address: 119 L.P. Leviste Street, Salcedo Village

Offers air-conditioned rooms with 32-inch flat-screen LCD TV with cable channels, kitchenette with electric stove and microwave oven, and Internet connection. Some of its amenities include Qi Wellness Spa, salon 119, and gym.

phone: +63 2 519 1999

address: 27 Canopus corner Jupiter Street, Bel-Air Village

All rooms are equipped with air conditioning, LCD TV, refrigerator, electric stove, microwave oven, private toilet and bath with hot and cold water. Some of its facilities and services are food outlets at the ground floor, mini-mart at basement 1, a roof deck which serves as a function area, 24-hour security, free internet access and housekeeping upon request (charges apply).

Hotel Inter-Continental Manila

phone: +63 2-8159711

address: 1 Ayala Ave

phone: +63 2 478-3280

address: 906 Arnaiz Avenue, San Lorenzo Village

Offers Superior, Deluxe and Deluxe Suite rooms with air-conditioning, LCD TV with cable channels and private toilet and bath. Its facilities and services include high-speed Wi-Fi Internet access, concierge, massage service and 24-hour room service.

phone: +63 2-813-8888

address: Ayala cor. Makati Ave.

The Makati Shangri-La is at respected hotel in the heart of the Ayala Center. The Makati Shang has sister hotels in Mandaluyong City and Mactan in the Visayas' main island of Cebu.
The Mandarin Oriental Manila, Makati Avenue corner Paseo de Roxas, +63 2 750 8888, . The Mandarin Oriental has a reputation for quality business accommodations and the cuisine of its in-house restaurants?

New World Makati City, Manila Hotel

phone: +63 2 811 6888

address: Esperanza Street Corner Makati Avenue

phone: +63 2-887-2888

address: Ayala cor. Makati Ave

The Manila Peninsula is one of the city's most famous hotels. Its fountain, on the corner of Ayala Avenue and Makati Avenue, was broadcast to the world during the international New Year's Day broadcast in 2000.
The Raffles Hotel Manila, Makati Avenue corner Arnaiz Avenue, Ayala Center

phone: +63 2 757-2615

address: Antel Lifestyle City, Makati Avenue

Offers restaurants, function rooms, and comfortable accommodations.

Holiday Inn & Suites Makati City

phone: +63-2-909-0888

address: Glorietta Mall, Palm Drive, Ayala Center

phone: +63 2 755 7888

address: Makati Avenue corner Kalayaan Avenue

I'M Hotel is the first 5 star hotel in the Poblacion district and houses the first and to date (2018) largest onsen spa in the Philippines. The hotel's architecture and rooms are designed by Singapore-based architects. It features 434 rooms including 182 suites equipped with an Electrolux-fitted kitchenette, living room, and dining area. The hotel also has an infinity pool, which can be seen upon entering the lobby as one looks up because it is acrylic-bottomed. The hotel's Common Good Food Playground features nine upscale dining outlets offering various international cuisines.
Stay safe

Makati is generally peaceful. Perhaps the more peaceful place than Makati is the Bonifacio Global City (Fort Bonifacio) area of Taguig. Choosing between Manila and Makati? Makati is much better security-wise.
Be mindful of people coming from outside of Makati though. They tend to be tagged as 'less civilized' by Makati residents because most offenses in the city are made by them.
Be wary of strangers and take extra precaution when being approached. Avoid crowded places, as well as sketchy locations.
Metro Manila police are generally foreigner-friendly. As usual, the recommended approach is to be on high alert at all times, as incidents may take place anywhere.

Connect

The international telephone country code for the Philippines is +63. The area code for Metro Manila (including Makati) is 2.

Cope

English is spoken everywhere. All traffic signs and business establishments are in English. In formal business engagements, English is the language of choice.
Expect heavy daytime traffic in Makati. Avoid traveling during peak hours. While jeepneys are banned from certain areas (namely Ayala Center), they are in full force everywhere else. Just like any urban area, Makati is noisy. In addition to the general traffic noise, the city is in the midst of a construction boom, and construction is ongoing 24/7. So when choosing a hotel, it's a good idea to find out in advance what is happening in the nearby vicinity. If there's a 40-story tower going up across from the Mandarin Oriental, which there is, ask for a room facing the other direction. It's highly recommended to use tap water for washing your hands and nothing more.
Be wary of taxi drivers. Every other driver will tell you he doesn't know where Greenbelt 3 is, thereby forcing you to give directions or allow him to circle the area, unmercifully driving up your fare. On Friday and Saturday nights, never light a taxi if the driver refuses to use the meter and insist on an extortionate fare to your destination, for instance, a normal cab ride from P Burgos Street to Greenbelt should be no more than . On weekends, it's usually just to get in the cab. Some drivers will outright refuse to take you based upon what they perceive to be their odds of getting a return fare.
Also, if you're that reckless, beware of citizens stealing your information and making charges to your accounts.
Generally speaking, Makati is the most civilized and comfortable metropolis in the Philippines. Travelers of all nations will feel comfortable.

Go next