Malabar
Malabar
is a region in
South India
. The name of the region is thought to be derived from the Malayalam words mala (hill) and vaaram (range, region), westernized into -bar. The region is a part of The Malabar Coast, which in historical contexts, refers to India's southwest coast, lying on the narrow coastal plain of Karnataka and Kerala states between the Western Ghats range and the Arabian Sea. The coast runs from south of Goa to Cape Comorin on India's southern tip. The area is famous for its history as a major spice trade center. This region was the port of first call for Vasco da Gamma on his maiden voyage.
Regions
Administratively, the area is divided into the following districts:
Cities
Here are nine of the most notable cities.
or Calicut. for museums and parks
or Cannanore. for Theyyam temple dance.
or Tellicherry. for beautiful beaches
, for beautiful tea estates at Meppadi
Beach, old French enclave.
, for the cute riverside temple.
, for Herbal medicines and massages
, for the walk into the sea, 1 km long Pulimoottu.
Gardens, Palakkad. for a family picnic.
Other destinations
, Kerala — dense cover of lush green trees provide sanctuary to a huge variety of animals such as deer, elephant and tigers besides a large number of birds


, Karnataka — an exclusive hunting reserve it is a well managed park with tiger, gaur and elephants


, Kerala — largest national park in Kerala that is virtually an undisturbed natural area that is home to several endangered or rare species of birds, plants and animals. Sairandhri hosts the visitor center for this park


, Kerala — established in 1973, it is the second largest wildlife sanctuary in Kerala and home to a large variety of animals

Understand
Malabar was a district of British India until 1947. After Indian independence, Malabar became part of the state of
Kerala
and was divided into six new districts. The people of Malabar are very friendly and respond reasonably well when you speak to them in English or Hindi.
Weather
Malabar is the area of Southern India that receives the heaviest rainfall per year, particularly during the monsoon season.
Talk
Malayalam
is the local language but English is generally understood.
Get in
Get around
Malabar has excellent bus services charging only ₹7 for 3 km. The crew might seem a little rude for no apparent reason. The drivers, being unable to show their rudeness to the passengers, show it in their driving style.
Mini buses are a better option: they stop everywhere and the conductors are pleasant to passengers. They charge ₹7 for every three km.
Government buses are called KSRTC. Travelling in one is considered a luxury by local standards. KSRTC has marginally higher charges for Fast Passenger and Super-fast services. Air-conditioned Volvo buses are also operated by KSRTC charging three times the ordinary fare.
Autorikshaws are cheaper than other parts of the country and usually only charge ₹15 per km. Malabar auto drivers have a reputation for not being greedy and for their courteous behavior to the customers. South Kerala autorikshaws have a habit of charging higher if the passenger is well dressed.
Taxis charge ₹1,000 for a day's contract. They can also be hired for shorter distances after negotiating the fare in advance. Air conditioned jeeps are available for hill side travel.

Do
Theyyam Folk Dance and Rituals - Malabar is known for the "Theyyam" folk dance which are part of the "Kavu" festivals. Kavu Festivals are celebrated from the end of December to April and especially during February and March.
Visit Wayanad which is a famous hill resort in North Kerala. Wayanad is known for its spices, waterfalls and wildlife.
Travellers can visit some of the famous beaches of Malabar. Bekal Beach in Kasargod, Payyambalam Beach in Kannur, Muzhappilangad Beach and Dharmadam Island in Thalassery, Beypore Beach in Kozhikkode, Kappad Beach in Kozhikkode are all famous beaches in Malabar.
Bekal Fort in Kasargod District, St. Angelo Fort in Kannur, Thalassery Fort, Palakkad Fort excellent forts to visit. They offer rich architectural vistas and an excellent dose of history.
There are 3 water theme parks in Kannur District that are worth visiting. They are Vismaya, Sadhoo Merry Kingdom and Jukis.
Thirayattam is one of the most outstanding ethnic performing art of Kerala state in India. This Ritualistic annual celebration enacted in courtyards of sacred groves and village shrines of south malabar region (Kozhikode & malappuram Dt: )at Kerala. This vibrant ethnic art form manifested to place the deities and rapid in movements. The word "Thirayattam" refers to a 'colourful dance'. It is an admixture of dance,drama,song,instrumental music, facilal & body makeup, martial art and rituals composed in a harmonizing manner. Thirayattam differs from other performance by this unique customs tradition and artistity. Thirayattam is performed in the courtyards of Kaavu (sacred groves) with accompaniment of traditional torch - light (coconut palm leaves) and big drum beets. It reflects the antique life style and tradition through the unique customs. kaavu (sacred groves) are thick vegetation isolated for divine purpose. Thirayattam annual festival in between January to April.
Eat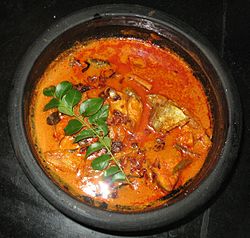 Malabar cuisine, which its residents consider to be the tastiest varieties of Kerala cuisine, is distinguished by the preparation style and unique recipes. It is a style that arose from the blending of Arab, Brahmin, Zamorin, and Chirakkal cultural influences. You will find that Malabar offers a full range of vegetarian options. There are plenty of non-vegetarian dish varieties for omnivores, too. Dishes are accompanied by a plethora of distinctive rice preparations, rice breads, and flatbreads. Malabar also has an unusually bountiful selection of traditional Indian snacks. The extreme north of Malabar has a large presence of Konkani influence, with distinctive recipes focusing more on seafood.
Dum biryani - One of Malabar's most distinctive specialties.
Malabar paratha - The local variant of the unleavened flatbread is especially fluffy and soft.
Pathiri - A type of rice bread.
Rice - Popular preparations include ghee rice, saffron rice, and fried rice.
However today most of the style varieties are available through out Kerala and though unique food specialties needed to be tasted at its own place.
Drink
Beer and wine are easily available. Stronger drinks are available only in five-star hotels.

Stay safe
Malabar is free from violent crime but not free from petty thieves. Cities are deserted after 8PM. Perhaps the political violence or the total lack of nightlife might be the reasons for this early closing habit. Frequent general strikes can paralyze public life when restaurants and transport facilities remain closed. Police usually rescues tourists trapped in bus stations. Unmarried couple shouldn't show any affection in public as vigilante groups and moral policing are very dangerously active in
Vatakara
and
Kasaragod
cities. Wayanad district is vulnerable to Maoist attacks and so a large number of special police is camping there. Recently they attacked a national park. Tourists are not targeted, but be careful in lonely treks.
Go next