Malang
Malang
is a city in
East Java
.
Understand
Malang is the second largest city in East Java with a rapidly growing population of about 820,000 in the city proper, and 1.2 million in the Malang area.
This is a city of great historical significance. The oldest existing record of Malang as a regency is from the 8th century when it was the seat of government of the ancient Kanjuruhan and Singhasari kingdoms. The city officially became part of the all encompassing Javanese Mataram kingdom in the 17th century which by that time was controlled by the Dutch colonialists. Unsurprisingly given that history, there are several interesting Hindu relics in this area. The city quickly became very popular with the Dutch due to its cool climate, very attractive rural surrounds and easy reach from the main trading port city of
Surabaya
.
Modern day Malang, although significantly urbanised, has retained much of its historical character, remains vibrant and is regarded as by far the most attractive large city in the East Java region.
Malang Regency is located between two groups of mountains with Mount Semeru, the highest mountain on Java, and
Bromo-Tengger-Semeru National Park
to the east. The biggest attraction here must be the beautiful landscape, in addition to which there are some temples not far away.
Tourist information Centres
East Java Tourist Office

phone: +62 341 323966

address: Jl Jendral Basuki Rachmat 6

Indonesian Guides Association

phone: +62 341 366852

address: Jl Semeru 4

Malang City Tourist Office

phone: +62 341 327661

address: Jl Tugu 1

Malang Travel Guide

phone: +62 341 580924

address: Jl Candi 3 No.513
Get in
By plane
Alternatively, Malang can be reached via Surabaya's
Juanda International Airport
(
SUB
), served by many domestic and international flights. From Surabaya airport, you can reach Malang using a private shuttle service (Rp 80,000-100,000/pax), public transportation (DAMRI airport bus to Bungurasih bus terminal, then an intercity bus to Malang, see the main Surabaya article), or taxi. A 95 km journey will take 2-3 hours or more, depending on traffic and mode chosen.

By car

Malang is about 95 km south of Surabaya; 2-3 hr via the Surabaya-Gempol highway, but frequently takes 4 hours to reach.

By bus

There are frequent bus services into Malang's Arjosari bus station from Bungarasih bus terminal in Surabaya.
Non AC from Probolinggo 14,000.

By train

Overnight train services link Jakarta and Bandung to the . There are many train services every day from Surabaya. One advantage to arriving in Malang by train is that the station is much more central than the long-distance bus terminals. There is also three daily trains from Malang to Yogyakarta (Rp250,000 eight hours) via Solo or you can also go to Yogyakarta via Surabaya. Surabaya is served by economy trains (2/3 hours). there is one train a day to Banyuwangi (ferry port to Bali) (Rp65,000 8 hours) the train goes via Probolinggo, good for visiting Mount Bromo.

Get around
By taxi
Formal and informal taxis are available in the city. The two biggest firms offer telephone advance booking and instant ordering: Argo Perdana. and Citra Kendedes . The new price of a regular taxi after November 2014 petrol increase is first flag fall Rp 6,000 for first one km, Rp 4,350 for every next km, and Rp 43,500 for one-hour waiting (fractional in one minute) including stuck in traffic jam. While the executive taxi is Rp 9,000, Rp6,650 and Rp 66,500 respectively. Both with minimum payment Rp 30,000, because Malang is a big city with low price, so the metering maybe stated lower than Rp 30,000. Conveniently, online ride-hailing-services such as Gojek and Grab are now abundant.

By minivan
City mini-vans in Malang, called "mikrolet" or "angkot" by locals, are blue and can be hailed at random. Two- or three- letter acronyms indicate their routes, and journeys are flat-priced at Rp 2,500 for students, indicated by their uniform, and Rp 4,000 for everyone else. There are multiple routes that the mini-vans take, and prices may differ on how far you ride.

By becak
Becaks (pedicabs) are a great way to see the city and are easy to find, often on the side of the road waiting for customers.

On foot
With its relatively cool climate and wide colonial streets, Malang is a good city to walk around. But keep with you an umbrella in the Wet Season (Oct-Apr), and wear cool clothes in the Dry Season (May-Sep). Though Malang has cooler temperatures, it still is a tropical climate.

See
In a city of such great cultural and historical significance there are lots of cultural attractions and any visitor to Malang should dedicate some time to exploring these.
There are also a number of beautiful sights in the rural areas surrounding the city. Malang is home to multiple temples and mountains, as it is a mountainous region. Several mountains such as
Bromo
,
Panderman
and
Semeru
, surround the city and can be seen in the early morning and evening.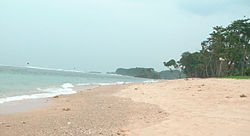 Balekambang BeachesThere are actually three beaches here: Balekambang, Ngliyep and Sendang Biru. All three are quite beautiful, are close by to each other and locals most often refer to all 3 as just Balekambang. It is best to visit on weekdays as this is a very popular weekend escape and it can get crowded. It is not safe to swim here but these are great relaxation beaches which offer some stunning coastal scenery. There is an offshore island called Pulau Sempu which can be visited by chartering a boat from Sedang Biru beach. At Balekambang beach there are three little islets just offshore which are attached to the beach by walkways. Of the three beaches, Balekambang itself is perhaps the most attractive but all three are worth visiting. The beaches can be easily visited as a da-trip from Malang in a car but for the adventurous there are basic places to stay at and around all three.

Ijen Boulevard

address: Malang

This is a quite beautiful street. It is lined with well-tended bougainvillea against a backdrop of old colonial structures. The street houses a number of interesting buildings including the Brawijaya Army Museum, the Catholic Church and the city library. Usually every Sunday, there is an event called "Car Free Day" when almost all of Ijen Boulevard is free of motorised vehicles. There is also a "Pasar Minggu", a traditional market which offers a wide range of items to buy, from traditional foods to clothing, even pets. It starts from 06:00 to around 10:00, depending on the number of events held. You should take in this area as part of a becak or walking tour of the historic downtown area.

Padepokan Seni Mangun Dharma

address: Desa Tulus Besar Tumpang

Arts centre dedicated to the research, promotion and performance of traditional East Javanese art forms including dance, batik, shadow puppetry and carving. Superb place. Dance performances can be arranged on demand and are of excellent quality as the dancers are trained from childhood. Their motto is Rescuing the Arts of East Java.

address: Jl Raya Purwodadi

Opened in 1941, This is one of the four official botanical gardens in Indonesia (the others being the headquarters at Bogor, Bedugul in Bali and Cibodas in West Java. The 85 hectares of gardens house an impressive collection and the splendid Baung waterfall.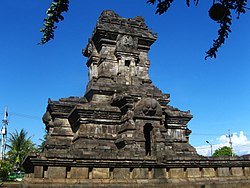 Singosari Temple

address: Singosari, Malang

This well preserved Hindu temple dates from 1300 AD and is a reminder of the great Hindu kingdoms that ruled East Java before the arrival of Islam. A visit to the nearby bathing pools at Ken Dedes combines perfectly with Singosari Temple. Ken Dedes was the wife of the first King of Singhasari (later Singosari) and these bathing pools are believed to have been part of the royal court. There are some quite wonderful statues here. The whole area has some other fine relics from the early Hindu kingdoms including Candi Jago and Candi Kidal. Ask your guide or at Singosari Temple for further directions.

Taman Rekreasi Senaputra

address: Jalan Brawijaya, Malang

Traditional East Java dances every Sunday morning at 10:00 in the park during the dry season only. Every last Wednesday of the month there is a Wayang Kulit shadow puppet show starting at 22:00.

phone: +62812 3363 1616

address: Jl. Graha Kencana Raya No.66, Balearjosari, Blimbing, Kota Malang, Jawa Timur 65126

Family entertainment place with 2 theme parks. There are some replicas of dinousaurs.
Do
Take a tour of this fine old city by becak.
Visit the many Buddhist and Hindu temples in the area.
Buy souvenirs at the many bazaars (marketplaces).
Climb one of the mountains surrounding the city.
But most people visit Malang as a starting point for a trip to the nearby volcanoes, or as a place to enjoy cooler weather for a time.
Tour operator
:
Helios ToursDoing all kind of trips to Bromo, Ijen continuing to Bali. For example 3 days / 2 nights to Bromo, Ijen and ferry to Bali for Rp1.3 Mio.

Bromo Holiday Tours
Buy
Malang has some large shopping malls but you are better off in
Surabaya
for those. But you can visit one of the multiple bazaars that sell all sorts of things from traditional knives to foods to clothing.
Local textiles and handicrafts can be found at Batik Keris, Jl Merdeka Timur 2d.
Fabulous Spa & Salon

phone: +62 341 9600080

address: Jl Panderman 1A

Offers professional massage and spa treatments in clean and relaxing ambience including body spa, body scrub, Balinese touch massage, manicure and pedicure spa. There is also a hair salon which offers haircuts and styling. Supplies are ordered in small and selected batches to ensure freshness when they are used. Fresh new towels are provided for each guest.
Malls & Supermarkets
Giant Supermarket

address: Mog Mall Olymic Garden Jl Kawi Kawman

Malang Plaza Mall

phone: +62 34-1324674

address: Jl Agus Sailm

Has a big supermarket.
Eat
Eating is a highly rated experience here. Local specialities are best sought out at street stalls and simple warungs and include:
Ayam Goreng Kampung (fried village chicken).
Tempe
Bakso Malang. The city's own unique and delicious take on the Indonesian meat ball soup staple. Try Bakso Bakar, literally means "grilled meat ball". The famous one will be the one in Jl Pahlawan Trip, in the corner of the junction with Jl Ijen
Jagung Bakar (grilled young corn on the cob) is everywhere. Best eaten at a streetside stalls fresh from the coals. Some of them congegrate in Pulosari Stalls.
Apples (Apel). The highlands around Malang are the apple growing centre of Indonesia and the small green beauties (manalagi) are very highly prized. Eat them here and they are sure to be fresh from the tree.
Malang's night market on Jalan Merdeka operates every Saturday. A riot of flavours and smells will assault your senses. A must do for any visitor to Malang.

Bakmi Gajah Mada

address: Jl Pasar Besar 21

East Javanese noodle dishes at their very best.

Inggil

phone: +62 341 332110

address: Jl Gajah Mada no4

Highly rated restaurant specialising in Javanese cuisine.

Warung Pojok

address: Jl Pejajeran 25

Very well known for rujak (salad with spicy sweet peanut sauce).

Martabak CairoThe kopi jahe is infused with cloves for a powerful and simply decadent taste. Serving martabak, sate kambing and nasi goreng cairo.

Warung SubuhDizzying array of foods, incredibly cheap, fresh and delicious. This place is booming with locals, so you know it's good. A great place to try some new and interesting food and drink.

phone: +62 341 352911

address: Jl. Bromo 44

Kongkow cafe

phone: +6285259057058

address: Jl. Patimura 48 malang

Friendly owner who speaks good English and has good knowledge of area. Good and free wifi. Reasonable prices with western movie themed menu. Is about 500 metres North west of railway station. Corner of Jl. Patimura and Jl. Trunojoyo

Bakso President

phone: +62341 496746

address: JL. Batanghari No 5

Kedai Remboeg Pawon

phone: +62852 34004267

address: Jalan Terusan Sulfat No. 19-21, Pandanwangi, Blimbing

Original Indonesian coffee blended by pro.
Drink
Malang is by no means famous for its nightlife, being a more relaxed and less party-intensive city, however there are still some decent bars if you're up for a drink.
KL Express Cafe

address: Jl. Villa Puncak Arjuna

24/7 bar

Levels Brewhouse

address: Jl. Terusan Borobudur No. 26

Bar with more rare beer brands and live music.
Sleep
Malang offers a full range of accommodation through from simple homestays to star-rated hotels.
Budget
Ardjuno

phone: +62 341 326929

address: Jl Brigjen Slamet Riadi No 122,

Windowless house, small rooms with what might be 20 year-old mattresses. The only entrance is 2 steps from a busy main road. A bit distant from the city center but closer to shopping mall Town Square. Free Wi-Fi. (Despite a photo you might find on Google, there's definitely no swimming pool.)

phone: +62 341 491386

address: Jl Kahayan no 6

A nice budget option. Stay in a family house owned by the charming Mrs. Grace Marten who speaks English, Dutch and Indonesian.

phone: +62 341 362741

address: Jl Patimura No 37

Clean hotel in a central location, unfortunately overpriced due to that fact and its popularity among Western tourists. There used to be 4 windowless tiny fan rooms next to the reception available for Rp 100,000, but no more as of March 2015: they'll send you upstairs to Kampong Tourist if you want a cheap room. Available rooms are Rp 200,000 (fan room) or Rp 280,000 (air-con). Free Wi-Fi. Tours can also be booked next door.

Kampong Tourist on the top of Hotel Helios

phone: +62 341 351801

address: Jl Patimura No 37

Dutch-owned backpackers hostel on the roof top of Hotel Helios. Great view over the city and the mountains. Choice between a 16 bed bamboo dormitory and three gazebo bamboo huts with 2 quality mattresses, but tiny blankets. Shared very hot showers and toilets. Well-maintained and clean. Free WiFi. Friendly English, Dutch and Indonesian speaking staff. Bicycle rental possible, also two quality mountain bikes (Rp 50,000), towels: Rp 7,500, toilet paper: Rp 3,000. Unfortunately quite noisy from 06:30 due to motorcycle traffic and a nearby Mosque (04:15). The restaurant is slightly overpriced and serves small portions. The banana pancake contains four small banana slices. Tours can be booked at reception.

Hotel Palem 2

phone: +62 341 325129

address: Jl. Mohammad Husni Tamrin No.15

Basic but relatively clean, rooms are bigger than in Helios. Breakfast included. No Wi-Fi - bring you own SIM card. Little English may be spoken here.

Pondok Backpacker

address: Jl Tumenggung Suryo 28

air condition12 bed mixed dorm. free breakfast. free wifi. Security lockers.

Kavie Hostel

address: Jl Merbabu 29

air condition10 bed mixed dorm. free wifi. self catering facilities.

Hotel Malang

address: Jl K H Zainul Arifin No 85-87

fan double room with shared bathroom
Mid-range
Hotel Pelangi

phone: +62 341 365156

address: Jl Merdeka Selatan 3

Centrally located mid range hotel in the city.

phone: +62 341 324989

address: Jl Cerme No16

A converted colonial building that dates from 1930s. Designed by Dutch architect Ir Mueller. Has been operating as a hotel since 1994. 52 rooms, large swimming pool and restaurant.

phone: +62 341 363 888

address: Jl Jaksa Agung Suprapto 12-16

Large 100-room modern hotel which is a little lacking in character but offers good value and service.
Splurge
phone: +62 341 363891

address: Jl Tugu No3

The sister hotel of the famous Tugu Hotel in Canggu, Bali, and a similar type of property. It is fitted and furnished with a range of Javanese antiquities. The owners of the Tugu rescued and relocated many splendid old trees here when property developers razed the old Malang botanical gardens. Located in the heart of the old town and looks out on the Tugu Monument which commemorates the independence struggle in Indonesia. A four-star property.
Stay safe
Hospitals
phone: +62 341 362101

address: Jl. Jaksa Agung Suprapto No. 2

RS Panti Nirmala

phone: +62 341 362459

address: Jl. Kebalen Wetan No. 6

RSU Lavalette

phone: +62 341 470805

address: Jl. W.R Supratman No. 10

RSI Aisyiyah

phone: +62 341 326773

address: Jl. Sulawesi No. 16

RST Tk. II Dr. Soepraoen

phone: +62 341 325113

address: Jl. S. Supriadi No. 22

RSI UNISMA

phone: +62 341 326773

address: Jl. MT Haryono No. 139

RS Panti Waluya Sawahan

phone: +62 341 362017

address: Jl. Nusakambangan No. 56

RS UMM

phone: +62 341 561666

address: Jl. Raya Tlogomas No. 45

RS Permata Bunda

phone: +62 341 487487

address: Jl. Soekarno-Hatta No. 75

RS Universitas Brawijaya (UB) Malang

phone: +62 341 4372841

address: Jl. Soekarno Hatta No. A6

RSIA Hermina Tangkubanprahu

phone: +62 341 325082

address: Jl. Tangkubanprahu No. 33

RS Bersalin Husada Bunda

phone: +62 341 566972

address: Jl. Pahlawan Trip No. 2

RS Khusus Bedah Manu Husada

phone: +62 341 320376

address: Jl. Sultan Agung No. 12

Persada Hospital

phone: +62 341 2996333

address: Jl. Panji Suroso Kompleks Araya Business Centre Kav. II-IV

RSIA Mardi Waloeja Kauman

phone: +62 341 358508

address: Jl. Kauman No. 23

RSIA Melati Husada

phone: +62 341 341357

address: Jl. Kawi No. 32

RSIA Mutiara Bunda

phone: +62 341 400403

address: Jl. Ciujung No. 19
Connect
The telephone area code for Malang is 0341

Go next
Batu - nearby hill town. Very cool, fresh and visually extremely attractive, with a few theme parks and beautiful views.
Bromo-Tengger-Semeru National Park - active volcanoes and unearthly scenery.
Surabaya, a port city that's a hub for local life.
Wendit - a little lake with a woody place full of monkeys, nice to see and to swim.
Sengkaling - a place for swimming with crystal clear water.