Malapascua
Malapascua
is an island in
Cebu Province
, located north of Cebu Island.
Understand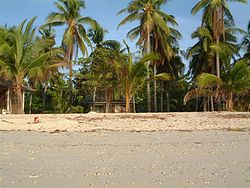 The first image Malapascua offers will stay with you for a long time: an exceedingly beautiful pristine stretch of white sand, crystal clear waters bordered by coconut trees and a dozen of scattered native style resorts. But as with all up and coming islands experiencing a boom in tourism Malapascua is rapidly becoming a second Boracay with modern concrete hotels to cater for the varied needs of the many. Despite this moderization, even the largest of resorts embrace the native build styles for a portion of their rooms. The north of the island remains untouched where the fishermen are just fishermen in native style houses.
Malapascua is known to the locals as Logon and the local beach was named Bounty Beach by the resort on the island Cocobana, some 20 years ago. It lies 8 km off the north of Cebu, and has a community of about 11,000 inhabitants (as of 2012). A walk or a tour of the entire island will take about 3 hours. The island's main income is from tourists who flock to the island to see the rare thresher sharks, white tip sharks and various rays, or visit for a romantic weekend break.
There is no ATM on the island but there is a Smart Money store, a money changer store, and many of the more popular resorts accept major credit cards. Trips to the closest ATMs in Bogo City can be an adventure in their own right and while may be seen as an inconvenience to the unprepared visitor, are generally considered an exciting experience by others. The trip consists of an ferry to the mainland then a choice of hired motorcycle (), bus ride ( each way) or a jeepney ( each way). If this added adventure is not for you, bring enough cash to last your entire trip plus any over-stay you may wish to take.
Get in
By plane
Mactan-Cebu International Airport
is the main gateway to
Cebu Island
for international and domestic flights. It is 7 km SE of the North Bus Terminal in Cebu city.
By bus
There are 3 bus companies that ride to/from Maya from the North Bus Terminal in Cebu:
Ceres, Cebu AutoBus and Rough Riders. The journey takes 3½ to 4 hours, video and air-con , non air-con .
You could hire a taxi, or a private car from Cebu to Maya, as well as arrange a pick-up with one of the resorts.
By boat
From Maya a local ferry (banca) goes across am and pm with a break at lunch time, 'till 16:30.
It takes about 1/2 hour and costs . First boat from Maya is at 06:30. A ferry will not leave unless it has enough people, so aim to arrive earlier rather than later.
Crossing can be rather wet and bancas have very little shelter from the elements.
When arriving/departing from Malapascua shores be prepared to either jump into the shallow waters or walk down a rickety plank. At low tide you can transfer to a smaller boat for .
When arriving to Maya you may have to transfer to a very small banca for the last 200 m.
A private banca to Malapascua can be hired from Maya for .
If you have arranged transportation with your resort you don't need to worry about any of the above.
Malapascua can also be reached from
Bantayan
and from
Leyte
(San Isidro), but there's no ferry service.
Get around
There is no transport on the island — not that you will need any, as you can walk everywhere.
Alternatively, there are many locals who own mopeds called habal habal, who are willing to give you a lift. They charge a fee of for short ride, and from south to north. You can rent a motorbike for a whole day for .

See
Snorkeling and fishing
. With its spectacular underwater flora and fauna there is much to see, making snorkeling a fine experience. A resort will rent boats, alternatively locals will take you on their fishing rakie.
Marine Protected Areas for Snorkeling are:
Coral Garden (close to Aabana Beach & Watersport Resort) east side,
Lapus Lapus (close to Los Bamboos Resort) northwest point,
Dakit Dakit (close to Blue Corals Resort) southwest point
Scuba diving
. Waters off the island offers some of the most exciting extreme dives in the
Philippines
, with adrenaline pumping adventure,
thresher sharks
and
manta ray
encounters. The dive shops seem mindful of the environment and have a caring attitude towards their customers, which is as well considering the kind of fish roaming around. Dive shops offer introductory courses to advanced
Scuba diving
and there are a couple of wrecks to explore.
Walks
. With about 6 km circumference, Malapascua has more than a few spots to see. It has a handful of exotic beaches like Bounty Beach, or Mangrove Bay, and to tower it all there is the lighthouse, very popular when it comes to watching the sunset.
Do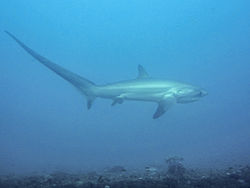 Malapascua is a diving destination. The main attractions are the thresher sharks and mantarays which are regularly encountered at the Monad Shoal. At other divesites, you can see mandarin fish, pygmy seahorses and the blue-ringed octopus.
PADI
Instructor Development Course
,
IDC
. Each season more divemasters choose Malapascua as their destination to go pro with the
IDC
course.
See also
Diving in the Philippines—Malapascua
.
Dive centers
Buy

Souvenirs. There are a couple of Malapascua T-shirt vendors around Bounty Beach, as well as craftsmen that sell wooden threshers shark figurines.
Groceries. There are a bunch of local shops scattered around the island. That sell from toiletries and painkillers to light bulbs, water, sodas, and snacks. There are fruit shops that sell bananas, apples, coconuts, tomatoes and other products.
Dive Shop. The big dive centers have a dive shop where you can buy wet suits, masks, knives, etc.
Books. A few hundred books up for free exchange at Malapascua Exotic Dive & Beach Resort (IDC Centre)and also at the Blue Corals Resort.

Eat
You will see
local eateries
spread all over the island. Do not let their worn aspect put you off of a good and cheap meal; usually rice with choices of veggies, meat, and fish. Some evening stalls barbecue finger-licking pork satay.
La Isla Bonita offers Philippine dishes and pizzas
Ging Ging's is a popular choice, eatery with a large array of options
Kiwi's Restaurant down a track behind Ging Ging's, a small family run eatery with great food and good prices.

Oscar's RestaurantAn eclectic mix of international dishes with a daily changing menu. Open air beachfront restaurant located above Thresher Shark Divers.

phone: +63 905 719 7323

address: Bounty Beach, Malapascua Island

The Craic House serves up delicious daily specials based on the best local produce and quality imported ingredients personally sourced by the owners. Everything that can be homemade is homemade from bread, wraps, falafel, cakes, pies, relishes, pates.

Purple Snapper Bar & RestaurantThey have great burgers. Also try their pizzas and Fettucine Chicken Aldfredo.

phone: +63 9153404906

address: Angelina Beach

Original Italian food.
Drink
Disco
. During high season, there is a popular disco event every Saturday, surrounded by stalls that sell beers and sodas, or food. Not to be missed!
The Pub UpstairsAn open air bar located above Thresher Shark Divers, nestled amongst the palm trees with a sea view, The Pub Upstairs is a lively watering hole for an apres-dive beer or cocktail. An excellent selection of local and imported beers and spirits.
Sleep
On arrival a few official-looking touts await the visitors but they are superfluous, considering the number of resorts, so take your time to choose what suits you best.
Touts won't charge you a fee; they'll get or more from the resorts, so they might just take you to the closest one or the one paying them the most rather than the best one.
Budget
Mike & Dioses Beachcottage

phone: +63 905 263 2914 (Mike), +63 917 524 4105 (Kiko)

Mike is the manager and owner; Kiko his friend, caretaker and representative. Only a few cottages are left over cause of building all new rooms. They have a thatched roof, bamboo (amakan) wall and veranda. The cottages are simple fan rooms, are located in garden area with seaview. Price range is per night, including breakfast. Mike & Diose's Beach cottage have the widest and cleanest beach on Malapascua, pure white sand and some bahay kubos for their guest are located on the beach.
Daño Beach Resort, cell +63 915-666-1584 or +63 927-381-7894. Lemuel Daño is the manager. There are 20 odd bungalows, all facing the sea; they have a thatched roof, bamboo veranda and the concrete cottages are simple, with a large room, and come equipped with a bathroom.
MGmatterhorn a small and very clean guesthouse, managed by Marites Monteclar, not on the beach. It's on the way to Bakaw-Kiwi eatery. One fan room good for two and about November 2011 two more air-con rooms. Free Wi-Fi. Prices starting from per day and room. Strictly no cooking in the rooms. Cell +63 915-554-3310 or e-mail maritesmonteclar@yahoo.com. Look the pics on www.malapascua.de. Look for matterhorn. Or go to: https://sites.google.com/site/abougibi/

Bebes Lodging HouseFan and AC double rooms, outside bathrooms. Said to be the cheapest on the island.

Villa SandraEnvironmentally conscious and socially-active, guest-house featuring in-house organic vegetarian restaurant, small gym, yoga classes, hammocks and a community-oriented souvenir shop. Can arrange tours, snorkel gear, tent, tattoos, paintings, etc.
Mid-range
Aabana Beach and Watersports Resort

phone: +63 905 263 2914 (Mike), +63 917 524 4105 (Kiko)

Beach resort. Cottages are about 60 meters from their own beach, having extra small bamboo huts for their guest on the wide and nice beach. All cottages have big terrace, air-con, warm and cold water shower, flatscreen LCD satellite TV, individual safety digital box, refrigerator and free Wi-Fi. There are also cottages which have a kitchen on the terrace for private guest use. They offer boat tours around the island, fishing tours, snorkeling tours and jet ski.

phone: +63 9274874092

address: Barangay Logon, 6013, Daan-Bantayan

Superior and deluxe rooms, all equipped with air-conditioning, safe and Wi-Fi. Facilities and services are scuba diving, Slam's Garden Bar & Pub and massage service.
Talk
Cebuano
is the common language here, followed by .
Most of the staff at the resorts and dive shops speak English fluently. Most locals speak enough to get by.
Stay safe
There is a basic clinic on Malapascua Island, close by to the Barangay Hall. A doctor comes only every Saturday to Malapascua's little clinic. So to help in case of an emergency injuries outside of a Saturday, one still has to go to the next doctor in Daanbantayan, and that is long way by boat and land transport.
For divers to get notice, the next decompression chamber is far away in Lahug, Cebu City, military hospital.