Maliana
Maliana
is in
East Timor
.
Understand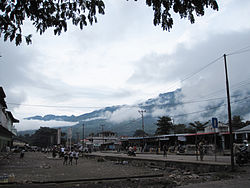 The third-largest city in Timor-Leste, Maliana has the air of a dusty wild west town. There's not much in the town itself, but it is surrounded by interesting landscapes and can make a good stopover or base for day trips.
Get in
About 3.5 hours from Dili on the main highway heading west past Dili airport. Just remember to turn right at the Tibar T-junction to go through
Liquica
, Maubara, Batugade and Balibo. This is somewhat of a historic route, with possible stops at the prison ruins before Liquica, the fort at Maubara and the house at Balibo with an exhibition on the murdered Australian journalists, as well as another ruined fort. If you have time, go straight at the T-junction for a challenging, but scenic 8-hour trip through
Gleno
,
Ermera
and eventually to Maliana.
Get around
The highway runs northwest-southeast and intersects with Maliana's main street next to the sports field and gymnasium. This area is easy to walk around, but some hotels are on a hill that is accessed by a road turning right off the highway about 500 metres south past the intersection (opposite a cemetery).

See
The market on the main street is interesting to walk around but doesn't sell much except for fruit, vegetables and household products.

Eat
Restaurante Maliana

address: Main St

Pleasant restaurant that typically has a watery curry or stew plus local favourites like liver, beef rendang and vegetable dishes.

Laduena

address: Main St

A somewhat larger and more Indonesian menu than the one next door, with beef, chicken and vegetable dishes in the window, plus some a la carte choices.
Sleep
Risky HotelDespite the name, it may be the safest option in Maliana. Reliable water from its well, you will probably have a fan and you might even get toilet paper. Upstairs rooms have a mandi and squat toilet while downstairs rooms have a cold shower and sit-down toilet. Nice terrace with mountain views.

Ramascoras ResortNot much of a resort but a decent hotel by local standards. Clean rooms, AC and hottish water. You might need to bring your own towels and toilet paper.

DioceseIn the church compound, the rooms are in a building built to look like a church. Usually clean but often has water problems.
Go next
Marobo Hot Springs
are about 1.5 hours from Maliana. Take the highway south and it winds into the mountains and along a windswept ridge where, on a good day, you can see the south coast in one direction and Ramelau in the other. A bit further along (keeping left at the fork - the right one goes to Bobonaro village) is a 3-way junction. The road on the left with an arch leads to Marobo. After the village itself, the road gets steep and rocky. First you come to the stone ruins of a Portuguese resort, which are good for exploring and for views down the valley. Further on, the road is blocked and the springs are a short walk beyond. There is a pool there but the water is seriously hot. Local families maintain it and charge a fee for usage or to have kids slather you with sulfuric mud.
You can then take the slow scenic route back to Dili via
Ermera
. Take the other road at the 3-way junction and look for the next major left fork - it's in the middle of a village and both forks are paved - the high road on the right goes to Zumalai and the low road on the left goes to Ermera. Take food as it may be hard to find restaurants.