Mamaroneck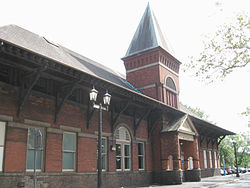 Mamaroneck
is a village in
Westchester County
in
New York
.
Understand
Mamaroneck usually refers to Mamaroneck Village. There is also Mamaroneck Town that encompasses Mamaroneck Village, Larchmont Village, and additional land called the unincorporated area.
Mamaroneck is a largely suburban bedroom community along the Long Island Sound.

Get in
Your best bet is to drive in unless you are just visiting the strip along Mamaroneck Avenue. Unless there is a major event going on, parking can easily be found. The other major alternative is to take Metro North Railroad's New Haven Line to the Mamaroneck station. It is about 35 minutes from New York and the fare is $14.50 round trip off peak. The train station is on the man drag (Mamaroneck Avenue) about three blocks from the water. Westchester County also operates Bee-Line busses. Routes 60 and 61 stop in Mamaroneck.

Get around
Getting around the downtown can easily be done by walking. Otherwise, driving is your best bet. Taxis are easily available.

See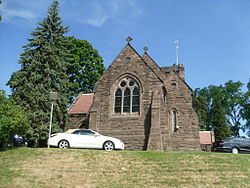 Harbor Island Park

phone: +1 914 777-7784

This village park is on the water, features a popular beach and walkways along the water. In the springtime, there are cherry trees in bloom.
Do
Volunteer Fire Department Carnival

address: Harbor Island Park

This annual carnival happens evenings around July 4th. Amusement Rides, carnival food. The fireworks on the fourth attract crowds from far and wide.

phone: +1 914 698-0098

address: 153 Library Ln
Eat
There are many good restaurants along Mamaroneck Avenue.
Cafe Mozart

phone: +1 914 698-4166

address: 308 Mamaroneck Ave

Fairly well respected cafe serving light fare.

address: 937 Palmer Ave

Famous hot dog stand.

Sal's Pizza

phone: +1 914 381-2022

address: 316 Mamaroneck Ave

Famous local pizza joint. Former residents returning after time away often make this their first stop returning to town.

Nautilus Diner

phone: +1 914 833-1320

address: 1240 W. Boston Post Rd.

Glass and chrome with an extensive menu, decent food and service. Very clean.
Drink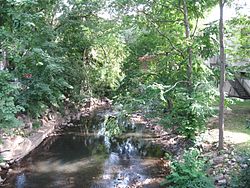 Molly Spillanes

phone: +1 914 899-3130

address: 211 Mamaroneck Ave

Bar'Lees Wine & Whisky Bar

phone: +1 914 630-7512

address: 157 Mamaroneck Ave

Duck Inn Bar & Grill

address: 128 W Boston Post Rd
Sleep
phone: +1 914 698-0671

address: 1015 West Boston Post Rd

A small, old-fashioned motel. The only hotel in Mamaroneck itself, and the least expensive motel for miles around. All rooms have two beds (a double and a twin).