Mammoth Lakes
Mammoth Lakes
is a resort city next to
Mammoth Mountain
which is a popular skiing destination. Mammoth Lakes is in the
Eastern Sierra
region of the
Sierra Nevada
mountains in
California
.
Understand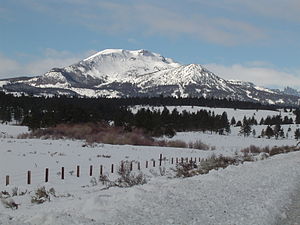 The Sierra Nevada mountains are a popular snow skiing destination. For Californians living in
Los Angeles
, Mammoth Mountain is the easiest resort to get to from
Los Angeles
.
The Town of Mammoth Lakes serves one main function: a place for these hordes of Los Angelenos to stay. Condos, motels, hotels, and restaurants fill this small town to serve the flood of winter visitors. In summer, the flood stops and rents plunge, making Mammoth an affordable base to explore the region.
Climate
At 8000 feet of elevation, the city stays naturally cool during the region's summer heat waves. Nearby
Bishop
routinely heats to 105°F (40C) while Mammoth tops out around 84°F (29C).
Get in
By plane
By car
Nearby US 395 brings visitors from the south (
Los Angeles
and
Bakersfield
) and the north (
Reno
).
From the
San Francisco
Bay Area
, Highway 120 (Tioga Road) from
Yosemite
is the quick route, but is passable only in summer and early fall. Interstate 80 and US 50 provide cross-mountain access during the winter months, subject to icy conditions and closure due to blizzards.
By bus
The Eastern Sierra Transit Authority (ESTA) operates a bus to and from
Lone Pine
in California and the Reno Nevada Greyhound Bus Station that stops at the Mammoth Lakes McDonalds on Route 203, once northbound and once southbound each day (the bus also stops at the Reno/Tahoe Airport). The same Authority also operates a route to and from Mammoth Lakes and the
Lancaster
, California Greyhound Bus Station also once northbound and once southbound each day (the bus also stops near the Inyo Kern Airport).
Yosemite Area Regional Transit SystemThe YARTS shuttle travels on Highway 395 and 120 from Mammoth Lakes to Tuolumne Meadows and Yosemite Valley, with stops at the Mammoth Mountain Inn, The Village, the Juniper Springs Resort, the Mammoth Lakes Park & Ride, and the Shilo Inn. Ticket prices include park entry, and can be purchased from the shuttle driver.
Get around
Between the city of Mammoth Lakes and the Mammoth Mountain resort, a bike will do fine in summer. Frequent trams run between the town and the slopes during the winter, with outside racks for skis and snowboards. For everything else, you need a car.
Village Gondola stationRides up to canyon lodge
See
Hot Creek Geological AreaAn area of hot springs and steam in a very small canyon. Several pools are scalding hot and will result in death if you jump in. Swimming is forbidden due to increased geothermal activity.

Mammoth Mountain Ski AreaIn winter, this is the main ski resort. In summer the gondola will take you to the top, and the view is amazing. Bring warm clothes for the top.
Do
Ski & Snowboard (Fall, Winter and Spring, depending on precipitation). Most years the ski season extends until July 4th. One of the top ranking Ski and Snowbarding Resorts in the United States.
Mountain Biking (Summer only). The ski resort will carry your bike up to the top of the mountain so you can coast down it. Rentals available.
Fish. The many lakes in the lake basin just west of the city (and north of the mountain) are popular. Boat rentals available.
Hike (Summer only). To beautiful and amazing locations such as Rainbow Falls and Devils Postpile. An easy 3.5 hike.
Horseback Ride (Summer Only). Various of tours through beautiful remote areas.

Snowshoeing

address: Tamarack Lodge

(Winter only) Many snowshoeing trails can be found on the road to Lake Mary behind Tamarack Lodge. These trails are marked and free to all hikers.

Sierra Star Golf Course

phone: +1 760 924-4653

address: 2001 Sierra Star Pkwy

18-hole championship golf course in the middle of town. Narrow tree-lined fairways at an elevation above 8000 feet make it a challenging course.

Backcountry Camping(Summer only) The nearby Reds Meadow and Devils Postpile National Monument areas provide easy access to the John Muir, Pacific Crest and many other trails allowing entry to the backcountry Ansel Adams, Inyo, Sierra, John Muir and Yosemite nationally protected areas. Permits are required and national regulations apply.

phone: +1 760-924-5500

address: 2510 Main St.

Mammoth Lakes is surrounded by several scenic views and places you shouldn't miss, Yosemite National Park, Bodie Ghost Town, Mono Lake, Devils Postpile National Monument, Hot Creek and Rainbow Falls. Visit the welcome center on your right when you pull into town.
Eat
Angel's Restaurant

phone: +1 760 934-7427

address: 3516 Main St

Base Camp Cafe

phone: +1 760 934-3900

address: 3325 Main St

Good burgers and sandwiches. You can order a brown bag meal to take skiing or hiking.

Breakfast Club

phone: +1 760 934-6944

Good Life Cafe

phone: +1 760 934-1734

address: 126 Old Mammoth Rd

phone: +1 760 934-3800

address: Convict Lake Rd

You're always sure to dine on Mono County's famous Alpers Trout at Convict Lake, because if you don't hook one, you can always order one at the Convict Lake Restaurant. This dining room is famous for its "Country French" cooking with Beef Wellington (hey, isn't that English?), rack of lamb (New Zealand?), salmon (Alaskan?), pasta (Italian?) and "succulent steaks" (so, what's French about it? - guess you'll have to go to find out).

The Lakefront Restaurant

phone: +1 760 934-2442

Reservations recommended.

Petra's Cafe

phone: +1 760 934-3500

address: 6080 Minaret Rd

The Stove

phone: +1 760 934-2821

address: 644 Old Mammoth Rd

Whitebark at the Westin

phone: +1 760 934-0460

Contemporary chop house with and eclectic menu of appetizers.

Restaurant SKADI

phone: +1 760 934-3902

address: Old Mammoth at the Corner of Chateau

Fine Alpine cuisine.
Drink
Sleep
Connect
phone: +1-760-934-4777

address: 400 Sierra Park Rd

Public computers and free Wi-Fi

Mammoth Lakes Post Office
Go next