Manado
Manado
is the largest city in and main gateway to
Northern Sulawesi
,
Indonesia
.
Understand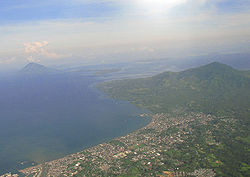 The capital of the province, the former stronghold of the Dutch (called
Menado
during the Dutch colonial time) and the cultural center of the Minahasa people, for a long time Manado prospered through trade with the nearby Philippines and the spice trade with the rest of the world. Alas, the bombings of World War II and the suppression of a local insurgency in the 1950s flattened most of Manado's older buildings. While by Indonesian standards still relatively prosperous, most visitors will be rather less impressed and head straight to the islands and reefs of nearby
Bunaken
. Unlike much of the rest of predominantly-Muslim Indonesia, Christianity is the dominant religion in Manado.
Weather
Mostly sunny throughout the year, the wet season usually starts from September until March/ April. During its hottest days, it can reach up to 32C. In the highlands of Tomohon, Tondano, Kawangkoan it is cooler but sunny nonetheless.
Get in
Manado is quite far from the rest of Indonesia and most visitors arrive by plane.
By plane
Manado's
Sam Ratulangi Airport
(
MDC
) An airy, modern facility last expanded in 2001. The airport fields some international flights to Singapore (Silk Air, 4x weekly, 3h) with visa on arrival possible, but Air Asia no longer operates.
If you want to make a call in the airport, please have your cell phone ready, don't count on the public phone.
There are also frequent flights to Jakarta (Garuda, Lion Air 3h, 600,000+Rp) and Makassar (1.5h). Other flights include Surabaya(East Java), Balikpapan (Kalimantan), Denpasar (Bali), Ternate (North Maluku), and Sorong (Papua). A taxi from the airport to central Manado takes about 30 minutes and costs Rp 70,000 (bargaining may be necessary). There are also frequent mikrolets leaving from Terminal Paal 2 costing 2,300 Rp that take about the same amount of time.
Departure tax from Manado is Rp 100.000 for international flights and Rp 30,000 for domestic flights. The terminal has an Internet cafe in the public area and the standard array of restaurants (KFC, Es Teler 77) and gift shops inside, but note that there is nothing once past immigration.

Get around

The main ways of getting around are ojek/ompreng, moped taxis that can be a bit scary, or with Mikrolets (mikros), the blue mini buses that you jump on just standing by the street. They all have a certain route and within a day one should figure out how it works.

By taxi
There are several taxi operator here : Bluebird, Taxi Kokapura, Trust, Celebrity. The most reliable one is Bluebird, the blue taxi. It is the most trusted taxi operator in Jakarta and other cities in Indonesia. The Manado office phone number is (0431) 861234.

By Angkot (Angkutan Kota)
Also known as mikrolets or bemos. Angkot is the typical Indonesia's cheapest way of transportation inside the city. Most of cities in Indonesia have this Angkot, as well as Manado. Angkot is a minibus of 8-10 passengers. The cost is charged on per trip basis, which is Rp. 4,000 (as of Oct 2018).
Compared to angkots in other cities in Indonesia that have side-facing seats, the ones in Manado come with all front-facing seats. Manadonese are known for being picky and would only take the good-looking and full music angkots.

By rental car
Manado Rental Car around Rp. 500,000 per day, already included Driver and Gasoline, or Self Drive approximately Rp.300,000.- per day.
For Central Information tel +62 852-4022-0620 or +62 431-892-979.
CV. Sinar Berkat Rent a Car Manado, has been operating since 1995 has various types of care. Reservation can be made through email at sinarberkatmanado@gmail.com or mobile at +62 818 834 726 or +62 431 8876. The service includes pick up and drop at the airport.

By ojek
Ojek is motorcab taxi (pronounced "O - jack"). Ojek is also a typical cheap land transportation in Indonesian cities. In Manado, ojek rate is not fixed, and depends on the distance and is negotiation. For a very short distance (+/- 1 km.), it will be around Rp. 4,000.

By transportation-sharing app
Transportation sharing app like Grab and Go-Jek are already a commonplace in Manado. You can even take it to go to Tomohon (give the driver a little bit extra, considering the worst case that the driver needs to go back to Manado without passenger).

See
Ban Hin Kiong is the oldest Chinese temple built in Manado during the Qing Dynasty era in China (1644-1911). It is a house of worship for the Tridharma followers from Manado and the region.This Temple is located at D.I. Panjaitan Street in Manado, which is the center of the city's China Town. There are some shrines and temples, homes and interesting shops run by Chinese. The temple is easily reached by public transport, by mikrolet or taxis. Visitors can also rent a car or motorcycle to tour China Town.
Bukit Kasih 45 km south of Manado. 5 km from Kawangkoan. One of popular tourist destinations in North Sulawesi. Go to the top of the Hill by climbing 2435 stairs to see an amazing view of nature. There are many natural hot springs around this area. Get your feet relax. Nearby, you can visit Watu Pinabetengan, an animism site
Modoinding. Agrotourism place, where all kind of vegetables and spicy came from, to supply the demands of East part of Indonesia, the area is about 900-1,200 metres above sea level. The place is cool and you will find Modoinding valley with Moat Lake with "Bukit Doa" on the east, very beautiful place. There is also Ambang National Park where you can see Golden Owl as favorite for Bird Watching activity. About 180 km from Manado. You also able to stay in the community house, Traditional Minahasan wooden house with IDR 200.000, approx 20USD a night for the small house with western toilet and shower.
Do
Day Trip to Bunaken: Manado is famous throughout the region for its diving areas. Bunaken is one of the well-known national marine park in Indonesia. 30 minutes boat ride. See its Wikivoyage article for more information.
Day Trip to Tangkoko National Park: Home of tarsiers and macaques, about 50 km from Manado. 1-2 hours ride. See its Wikivoyage article for more information.
Buy
Manado Town Square (Mantos)

address: Jl. Piere Tendean, Kota Manado, Sulawesi Utara 95114

The biggest shopping center in Manado. You can find various Western stuff here.

Mega Trade Center (MTC)the shopping place for electronics and bulk purchase. Similar to Mangga Dua ITC in Jakarta or Makassar Trade Center.

Megamallshopping center with two blocks, connected by a bridge.

Manado Inter Money Changer, located in front of Bahu Mall, next to Bank Tabungan Negara (BTN), Jl. W. Monginsidi No:62 Bahu Link: III Manado, Ph: +62 431-866676 & +62 431-866677.
Eat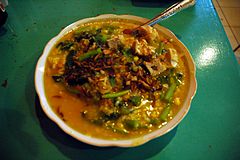 Manadonese food is famous throughout Indonesia for two things: the Minahasa eat
absolutely anything
, and the flavour of choice is very spicy. Sugar is used little if at all, with flavour added through lemon and herbs. Being Christian, the Minahasa also often marinate meat in alcohol and favour pork. More exotic protein options include cats, forest rats, fruit bats and dogs, the last of which is the obligatory centerpiece of any wedding ceremony or Christmas feast. Classic dishes include:
ikan mas bakar rica, grilled spicy fish cooked in traditional style, using a piece of coconut shell as a way of cooking. Grilled together with chilli, that poured in the fish while cooking.
ikan mas goreng, fish fried till the soft bone is crunchy.
ayam rica-rica, grilled chicken topped with a fiery red chili-and-onion paste
ikan mas woku balanga, fish simmered in herbs
babi tore, fried pork until crunch with a lot of chilli
perkedel milu, corn fritters
tinutuan (or bubur manado), a goopy porridge of rice, pumpkin, noodles and random vegetables — doesn't look very attractive, but it can be tasty and, for once, not spicy.
miedal, very similar to tinutuan (same sauce), but using noodles instead of rice.
biapong, a chinese-style bun dumplling. what is called 'bao' in Chinese, is called biapong here. different fillings available.
Dutch settlement here has also brought in a few surprising influences, notably:
brenebon (bruine bonesoep), a rich red kidney bean soup, comes in two version, savory (as a side dish) and sweet (for desserts)
klappertaart, a Western-style coconut cake
Budget
Fresh grilled fish is served every morning in a small warung near the harbour dock to Bunaken. The place is very basic, but don't mind the look. Just ask around for warung ikan bakar and hope someone helps you.
Mid-range
Bambuden Seafood Restaurant @Sario, Jl. Pemuda No:2 Sario Manado, Ph: +62 431-852459 / 864096 / 9197772. Well-known locally for grilled & fried fish, and also offers a variety of seafood dishes.

Kawan Baru Restaurant and Cafe

phone: +62 431-879490, +62 431-879491

address: Mega Mas Boulevard

Indonesian food.
Raja Sate BBQ & Asian Resto, Jalan Boulevard (near Mega Mall), tel. +62 431-3327380 or +62 431-846679, . Asian cuisine, with an emphasis on satays and barbequed seafood.

Warong Rica Rica

phone: +62 431-879490

A seafood restaurant located at Bahu Mall Bay street Cafe. Local seafood with panoramic sea views.

Pizza Hut

phone: +62 431-842732

address: Mega Mall

The usual pizza from a well known chain

address: Mega Mall

Best place for coffee and light snacks.
Drink
These two kind of drinks are made from Palm trees:
Please Drink Responsibly, the locals have a bad habit of drinking IRRESPONSIBLY.
Probably, the ONLY major crime problem in town is caused by drunkards.
Raja Oci

phone: +62 431-863946

address: Jln Sudirman no 85

Seafood Restaurant with "Oci" as speciality fish
Sleep
Manado is Sulawesi's other bustling center of business and tourism. And with demand to match, the prices here are higher than elsewhere in Sulawesi. However, if you are willing to pay up, luxury options that you haven't seen since Makassar are available here.
Budget
Hotel Ahlan

address: Jl. Sudirman

Stuffy, unappealing, dilapidated. Double room w/out air-con and with stuffy shared bathroom, but cheap.

Metropolitan Inn

phone: +62 431-845-433

address: Jln. Arie Lasut No. 69

Located on the quiet side of the river, this popular place has good-value single rooms at 120,000 Rp (outside bathroom) and doubles 180,000 Rp (inside bathroom), both include breakfast. Wifi is available in the lobby, 10,000 Rp one-time fee for the duration of your stay.

Rex Hotel

phone: +62 431 51136

address: Jl. Sugiono 3

Very basic room. Staff can help you arranging transport to Gorontalo or Pulau Bunaken.

Sinar Berkat Stay

phone: +62 818 834 726 or +62 817 012 1270

Located in the downtown where suitable for budget or backpacked travelers that need to lay back and enjoy the city. The rooms have a bed, air-con and bathroom.
Mid-range
Hotel Central

phone: +62 431-851234

address: Jl. Sam Ratulangi No. 33

Opened in 2004, the sheen of newness is fading fast, but the rooms are clean and functional with air-con and hot water.

Hotel Minahasa

address: Jl. Sam Ratulangi

A nice family-run place on Sam Ratulangi. They are used to tourists, as well as being the main place that academics in the area stay in, so you are apt to meet someone who could really fill you in on the local scene. The drawback is the monotonous breakfasts.

Hotel ReginaBig rooms with AC, tv and bathrooms with hot water. The best option on this street of Lonely planet recommended cheapies.

Hotel Wisata

phone: +62 431-860908

address: Jl. Sam Ratulangi No. 7

Another popular business hotel. All rooms have AC, hot shower and TV, the difference in room quality is really a matter of the size of the room, the date of the furniture and the size of the bed.

Villa Wantik

address: Jl. Raya Manado - Tanawangko km. 21.

Homestay with nice views.
Splurge
phone: +62 431-8888989

address: Jl. Jend Sudirman No. 128

Enjoy a beautiful hotel in the very heart of Manado that combines exceptional service and attention to detail to ensure a most memorable stay. The delightful Aston Manado City Hotel offers over 100 rooms and suite with dramatic views of the city skyline. Experience the best restaurants, entertainment, and shopping, as well as the city's fines attraction, all within easy walking of the hotel.

Hotel Gran Central Manado

phone: +62 431 878888

address: Jl.Sudirman No.45

the most strategies hotel in town, located in the centre of the city with 65 room price from Rp 350.000

Sintesa Peninsula Hotel

phone: +62 431 855008

address: Jl. Jend. Sudirman, Gunung Wenang Manado SULUT 95123 Indonesia

Located in the very heart of the city of Manado,just 30 minutes from Sam Ratulangi International Airport. Featuring 150 spacious and modern superior rooms, studios, corner suites, deluxe suites, sintesa suites and a presidential suite, the luxurious standards of accommodation will rival those of any major city in South East Asia and combined with extensive Conference, Seminar and Banqueting facilities

phone: +62 431-825888

address: Desa Tateli

Was perhaps a 5-star resort 20 years ago. It is 20 minutes drive from Manado City. Some rooms feature view of the sea, others the garden. While it has been through a downward phase, it is under new management and is very nice. They provide good access to Bunakin via a 30 minute boat ride. It is up to 3-4 stars now, and with more business, looks like it will continue to improve.

phone: +62 431-858222

Often cited as the only resort facing Bunaken island, offers a wide range of accommodation options ranging from deluxe, bungalow and suite, all over looking the beautiful sea.

Hotel Aryaduta Manado (former Ritzy Hotel)

phone: +62 431 8555554

address: Jln. Piere Tendean Bulevar

Offer rooms equipped with air-conditioning, TV with cable channels, coffee/tea maker, and Internet access. Some of its facilities and services include the Cakrawala Coffee Shop, a swimming pool, the lobby lounge, massage and room services.

phone: +62 431-822-888

address: Jl. Sam Ratulangi No. 458

Shabby, tired and out of the way.

phone: +62 431-888-3888

address: Jl. Piere Tendean No. 88 - 89

A short walk from the Mega Mall with restaurant and bar services, wonderful staff and rooms.

Mapia Resort & SpaLocated on Kalasey beach, 30 minutes from the airport. Boutique Resort in a beautiful tropical garden resort with Indonesian/Italian cuisine. Diving operated by Celebes Divers as on the sister location Onong Resort on Siladen Island. Both resorts have 24/7 electrical power and all cottages are air-conditioned.

phone: +62 431-823444

address: Jl. Raya Trans Sulawesi

Boutique resort with 34 rooms in a peaceful and scenic palm fringed backdrop, ideal for divers & non-divers, families and adventure seekers.
Connect
Telco : Cell, Net

There are 3 main providers of GSM cellular services in Manado : Telkomsel, Indosat / Satelindo and XL (Axiata co). As per November 2010, Telkomsel provides EDGE, 3G WCDMA, 3.5G HSDPA. Indosat only GPRS,EDGE. XL up to 3G. Please note that high bandwidth cell service mainly works in downtown area of Manado. All 3 of them carries Blackberry services.
Prepaid GSM SIM cards dan CDMA RUIM cards can be cheaply purchased (approx 1 USD) at almost every supermarket along with their reload vouchers, ranging from approx 50C US (Rp 5000) to approx 10USD (Rp 100K).

Internet Cafe
If you want to go online cheaply then go to Ocean internet cafe, at the 3rd floor of Samudera minimarket located in the Megamas shopping center area on the Manado boulevard. The rate is approx 50C US (Rp 5000) hourly and the bandwidth speed is good. It is open from 1000 to 2200.

Consulates
Philippine Consulate General
Address: Jl. 17 Agustus No. 30A
Tanjung Batu, Manado 95119
Tel. +62 431-862-181 or +62 431-861-178
Fax +62 431-862-365
email: manadopcg09@yahoo.com

Go next