Manali
Manali
is a city in the
Kullu Valley
.
Understand
Manali, at the northern end of the Kullu Valley in Himachal Pradesh, is a hill station at a height of 2,050 m (6,398 ft) in the Himalayas. Situated on the Beas River (Vyaas in Hindi) and near its source, it is a popular tourist spot for Indians in summer and a magical, snow-covered place in winter. A staging point for a number of treks (Beas Kund, Chandrakhani Pass) and sports such as white-water rafting, Manali is also on the road to
Ladakh
via the valley of
Lahaul and Spiti
and Rohtang Pass, which is the main attraction near Manali.
Weather
Minimum temperature could range between -15 to -5 °C from October till March. December, January and February are coldest months. Rest of the year the minimum temperature would be between 15 to 20 °C.
As temperature goes below freezing level, especially during winter season, travelers are advised to carry appropriate clothing.
Climate
The climate in Manali is predominantly cold during winters, and moderately cool during summers. The temperatures range from 4 °C (39 °F) to 26 °C (68 °F) over the year. The average temperature during summer is between 04 °C (39 °F) and 15 °C (59 °F), and between −15 °C (5 °F) and 05 °C (41 °F) in the winter. Monthly precipitation varies between 31 mm (1.2 in) in November to 217 mm (8.5 in) in July. In average, some 45 mm (1.8 in) of precipitation is received during winter and spring months, increasing to some 115 mm (4.5 in) in summer as the monsoon approaches. The average total annual precipitation is 1,363 mm (53.7 in). Snowfall often takes place between November end to early February. The weather in Manali is not stable.
Get in
By bus
Manali is about 570 km from
Delhi
, the capital of India, and there are buses connecting the town with Delhi,
Shimla
,
Dharamsala
and
Leh
. For service from Delhi to Manali, tickets and reservations can be made at the Inter State Bus Terminus as well as at the Himachal Tourism office on Safdar Hashmi Marg near Mandi House in New Delhi. The approximate travel time from Delhi to Manali is 14 hours; from Ambala to Manali is 10 hours; and from Kulu to Manali is 1½ to 3 hours. Volvo buses—which depart at around 17:00 and reach at 09:00-10:00 next day—are available from Delhi and is the best option in terms of comfort and value for money to reach Manali but you need to book these in advance. Hotels like kapoor resort book your volvo with wifi connection and personal led screen along with their hotel package.
As the windows do not provide fresh ventilation on the Volvo buses, passengers prone to motion sickness are advised to consume anti vomiting medicines (Avomine is a popular brand) and avoid eating just before/ after boarding the bus.
By private taxi
If hiring a private taxi, ensure that the driver has experience driving in hilly regions and does not have the habit of drinking alcohol. Also make sure the driver has done the trip at least once before and knows all roads. Also make sure that the driver is used to drive for long hours. Many operators turn off air-conditioning during the majority of the hill journey, or demand to be paid extra if asked to. Best to confirm this prior to booking. If you are going to Manali through Chandigarh-Ropar-Kiratpur-Bilaspur-Mandi-Kullu highway, then your driver would need to drive on hilly roads for at least 6 hours. The expected price is somewhere around ₹3000 to ₹4000/day for an Indica hatchback or a bigger Innova car from Delhi.
By train
The nearest Broad Gauge Rail Head is Chandigarh (310 km). Ambala Cantonment en route Chandigarh is on the Delhi - Amritsar and Delhi - Jammu main lines and is well-served by rail, but you will need to travel to Ambala to get a bus for the 10 hour ride to Manali. Jogindernagar and Kalka are other, less preferable, rail heads for Manali.
The nearest Broad gauge station is Kiratpur Sahib in Punjab near the city of Nangal. It lies in Ropar district of Punjab. The station lies on the Ambala Cantt - Una route of Indian Railways. From here you can easily get buses for Manali.
By plane
The nearest airport is Bhuntar (Kullu) Airport (
KUU
); Tel: 01902-265037, 265603), 50 km from Manali, 10 km from Kullu, about one hour away. Air-India has a morning flight from Delhi operated by Alliance Air.
Delhi is the nearest international airport, 560 km away from Manali. That airport is well connected to major cities in India as well as cities abroad.

Get around
There are various ways of getting around in Manali, if you are not already travelling with your own vehicle. Most tourists hire a taxi (various kinds available), which takes you around to all the sight seeing spots in and around Manali (Rohtang, Manikaran, etc.) It costs about ₹1800 per day, or little over ₹3000 if you book together for 3 days (in the peak season). Dress for Rohtang cost around ₹150 for each set including boots and sking set will cost you around 200. These detail are mentioned at a board at Mall Road. Be sure to bargain.
The second most common way is to hire a motorbike. There are many places where you can hire a motorbike (easy to find if you ask around), and is the most common mode of transport for foreigners. Cruiser bikes like Bullet and sport bikes from Honda, Bajaj, Yamaha, are easily available, though Bullet is the most commonly seen one on the roads. Rates hover around ₹800-1500 per day in the peak season, but much discounted at other times. A good place worth a look will be in Bike Rentals Manali office in Vashisht 9816044140, have a good selection of Royal Enfields and Pulsars. Also 'Tinku' Bike mechanic near old Manali bridge is an honest shop for bike rentals.
Public transport is not so good. There are cheap bus services, but they are not so frequent. Yet, if you are going to stay for a long time, it is better to know the times and use them, as other modes of public transport and exorbitant compared to bus. For e.g., auto rickshaws take ₹200 from Manali Mall Road to Solang Valley, while the bus will cost you just ₹10. The buses are not punctual specially because they seem not have a written schedule. The best option is to ask about timing at the bus terminal. Buses starts to run at 07:00-08:00. Frequent a bus can be cancelled or late. You can get in and out almost at any place on the route; just wave at the driver.
Public bus routes
Kullu - Manali. Price ₹60. Every 15 min
Manali - Naggar. Every 1½ hr
Manali - Solang. Every hour
See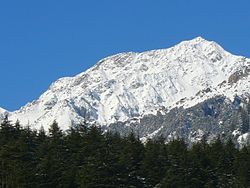 Rohtang PassAt an altitude of 3979 m (13,050 ft) above sea level, this is another adventure tourist site where it can be cold even on a summer day. It is the highest point on the Manali-Keylong road and provides a wide panoramic view of mountains rising far above clouds, which is truly breath-taking. Close by is a small lake called Dassaur Lake. Beas Kund, the source of river Beas, is also nearby. In winter, the road of Rothang Pass is closed. The road to Rohtang Pass is closed at Manali bridge on all Tuesdays between 09:00-18:00 for carrying out road widening work & repairs. If you are able to leave early, before 09:00, you can avoid the traffic rush (found on all other days) and have Rohtang Pass to yourself (well almost!). Flip side is to be prepared for stoppages (extending up to a few hours) on the return trip as the road is blocked off where repair works are progressed. If you are driving up, be prepared for the rough broken roads at many places, sheer blind turns and tight hairpin bends, which can be exhilarating depending on the state of your nerves. If you are hiring a vehicle then better rent a four wheel drive vehicle from Manali. Some times the local people along with police does not allow the non-four wheel drive vehicles from going beyond Snow-Point (a place 16 km before Rohtang Pass) and force to hire their owned 4WD vehicles at exorbitant prices which can be up to ₹2000 per person. This happens in the winter times when there is heavy snow fall. The tours organized by HPTDC do not go up to Rohtang pass and terminate at Snow-Point. Shared taxis are also available.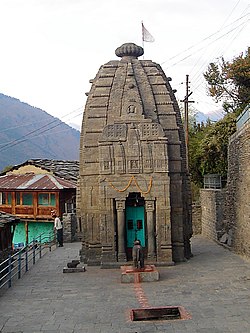 Beas KundAn igloo-shaped temple, on top has a spring which is the origin of River Beas.

Fun parkNear the Hadimba Temple

Gauri Shankar Temple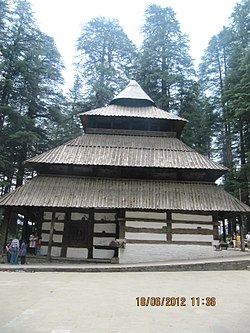 Hadimba TempleIt is an ancient cave temple dedicated to Hidimbi Devi, who was a character in the Indian epic, Mahābhārata. The temple is surrounded by a cedar forest at the foot of the Himālayas. The sanctuary is built over a huge rock jutting out of the ground, which was worshiped as an image of the deity. The structure was built in the year 1553.

Maa Sharvari TempleThis temple is represented as Kuldevi of the kings of Kullu in early times and is worshipped as a manifestation of Durga, and image of the goddess is also enshrined here. The divinity is popularly worshipped throughout the region during the festivals and the Goddess is transported to Kullu to visit the Lord Raghunathji during Dussehra festival. This temple is on the top of above the Shaminallah village, which is around 5 km from Manali, across the Beas river on the left bank on the way to Naggar Casttle

MonasteriesManali is known for its shiny gompas or Buddhist monasteries. These are maintained by donations from the local community and by the sale of hand-woven carpets in the temple workshops.

Museum of Himachal Culture & Folk ArtThe museum is situated on a two minutes walk from the Hadimba Devi Temple in Utopia Complex. The museum is a unique and extraordinary collection of unknown and rare antiques of the state. It demonstrates the almost extinct articles that clearly display the forgotten culture, art and handicraft of Himachal Pradesh. The museum has 18 galleries in it which display antiques from different aspects of cultural life of people of Himachal Pradesh.

Old Manali3 km northwest of Manali is Old Manali, famous for its orchards and old guesthouses. There is ruined fort here by the name of Manaligarh. There is also the Manu Maharishi Temple, dedicated to sage Manu.

Rahala waterfallsAbout 16 km from Manali at the start of the climb to the Rohtang Pass, are the beautiful Rahalla Falls at an altitude of 2,501 m.

Rozy FallsOn the way to Rohtang amazing water fall worth seeing. this water fall looks amazing between the high hills.

Solang ValleyPopularly known as Snow Point, Solang Valley is 13 km northwest of Manali and famous for its 300-meter ski lift. The Ski Lift ticket is ₹400 per head. It is a picturesque spot and offers splendid views of glaciers and the snow-capped mountains. Jagatsukh, the former capital of Manali, is also an important spot.

Vashist Hot Water Springs and TempleAround 3 km from Manali, across the Beas river is Vashist, a small village with natural sulphur springs. Modern bathhouses, with Turkish-style showers, have the hot water piped into them for the convenience of the visitors who come here to benefit from the medicinal properties. Vaishisht, also boasts a pair of old stone temples, opposite each other above the main square. Dedicated to the local patron saint Vashista, the smaller of the two opens on to a partially covered courtyard, and is adorned with elaborate woodcarvings. Those lining the interior of the shrine, blackened by years of oil-lamp and incense smoke, are particularly fine. The temple tanks are underground hot-water/sulfur springs. Be wary of hanging up your trousers or bags on the hooks provided, pickpocketing is a daily occurrence. Hand over your wallet to a trusted person for safekeeping before you enter the springs for a bath.
There are some interesting
temples of Tibetan Buddhist lineages
located between old and new Manali.
Beautiful Log Hut Area and Club houseBoth these places especially log hut area have some good hotels to stay.

The Manali GompaManali Gompa was built in 1960. It is one of the most important places for Buddhists. Buddhists come to this place from Ladakh, Tibet, Spiti, Lahul and Kinnaur. Manali Gompa is world famous for a large statue of Buddha and for its wall paintings.

NaggarThe Castle, Roerich House and Art gallery are places to see. Moonlight dinner on the balcony of Hotel Castle restaurant is worth experiencing, with the lovely sight of twinkling lights below in the Beas valley. Bijli Mahadev temple, about 20 km from Naggar, is also worth visiting.

Jana Falls15 km from Naggar and 35 km from Manali, at Zana Village, beautiful Water Fall is worth visiting. The valley provides amazing views. There is one water fall on the road side and two other water falls which are not much explored by tourists and are amazing. Moreover traditional Himachali food is available here at small hut like shops.
Kothi:
Kothi is at the bottom of Rohatang Pass. It is a beautiful and photographic village where tourists can capture different thrilling views of the deep gorge through which the Beas swiftly runs. This is an amazing place to experience the natural beauty of high altitude mountain.
address: old manali

Nehru KundNehru Kund is around 6 km from Manali. It is one of the natural springs of natural water in India. Nehru Kund is named after the late Prime Minister Jawar Lal Nehru. Nehru used to drink water from this Kund, while his journey to Manali. Nehru Kund is on the Manali-Keylong road, about 6 km from Manali. It is understood that a landslide has wiped out this spring.
Do
Get your photos clicked with either rabbits or yaks (near the Hidimba Temple). It will cost about ₹10-20 ($0.5) for a single photo.
One can also enjoy paddle boating in a fun park near Hidimba temple.
River rafting, skiing, zorbing, trekking, snow scootering, and river crossing. One of the best adventure companies is the High Himalayan Adventure, based in Vashisht village.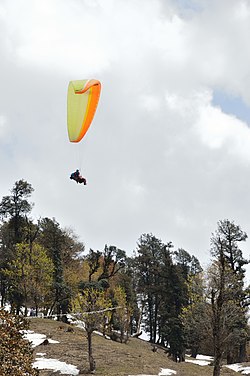 Paragliding- Paragliding is quite popular in Manali, especially in the peak season. The scene is located at Solang Valley. There are multiple levels, starting from the basic 1-minute flying for ₹450 (the most common), progressing to a more fun 5-minute flight for ₹1500. But the ultimate is the half an hour flight for ₹2500, for which they take you up almost halfway to Rohtang, and bring you back to Solang all the way by paragliding. In such a long flight, wind plays a big role, and sometimes it is not possible to fly all the way to Solang, something to keep in mind while going for it. Generally, later in the day you go for it, better are the chances you will do the whole flight. However, before you decide to paraglide in Manali, have a look at the "Stay safe" section of this article.
Rock climbing- there are some fabulous routes, however, go with a reputable company that can provide you suitable gear, otherwise this can become a dangerous sport. Look for the bright orange building across from Pizza Olive. The company also does abseiling trips, in which you can swing down into 9 tiers of a waterfall using rock-climbing equipment. Another contact is Dave Morahan (9805346007) who takes you to all kind of rock climbing trips for all difficulty levels, and is quite skilled himself.
If interested in books, there is a bookshop in the main town near the Post Office called Bookworm. It has a decent selection of books.
Early morning walks as Manali are best enjoyed before the town wakes up.
Trekking:
Deo Tibba Base Camp Trek: This trek is a technical trekking trail in Manali. This trek is a famous trek among the experience climbers. This trek gives a magnificent view of Deo.
Friendship peak Trekking: This is one of the majestic mountains in the beautiful valley of Kullu. This mountain is situated at around 5289 m above the sea level. Best way to go for this trek is from Beas Kund and Dhundi.
Hampta Pass Trek: This trek is one of the most famous trekking trails in the Manali region. This trek is suitable for those who have some prior trekking experience and are reasonably fit. This trek passes through lush forests and eventually to scree and pebbles.
Himalayan Caravan Adventure: Offer you an array of adventures from off-beat safaris, less-known but more-interesting trekking paths,rock climbing, canyoning, white water rafting, paragliding, skiing & snowboarding etc. www.himalayancaravan.com
Buy
Keychains, name plates, etc. which are customized to ones own message are worth buying as mementos.
Also you can get your name carved on a single grain of rice.
One can also visit Manali Market to buy woolen stuff like sweaters, pull overs, shawls, and blankets. Hippie clothes and jewellery can be found in Old Manali.
Chingu. Local shops are aplenty selling chingus (a type of blanket) claiming to be warm in winters and cold in summers. Be wary of these. They will show you parcel ready chingus. Do not fall prey to them.
Fruit products, honey and apricot oil at Himcoop Juice Bar Manali are also something local produced in the valley. Jam from Himcoop taste like real fruit due to high contents of fruit pulp and apricot oil is good for joint pains and also general massage.

phone: +91 9816252214 (Rahul Mullick)

address: Camping site, Kullu

Himalayan Snow Village is an initiative by Green Foundation for Drug Reforms and Environmental Protection in Himalayas, a non-profit voluntary organisation working on protecting the endangered ecology and saving people from drugs. For the last two decades or so Kullu-Manali, aka the valley of the gods, has been facing the dual problem of environmental degradation and of drugs especially the cannabis or charas as it is popularly known.
Do not buy saffron (
kesar
), musk (
kasturi
), or shilajit from street vendors; most of these products are fake. Buy from government-authorized shops only.
Eat
Apple Blossoms

address: Manali Heights Resort

Savour the best of local himachali menu as well as delectable Indian, European, oriental cuisines.

Blue Elephant CafeIt is a small eatery with good Indian and Western spread at very reasonable rates close to the bridge on Beas river. You get the option of sitting and enjoying the food right next to the river gushing by. Try out the freshly made parathas, bruschettas, omelettes and traditional Indian tea.

Bob Dylan's CafeIt is in the heart of old Manali. It serves the most delicious cookies and sandwiches. With its extremely good menu and pocket-friendly price, it remains one of the most popular destinations after a day's sightseeing. Also, at no extra cost, you have a very comfortable movie theater where you can choose among some 100 movie titles and watch as you eat on those delicious cookies. And yes, they do play Bob Dylan's songs. Must visit.

Cafe Bella Vista

address: Hadimba Temple Rd

A small Spanish style cafe with 2 small & 2 cottage rooms available for stay. Serves amazingly fresh, brick-oven pizzas & Italian. Great service & very nice people.

phone: +91 9418461969

address: Old Manali

The 1st music cafe in Old Manali (near the bridge), located on the banks of the River Manalsu. Cuisines from all around the globe and known for its dishes like the "Burger of Bodom", "UFO", and "The Terminator". Travelers can also pacify themselves by playing instruments in rhythm with the Voice of the River. Also, there are unplugged concerts and parties held time and again.

Cafe Zeppelinn

address: Kothi village

The last cafe once you leave Manali and are heading towards Rohtang Pass. It is run by young enterpreneurs for their love of life in the mountains and music. They serve good pizzas, pastas, sandwiches and momos. They also play excellent rock music from the 1960s and 1970s. Most paragliders will land at their cafe and should enjoy they services while waiting for their friends or families to pick them up.

Chawlas Square

phone: +91 9816198928

address: Rangri NH21

Delicious north Indian and Mughlai food. A great place for adventure too.

ChopsticksReally good Tibetan food.

phone: +91 9816100049

address: Left Bank Aleo New Manali

A well decorated in house multi cuisine restaurant that offers Indian, Mughlai and Chinese delicacies.

Drifters' Inn and CafeThis has great food, Wi-Fi internet and friendly atmosphere.

Il Forno

phone: +91 98160 40144

Original Italian pizzas prepared by an Italian cook.

Green Forest cafeIt is also a very popular destination for both locals and foreigners. It serves Tibetan soups, veggie dumplings and other sandwiches and snacks.

Johnson's Bar and cafeIt is a great place to hangout in the evening. The food and service is quite good, and is thus a very popular place.

Lazy Dog

address: Old Manali

It has an extensive multi cuisine menu. The food is quite good and the ambience is great.

Local Himachali Dish-SiduOne can eat Sidu (which is like filled Idli or filled rice baked bun) with Chutney to experience a slice of Himachali cuisine in Manali with tea, black tea, or coffee. This is the only 1 there is visible yet hidden but worth a gem before leaving Himachal.

Madras messIt is a popular mess which serves south Indian meals and unlimited meals

Manali marketThis is the key place for eatables. Right from chat to Indian (veg/nonveg) to international cuisine like Italian/Chinese are available in the main market which is just opposite the Manali Bus stand. The mall road has a variety of eating options ranging from stalls and dhabas to fancy restaurants. Deeper into the lanes of the town, one can find more local eating places, catering to special tastes and habits ranging from Tibetan food, to Vaishnavi Dhabhas. You are sure to find something without hunting around too much.

Mayur Restaurant

MoondanceIt also has a multi-cuisine menu, and the food and ambience are all good.

Old ManaliIt is one of the best places to hang out in the evening. It has a great collection of restaurants/bars and shops. It is also not crowded like the Mall Road, with the crowd consisting mostly of foreigners.

Pizza Olive

address: Old Manali

This place has the best pizza in town and is worth the trek to Old Manali. Also try the fabulous tiramisu.

phone: +91 98168 94518

address: Mall Rd

On the mall road 200 m away from main Manali Bus stand with sitting capacity of 75 persons at a time on 2 floors. All types of Punjabi, Gujrati, South Indian and continental.

Shere PunjabServes good butter chicken with butter naan. You can also get a beer which is not mentioned in the menu, if you ask for.

Shiva Paradise Cafe

phone: +91 9805379377

Delicious non veg food specially kolapuri chicken and Trout Fish .

Vaishnao dhaba

Valley View Restaurant

address: Snow Valley Resorts

Known for beautiful view and good homely buffet food.
Drink
The locals drink two kinds of alcoholic beverages: Lugdi (plains) or Chang (Himalayan), a kind of crude beer made from fermented rice or barley and Sharab (plains) or Arak (Himalayan), an alcoholic drink distilled from Lugdi/chang. Arak can also be made from jaggery or apples or any other fruit.
It might be an interesting experience to visit a local home when the ladies make arak (quite regularly). You can sit in the fields where the ladies make it, have hot water from the distilling to wash with and "test" the product at frequent intervals.
Because there are apple orchards all around Manali, it's often possible to find apple cider. Besides this, there is alcohol available in bars, larger restaurants and the larger hotels.
Kullu-Manali Valley is known as fruit bowl of India. Himcoop Juice Bar at The Mall Manali is one of the well know corner shop since 1972 selling 100% Natural Apple Juice and fruit drinks made from local fruits besides some syrups known as Fruit Crush to carry home to prepare fruit drinks after diluting with fresh water. Himcoop Juice Bar is on the Main Mall as one of the corner shop next to Temple.

Sleep
Budget
Home-stay
Mid-range
Splurge
Stay safe
Manali is a safe city but during seasonal time a surge of visitors keep visiting this beautiful place and some transients exploit this opportunity for their own benefits. Best be exercise caution if in a crowd.
If you get lost and don't have enough directions get around the city then just ask for Mall Road (Manali town centre). From there you can easily head to any destination of your choice.
Don't exchange currency in illegal market. Always ask for receipt after doing currency trade with exchange dealer. There is a Western Union office on the Mall Road.
A word of caution about paragliding in Manali. Many pilots of these parachutes are un-trained and obtain licences in the usual way any licence is obtained in India. Many a tourist visits the Lady Willingdon Mission Hospital with broken bones, sometimes protruding out, after accidents. Some para-gliders crash into innocent bystanders who end up with spinal injuries and paralysis. Serious, complicated cases with multiple organ injuries and heavy blood loss are stabilized to the extent possible and referred to either Chandigarh or Shimla. Sadly, some don't make it. Blood availability is very very limited in this hilly area. So think very carefully before deciding to paraglide in Manali.
Women should avoid going into small lanes and by-lanes after it is dark and make sure that you are not wearing any jewelry while walking on the streets. There were two reported rapes of tourists in 2018 alone.

Go next
Travelling northward from Manali is the breathtaking region of Lahaul and Spiti across the Rohtang Pass. The highway crosses the pass and forks at Gramphoo (12 km) the left one goes to Lahaul and is the Manali Leh highway and the road on the right leads to Spiti via Kunzum La. The Rohtang pass also marks the boundary between the fertile Kullu valley with its lush greenery and the sparse vegetation Lahaul and Spiti. The Ladakh, Zanskar and Changthang areas further on are even more barren.
Beas Kund - It is named after the sage (Rishi) named Beas and this tiny lake is situated at upper Solan valley, which is a heart of summer and winter games in Manali.
Deo Tibba - It is a one of the peaks set back in valley of Manali. It is famous among trekkers who have substantial mountaineering knowledge.
Friendship Peak - Friendship peak is located in Beas Kund region of Manali, facing other different kinds of peaks such as Shiti Dhar, Hanuman Tibba and Seven Sisters. It is the only peak in Himachal where no royalty needs to be paid to IMF.
Hamta Pass - At a height of 4,268 m, Hamta Pass is made of various snow bridges which pass over Hamta Stream. It is highly renowned trekking base and as a part of trek, visitors can also explore Bara Shirgi Glacier.
Purola - It lies in the state of Uttrakhand and leads to almost identical geographical location of Yamunotri. There are ample transportation facility available to reach Purola.
Indrasan Peak - After crossing Hamta Pass one will find Indrasan Peak (Throne of Indra)