Manama
Manama
(Arabic: المنامة, transliteration: al-Manāma) is the capital and largest city of
Bahrain
with an approximate population of 157,000 people, roughly a quarter of the country's population.
Understand
Manama emerged as the capital of independent Bahrain after periods of domination by Portugal and Persians. Today, it is a modern capital with an economy based on the sales promotion industry as crude oil takes a less pronounced role in the economy.

Get in
All roads in Bahrain lead to Manama, so see the main
Bahrain
article for details.
Get around
By bus
Bahrain Public Transport
operate a network of bus routes across the city, with route A1 linking the airport and Manama every 20 minutes.
As of September 2019, a paper single ticket bought on the bus costs 300 fils, or there is a "pay as you go" option using a
Go Card
(card price 500 fils, sold at ticket machines including at the airport, then load with credit up to BD 50 maximum, but note that credit you load is
not
refundable) which reduces the fare for a single trip to 250 fils and offers a daily cap of 600 fils. Transfers are not offered (a fare is charged on each bus), and there are no discounts for children, students or elderly people.
Weekly passes (BD 3) and "monthly" 28-day passes (BD 12) are available, but these can only be issued on a Personalised Go Card sold at bus terminal ticket offices, not the anonymous card sold at ticket machines.
By taxi
Taxis are expensive. Extra charges are added to fares starting from the airport (
BD
2) and
any hotel
(BD 1). Always use the meter or you will, guaranteed, get ripped off. A ride to the central parts of city will cost around BD 5-6.
By car
Renting a car is far less costly than paying for taxis, but beware of driving styles you might not be used to in your home country. Manama is a small city on a small Island, you won't get lost for very long. Make sure to buy a map: it should cost BD 0.50-1.00.
See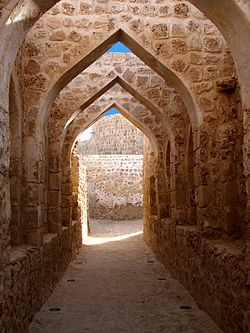 Bab Al BahrainThe Gateway of Bahrain, located in the Customs Square in Central Manama. The ground floor houses the tourist information office and a handicraft shop. Sightseeing bus tours depart from here daily at 9:30AM and 3:30PM.

Manama SouqThe souq is network of small lanes that houses small stores selling everything from souvenirs and gifts to electronic products. The souq is also home to many gold and jewelry shops and tailors.

Al Fateh Grand Mosque

address: Jufair

One of the largest mosques in the world, capable of accommodating over 7,000 worshippers at a time and is the largest place of worship in Bahrain. It is also one of the top tourist attractions in Bahrain. The dome is the world's largest fibreglass dome and weighs over 60,000 kg. Al-Fateh includes the National Library which opened to the public in 2006. Tours are available in English and you are allowed to take pictures.

Corniche al-FatehOn the east coast of the city, this pleasant seaside promenade offers good views of the skyscrapers to the south and planes taking off from the airport nearby. Plenty of fun fair rides for the kids and shisha bars for the older set.

Museum of Pearl DivingConsidered to be the most important historic building in Bahrain, it is the first official center for Bahrain Courts. The building was inaugurated by H.H. Sh. Hamad Bin Isa Al-Khalifa, the past Governor of Bahrain in 1937. At that time the building comprised of four Supreme Courts, and three Directorates. In 1984 the building was transformed into a Traditional Heritage Center. The Museum of Pearl Diving is under the control of Directorate of Archaeology and Heritage, one of the major Directorates of Ministry of Cabinet Affairs and Information.

phone: +973 1729 8718

address: Al Fateh Highway

Natural and cultural history of Bahrain.

Tree of Life

address: 30 km south of Manama

Famous lonesome tree in the middle of a dry desert. Scientists haven't figured out how it survives, since no underground aquifer or spring exists under that area. In fact, all underground water sources are around the tree are contaminated with salt, suggesting the tree may in fact possess a mutation rendering it salt-tolerant.

Bahrain FortBahrain Fort, on the island's north coast, was built in the 14th century but excavations have revealed it was built on the site of Dilmun settlements, dating back to 3,000 BC. Recently renovated, and with new lighting at night, the Fort is an outstanding example of Bahrain's varied and ancient history. Bahrain Fort, known in Arabic as Qalat Al Bahrain, was named a UNESCO World Heritage Site in 2005.

Bahrain Fort MuseumThe first building comprises an exhibition hall and a child learning and training room whereas the second is made up of a conference hall, a cafe overlooking the sea, offices, a technicians suite and a dormitory for archeologists.

Bin Matar House: Place of MemoryThe Bin Matar House is the latest in a series of projects by the Shaikh Ebrahim Center focusing on the restoration of traditional Bahraini houses associated with historic Bahraini families and leading cultural personalities. The house was designed by the well-known Bahraini architect Mussa Bin Hamad and built in 1905. It was used by Salman bin Hussein Matar as the venue for his permanent "majlis" (a room similar to a salon, used to entertain family and guests). By the 1940s, it was used a clinic by the famous physician Dr. Bandar Kab, and from the 1950s to the 1980s was used as the centre for the Eslah Club. The building then lay empty and in uninhabited, ready to be demolished to make way for a new construction. Today, the ceilings of the house are made of a combination of palm leaf and wood beam and the walls and floors have been authentically retouched.

Barbar TempleThis is an archaeological site located in the village of Barbar. Three temples have been discovered there, the oldest dating back to 3000 BC. The temples were thought to have been constructed to worship gods, as it contains two altars and a natural water spring. During its excavation tools, weapons, pottery, and many small pieces of gold were discovered.
Do
Manama is a getaway for Arabs and expats residing in Arab countries where alcohol is banned. Tourists, particularly Saudis and residents of Saudi Arabia, come to Bahrain mainly for the nightlife.
Dolphin Watching

phone: +973 1770 0677

Take a boat trip and you can watch the dolphins and manatees playing in the warm Gulf waters, and see local fisherman head out in traditional wooden dhows to catch the prized local hammour - a type of grouper. Dolphin watch trips take place three times daily.

Scuba Diving

phone: +973 17701201, +973 17 700 677

address: Bahrain Yacht Club & Al Bandar resort

Horse riding

phone: +973 17690926, +973 39566809

address: Saar

For anyone wanting riding lessons or an occasional hack, the Twin Palms Riding School and the Dilmun Club are good places to start.

Horse racingArabia is famous for its horses. The national racecourse at Al Sakhir hosts races every Friday from October to March. The grandstand holds up to 3,000 spectators and entry is free. Betting is prohibited.

Pearl DivingBahrain is also famous for its pearls. Try your hand at pearl diving and maybe take home one of these natural gems of the sea.

Bird Watching

phone: +973 1729 0377

address: Hawar Islands, Boats depart from Ad Dur Jetty

The Kingdom and the Hawar Islands are a haven for native and migratory birds including flamingos, bulbuls, ospreys and sooty falcons. Any twitchers are strongly advised to take the 20 km boat trip to the islands.
Ice Skating The only ring in town is located at the Fun-land centre along the Marina corniche.
Buy
Manama Souq, should not be missed by any visitor
Shopping malls
Al A'Ali Mall

phone: +973 1758 1000

address: Shaikh Khalifa bin Salman Highway, Seef District

A'ali Mall has the look and feel of a traditional open air souk within its air-conditioned confines. A glass roof, stores with old-fashioned Arabic wooden doors and carts selling souvenirs all add to the atmosphere. Outlets include top designer stores.

phone: +973 1717 7771

address: Shaikh Khalifa bin Salman Highway, Seef District

Bahrain City Centre is the first and biggest mixed-use development in Bahrain offering the shopping, leisure and entertainment experience to its customers under one roof. Bahrain City Centre has 150 of its over 350 internationally reputed brands making their debut in the country. The centre includes the region's first indoor/outdoor temperature-controlled 15,000-m² Wahooo! Waterpark, Bahrain's biggest cinema complex Cineco 20, and a family entertainment centre for children and young adults, Magic Planet. Over 50 food court outlets offer choices from all over the world.

phone: +973 1755 8100

The Bahrain Mall is situated in the heart of Bahrain's new retail district. It is easily accessible from the main highway and all parts of the city. It covers an area of 750,000 square feet and has more than 120 international brands and specialty stores.

phone: +973 17 558500

address: Shaikh Khalifa bin Salman Highway, Seef District

Marina Mall

address: located on the ground floor of the landmark Bahrain World Trade Center (BWTC), Diplomatic Area

Moda Mall is an ultra-exclusive shopping complex located on the ground floor of the landmark Bahrain World Trade Center (BWTC). The mall is home to some 160 exclusive brand name boutiques, including lots of famous international ones.

Riffa Mall

phone: +973 17 58 11 11

address: Shaikh Khalifa bin Salman Highway / Seef District

Magic Island, the largest indoor amusement park in the Middle East, is located on the first floor.

Sitra Mall

phone: +973 1721 5615

address: Manama Downtown, Diplomatice Area

Murjan Shopping Center

address: Jufair

Many stores in a large supermarket.

Juffair MallMall in the centre of the Juffair residential area, has the regular shops as well as some restaurants, an atm and a taxi stand.
Eat
Restaurants in Manama run the gamut from cheap
shawarma
joints to 5-star restaurants.
Budget
Cheap restaurants abound in the Adliya district.
Al-Abraaj, Adliya St, Manama, Bahrain. Perfect introduction for non-Arab folks to become accustomed to the Middle Eastern hospitality charm. Food is generous and tasty, and primarily from Lebanese/Turkish and Persian cuisines. Good value at BD 2-4 per head.
Al-Siraj. The second-best shwarma in Bahrain for only 300 fils.

Burjuman Coffee Shop

address: Lulu Centre 2F

The main selling point of this Filipino-run joint is its location right next to the SABTCO bus terminal, but the menu covers sandwiches, burgers, rice and noodles and portions are generous. Try the excellent fried hammour (local fish) with the fixings for BD 2.

Habara Snacks & Fish

phone: +973 17 715 461

Osama bin Zaid Ave, Adliya. Great diner that cheerfully serves cheap fish and chips and other assorted snacks.
Mid-range
phone: +973 17231996

address: Bldg 822, Rd 723, Area 307, Gudiyabia

Traditional style Filipino restaurant for dine in, take out and delivery. Bahay Kubo also offers a private function room with karaoke

Café Lilou's

phone: +973 17 714 440,

address: Manama, Bahrain

Paris style interiors, popular with ex-pats and locals. Excellent French-café fare, including large salads and delicious cakes. Caters for groups, take out, cateringservices, outdoor seating. Breakfast,lunch, dinner, coffee, drinks

Lanterns

phone: +973 17 59 0591, +973 17 591807

An atmospheric Indian restaurant with great food and lovely decor next to Burgerland Roundabout in Budaiya.

Nando's (Portuguese)

phone: +97 31 771 2445

address: Adliya

Upstairs DownstairsA long time classic Bahrain restaurant. Smooth jazz band, music videos and great yet pricey food.

Senor Pacos

phone: +973 17 725 873

Um Al Hassam, Manama, Bahrain. An atmospheric Mexican restaurant with great ambience and lovely decor on the Road opposite KFC in Um al Hassam. They have their own guitarist and vocalist singing on most evenings.

Trader Vic'sPolynesian dining/drinking experience, located on the grounds of the Ritz Carlton.

Zahle

phone: +973 17 746 417, +973 17 746 418

address: Gulf Hotel, Al Juffair Street

Serving impeccable Lebanese food with daily buffets and live entertainment.
Drink
Manama has a busy nightlife by Gulf standards. The main districts are
Adliya
,
Hoora
,
Juffair
and
Business District
.
Digger's

address: Delmont Hotel

Australian-themed sports pub in the downtown. Popular with single male expats.

Gold ClubArabic night club featuring Russian girls doing their interpretation of traditional belly dancing.

Harvesters

address: King Faisal Highway

Very popular pseudo-British pub offering cold beer, pub grub and a Filipino band distinguished more by the singers' skimpy outfits than musical talent. Beers from BD 2.5.

JJ'sThe largest Irish pub in the city.

Queensbury ArmsAnother hot spot, great prices on drinks.

Sherlock HolmesMock-British pub.

Warbler'sExpat sports pub. This is a private club, but the bouncers at the door seem more interested in keeping Arabs out than in checking membership cards.

Wrangler's

address: Best Western Juffair Hotel

American-themed bar and dance club. Popular with expats and US sailors.

Buffalo Bar

address: Avenue 22, Juffair

Busy bar in Juffair, has a residend live band, serves drinks and pub food (burgers, fries, etc.).
Sleep
Budget
Al Burge Hotel

phone: +973 17 210227

address: Municipality Road

If cost is more important than comfort for you, then the BD 10 double room with bathroom should make you happy. Do not expect fancy stuff such as quietness or toilet paper, but it is fairly clean and fairly well located, in the street behind Gold City. Do try the bed before taking the room. Single females are not permitted.

Awal Hotel

address: Al Khalifa Rd

Located in the main commercial & business district, 10 mins drive from the International Airport and a short walking distance from the Bahrain seashore and the upcoming Financial harbor.
Mid-range
Bahrain International Hotel

address: Manama

Three-star hotel that is of average quality, but in a convenient location for travellers. Free airport transfer, breakfast and wifi.

Al Bander Hotel & Resort

phone: +973 17 701 201

address: Riffa Resort

Al Bander Hotel & Resort is a popular destination for families. It offers 44 chalets and 36 cabanas, each with a comfortable homely feel. Restaurants and cafes, serving continental, Oriental, Chinese, Thai and Persian cuisine. The hotel's busy marina is ideal for the boat-owner, and is well equipped with a fuelling station and mooring facilities. The resort has lots of watersports facilities, as well as 10 swimming pools in different places around the resort. Babysitting services, bars, beach, business centre, restaurants, swimming pools. Satellite TV.

Al Safir Hotel

phone: +973 17 827 999

address: Juffair

Standard rooms with a choice of twin or double beds. It offers comprehensive business and banqueting facilities, including the latest audio-visual equipment, telephone and UPS points in every room and an inbuilt PA system. The hotel also has two restaurants, a swimming pool and a fitness centre. Babysitting service, bars, business centre, restaurants, swimming pool. 24-hr room service, mini bar, satellite TV, tea and coffee making facilities.

Best Western Elite Hotel

phone: +973 17 827 600

address: Juffair

Best Western Elite Hotel Bahrain is conveniently located just 5 min from downtown shopping complexes and 10 km from Bahrain International Airport. It is also close to the Gulf International Convention and Exhibition Centre and the US Naval Base. 96 guestrooms are spacious and well furnished with a coffee maker and internet access. 5 outlets for dining and entertainment. Conference and banqueting facilities for up to 140 persons. Health and leisure facilities include a rooftop swimming pool and a fully equipped health and fitness centre. Babysitting services, bars, gym, restaurants, swimming pool. 24-hr room service, mini bar, internet, satellite TV, tea and coffee making facilities.

Elite Suites Hotel

phone: +973 17 558 888

address: Seef District

Luxurious hotel with 215 spacious guest rooms and suites. 5 minutes from the Bahrain International Exhibition Centre and at close proximity to various shopping malls. Ooutdoor swimming pool and a gym. Babysitting services, business centre, meeting rooms, gym, kids' club, restaurants, swimming pool, 24 hr room service, satellite TV, tea and coffee making facilities.

phone: +973 17 535 000

address: Old Palace Rd, Manama 1090

Standard hotel that maybe in need of a renovation. Rooms are clean and the staff are amiable however the dull façade and decor may be depressing to people who are lodging here for more than a couple of days. One of the few redeeming qualities is that it has the only authentic Japanese restaurant in Bahrain. The hotel was renovated in 2008.

Gulf Gate Hotel

phone: +973 17 210 210

address: Manama

125 rooms and suites. Located in central Manama, the commercial centre of Bahrain. Cafés, a restaurant, night clubs and bar. 2 minutes walk from the main souk and shopping centres. Business centre, gym, restaurants, spa, swimming pool. 24-hr room service, internet, mini bar, satellite TV, tea and coffee making facilities.

phone: +973 17 224 466

address: Bldg. 169, Blk. 304 Rd.353

A/C rooms and suites equipped with Internet connection, a private toilet and shower, mini-bar, and a cable television. Swimming pool, restaurant/café/bar, fitness room, and a business centre.

Mashtan Hotel

phone: +973 17 217 333

address: Bldg 3578, Rd. 471, Blk. 304

A/C rooms with private toilet and bath with shower, high-speed Internet connection, cable TV and mini-bar. Swimming pool, fitness room, business center, and airport transfer.

Mercure Grand Hotel

phone: +973 17 584 400

Recipient of 2007 MENA Travel Awards (Silver Best Four Star Business/Corporate Hotel Category). In the Seef business district. 72 suites and 48 family suites. Nearby to Seef and Al Aali malls. Restaurant, 2 bars, meeting rooms, health club, sauna, steam room, massage facility with gymnasium and a swimming pool. Private parking is available.

Novotel Al Dana Resort

phone: +973 17 298 008

Traditional Arabic architecture and design with contemporary fittings and comfort. 172 rooms. Close to the diplomatic area and business centre. The hotel offers a variety of restaurants, bars and meeting rooms. Babysitting service, private beach, watersports, swimming pool, fitness centre, kids' club, kids' pool. 24-hr room service, internet, mini bar, satellite TV, tea and coffee making facilities.

Pars International Hotel

phone: +973 17 814 777

address: Juffair

Located in Juffair's commercial and residential area and overlooking Manama Bay. Standard and deluxe rooms to regal suites. Lobby bar, a disco, Arabic night club. Restaurant and 24 hr coffee shop. Conference and banqueting facilities including a ballroom suitable for functions and accommodating up to 300 people. Swimming pool, sauna, steam room and fitness centre. Parking is available for all guests. Swimming pool, spa, fitness centre, business centre. 24-hr room service, internet, satellite TV, tea and coffee making facilities.

phone: +973 1731 1666

address: Building no. 299, Road no. 1910, Block 319, City Center

Individually controlled A/C, private toilet and shower with bathtub, cable TV, and internet access. Swimming pool, jacuzzi and sauna, fitness room/gym.

Ramada Bahrain

address: Building 88 Road 351 Block 326 Adliya, Bani Otbah Ave

Airport transfers free of charge if you email in advance. Has pool on site but the cleanliness of the pool is questionable.

phone: +973 1781 1889

address: Juffair

Its 118 apartments, which range from one to three bedroom and four two-bedroom penthouse suites, are furnished with contemporary décor and modern fittings. Wi-Fi is available in the apartment and lobby.
Splurge
phone: +973 17 531 122

address: King Faisal Highway

Gracefully aging sprawling low-rise complex. The Astroturf-surrounded pool is rather depressing, and the hotel's main draw seems to be the popular Harvesters pub (see Drink). Largish gym (men and women have separate facilities), decent breakfast, service can be mixed.

The Dragon Hotel & Resort

phone: +973 1603 3833

address: Amwaj Islands

A secluded getaway along the Amwaj Islands waterfront. Views of the sea and infinity pools. Modern rooms and stylish amenities. Suites, chalets and villas. Each suite has its own private terrace that overlooks the pool and sea. Deluxe chalets have two levels and 3-4 bedrooms. 3 level villas have 4 bedrooms and private terrace, garden, Jacuzzi and swimming pool and include elevators, 2 kitchenettes, multiple living areas and extensive storage space. Children's pools and play areas provided. Water sport activities offered by the hotel such as jet skiing. Onsite 2 dining establishments and 2 waterfront lounges that attract stylish visitors from across Bahrain.

Banyan Tree Al Areen

address: Al Areen

Attention to detail and opulent surroundings. The staff are welcoming and attentive, without being overwhelming, and the food is good.

Ritz-Carlton Bahrain

phone: +973 1758 0000

7 stories of luxurious rooms with a modern design. The Club Lounge restaurant features five different food presentations a day, and includes an American breakfast. Stunning views of the Arabian Gulf from the rooms.

Sheraton Bahrain Hotel & Towers

phone: +973 17 533533

address: 6 Palace Avenue

In the heart of the business and diplomatic area. 260 comfortable guest rooms and suites, most of which have been recently renovated with a stylish and contemporary décor. All rooms have the Sheraton Sweet SleeperSM Bed. Soie Chinese Restaurant and Al Safir Restaurant with international buffets and á la carte selections. Bar with live entertainment.

The Regency InterContinental

phone: +973 17 227777

address: King Faisal Highway

321 rooms and a variety of suites, including the Summit, deluxe suites, royal and presidential suites. 5 restaurants offer a range of international and themed cuisine, plus a number of bars with live entertainment. Babysitting services, bars, business centre, gym, kids' club pool, restaurants, spa, sports facilities, swimming pool, 24-hr room service, internet, mini bar, satellite TV, tea and coffee making facilities (on request).

The Gulf Hotel

phone: +973 17 713 000

address: Aliya.

The biggest 5-star hotel on the Island with more than 35 years of experience. Combines luxury, tradition, comfort and service. 366 rooms in total. 12 restaurants, lounges and bars.

The Moevenpick Hotel

phone: +973 17 460 000

address: 143 Road 2403, Muharraq

Swiss flair and traditional Arabian hospitality. Overlooks a lagoon and features a fine dining restaurant, international bar, atrium lobby restaurant, pool bar, parking area and two outdoor tennis courts. 7 min driving distance from the city. Babysitting service, business centre, gym, spa, swimming pool, tennis courts. 24-hr room service, internet, mini bar, satellite TV, tea and coffee making facilities (on request).

The Diplomat Radisson Blu Hotel, Residence & Spa

phone: +973 17 531666

246 rooms in three styles: Classic, Maritime and Italian. 3 exclusive "Royal Club" executive floors and a variety of suites. Claims to have Bahrain's biggest rooms, fully renovated and all with sea view. Meeting facilities, a selection of restaurants and entertainment options. Babysitting services, bars, business centre, gym, kids' club,, sports facilities, swimming pool. 24-hr room service, internet, mini bar, satellite TV, tea and coffee making facilities.

L'Hotel

phone: +973 17 567 222

address: Al Seef District, King Mohammed 6 Ave

New, stylish, near shopping areas and close to town. 90 rooms. Business centre, VIP room facilities, wifi, car rental, sauna, hammam and outdoor swimming pool. Restaurant with French-Mediterranean cuisine at "L'avenue", managed by the famous Chef Philippe Marc. (Hotel closed without notice at end of June 2012, the management did not even bother to inform 'guests' who had reservations.)

Swiss International Palace Hotel

phone: +973 17296660

address: Gudaibiya Avenue

84 rooms, a variety of dining options and evening venues. Free Wi-Fi is available in the guests' rooms & public areas. There's an outdoor pool and a gym.
Cope
Go next
Saudi Arabia is just across the King Fahd Causeway — if you have the visa, of course.
Hawar Islands Are a group of islands situated off the west coast of Qatar in the Gulf of Bahrain of the Persian Gulf. In 2002, Bahrain applied to have the Hawar islands recognised as a World Heritage Site, due to its unique environment and habitat for endangered species. This site is home to many wildlife species and a very interesting place for birdwatchers and divers. Hawar Islands used to be one of the settlements of the Bahraini branch of the Dawasir who settled there in the early 1800s and on the main island of Bahrain in 1845 in the areas of Zallaq and Budaiya.