Manarola
Manarola
is part of
Cinque Terre
in
Liguria
.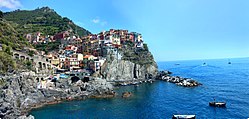 Get in
By train
From
Pisa
Centrale (direction La Spezia). The price is around 8 €. There are plenty of trains everyday. You can also take a train from Genoa to Monterosso or Levanto and obtain a Cinque Terre day pass for 15 € (as of 2016) which allows you to hop on any train between Levanto and La Spezia and includes the fees for entry into the Cinque Terre park.
Do
Besides enjoying the beauty of this small town, hiking the trails to the other towns is definitely worth a day or two in the area. See
Cinque Terre
for more information on the paths.
When you arrive at the train station, you may need to go underground to reach the main platform. Head down the tunnel toward the city. During World War 2, the residents spent the nights here for protection. There is a wonderful art gallery with oil paintings and watercolors of the cinque terre towns. Turn right and up the hill this road used to be a stream, with bridges crossing , similar to Venice. The stream was paved over and you can still hear the running water. About half way up, there is still an old water wheel. At the top is the church of S.Lorenzo.
To get to the via dell amore, go back through the tunnel towards the train station. Around the back are steps leading up to the trail. Be sure to have your ticket (available at the cinque terre office near the train station. )
Buy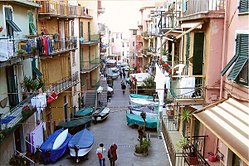 Sleep